Chicken isn't just for making comforting meals. Bake up a batch of chicken thighs, drizzle some sauce, and enjoy your meal! Yes, you read that right. We're talking baking. We're so used to frying chicken thighs, but who said that baking them isn't as good? Here is how to make the Foil Wrapped Chicken Thighs Recipe!
---
Tender, Soft, and
Crispy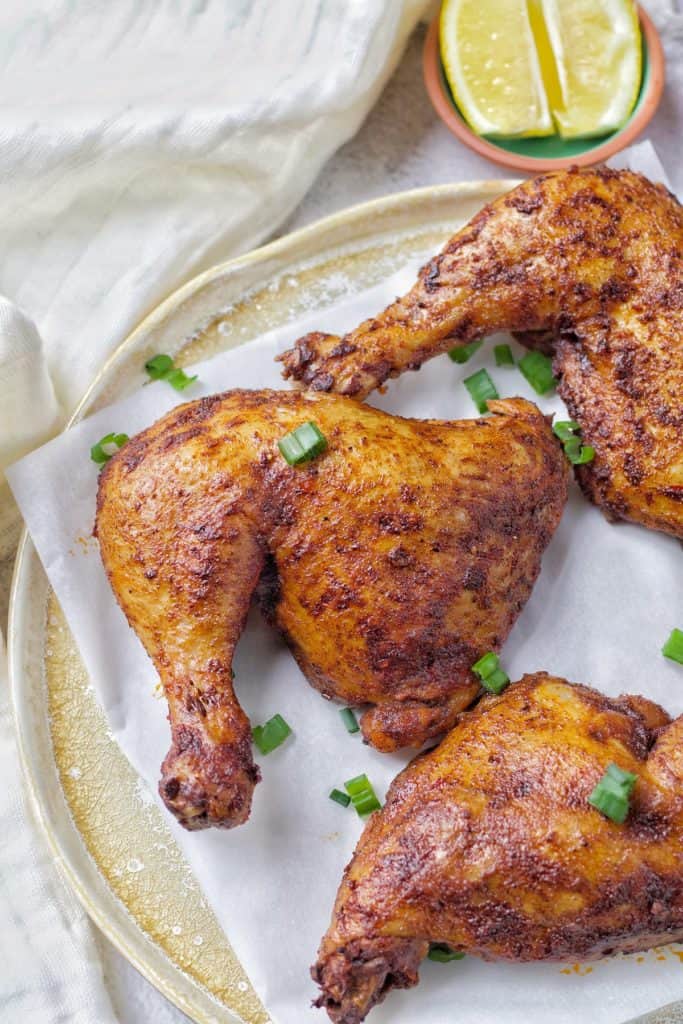 ---
Chicken is a staple in most households, and you can cook hundreds of dishes with it. The Foil Wrapped Chicken Thighs recipe is a highly flavorsome dish that can be very tender if done right. Not only is this dish tender and juicy, the chicken is also very well-seasoned.
The chicken seasoning blend that I put together will blow your mind! I did add some store-bought seasoning to the mix, but to top it off, I chose to make my own pepper paste using ingredients right out of my pantry. The chunks of chicken were swimming in this spicy yet very aromatic sauce!
---
Baking
vs.

Frying

Deep frying is a common cooking method used by almost everyone across the globe. It's popular for a reason, many people like the taste of fried food and the crisp it creates! But what they don't know is that you can create an equally successful dish just by using foil and when baking in the oven! It's that EASY!

It's okay if you feel you're not the best cook, YET! You don't have to worry in the slightest! Many of you don't have the time to venture into the world of cooking, but that doesn't mean you'll never cook a hearty meal! Today we're sharing with you the best Foil Wrapped Chicken Thighs Recipe and all the other ways you can make this dish. Read on and save this recipe to get the step-by-step process.

You will find this dish to be both delicious and light! There's an added bonus: by the end of this detailed recipe, you'll get to treat yourself with some amazing chicken thighs. Let's dive right into it!
---
Foiled Wrapped Chicken Thighs Recipe
Feel free to add any vegetables with your chicken. I only added carrots; potatoes, brussel sprouts, or broccoli will taste great with this chicken recipe as well.
Before we start, I just want to remind you that baked foods reheat well. The baking process locks in the flavors and preserves the original texture of whatever you're cooking. If your family is already all-in on baked food, I'm sure you're already preparing a second or maybe a third batch!
---
Ingredients
5-6 chicken legs and quarters ( you can use bone-in or boneless chicken thighs)
1 tbsp. shawarma seasoning
2 tbsp. pepper paste
1 tbsp. smoked paprika
1-2 teaspoon salt
1 teaspoon Aleppo pepper
Juice of 1 lemon
---
Marinate,
Marinate!
Marinating your chicken is really important in the world of cooking. Once you take your time to marinate those heavenly chicken thighs, you'll be so proud of yourself for making the juiciest and most delicious chicken dish. The result is a beautiful culinary creation that is deeply flavorful!
---
Frequently Asked Questions
How to make the pepper paste?
Firstly, wash the peppers well and cut them around the stem. Remove the seeds and cut the flesh in half. Now add those peppers to a food processor with four peeled garlic cloves and process them for a few minutes. After that, get a pan, put 5 tablespoons of olive oil in it, and put the processed mixture. Turn the heat on and stir evenly. Add ⅓ tablespoon of cumin, one teaspoon of salt, and black pepper. You can use other combinations of pepper too. To get your desired consistency, stir the mixture for a few more minutes. Now it's time to store it. Cool down the paste and store it in an air-tight jar. Keep that in the fridge and use it for up to one month.
What goes best with foil-wrapped chicken thighs?
Generally, you should cook this recipe for lunch or dinner. Get your favorite green veggies, whether cooked in foil wrap or steamed. If you're going for an Asian-based lunch or dinner, add fried rice or regular rice. You can also eat it with bread, flatbread, or tortilla.
Can I sautee my vegetables before baking?

Sure. Sautéing your vegetables is always a good idea. I never miss out on the chance of infusing my veggies with more flavor.
---
Directions
In a bowl, add all your marinade ingredients, mix until all combined.
Use your hands to coat the chicken with marinate.
Place marinated chicken on a large piece of parchment paper and then wrap it tightly with foil.
Bake at (500 degrees F - 260 degrees C ) for 45 minutes, broil until crispy.
They are ready to be served with rice, bread, or anything you like.
---
I Will Now Introduce You to the Different Ways You Can Make This
Dish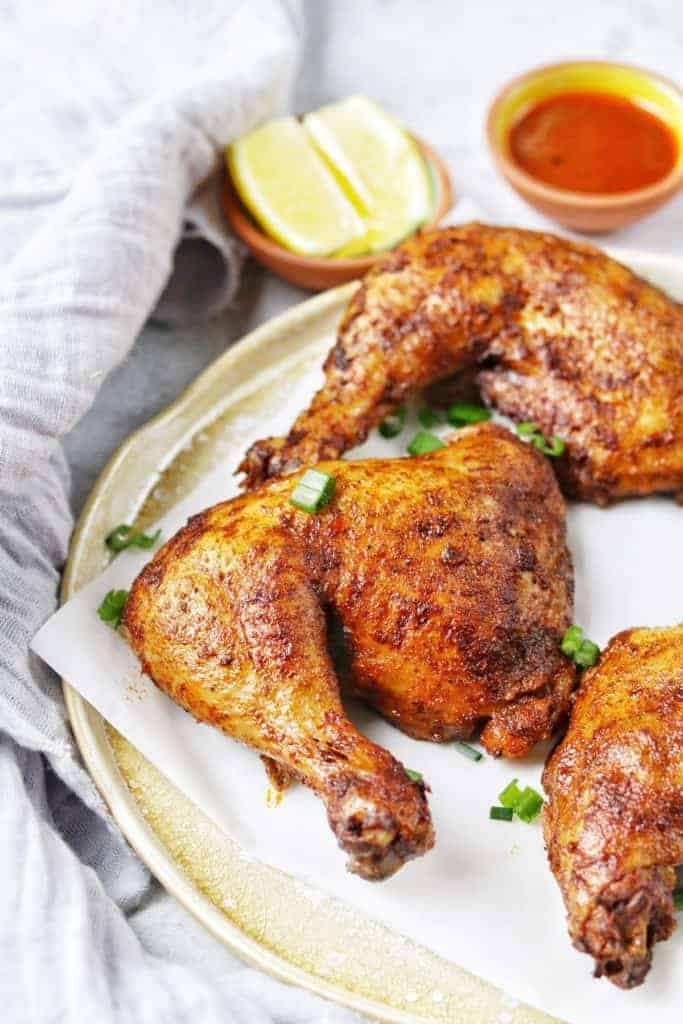 ---
The Foil Wrapped Chicken Thighs are so versatile. You can get really creative with this dish and modify it to your liking! Feel free to make more than one version on the same day if you have a lot of chicken in your fridge!
---
BBQ Chicken Thighs Foil Packets?
If you are craving chicken thighs with your favorite BBQ sauce, this is the time for you to shine. Bring out that BBQ sauce now. Don't panic; this recipe is not that difficult if you can follow the instructions properly. The only difference in that you're adding BBQ sauce and veggies.
---
Shawarma Chicken Thighs?
Shawarma is a Middle Eastern street food made with lots of seasoning, spices, and veggies. All of these ingredients are rolled inside pita bread. However, we will not be following the traditional cooking method of Shawarma. Instead, we will improvise and cook them in the oven.
---
Foil-Wrapped boneless Chicken Thighs,
Anyone
?
Baking can seem like a pretty tricky task to do if you don't know the right temperature. But you will not go wrong if you bake the Foil Wrapped Chicken Thighs in the oven. It will bring out the right taste and make your taste buds jump from all the spices and seasonings that are in the chicken thighs!
---
The Foil Wrapped Chicken Thighs taste best when you have a dip or sauce. We would recommend you try with yogurt sauce. You would require 2 tablespoons of yogurt, 1 teaspoon of lemon juice, some pepper (according to your liking), oil, and garlic. Mix them and enjoy the chicken thighs. You can add rice or bread to make the dish even better. If you are feeling extra creative, create a fresh dip out of any combination you like.
---
Heavenly!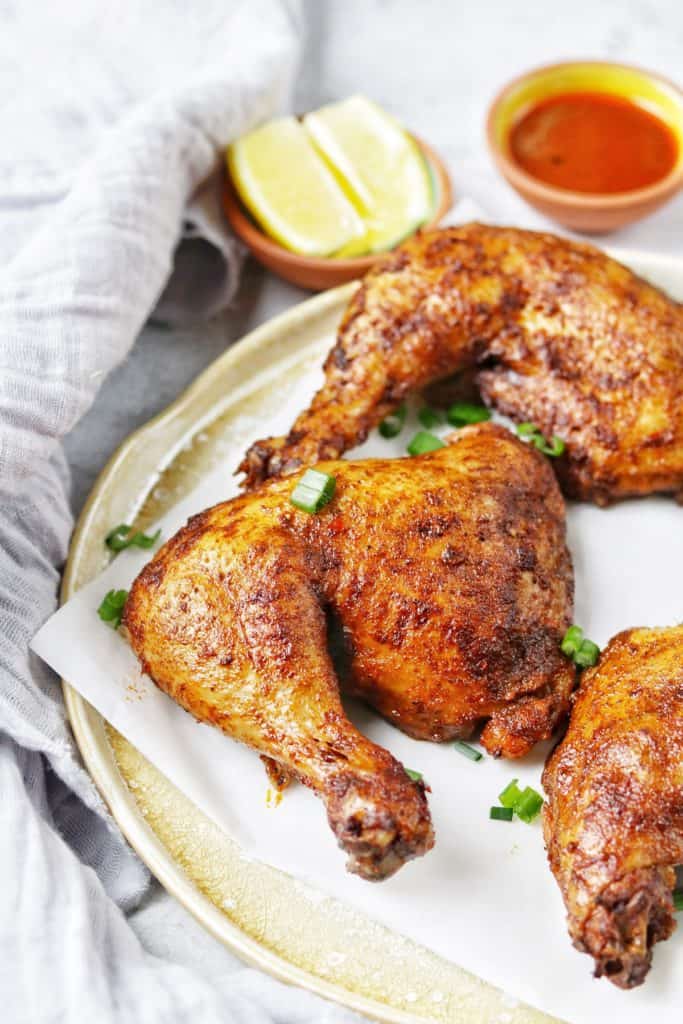 ---
Now that you have the recipe and all its the other variations, we would like you to try them. Try this recipe on the weekend and maybe binge-watch a new show! Save this recipe for the future and share it with your friends as well!
---
Other Recipes You Need to Try
---
If you've tried this recipe or any other recipe on Sourandsweets, don't forget to rate the recipe and leave me a comment below! I would love to hear about your experience with my recipes. Please share it with me on Instagram.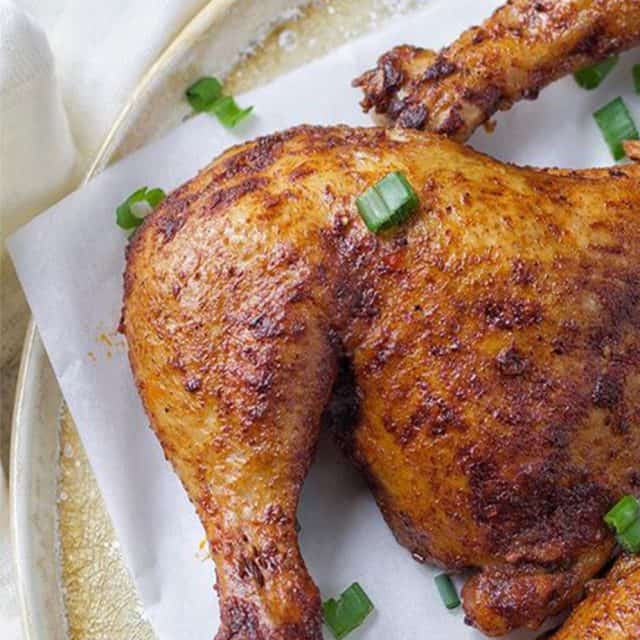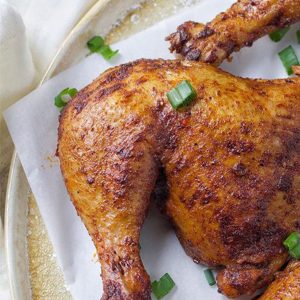 Foil Wrapped Chicken Thighs Recipe
Check out this easy-to-follow recipe to enjoy the savory flavors of Foil Wrapped Chicken Thighs at home.
Ingredients
5-6

Pieces

boneless/bone-in chicken thighs and quarters

1

tablespoon

shawarma seasoning (cumin, cardamom, black pepper, and cloves)

2

tablespoon

pepper paste

1

tablespoon

smoked paprika

salt

to taste

1

lemon

Juice

1

teaspoon

Aleppo pepper

2

tablespoon

olive oil
Instructions
In a bowl, add all your marinade ingredients. Then mix until all combined; Use your hand to coat the chicken with marinate. You can marinate it for 30 minutes if you have time.

Place marinated chicken on a large piece of parchment paper and then wrap them with foil.

Bake at (500 degrees F for - 260 degrees C) for 45 minutes, broil until crispy.