This Turkish Red Cabbage Salad is easy, crunchy, and quick to prepare! It's a delicious recipe that requires only four simple ingredients and is packed with flavor. You can serve this delightful Turkish red cabbage salad with kebabs, barbecues, or roasted meat. It's fresh, tasty, and easy to make at home. It's just like the ones you'll see at any takeaway kebab shop.
---
Tasty, Fresh, and Easy to Make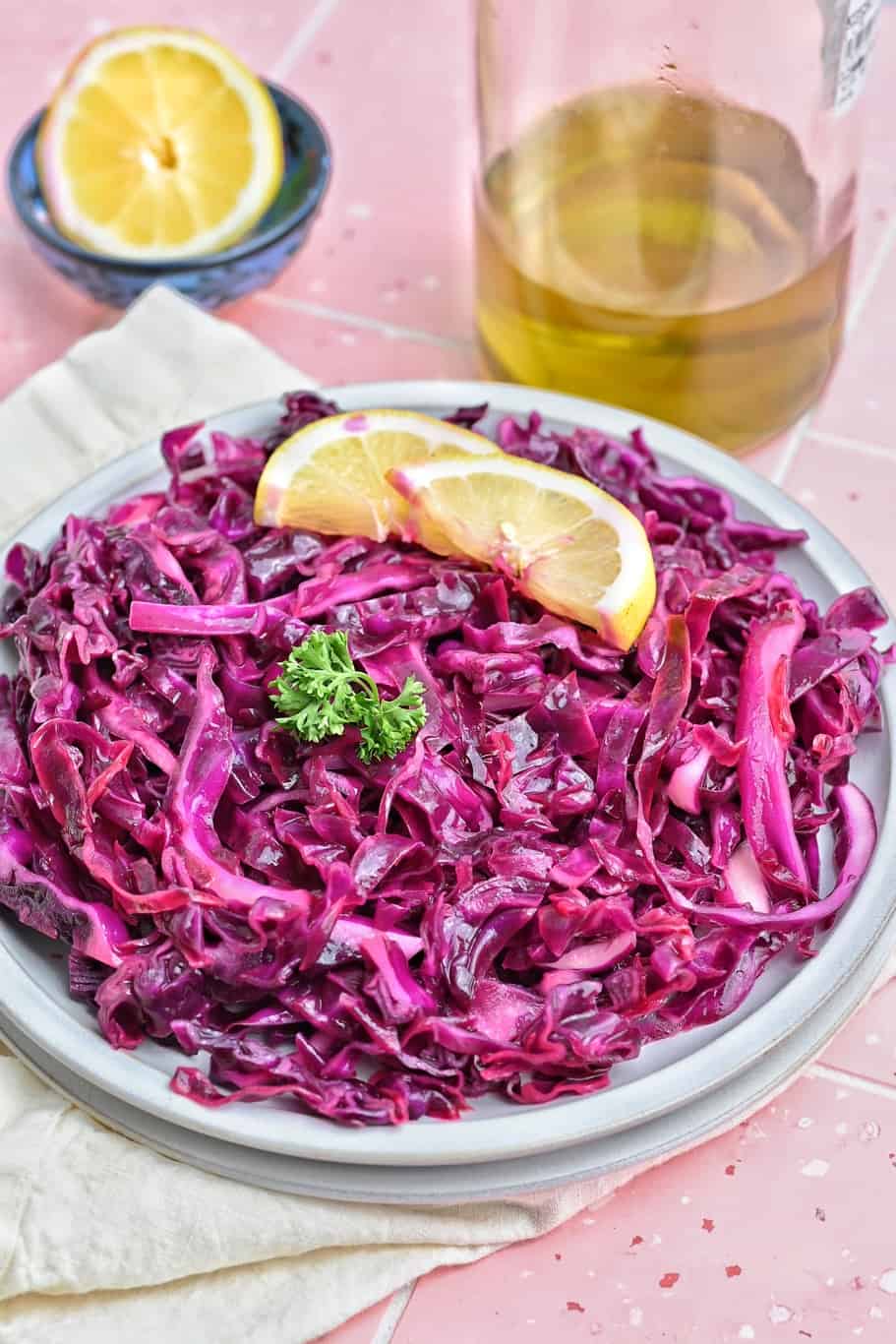 ---
Can't get enough of that brightly colored, lip-smacking salad from your local kebab shop? Don't worry; we will show you how to make the Turkish Red Cabbage Salad Recipe step-by-step, a tasty side dish that's easy yet delicious.
Easy, affordable, and quick, you'll love this Turkish salad with red cabbage! The ingredients are simple, inexpensive, and easily obtainable.
This Turkish salad with red cabbage is a great way to brighten up your plate with flavor and color.
If you're looking for a tasty side salad to serve with your kebabs, kofta, grilled meat, or just about any other type of barbecue, this salad is for you! It's a delicious salad that goes well with roasted meats, stews, chicken shawarma, or with falafel if you are vegetarian.
---
Colorful and Satisfying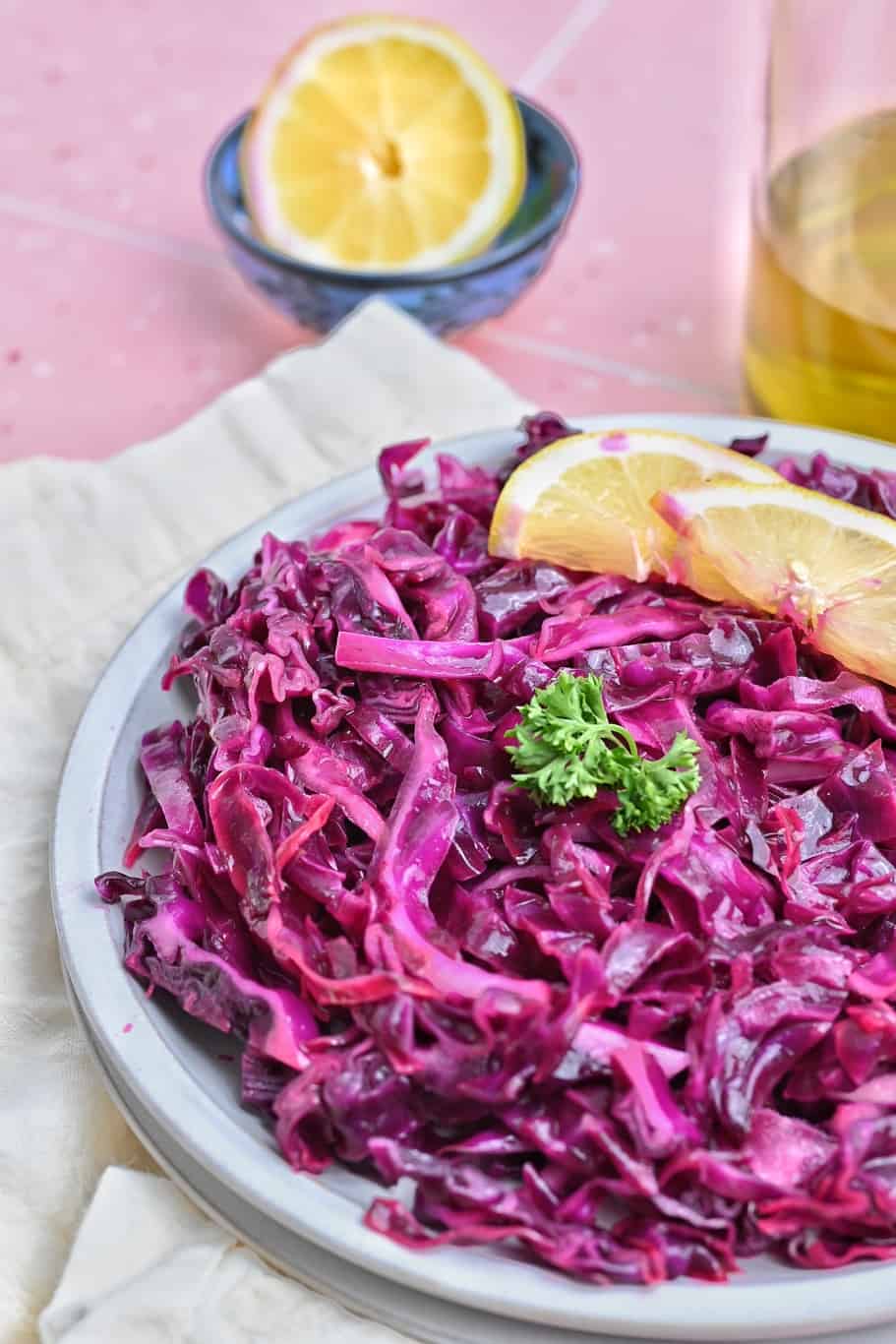 ---
Jump to:
---
What Is Turkish Red Cabbage Salad?
Purple Cabbage Salad is a light, healthy, delicious, crunchy, and nutty side dish packed with antioxidants.
Shredded red cabbage is marinated in a simple dressing of olive oil, lemon juice, and salt. The cabbage absorbs all of the salad dressing's flavors, and the texture softens over time, making it easier and more delicious to eat.
Turkish cabbage salad will add a tasty crunch and pop of flavor to your favorite dishes.
---
How Do You Make Red Cabbage Salad Like the Kebab Shop?
Have you ever wondered why Turkish red and green cabbage taste so delicious?
It only takes a few simple steps to transform ordinary cabbage into the delicious taste and texture of kebab shop cabbage salad.
The only step you have to make is to let the cabbage sit in the dressing before being set aside to soak up the flavors. It's a good idea to let the cabbage rest for at least 30 minutes before you serve it because the texture of the cabbage will become better with time.
---
The Secret Is All Revealed!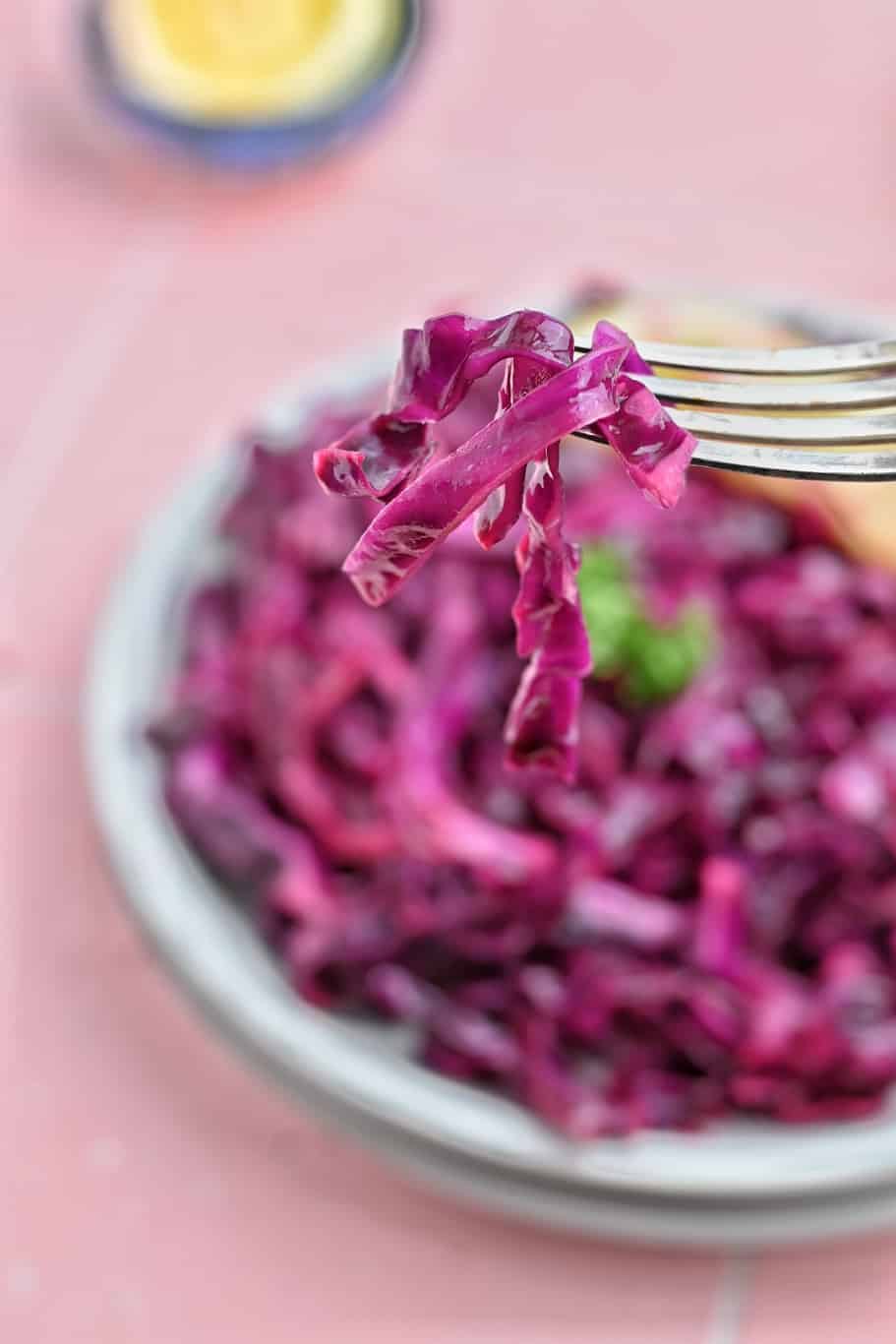 ---
How to Shred Red Cabbage
Shredding cabbage is simple; all you need is a sharp knife or a mandolin.
Begin by removing any loose outer leaves. Then, cut the cabbage head in half all the way through the stem. Remove and discard any thick stem sections. You don't need it, and the stem can be difficult to chew.
Place the cabbage cut side down on a cutting mat, then use a sharp knife to thinly slice the cabbage lengthwise to create thin slices.
---
Give Life to Your Dinner Table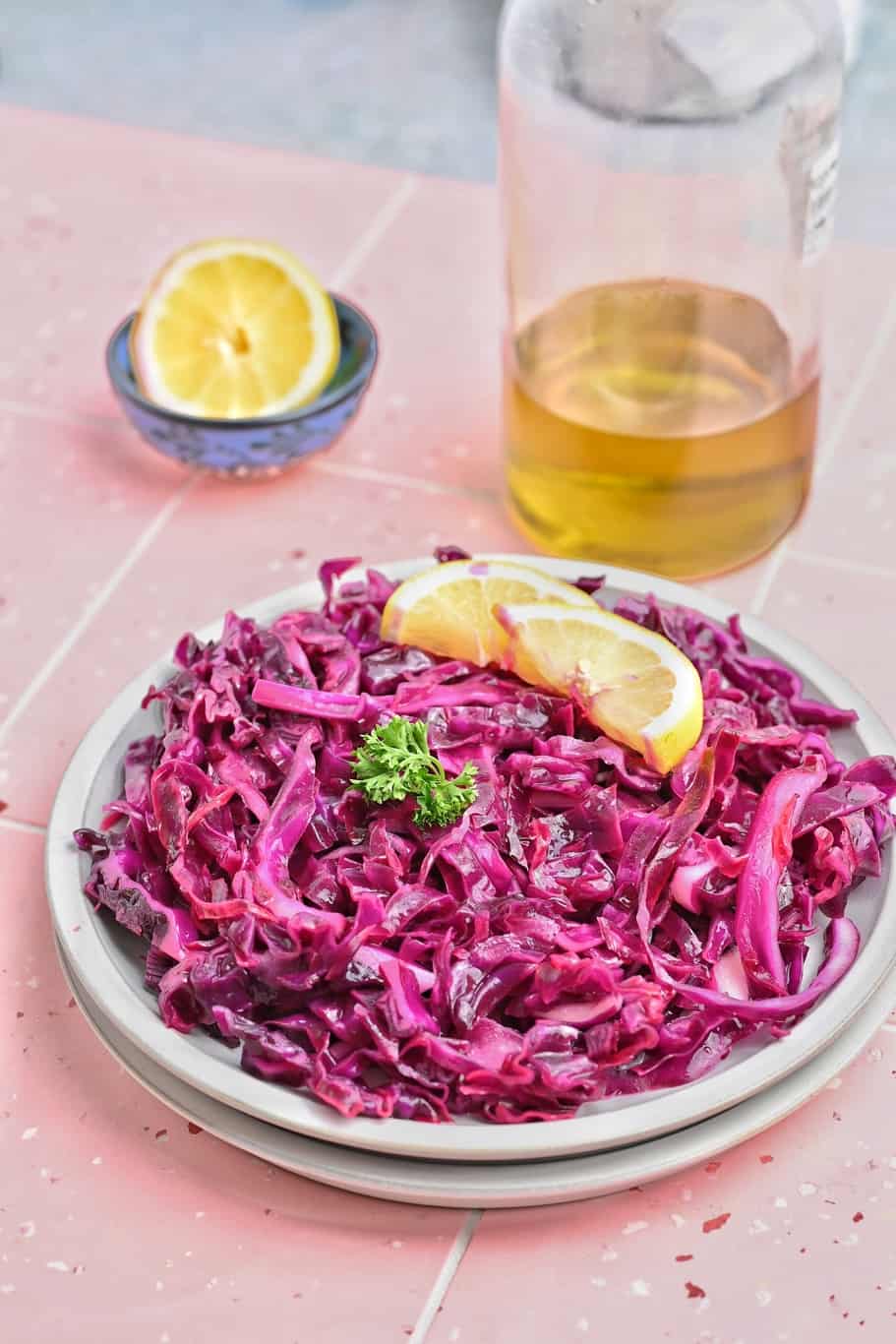 ---
Turkish Red Cabbage Salad Recipe Ingredients
Red Cabbage: I used red cabbage because I like its vibrant color and believe it has a slightly stronger flavor than white cabbage, but green cabbage will work just as well.
Olive oil: Use regular olive oil rather than extra virgin olive oil because the flavor will be too strong and overpowering.
Lemon juice: Use fresh lemon juice for a better taste.
See the recipe card for quantities.
---
Instructions
First, wash the cabbage and cut it into thin strips.
Next, pour olive oil, lemon juice, and salt into a large bowl followed by shredded cabbage.
Then, give it a good mix, and massage for 5 minutes to get the oil coated all over the cabbage.
After that, over the bowl with cling film and refrigerate for 20 minutes.
Finally, serve it cold with kebabs.
---
Substitutions
Red cabbage: You can use green cabbage if you don't have red cabbage.
Oil: I made the salad dressing with olive oil. It's best to use olive oil, but if you don't have any on hand, avoid using any strong-flavored oils as a substitute.
---
Variations
Deluxe: Add some shredded iceberg lettuce and cucumbers and tomatoes for a deluxe version. You can also add a grated carrot to make a festival of colors.
---
Perfect for Any Occasion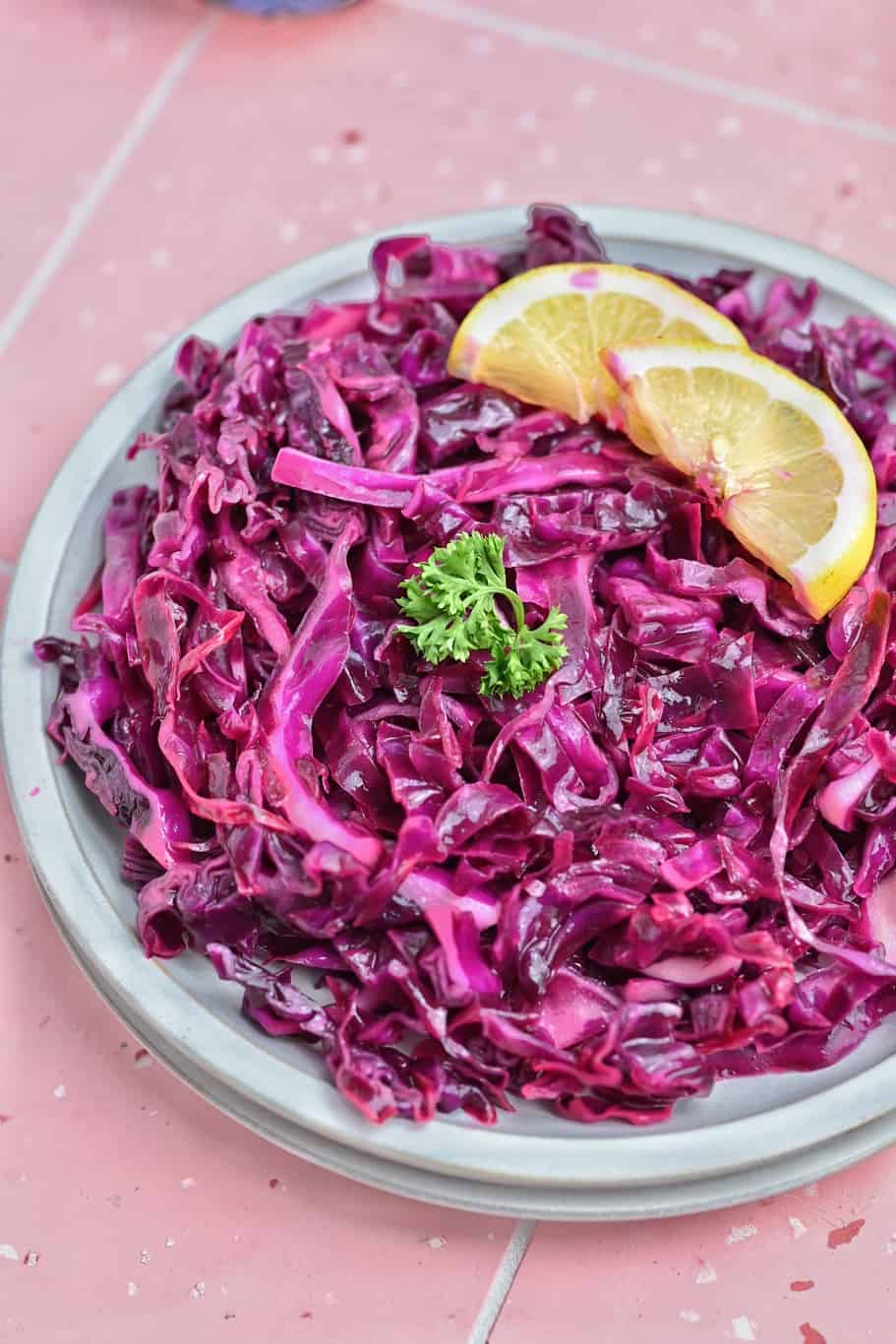 ---
Equipment
You will need a sharp knife or a mandolin to shred the cabbage.
---
Storage
Making Ahead: This is a great salad to make ahead of time because the cabbage will marinate in the dressing and taste even better. If you're going to do this, you can skip the cabbage massage.
Refrigerator: Store leftovers in an airtight container in the fridge. The red cabbage salad will keep in the fridge for approximately six days. Just keep in mind that the cabbage will become softer over time.
---
Top Tips
The key to making cabbage-based salads is to slice the cabbage as thinly as possible. If the slices are too thick, they will be difficult to eat and the bitter flavors will be more noticeable, even dominating. You can use a mandolin if you want, but I prefer to use my sharpest knife.
Don't skip the crucial third step when slicing: Add some salt and give the cabbage a good massage. This softens the brassica and removes some of its natural bitterness (your jaws will thank you).
The salad in the picture has only received a gentle massage and a brief rest. Massage for a longer period of time and leave it to steep in salt for a deeper purple result, as seen in Turkey.
---
Frequently Asked Questions (FAQs):
What does red cabbage taste like?
Red cabbage has a more earthy flavor than green cabbage. When eaten raw, it has a strong and slightly bitter flavor, but when cooked, it can taste sweet. It complements sour flavors like lemon juice or vinegar. Because red cabbage is crunchy, it goes well with meat or other crunchy vegetables.
Can I use green cabbage to make kebab shop salad?
You can use any type of cabbage you have on hand, or whichever one you prefer; why not combine the two? We like purple cabbage because of its vibrant color; it also has more antioxidants than green cabbage and is packed with health benefits.
Do you add sugar to the cabbage?
If the cabbage is too tart after 30 minutes of marinating, consider adding one teaspoon of sugar to balance out the flavors of olive oil and lemon juice; it will add a pleasant sweetness.
Is it okay to eat raw red cabbage?
Yes, eating raw red cabbage is generally safe. Many people like to add raw red cabbage to salads, slaws, or as a crunchy topping to sandwiches. It is high in vitamin C and vitamin K, as well as fiber and antioxidants.
how long do you keep the Turkish kebab salad in the dressing?
It's better to marinate the salad in the dressing for at least 30 minutes.
Can you shred cabbage in a food processor?
You'll need a shredding disc to shred cabbage. It is a standard accessory for most food processors and can be reversible. When using this blade, make sure the shredding side is facing up.
---
Related
Looking for other recipes like this? Try these:
Pairing
These are my favorite dishes to serve with [this recipe]:
---
If you've tried this recipe or any other recipe on Sourandsweets, don't forget to rate the recipe and leave me a comment below! I would love to hear about your experience with my recipes. Please share it with me on Instagram.
---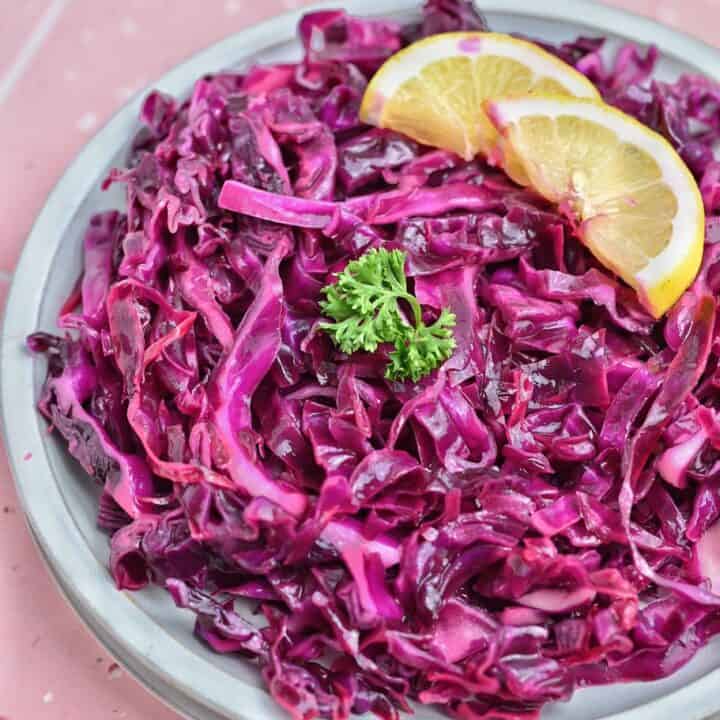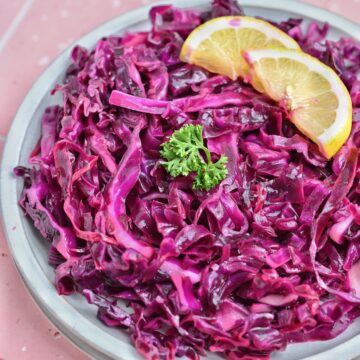 Turkish Red Cabbage Salad
Learn how to make the Best Turkish Red Cabbage Salad at home with this easy recipe that only requires four ingredients! Try it now!
Ingredients
½

head

red cabbage

¼

cup

olive oil

1

fresh lemon juice

1

teaspoon

salt
Instructions
Wash the cabbage and cut it into thin slices.

Pour olive oil, lemon juice, and salt in a bowl followed by shredded cabbage.

Give it a good mix, and massage for 5 minutes to get the oil coated all over the cabbage.

Cover the bowl with plastic wrap and refrigerate for 20 minutes.

Serve it cold with kebabs.
Nutrition: Please note that the nutrition label provided is an estimate only.
Serving:
1
serving
Calories:
101
kcal
Carbohydrates:
5
g
Protein:
1
g
Fat:
9
g
Saturated Fat:
1
g
Polyunsaturated Fat:
1
g
Monounsaturated Fat:
7
g
Sodium:
407
mg
Potassium:
170
mg
Fiber:
1
g
Sugar:
3
g
Vitamin A:
780
IU
Vitamin C:
40
mg
Calcium:
32
mg
Iron:
1
mg
---