---
Do you miss the mouth-watering Old fashioned Pickled Beets your grandma used to make? Do you like to make them at home just like she did? Then worry no more! 3 ingredients are all you need to make these Quick Pickled Beets. This recipe requires no added sugar and is ready in about four hours. It's a great addition to salads, power bowls, breakfast, and more.
---
Tangy Tender Slices of Absolute Goodness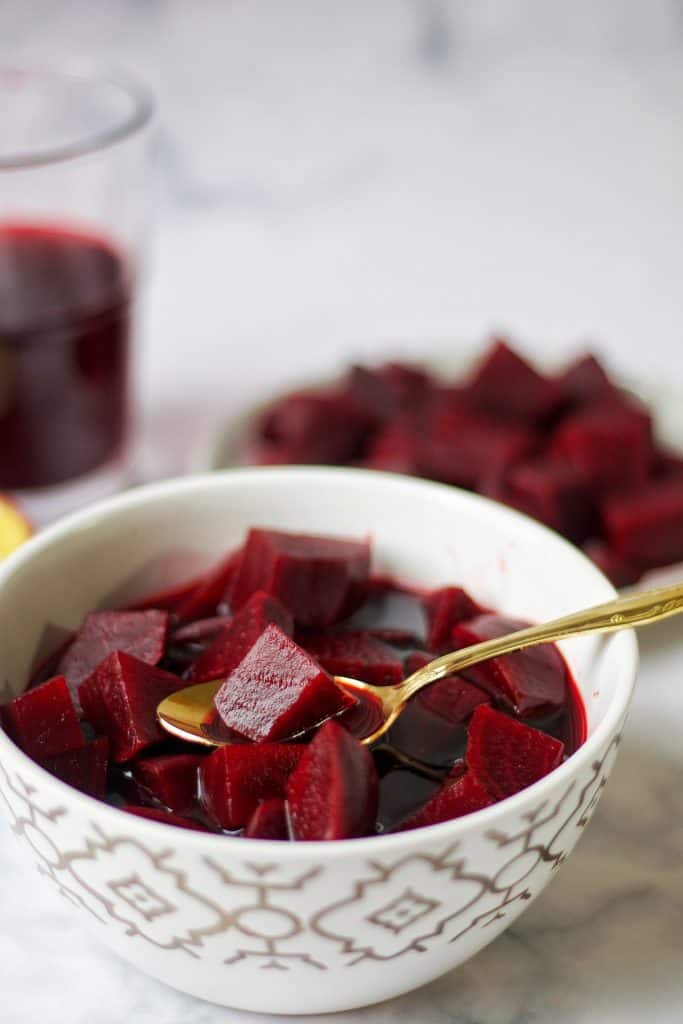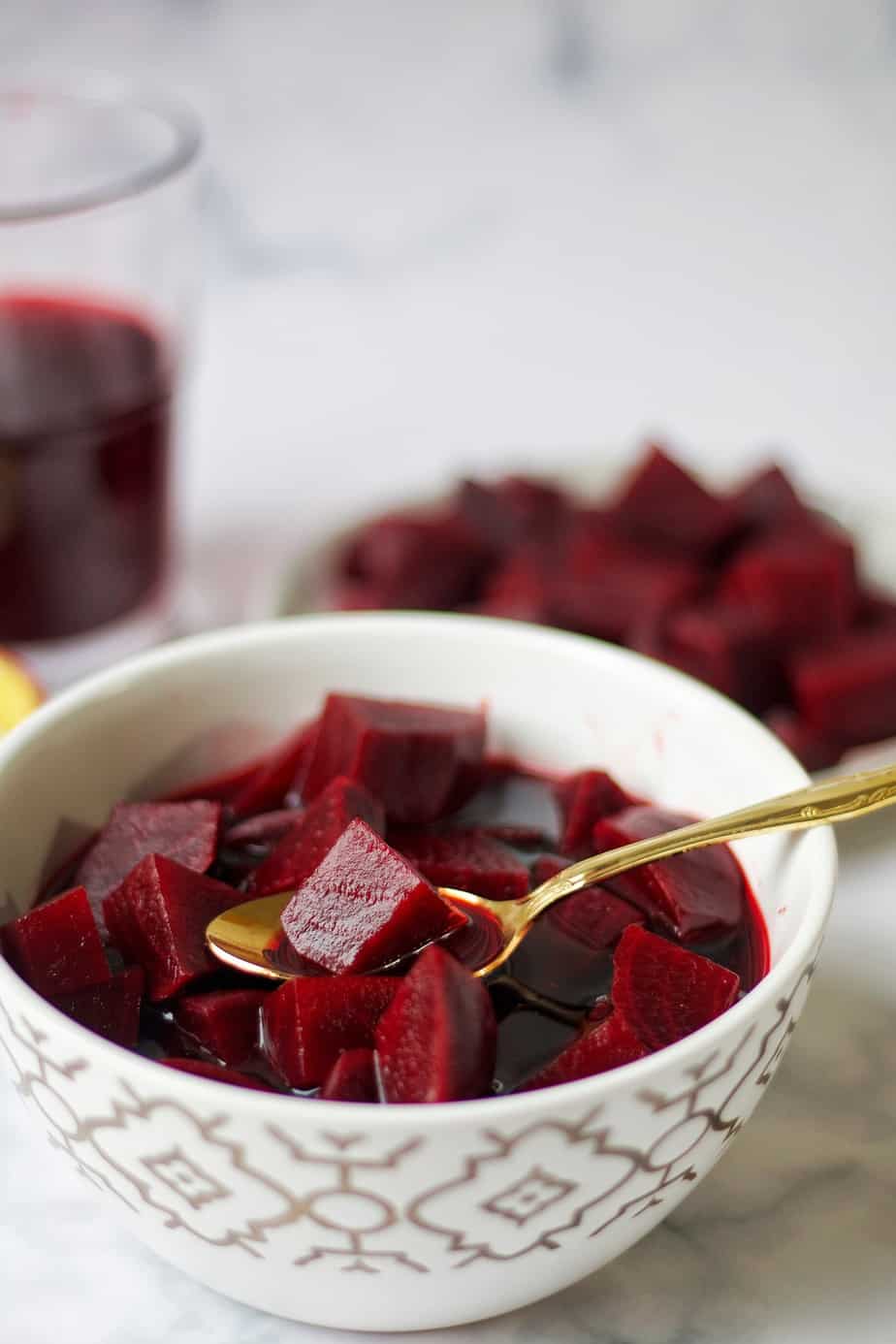 ---
Refrigerated Pickled Beets Vs. Canned Pickled Beets
Refrigerated pickled beets follow a different cooking direction than the canned ones and are easier to make too. Canned pickles require a sterilized jar and processing the beets with boiled water. You might also need to add preservatives to keep them fresh for longer. Then they are kept at room temperature.
But for homemade ones, you can just boil the sliced beets and keep them stored in the refrigerator for a longer period, without using any preservatives, which is a safer and healthier way to make pickles. But make sure to not store the pickles for more than six weeks.
When finished with the first batch, you can quickly make it again following the simple recipe we have to provide below.
---
Variations of Pickled Beets Recipe
There is no fixed type of recipe for making pickled beets. You can make your pickle with different types of beets using various ingredients and spices that fit your taste.
For this recipe, we have used dark red beets, but Early Wonder, Chioggia, or Golden beets will make a good pickled dish too.
There are different ways of cooking as well that you can follow, like steaming the beets roots, boiling them, roasting them or cooking them in a pressure cooker.
The roasted beets are better at conserving their actual flavor than the boiled ones, for which most of the pickles are made with the roasted beets.
For the brine, the water where the beets are to be soaked, you can use distilled white vinegar, rice vinegar, or white wine as well. Add some salt, spices, or herbs to the brine according to your taste to make the pickles more flavorful.
Among spices, the ones that will go well with this dish includes chopped onions and garlic, red chili flakes, salt, sugar, peppercorns, cinnamon stick, ground mustard, or bay leaves.
---
Save, Pin, and Share This Recipe!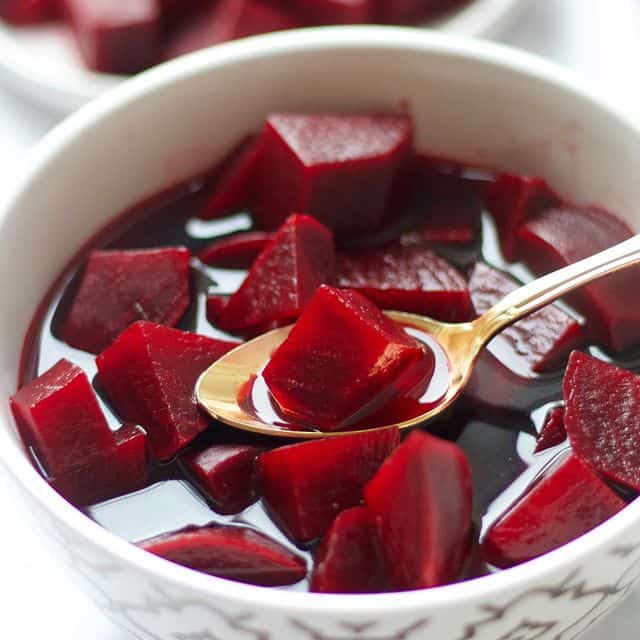 ---
Some Health Benefits of Beets
Old-fashioned Pickled beets are not only delicious to have as a snack, but they also come with multiple health benefits.
They are a great source of energy and nutrients and having them occasionally will provide you with necessary vitamins, antioxidants, and minerals. You can add some pickled beets to your daily diet to keep your bones protected, have well-regulated blood pressure, improve your immunity system and avoid getting contaminated with any chronic disease.
Beets are also low in fat, protein, and calories, and pickled beets contain almost the same health benefits as beets but when added with vinegar, salt, and other spices, it gets heightened with more nutrients. One serving of the pickled beets contains about 74 calories with zero cholesterol and fat.
Moreover, pickled beets also help you control your weight since they contain very few calories as well. Nutritionists suggest adding pickled beets to our daily diet in a reasonable amount to boost metabolism and gain more energy.
Along with fewer calories, pickled beets offer a very small amount of protein, which is about one gram in one serving. But they are rich in carbohydrates, which keeps the heart and brain activity along with good kidneys and nervous system.
When made with added sugar, pickled beets are a great source of carbohydrates that help to maintain a stable blood sugar level.
Also, the antioxidant compounds in the pickled beets help in preventing diseases like Alzheimer's and arthritis. They also play a great role in improving our immunity system, providing us with vitamin A, C, and E.
---
Quick Pickled Beets Recipe
Ingredients
dark red beets
hot water
white vinegar
salt
How to Make Old-Fashioned Pickled Beets
To start, wash the beets and peel them nicely. Then cut your beets to desired sizes.
Next, add your beets to a large pot and cover them with water. Add white
vinegar, and salt and stir them well for a few minutes.
Put the pot on medium heat and let them boil until they are fork-tender. Keep them boiling for about 15-18 minutes.
After the beets are boiled, turn off the stove and keep the pot aside to let them cool down. Then transfer the beets along with the brine into an airtight jar.
Finally, store the jar in the refrigerator. You can preserve the pickle for up to 6 weeks, and have it anytime you want as a side dish or just by itself as a healthy snack.

---
FREQUENTLY ASKED QUESTIONS
How to use your pickled beets?
You can have pickled beets in multiple ways. Aside from being a great munching snack that you can eat while watching your favorite movie or reading a book, it can also be used in sandwiches or wraps. Just add some sliced beets and spread the brine over your sandwich or wrap for a new burst of flavors. You can also add the pickle to your salad or have it as a side dish.
How to store refrigerated pickled beets?
Homemade pickled beets can be stored in the fridge for up to 6 weeks.
Are beets high in sugar?
Compared to other vegetables, beets have more sugar than most of them-about 8 grams in a serving of two small beets. But that's almost the same as getting 8 grams of sugars from a cookie.
Can the beets be roasted instead of boiling?
Sure! Simply roast them whole, peel, and slice as directed.
How soon can pickled beets be eaten?
You can eat them right away, but it's best to wait at least a couple days so the flavors can deepen. 
---
Top Tips
Make sure you wash the beets before you go for peeling or slicing them because if you wash them after taking off the skin, it takes away some of their flavor and nutrition.

It is better to cut the beets into bite-size pieces, but feel free to cut them however you like.

If you desire a bit of sweetness but do not want to use sugar, you can add a teaspoon of honey as a substitute to the brine.
---
Pickled beets are super easy to make, store, and go with any sandwiches and salads. It is a popular dish at parties, loved by both children and adults, and is a good source of nutrients and minerals. Hope this simple recipe will inspire you to keep making batches of pickled beets, store them in the refrigerator for you and your family or send them as presents for your near and dear ones.
---
Other Recipes You'll Enjoy
---
If you've tried this recipe or any other recipe on Sourandsweets, don't forget to rate the recipe and leave me a comment below! I would love to hear about your experience with my recipes. Please share it with me on Instagram.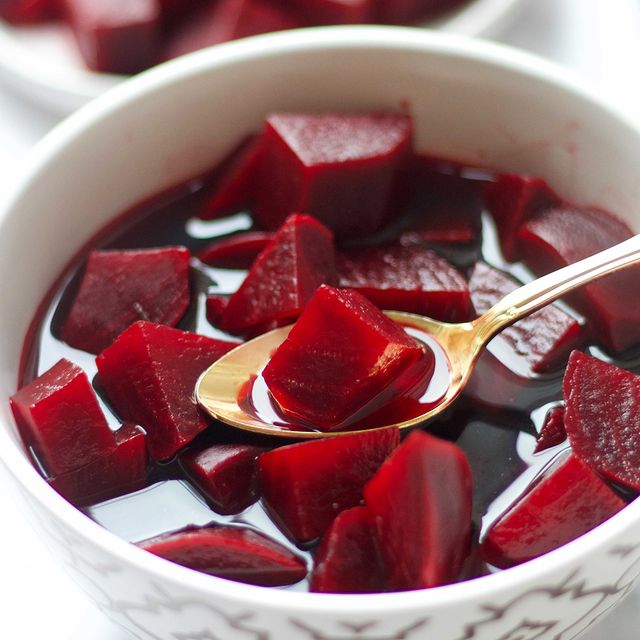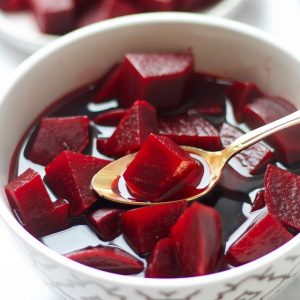 Old Fashioned Pickled Beets (No Sugar) Quick Pickled Beets
Are canned beet pickles not satisfying your taste buds anymore? Then make your refrigerated pickled beets at home following this easy recipe!
Ingredients
2

cups

dark red beets

2

cups

hot water

1

cup

white vinegar

1

tablespoon

salt
Instructions
Peel, wash, and cut your beets to desired sizes. I like cutting mine into bite-size pieces. Feel free to cut them however you like.

Add your beets to a large pot, add water, white vinegar, and salt.

Cook on medium heat until they are fork-tender, about 15-18 minutes

Let them cool down, and then transfer them to a jar.

Store in the refrigerator for up to 6 weeks.
---