Baklava, or as pronounced in Arabic: Baklawa, is surely one of the simplest Middle Eastern desserts that people love. It's available in a wide range of forms and fillings, with rolled baklava being the most common and popular.
You can use a variety of different fillings in Rolled baklava, like almonds, pistachios, or walnuts to deliver a rich, nutty, and sweet flavor. With a drizzle of honey or simple syrup, and a spiced, crunchy nut filling, these fingers make the perfect dessert for gatherings!
---
Your Eyes Will Be in Love Before Your Taste Buds!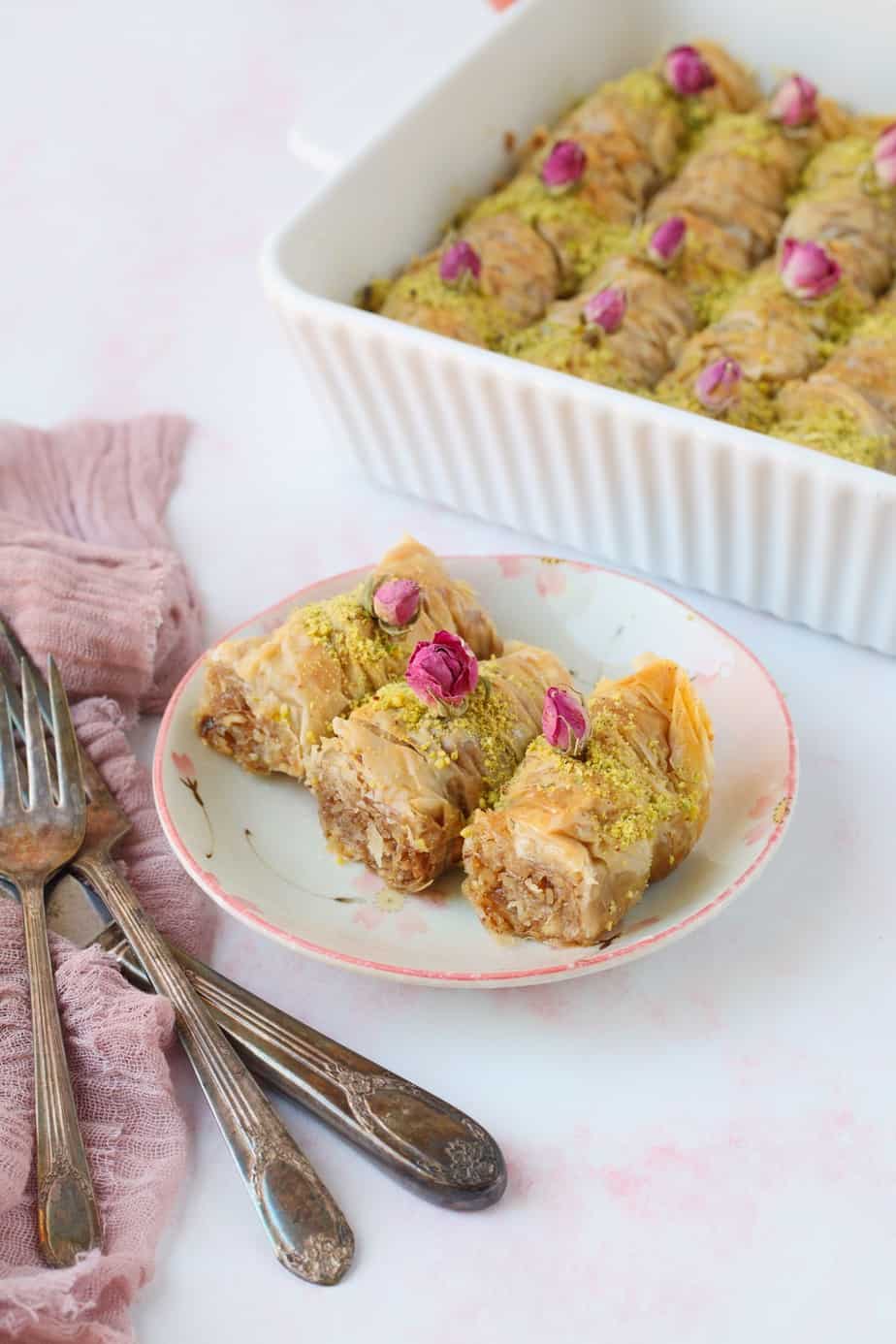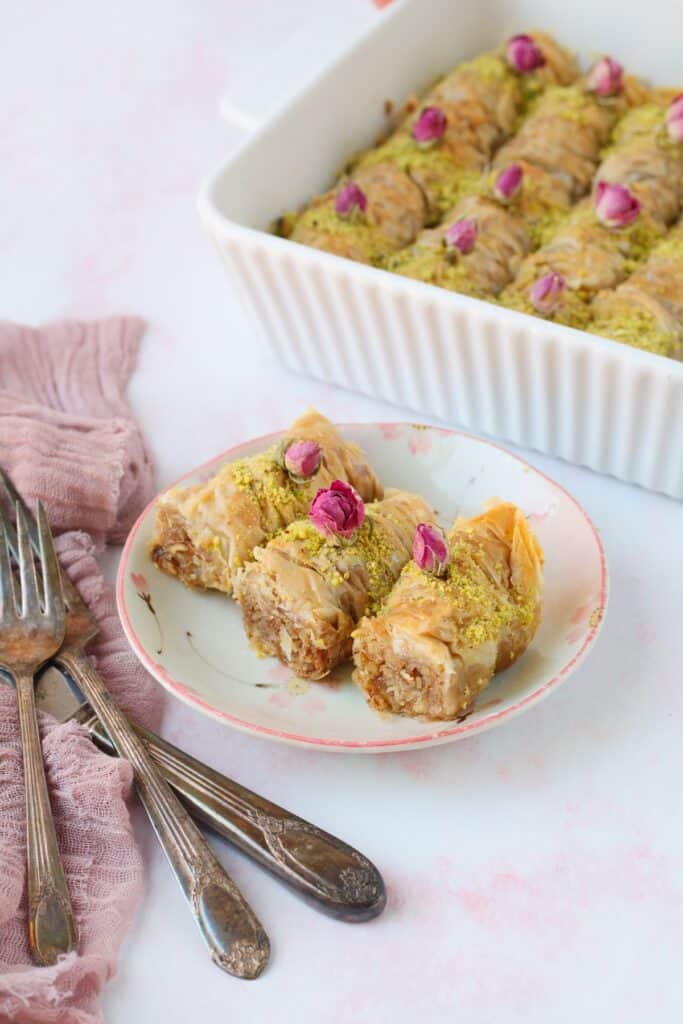 ---
I'll be sharing with you an easy baklava roll recipe that has been in my family for years and holds a special place in my heart. It's also my favorite, especially during The Month of Ramadan. This rolled baklava is crispy, delicious, and will leave you full but still wanting more!
---
What Exactly is
Rolled Baklava?
Baklava rolls are a Middle Eastern dessert found on the top of the list of handmade delights. Baklava is traditionally made in big pans, with crunchy layers of phyllo pastry with a sweetened nuts filling in between, brushed with melted butter then baked into goodness! It's a fun party twist on a Mediterranean classic.
---
The History of
Baklava
The word baklava is thought to have originated in Ottoman Turkish and was first recorded in 1650 in English. According to history, this meal originated in Istanbul's imperial kitchens.
However, due to the lack of documentation, numerous interpretations of this sweet dish's origin and etymology exist. Today, baklava has made its way into many different cultures and became a part of the Greek, Turkish, and Middle Eastern cuisines.
---
My Way

Of Rolled Baklava

Despite the fact that the original recipes call for pistachios, almonds, or walnuts, the baklava recipe has a few regional variants when it comes to the nut mixture. Although people usually make baklava with walnuts and honey, some parts of the Middle East use pistachios, whereas others use hazelnuts.

You could also find spiced baklava, with cinnamon and cloves in the filling to be popular in a few places. This time, I've decided to prepare it using walnut filling, but feel free to use cashew nuts, almonds, or pistachios instead.
---
Tips

on Making

Walnut Baklava Rolls

Use a food processor to chop your walnuts. You need to pulse for about 10 seconds at a time, but make sure you don't grind them too much so we don't end up with powder!

In order to soak up the flavor perfectly, let it sit overnight at room temperature.

Prepare the simple syrup before making your baklava roll because it can take quite some time to cool down.

Make sure to ladle the hot baklava with cold simple syrup in order to maintain crunchiness and keep them from getting soft and saggy.

After placing the baklava rolls in a prepared baking dish, brush them with more melted butter.

Cut your baklava BEFORE baking.
---
Frequently

Asked

Questions

How do I prevent my unbaked rolls from cracking?

The phyllo dough usually breaks when it dries up. To prevent that try covering it with a damp kitchen towel. You can also brush each sheet with a good amount of butter to prevent cracking while rolling.

Can I microwave my baklava rolls?

Yes! You can always heat for 10-15 seconds to bring back the crisp. However, do not overheat or else it will get dry.

How do I store my rolled baklava?

These rolls of Arabic baklava can be stored for days at room temperature. Also, if you want them to last up to 2 weeks, you can store them in air-tight containers in the refrigerator.
---
Ingredients:
• Walnuts (2 cups)
You can spread any nut mixture over the phyllo sheets, but I suggest a cinnamon filling with walnuts.
• Cardamom Powder (½ tsp)
While a walnut baklava recipe needs to have some strong-flavored spices, cardamom is the best choice to go for if you want to enhance the overall taste. No wonder it's among the most expensive spices!
• Cinnamon Powder (½ tsp)
The best baklava recipe definitely calls for this aromatic ingredient. It will add a sweet and woody flavor to the walnut filling and a toasty warmth to the dessert.
• Phyllo Dough
Filo or Phyllo dough is a thin, flaky, unleavened dough usually found in the frozen department of your local grocery shop in a standard square size that you cut as preferred.
• Melted Butter or Ghee (½ cup)
Baklava needs a lot of fat. You need to use a lot of melted butter or ghee to make it crispy and delicate. In this recipe, you need to brush every layer with butter or ghee.
• Brown Sugar (2 tbsp)
Brown sugar is the best choice for walnut filling, but you can also use white sugar instead.
---
How to
Make

Rolled Baklava
Step 1:
Put the brown sugar, cardamom powder, cinnamon powder, and walnuts into a food processor and pulse for about 10 seconds until the walnuts are roughly chopped.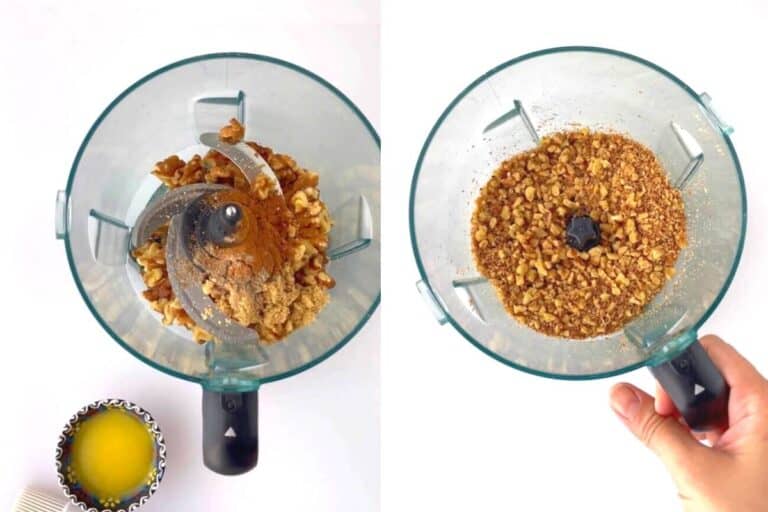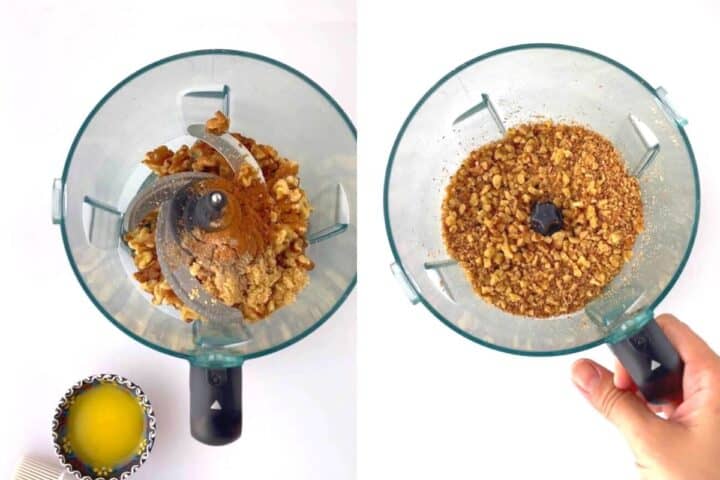 Step 2:
Brush the phyllo dough sheet with melted ghee or butter.
Similarly, add another sheet and brush it with ghee or butter then sprinkle a bit of the chopped walnuts over the phyllo sheets.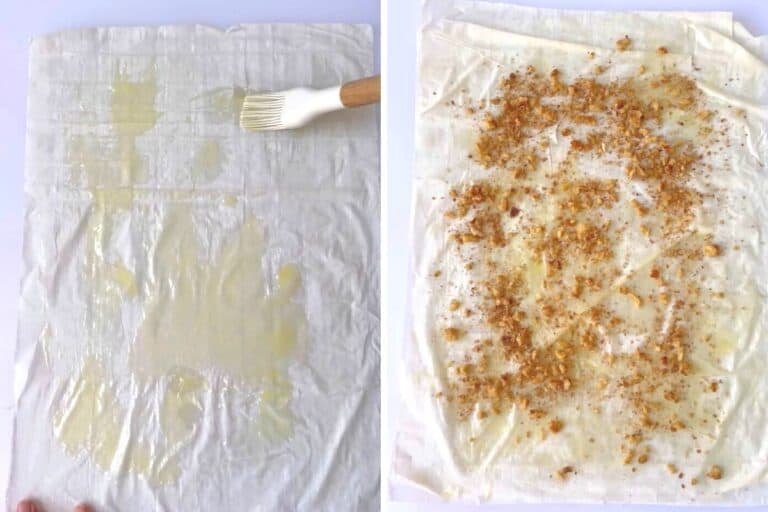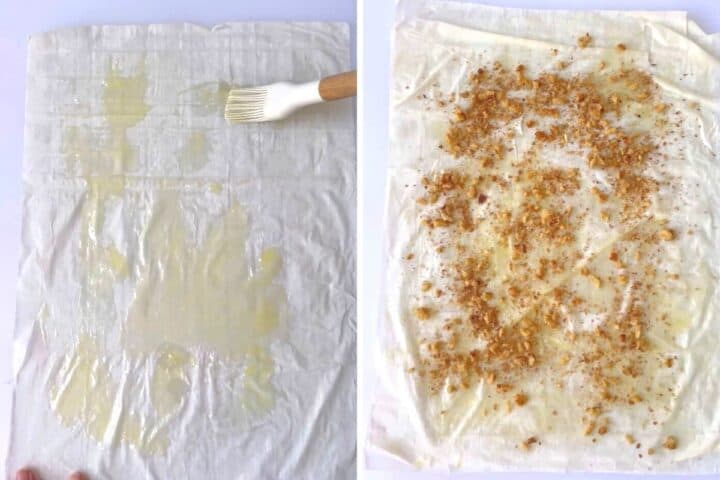 Step 2:
Put a wooden skewer on top of the sheets and roll them up gently. Now slowly remove the skewer while scrunching the sheets and pushing the ends into the middle. Keep making as many rolls as you can until you end up with no walnuts or sheet because you won't get enough of these baklava rolls!
Place the roll baklava on a prepared baking dish. Brush the sheets with ghee or butter and cut them into thirds.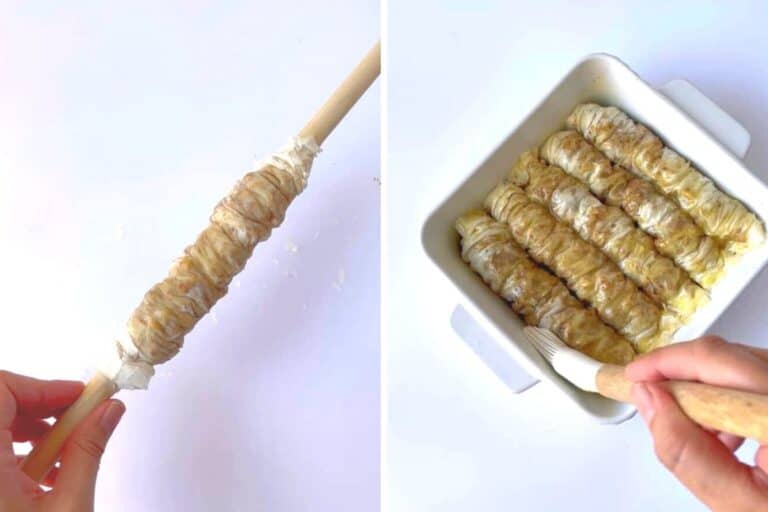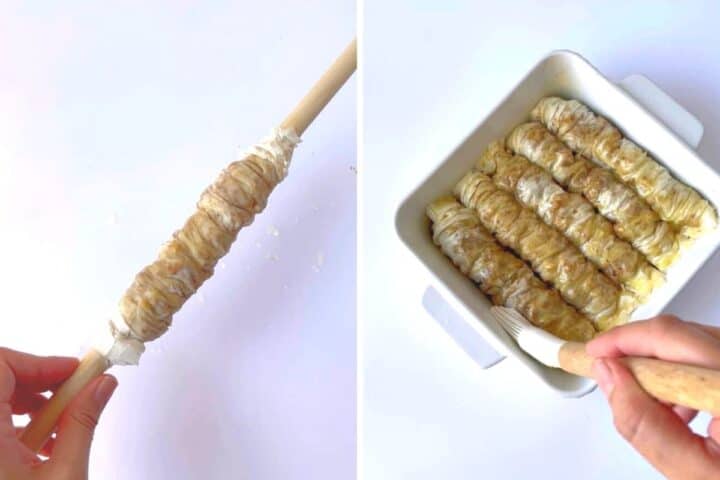 ---
Step 3:
After that, bake the baklava rolls at 350°F for about 25 minutes in a preheated oven until they turn golden. Broil on high until golden.
Step 4:
When the rolls turn golden, bring them out and pour some cold simple syrup over. Finally, Garnish by sprinkling crushed pistachios or nut mixture over the puff pastry baklava rolls. Enjoy!
---
Let's

Get

Rolling!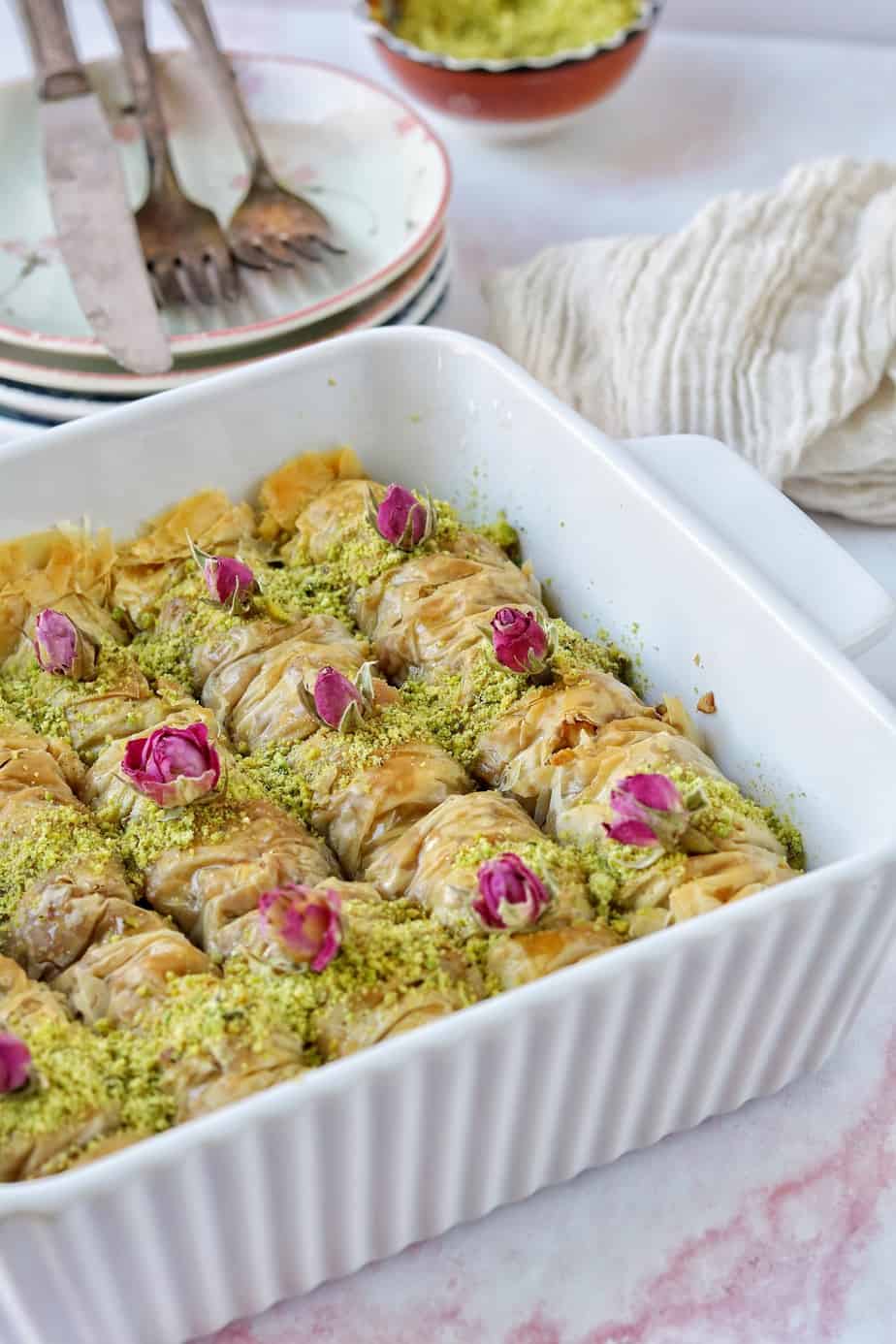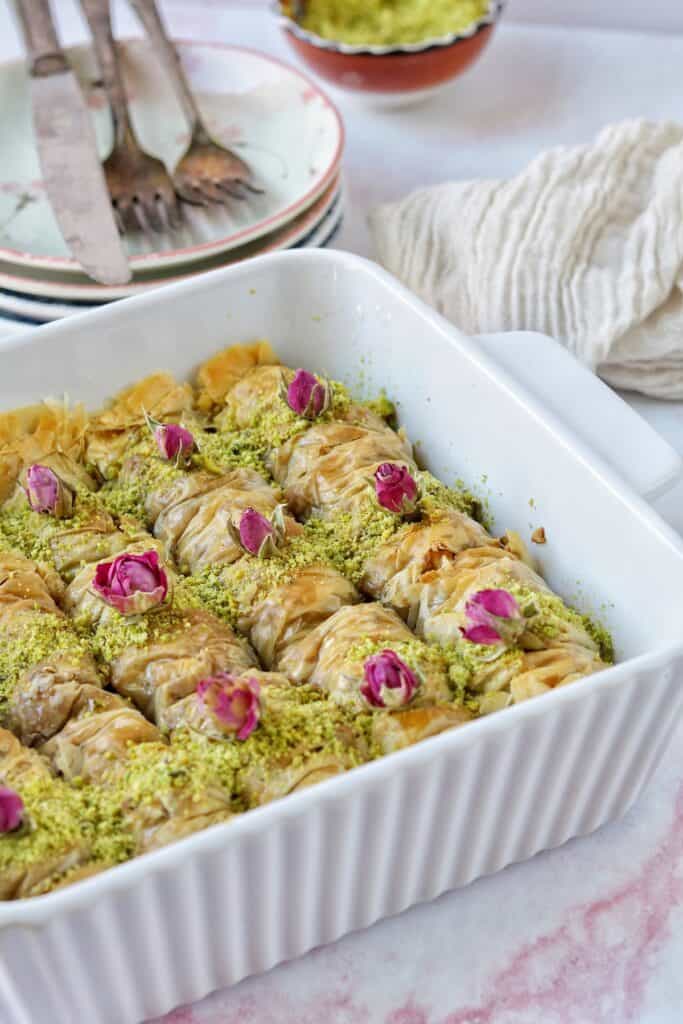 ---
These
Rolled Baklava

Are A

Delight

To Your Taste buds!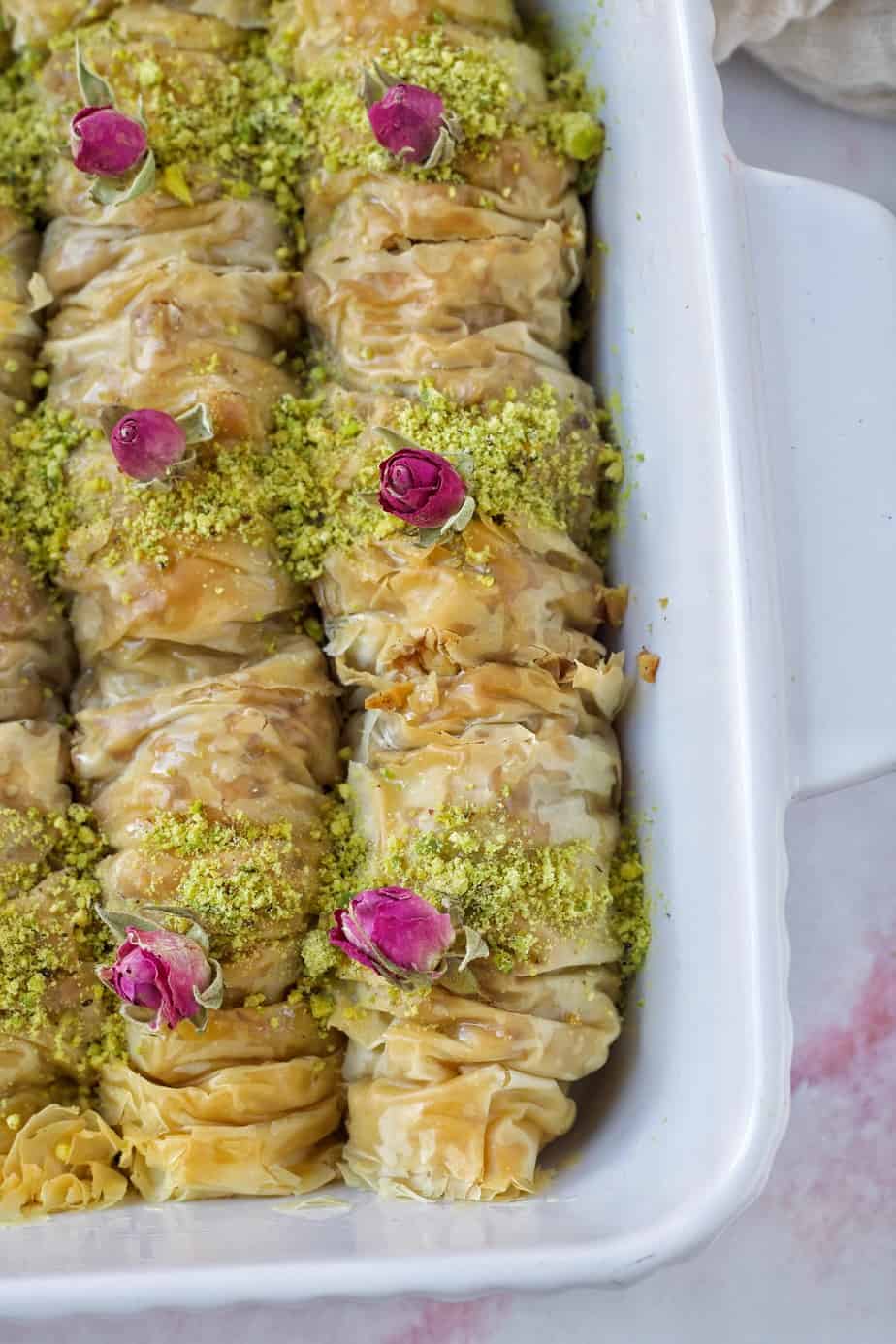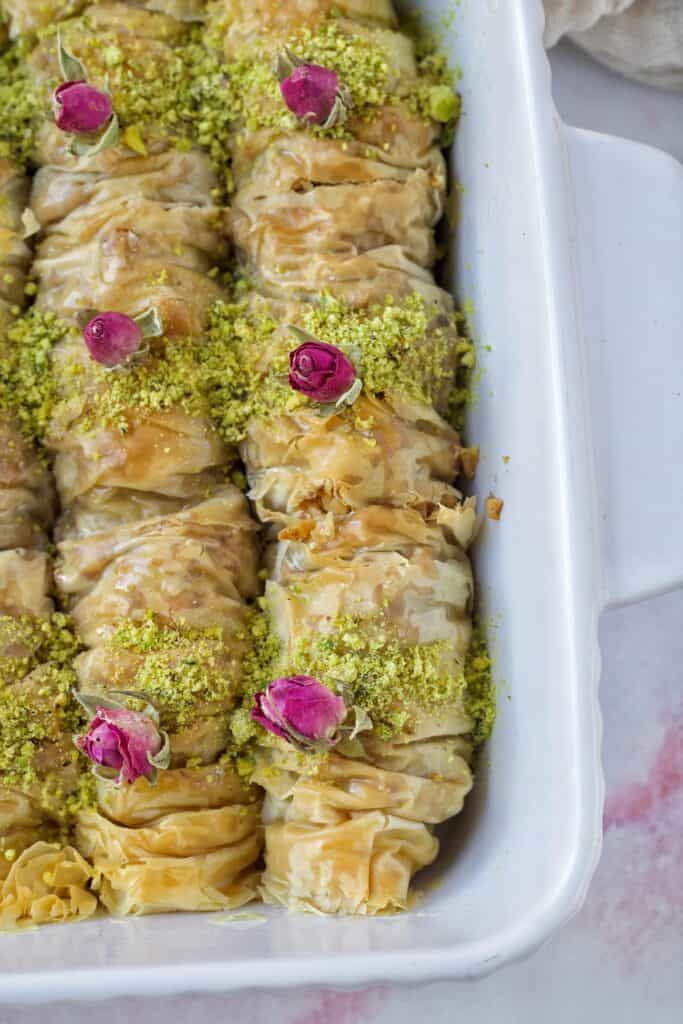 ---
Other Recipes You Might Enjoy:
---
If you've tried this recipe or any other recipe on Sourandsweets, don't forget to rate the recipe and leave me a comment below! I would love to hear about your experience with my recipes. Please share it with me on Instagram.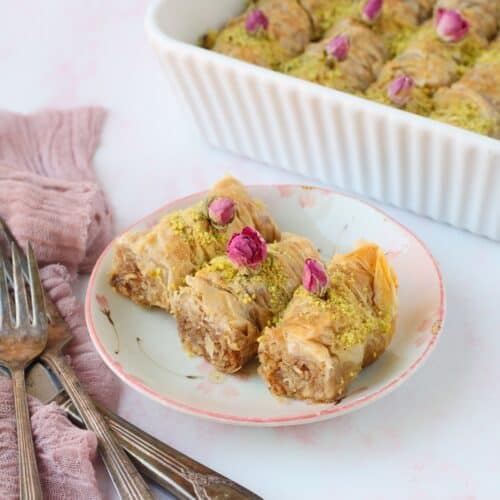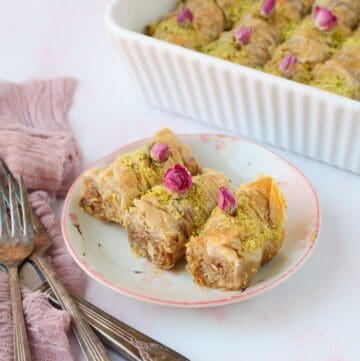 Rolled Baklava - Walnut Baklava rolls
Baklawa is one of the simplest Middle Eastern dessert that people love. It's available in a wide range of forms and fillings, with rolled baklava being the most common and popular.
Ingredients
Walnut baklava rolls
2

cups

walnuts

2

tbsp.

brown sugar

½

teaspoon

cinnamon powder

½

teaspoon

cardamom powder

½

cup

butter

melted

12

sheets

phyllo dough
Simple Syrup
2

cups

granulated white sugar

1

cup

water

at room temperature

2

teaspoon

lemon juice

½

cup

pistachio

chopped
Instructions
How to make Simple Syrup (Attar)
Carefully pour your sugar into the middle of the pot then add water and lemon juice. This simple syrup requires no stirring, so don't stir your sugar.

Place on high heat for 8 minutes only. ( Set the timer. Otherwise, it can burn or get too thick) 

Remove from the heat. The syrup will still be runny, however, it will get thicker as it cools down. 

After it has cooled, store it in a jar. You can keep the simple syrup up to 6 months.  
How to make walnut baklava rolls:
In a food processor, add your walnuts, brown sugar, cardamom powder, and cinnamon powder, then give it a couple of pluses until the walnuts are fine.

Place one sheet of phyllo dough on a flat surface and brush with melted butter.

Add another phyllo sheet on top of the first one and brush it with more butter then sprinkle it with a good amount of chopped walnuts.

Place a wooden skewer at the top of the phyllo sheet and roll it up.

Scrunch the sides of filo towards the center, remove the skewer, and place the baklava rolls on a prepared baking pan.

Continue to form more baklava rolls until you run out of sheets or walnuts.

Brush them with more butter and cut the rolls into thirds.

Preheat the oven then bake at 350°F for 25 minutes. Broil until golden.

Drizzle with cold simple syrup (Attar).

Garnish with chopped pistachios.
Nutrition: Please note that the nutrition label provided is an estimate only.
Serving:
1
serving
Calories:
358
kcal
Carbohydrates:
50
g
Protein:
6
g
Fat:
17
g
Saturated Fat:
2
g
Polyunsaturated Fat:
10
g
Monounsaturated Fat:
4
g
Cholesterol:
1
mg
Sodium:
105
mg
Potassium:
172
mg
Fiber:
2
g
Sugar:
37
g
Vitamin A:
42
IU
Vitamin C:
1
mg
Calcium:
42
mg
Iron:
1
mg