Do you love icebox cakes? Do you love pistachios? This is the perfect recipe for you!
Making this fancy Pistachio Icebox Cake couldn't be easier. With just 5 ingredients, you will have an amazing icebox cake ready in no time.
This Pistachio Icebox Cake is a no-bake dessert that needs literally no baking or cooking, and yet it gives you a delicious slice of tender cake layers filled with whipped cream and crushed pistachios. Also, this cake is beginner-friendly, and anyone can make it. Moreover, this is a good cake to make with your little ones. My son loves helping me make no-bake desserts. His favorite part is layering the graham crackers.
---
Look At This Masterpiece!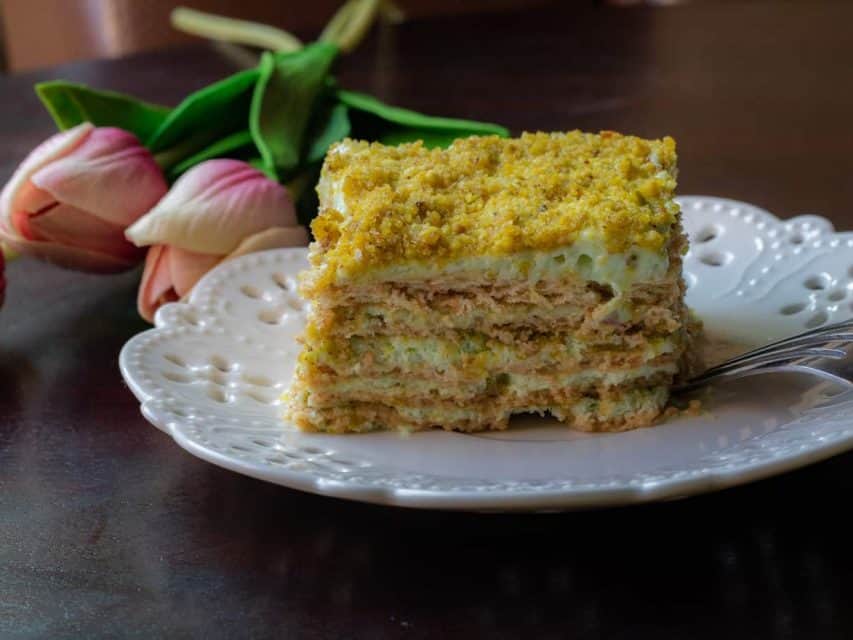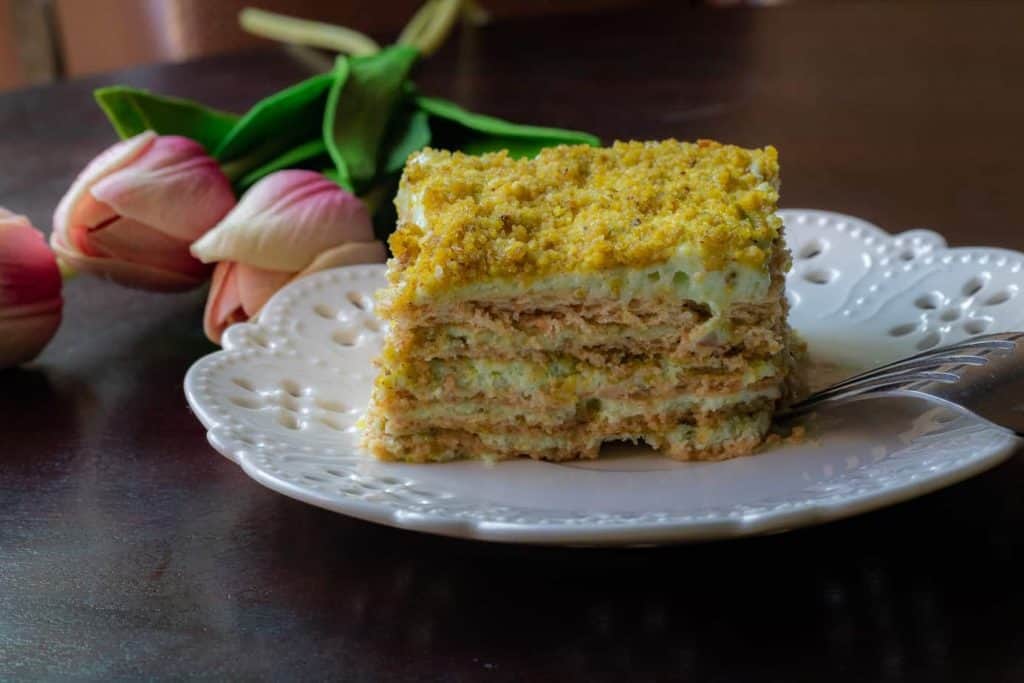 ---
My Story with Icebox Cakes
I grew up in a large family, but having a small family now, everything I make in my kitchen is usually in small batches unless I am serving my friends and family.
I learned icebox cake from my mother. She made the no-bake coffee cake frequently for big gatherings. You layer graham crackers in a pan (or use another tea cookie of your choice) with whipped cream and your choice of sliced fruits. It is that easy! So, let's turn an icebox cake into a green pistachio filled one.
Follow me here to show you step by step how you can have this masterpiece on your plate with simple and easy steps.
---
Interesting Information About Icebox Cakes
You only need 5 ingredients for this simple pistachio icebox cake! Layers of graham crackers or your favorite wafer cookies and freshly whipped pistachio cream create a delicious and easy no-bake dessert that will be enjoyed by your loved ones.
There are many variations of these no-bake icebox cakes; you can add sliced strawberries and sliced bananas. Some icebox cakes include Lotus Biscoff cookies or Oreos. Some icebox cakes involve cream cheese mixed with a heavy cream like my No-bake Nescafe cake.
---
Why Is It Called Icebox Cakes?
The icebox cake is derived from similar desserts such as the Charlotte and the Trifle, but made to be more accessible for housewives to prepare. It was first introduced to the United States in the 1930's, as companies were promoting the icebox as a kitchen appliance.
---
If Your kids Can't Wait...
As I mentioned, this easy no-bake cake is super simple, and your child can assemble it! Making this cake is easy. However, the hardest part is waiting for the cake to set in the refrigerator for at least 4 hours or overnight. But, if you have no time to let the cake set in the refrigerator, I recommend dipping graham crackers in milk and then placing them in the pan; that way, graham crackers will get softer quickly.
---
Frequently Asked Questions:
Can I freeze refrigerator cake?

You can keep your ice cake in your fridge for up to a week if it is tightly wrapped in a plastic wrap or stored in an airtight box. Wrap the leftover cake in a double layer of a plastic wrap and a layer of foil and freeze it for up to 1 month.
How long does icebox cake last in the fridge?

Stored in the refrigerator, icebox cake should last 2-3 days, or until you eat every last bite.
How do you store an icebox cake?

To ensure your cake properly sets up, I recommend chilling it in the refrigerator, lightly covered with plastic wrap, for at least 8 hours, and preferably overnight. Cakes made with very thin cookies may be ready in less time.
Should you freeze Cool Whip?

Some people think that Cool Whip should be stored in the fridge to keep in soft and fluffy. But, as it is sold frozen, it should be stored frozen. It will last for 7 to 14 days in the fridge. The freezer, on the other hand, will keep it good for up to 4 months, even if the tub has been opened.
---
Hey! Before you continue enjoying my blog, check these:
Magnificent Health Benefits of Pistachios:
Loaded with nutrients. Pistachios are one of the most Vitamin B6 rich foods around.
High in antioxidants. Pistachios contain more antioxidants than most other nuts and seeds. In fact, only walnuts and pecans contain more.
May aid weight loss. In-shell pistachios are especially beneficial, as they promote mindful eating.
May lower cholesterol and blood pressure more than other nuts.
---
Ingredients for Pistachio No-bake cake:
Heavy whipping cream or cool whip
Powdered sugar
1 box -Pistachio Jell-O Pudding mix (or your favorite jello-pudding mix)
Crushed pistachios
Graham crackers (or your favorite wafer cookies)
---
Buy These at the Nearest Store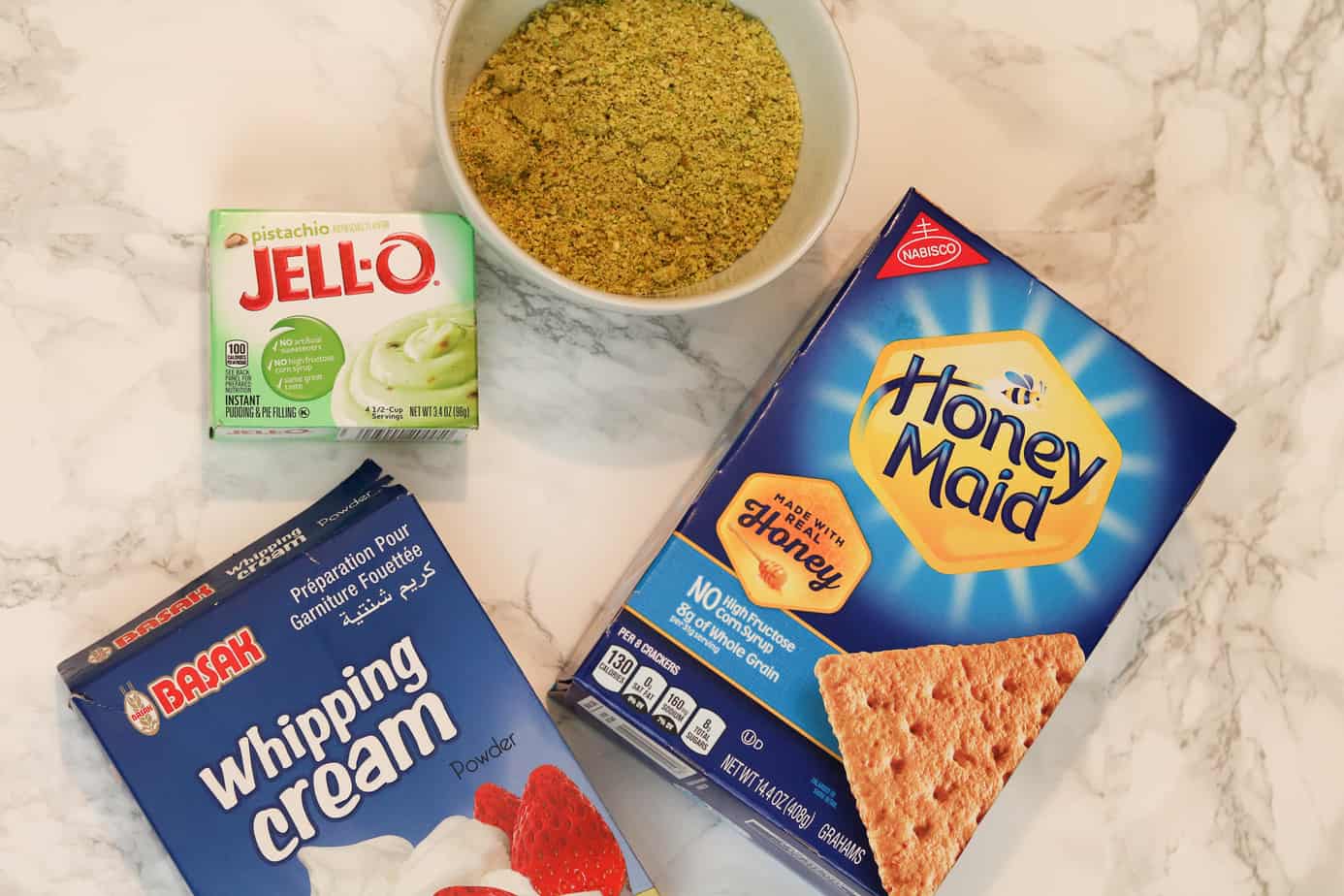 ---
How to make Pistachio Icebox cake
Step 1: How to Make the Whipped Cream
In a large bowl, use an electric mixer to beat the heavy cream, powdered sugar, and vanilla until stiff peaks form. (skip this step if using cool whip)
---
Step 2: Making the Pudding Mix
Make the pudding according to the package directions, and let it thicken. Once the pudding thickens, fold in two cups of whipped cream. Then, add 4 tablespoon of powdered pistachios to the mixture.
---
Step 3: Layer the Graham Crackers and Whipped Cream
To assemble the cake: Spread a thin layer of the mixture in an 8 x 8 pan to coat the bottom, and then add a layer of graham crackers to the bottom of your pan.​ Next, spread some of the cream mixtures on top to cover the graham crackers (you can break the graham crackers to make them fit into the pan), and then sprinkle powdered pistachio on top. ​Repeat the process until you have as many layers as desired.
---
Delicious Graham Crackers Are Layered Now!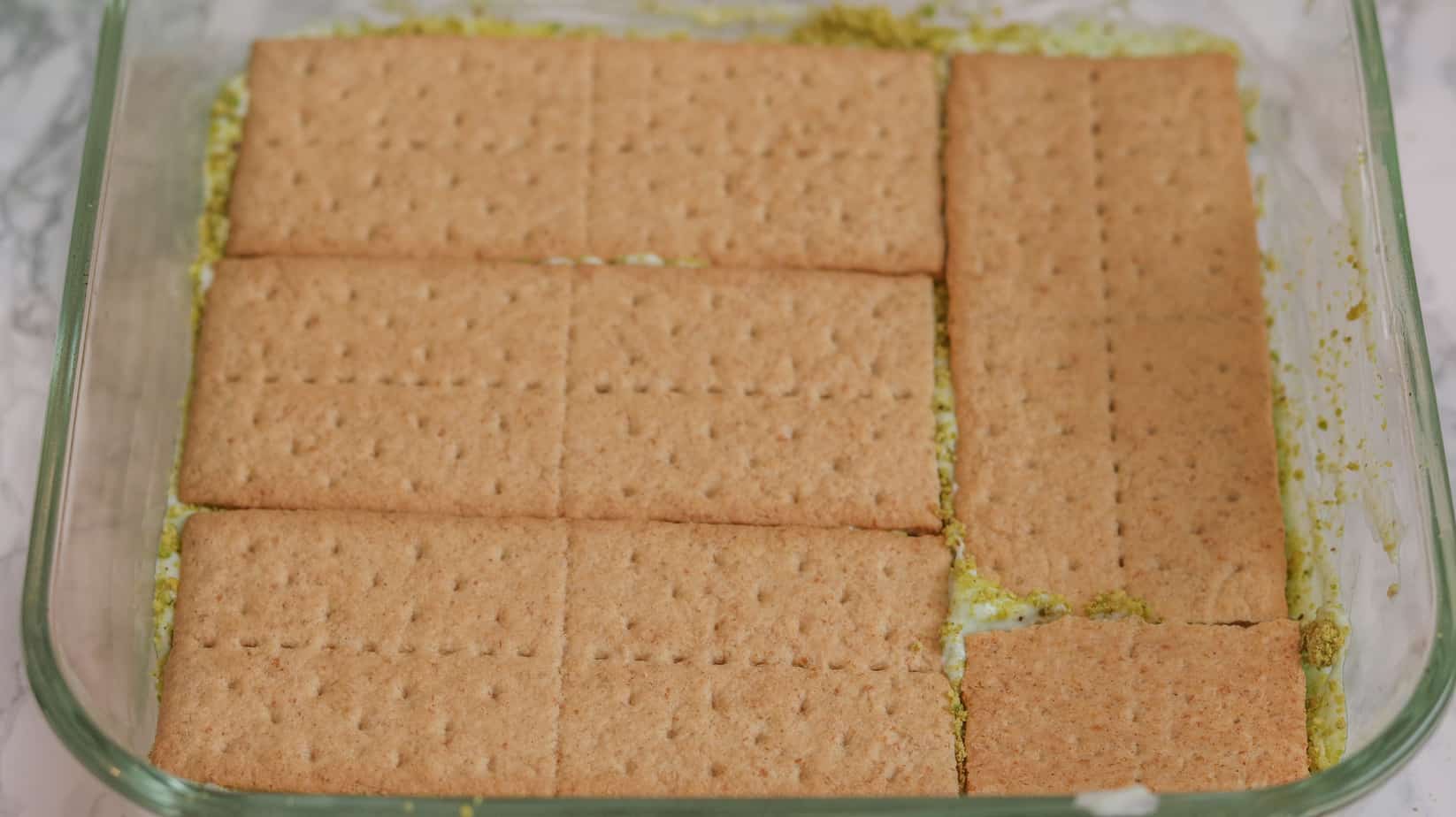 ---
Step 4: Garnish With Your Favorite Toppings
Garnish the top of the cake with crushed pistachios, crushed graham crackers, cookies, or grated chocolate.
---
Step 5: Refrigerate The Icebox Cake
Cover the icebox cake loosely and refrigerate for at least 4 hours.
---
Didn't You Crave a Bite?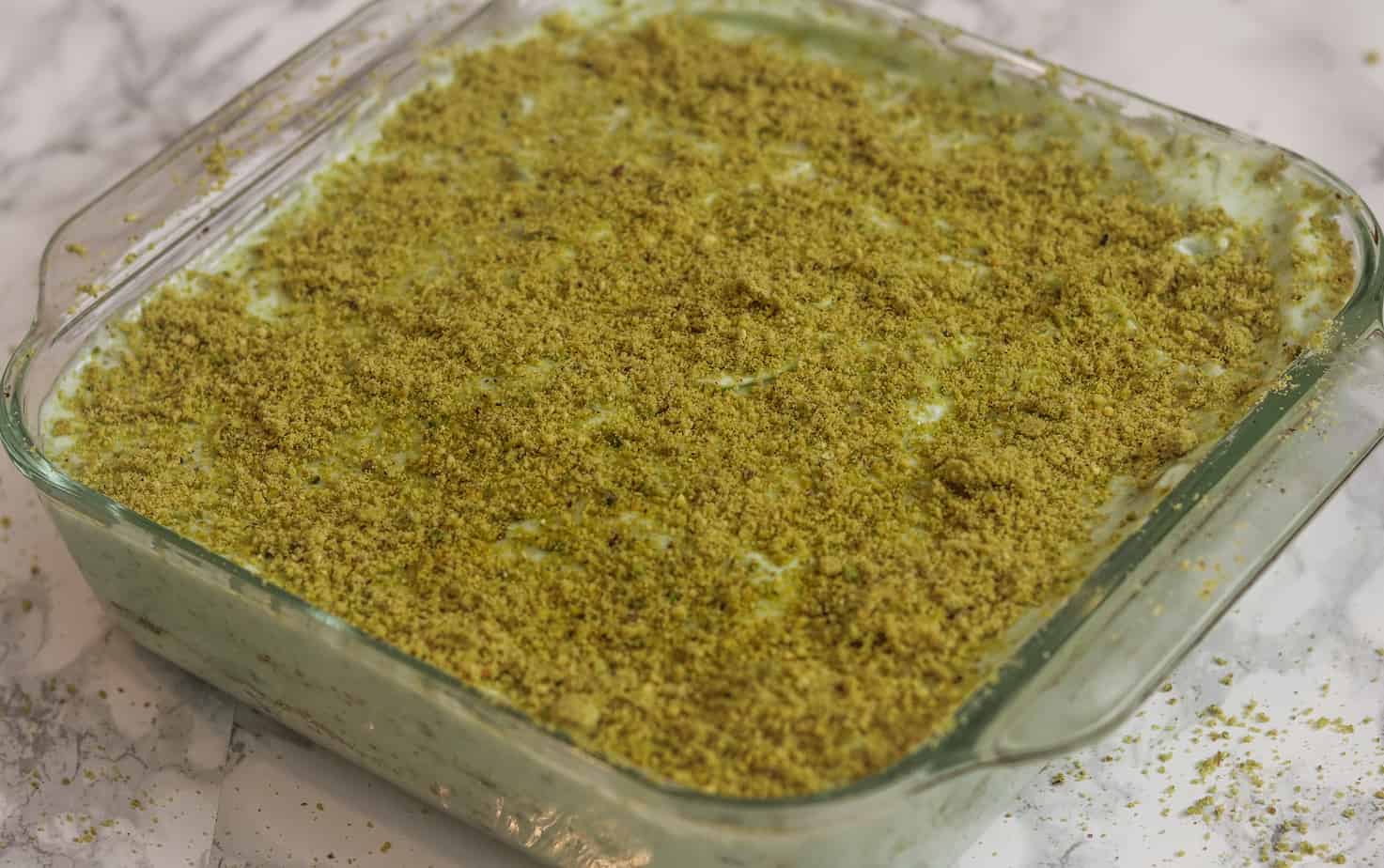 ---
The last and most important step:
Serve It With Love!
---
Other recipes you might like:
---
If you've tried this recipe or any other recipe on Sourandsweets,
don't forget to rate the recipe and leave me a comment below!
I would love to hear about your experience with my recipes. Share it with me on Instagram.
---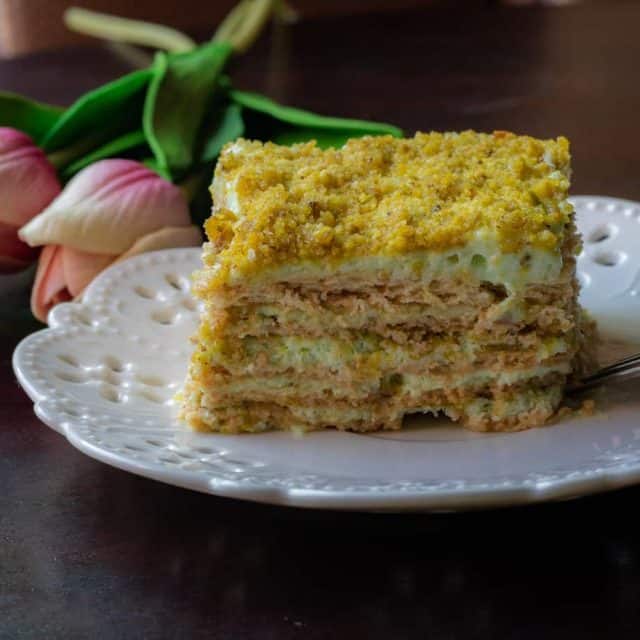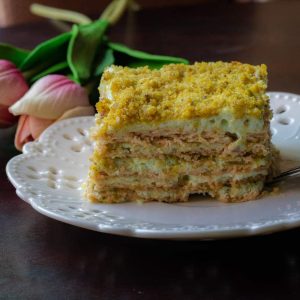 Easy and Fancy Pistachio Icebox cake
This icebox cake is a no-bake cake that needs no cooking or baking.
Ingredients
1

box

graham cracker

1

box

-pistachio jell-O pudding

2

cups

whipped cream or cool whip

⅓

cup

powdered sugar

½

cup

crushed pistachios.

you can add any berries between the cake layers

optional
Instructions
In a bowl, make the pudding according to the package directions. Mix two cups of milk with jello pudding. Allow the pudding to thicken for 5 minutes. ​

In a separate bowl, whip two cups of heavy cream with ⅓ cup of powdered sugar until soft peak formed (or use cool whip)​.

Once the pudding thickened fold in two cups of whipped cream. Add 4 tablespoons of powdered pistachios to the mixture ​.

To assemble the cake: spread a thin layer of the mixture in an 8 x 8 pan to coat the bottom and then add a layer of graham crackers to the bottom of your pan.​

Spread the cream mixture on top to cover the graham crackers and then sprinkle powdered pistachio on top. ​

Repeat the process until you have as many layers as desired. Then, sprinkle the last layer with powdered pistachios.

Refrigerate for at least 4 hours or overnight until the graham crackers are completely softened.