Looking for a way to make a delicious Ground Beef Gyro right at home that is healthier and still just as delicious? I've got you covered! You will be amazingly surprised by how flavorful and easy this ground gyro recipe is. It's perfectly seasoned with a Greek spice blend and loaded into a soft pita with your favorite veggies: fresh lettuce, tomato, cucumber, and red onion. The tzatziki sauce (cucumber yogurt sauce) balances the flavors and adds an authentic finishing touch!
---
Pin It!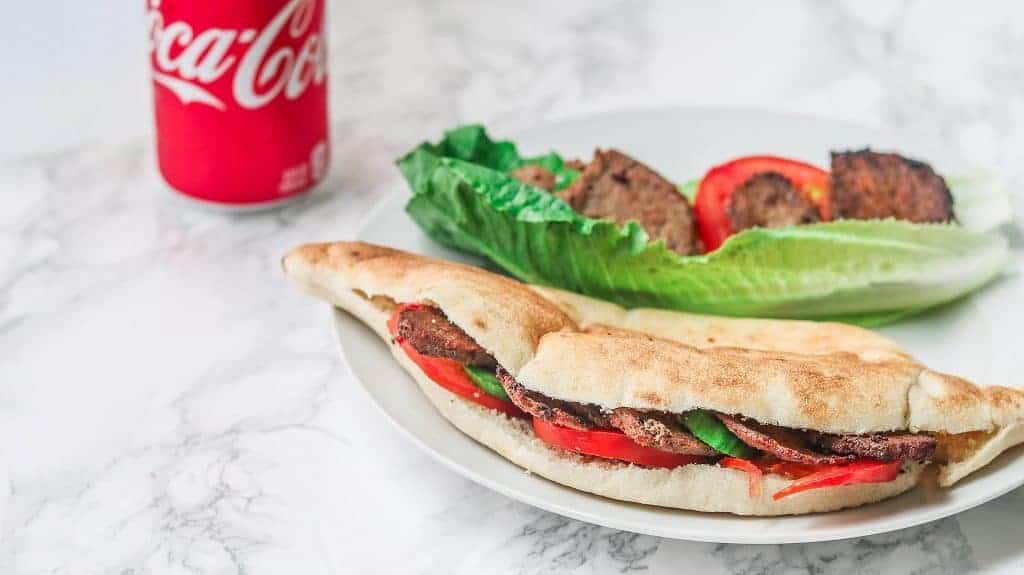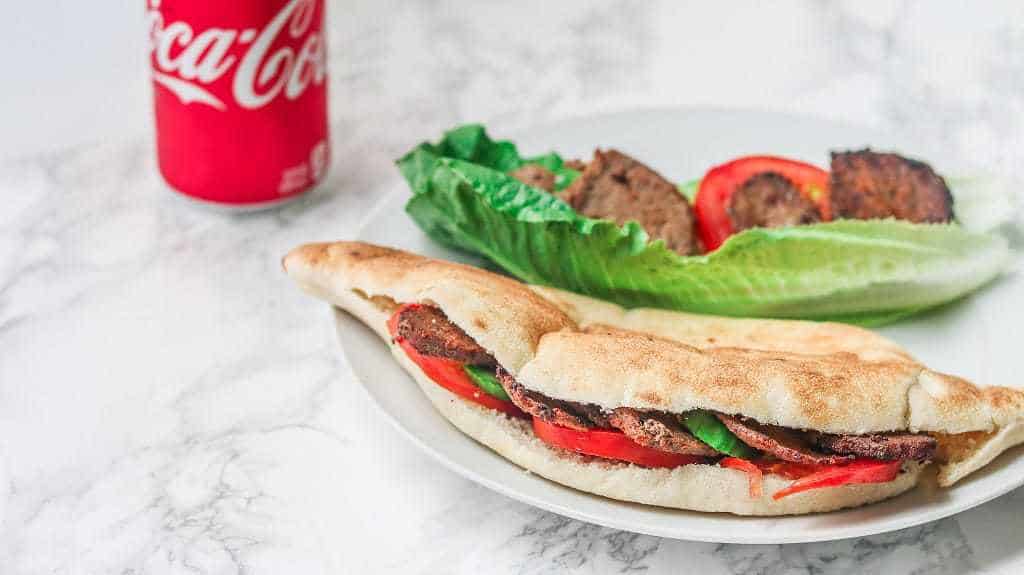 ---
If your family loves gyro as much as mine, then you're in the right place. You will be amazed when you re-create these yummy delights in your own kitchen! This gyro recipe is hassle-free and comes together in less than 30 minutes. It is also incredibly easy, super flavorful, and makes a perfect weeknight meal.
---
What is a gyro?
Take a look! ↓↓↓
Gyro is a very popular, traditional and authentic Greek dish. It is prepared from thinly sliced marinated meat cooked on a vertical rotisserie. This meat is then served on pita bread with hummus and tzatziki and wrapped with fresh lettuce, tomatoes and red onions.
However, you can also serve it open-faced, meaning with the pita on the bottom and the meat and lettuce on top.
The consistency of homemade gyros isn't the same as the real gyros you buy from restaurants. However, the flavor is very close to the real ones.
---
How to make the amazing tzatziki sauce
This fresh tzatziki sauce will liven up any summer meal! It's rich, creamy and full of fresh herbs. You can drizzle it all over the gyro meat and vegetables. This delicious sauce is also super easy to make with only 6 ingredients.
Greek Yogurt
Fresh garlic or garlic powder
Cucumber
Fresh dill - You can substitute for 1 teaspoon dried dill.
Lemon juice
A pinch Salt
To make the Tzatziki sauce, shred the fresh cucumber and squeeze out the excess liquid. This step is essential for making a creamy tzatziki. If you skip it, the water from the cucumber will ruin your sauce. Next, mix together the Greek yogurt with shredded cucumber, minced garlic, chopped dill, lemon juice, and salt. That's it!
---
What's the Difference Between Shawarma and Gyro?
Many people think that gyro and shawarma are siblings. However, the dishes are very different, and originate from different parts of the world!
Although both are flavorful, with marinated meats, a healthy helping of hummus, vegetables and served on pita breads, gyro and shawarma come from separate cuisines, and are made in different ways.
Both gyro and shawarma are made with lamb, but shawarma can also be made with chicken or turkey, while gyro is traditionally made with lamb, beef, or sometimes chicken.
Finally, the dishes are served with different spices and seasonings. For example, a Greek gyro is prepared with rosemary, thyme, garlic, oregano and many other herbs, while shawarma is prepared with cinnamon, cloves, garlic, cardamom, curry and turmeric.
---
3 Ways to Serve Gyros
Gyros are versatile, and you can serve them in several different ways.
As a sandwich: Fold gyros into warm pitas with lettuce, onion, tomato, and tzatziki sauce (cucumber yogurt sauce).
In a salad: Prepare a Greek salad of tomato, cucumber, Kalamata olives, and feta cheese, and garnish it with gyros.
Over rice: Serve gyros with orzo, rice, or couscous, pickled vegetables, and tzatziki sauce.
Ingredients for Ground Beef Gyro
500 g ground beef
2 tbsp. oil
4 tbsp. yogurt
2 tbsp. tomato paste
1 teaspoon paprika
½ teaspoon cayenne Pepper
2 teaspoon salt
oil for frying
---
Directions
How to make Perfect Homemade Ground Beef Gyro
1- In a bowl, mix all ingredients using your hands.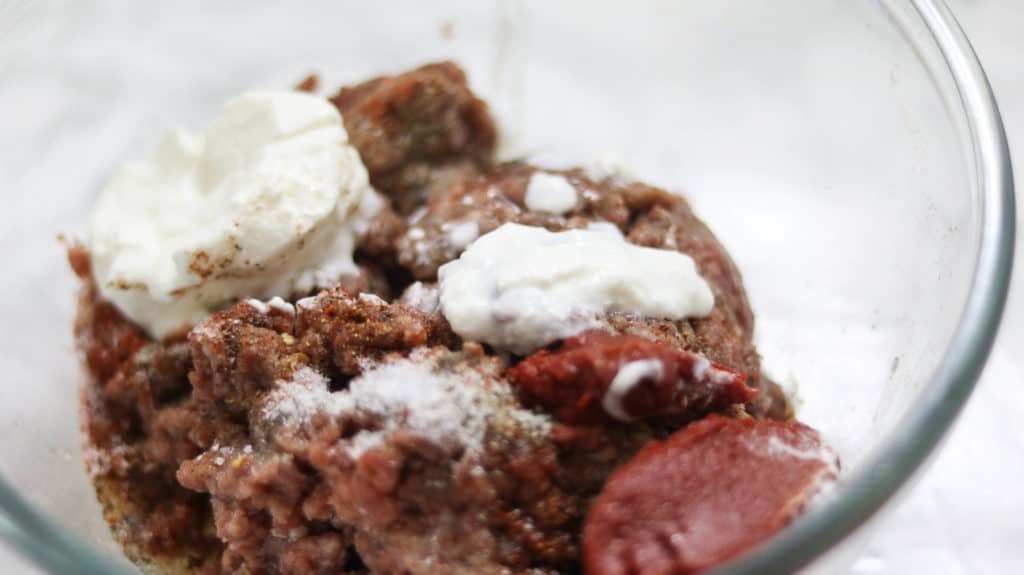 2- Place a long piece of saran wrap on a surface. Add the Mixture to the saran wrap and bring both sides together to form a roll. Twist both ends and tie a knot.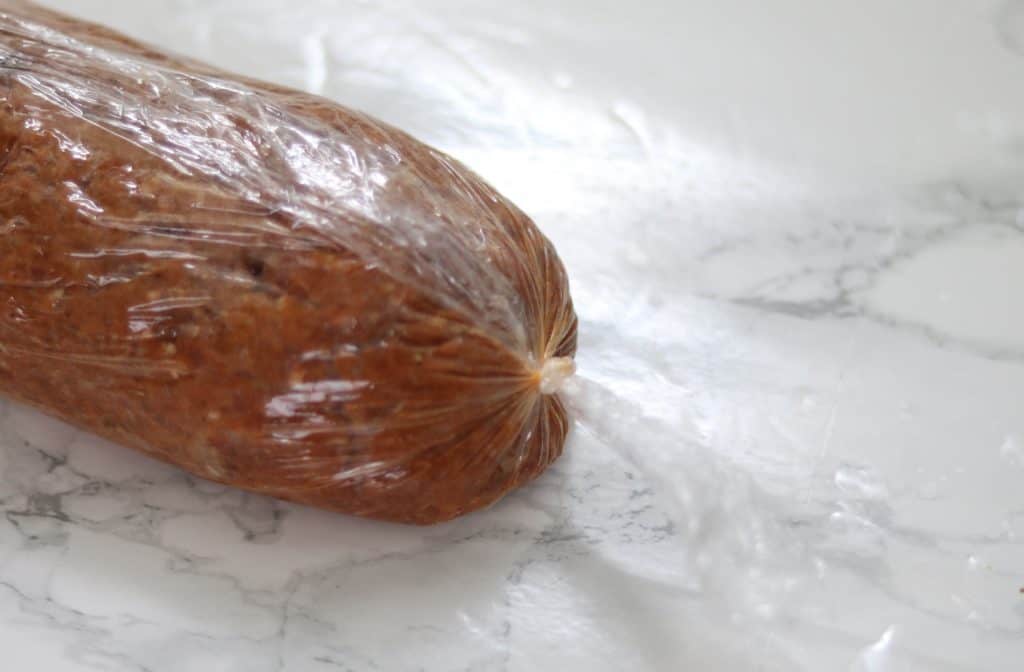 3- Place the gyro in the freezer overnight.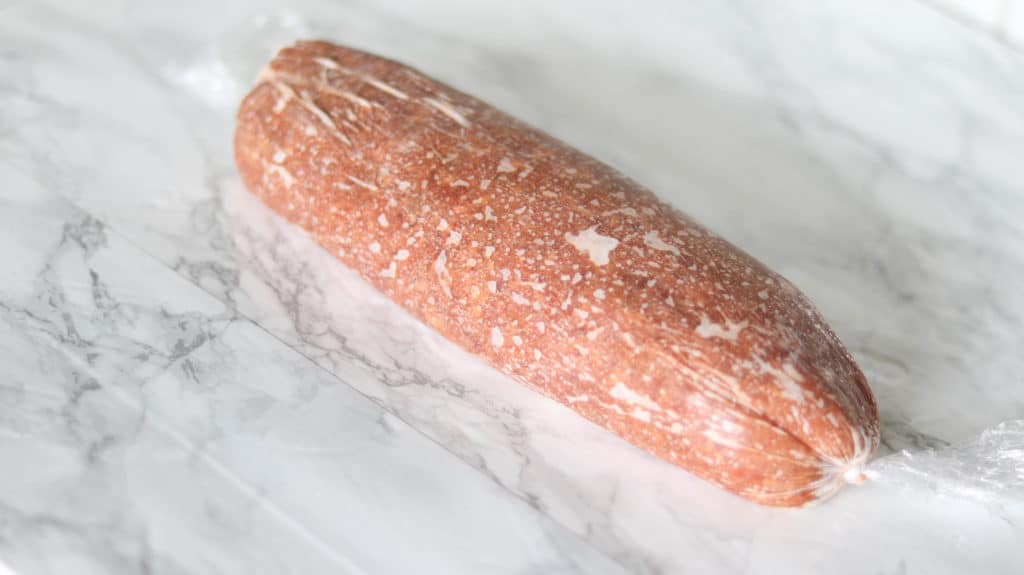 4- With a serrated knife, cut thin slices. If it is too hard to cut, microwave for a few seconds and then start cutting.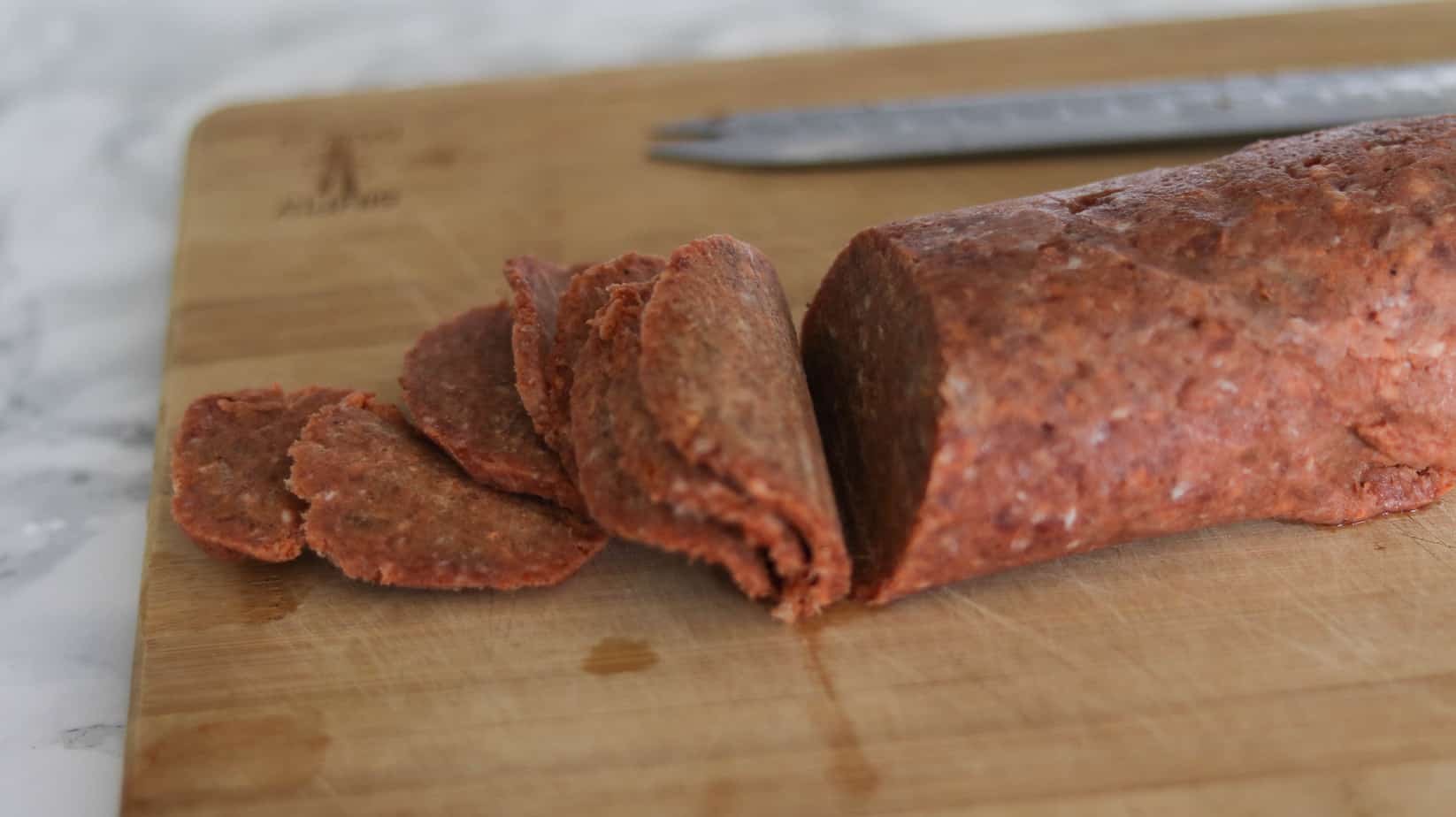 5- Add some oil to a pan on medium to fry gyro slices. Make sure it's cooked on both sides.
---
You might also enjoy:
---
Frequently Asked Questions
What kind of ground beef should I use?
I recommend using 80/20 ground beef for the best results. However, if you are on a low-fat diet, use lean ground beef, and it will still work fine.
Can I freeze Gyro meat?
Gyro meat freezes perfectly!
Unless you have a large family, this recipe makes a big batch of homemade gyros. You can freeze the leftover gyro meat right after slicing it. The pita also freezes perfectly.
Can I serve Gyro for breakfast?
This recipe can be served for breakfast as well. Cut thin slices of gyro, fry them and add some eggs on top to enjoy for breakfast.
Is Gyro low carb?
This beef gyro recipe is a great low carb option since gyro meat has fewer carbs than most foods. It also has a high amount of fat and protein and fits well into the keto diet. You can easily substitute the bread with lettuce or your favorite low carb wrap to keep it low carb.
---
The flavor is incredible!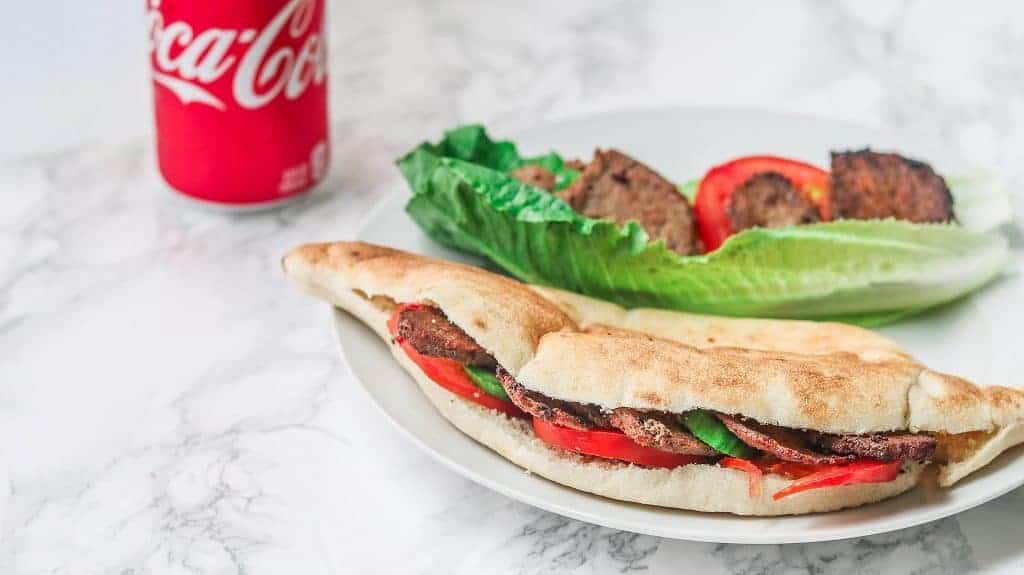 ---
If you've tried this recipe or any other recipe on Sourandsweets,
don't forget to rate the recipe and leave me a comment below!
I would love to hear about your experience with my recipes. Share it with me on Instagram.
---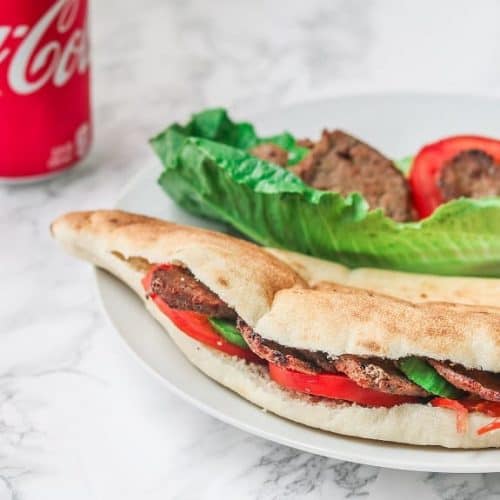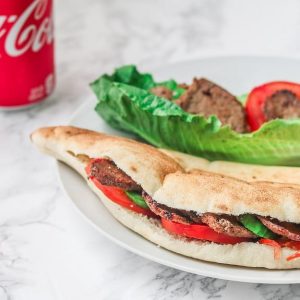 Easy Homemade Beef Gyro
One of the best things to eat is a Gyro sandwich, and what is better is making it yourself at home!
Ingredients
500

grams

ground beef

2

tbsp.

oil

4

tbsp.

yogurt

2

tbsp.

tomato paste

1

tsp.

paprika

½

tsp.

cayenne Pepper

2

tsp.

salt

oil for frying
Instructions
In a bowl, mix all ingredients using your hands.

Place a long piece of saran wrap on a surface.

Add the mixture to the saran wrap and bring both sides together to form a roll. Twist both ends and tie a knot.

Place the gyro in the freezer overnight.

With a serrated knife, cut thin slices. If it is too hard to cut, microwave for few seconds and then start cutting.

Add some oil to a pan on medium heat to fry gyro slices. Make sure its cooked on both sides