Are you a culinary enthusiast who loves to try out new recipes? For instance, I always try to be on top of the trends in the kitchen world. This Coke Can Chicken Recipe is one of the best chicken recipes you may try. In fact, it is a no-fail easy chicken recipe.
Get ready for the Coke Can Chicken Recipe! Firstly, prepare the rub tasty mix, then rub your chicken and place it on the can in the oven! In fact, when you follow the steps, you will get the perfect results. It will get out perfectly tender and moist. It tastes impressive! Try it and share with family and friends.
---
Moist Can Chicken! Crispy Brownish Skin!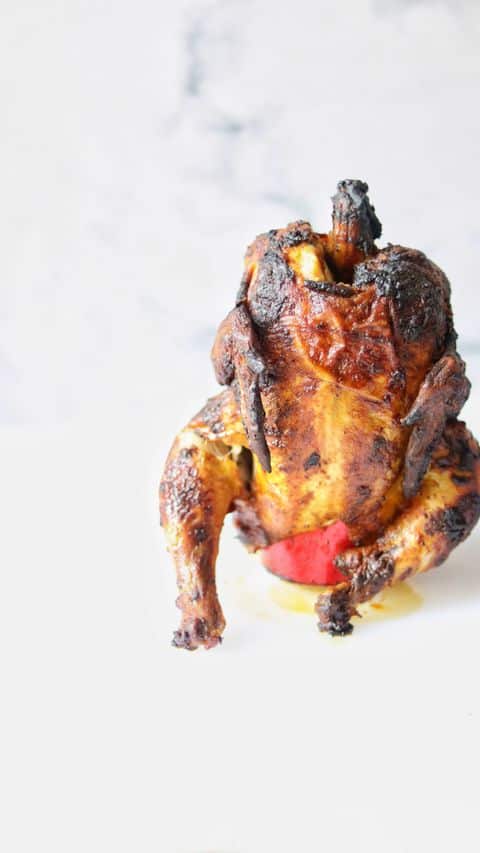 ---
Indeed, the Coke Can Chicken Recipe will transform the way you look at oven-roasted chicken. The honey-like gravy that comes with this dish is mind-blowing and ridiculously smooth! Most of us make chicken so often, but this dish is on a whole other level. It's no ordinary chicken!
In fact, the Coke Can Chicken Recipe is quite trendy and intriguing. Clearly, I use an empty coke can to cook the chicken, so no actual cola is part of the ingredients!
---
Share your Tasty
Coke Can Chicken

Meal!

As a starter, Coke Can Chicken Recipe is a delectable roast chicken. It will become a staple for your family dinners! So, let us dive into this exhilarating and new experience for all the coke can chicken recipe lovers.

To add, no feast would be complete if there wasn't at least one main chicken dish on the table. If you have a family meeting or friendly gathering, you can prepare coke can chicken and toss it in oven.

Also, keep in mind that it's perfect for a family lunch on a Sunday. Above all, kids love chicken! This dish will definitely spark their curiosity. Imagine the excitement your kids would feel over this meal. You'll be bonding over this dish and having the greatest conversations!
---
Coke Can
Chicken

is My Favorite

Chicken

!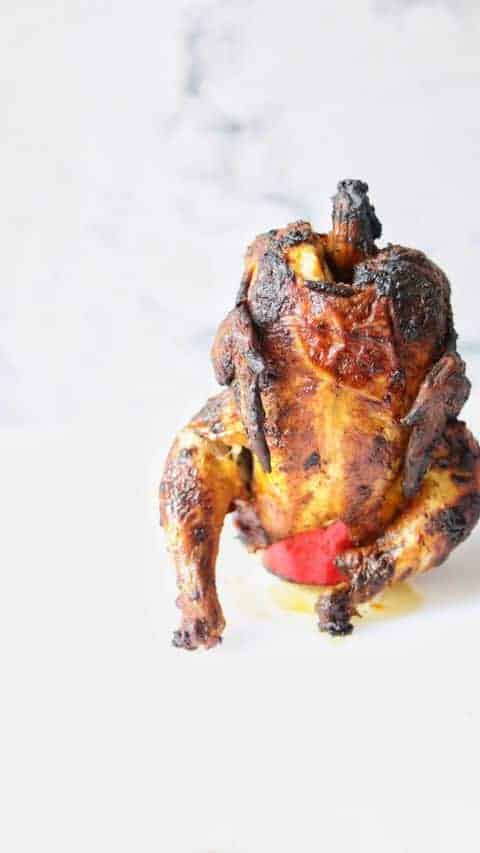 ---
What to Serve with the
Coke Can Chicken
Firstly, adding a dip is always a good idea! Some people love to add some ketchup to their chicken. The sweetness of the ketchup will add to the perfect gravy that will be oozing out of the chicken.
Also, BBQ sauce could be a great addition as well. BBQ sauce is a great pairing with chicken! When the chicken is almost done, you can use the basting brush to coat your chicken with extra flavors.
In addition, you can serve this delicious plate with some chips, Coca-Cola, fries, and coleslaw. You can also prepare a plate of your favorite rice next to the chicken. If you want to add something healthy, serve it with grilled corn, sautéed veggies, and oven roasted baby potato.
After that, you have a delicious moist chicken for dinner. It also has delicious crispy skin that your family will devour right away.
---
Some Frequently Asked Questions (FAQs)
What is the purpose of the brine?
When you brine the chicken, the the muscle fiber will keep the moisture inside. So, when you cook the chicken to well done, it will come out tender and moist.
How long can this dish be stored?
Expert chefs recommend eating the Oven-Baked Can Chicken on the same day it is cooked. If you want to save it for later, it might be kept in a refrigerator for 3-4 days, not more than that.
What if I forget to preheat the oven before baking?
If you are going to roast something in an oven, preheating is a must. You only need to bake it in the oven for more time, exceeding the time specified in our recipe. Chicken is ready when the thermometer reads 165 degrees °F.
You
Can

Make the Coke

Can

Chicken!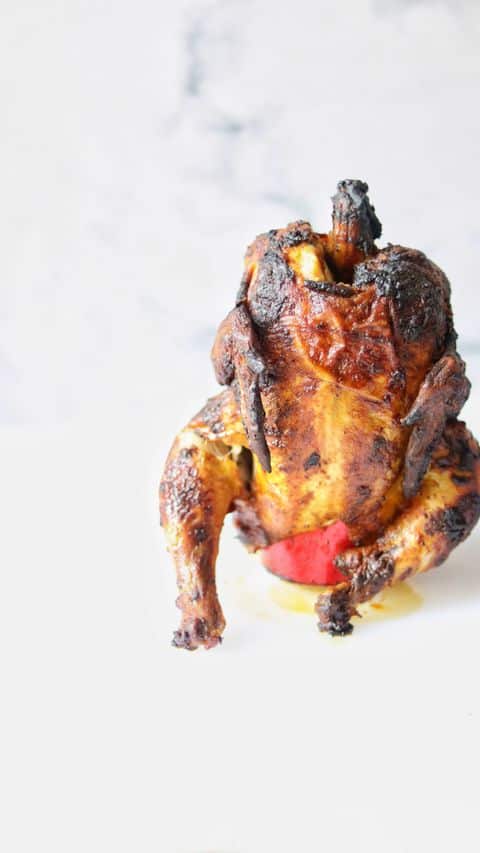 ---
It Is Cooking Time!
Ingredients For the Coke Can Chicken
yogurt
pepper paste
smoked paprika
salt
citric acid or lemon juice
old bay seasoning
creole seasoning
whole chicken
seasoning salt
Get your Chicken Ready!
First, stir white sugar and salt in cold water until they dissolve completely to form a brine. Discard the chicken giblets and rinse the chicken well inside and out.
Then, you have to place the chicken in the brine keeping the breast upside down. It is good to place a weight on it to keep the chicken completely submerged. In fact, you can keep the chicken in a refrigerator for an hour.
When you extract it from the brine, you have to wash it again. Certainly, you have to pat the meat. Dry it with paper towels. You can also put the chicken on a plate and place it in the fridge overnight to air dry.
Steps to Prep
Step 1: First, preheat the oven to 480 degrees F (249 degrees C).
Step 2: Combine the yogurt, the pepper paste, salt and seasoning salt in a bowl .Then, add the old bay seasoning, smoked paprika, and creole seasoning to the bowl. Keep mixing them until mixed well.
Step 3: Next, rub this chicken marinade all over your chicken especially under the skin and cavity with your hands.
Step 4: After that, get any empty drink can like empty pepsi can or coca cola can. Drill two holes at the top of your can with the key-style can opener. Then, put the empty can in a deep metal baking dish.
---
Keep Going! It Is Worthy!
Step 5: Wrap the can in some tinfoil, slide the chicken over the can. Keep its body cavity on the bottom, and lower it over the can. Then, pull the chicken legs forward to make a tripod shape. Next, remember to fold the wing tips behind the bird's back so they do not burn.
Step 6: Brush melted butter all around the chicken, making sure to cover every bit of skin and pouring some into the cavity as well. The butter keeps the chicken moist and gives it the signature golden brown caramelization we want.
Step 7: Place the chicken on a baking tray to catch any fat and juices and place the baking tray inside the preheated oven. For about 30 minutes, cook the chicken at 480 degrees F (248 degrees C).
Step 8:After that, turn the heat down to 400 degrees F (204 degrees C), cover the coke can chicken with aluminum foil, and bake for a further 20 minutes until the skin looks deliciously browned and crispy. The aluminum foil will prevent the chicken from burning and keep it moist.
Step 9:Using your mittens, carefully take out the can chicken oven dish. After it rests for few minutes, get rid of the can. Enjoy it with family and friends.
---
Other Recipes You Should Try
If you've tried this recipe or any other recipe on Sourandsweets, don't forget to rate the recipe and leave me a comment below! I would love to hear about your experience with my recipes. Please share it with me on Instagram.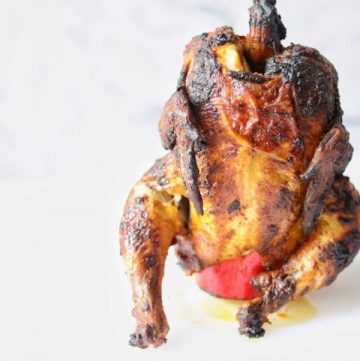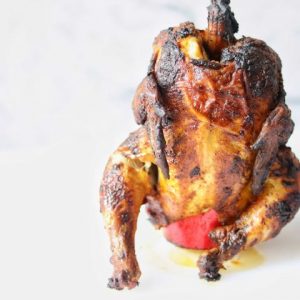 Coke Can Chicken Recipe
You have probably heard about the Coke Can Chicken, but do you know how to make it? Check out our recipe for this tasty dish!
Ingredients
¼

cup

Plain yogurt

4

tablespoon

pepper paste

or tomato paste

1

teaspoon

smoked paprika

1

teaspoon

salt

½

teaspoon

citric acid

or 2 tablespoons fresh lemon juice

1

teaspoon

Old bay seasoning

1

teaspoon

seasoning salt

1

teaspoon

creole seasoning

4

lb.

whole chicken
Instructions
Preheat your oven to 480 degrees °F.

In a bowl, add yogurt and all the spice. Then, mix until all combined.

With your hands, cover the chicken with the marinade. Make sure that the rub mix gets into the cavity and under the skin.

Place an empty can of coke in a baking dish and place the chicken on the can. Pull the chicken legs forward to form a tripod and push the wings back.

Place the chicken in a preheated oven, cook for 30 minutes at 480 degrees °F, and lower the heat to 400 degrees °F. Then place a piece of aluminum foil on the chicken to avoid burns and bake for 20-30 more minutes. Chicken is done when the internal temperature is 165 F.

Take the chicken out and let it rest for 10 minutes.

Serve it and share it with dear ones.
Notes
Once you follow the steps, the Can Chicken will come out moist and delicious with a brownish crispy skin. Everyone will definitely enjoy the meal!