Almond Bear Claw is a delicate, flaky puff pastry. You fill it with sweet almond paste and top it with sliced almonds. The almond filling is easy, yet delicious. Also, you can make puff pastry dough or use the easy route by using the store-bought frozen puff pastry. Moreover, you can sprinkle powdered sugar on the bear claws before serving. These easy bear claws are a dream with morning coffee. Also, they make a great weekend breakfast. Follow my recipe to get a step by step experience on how to do this easy and special recipe that you definitely won't regret making or eating!
---
Isn't That Mouth Watering?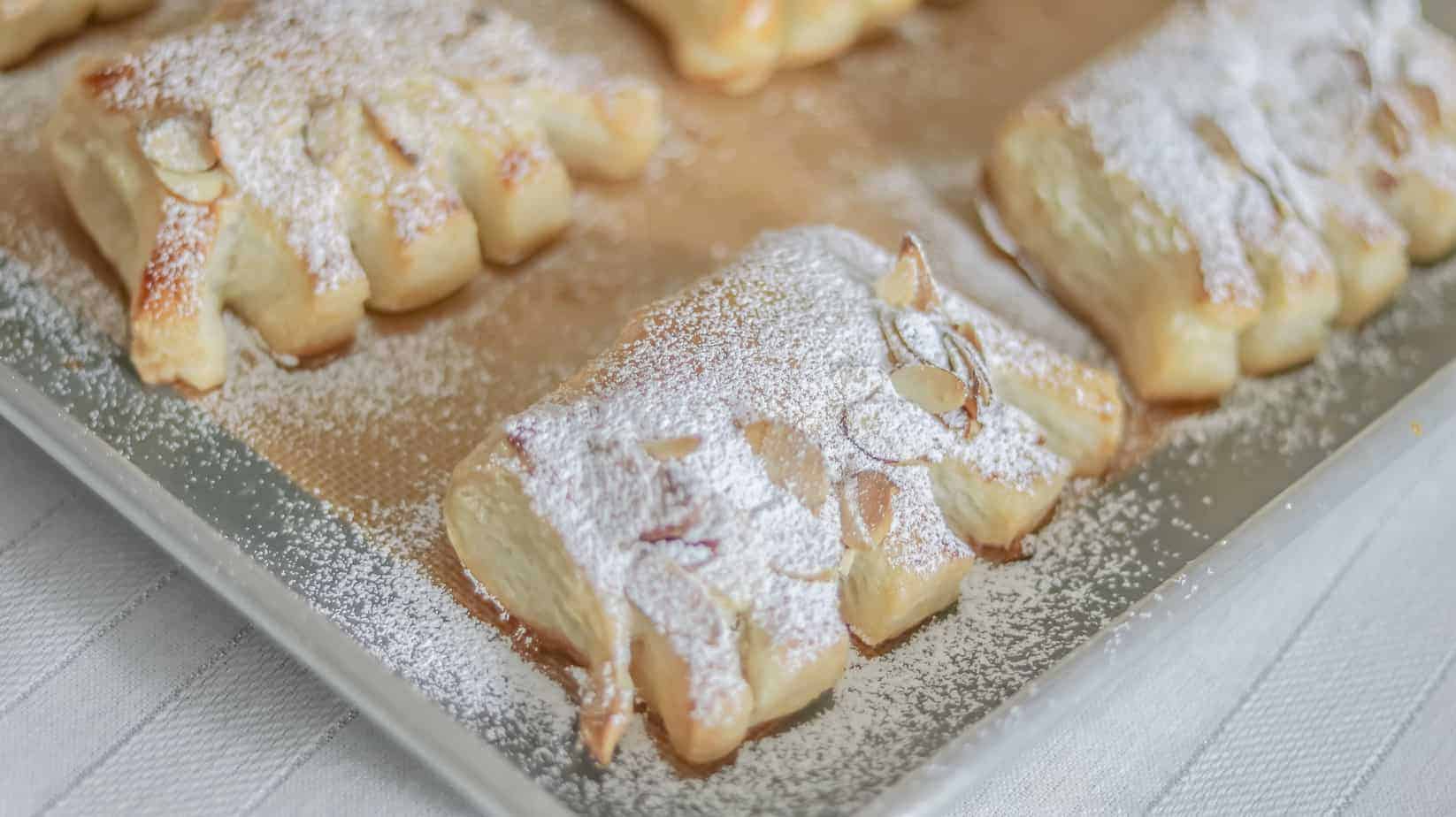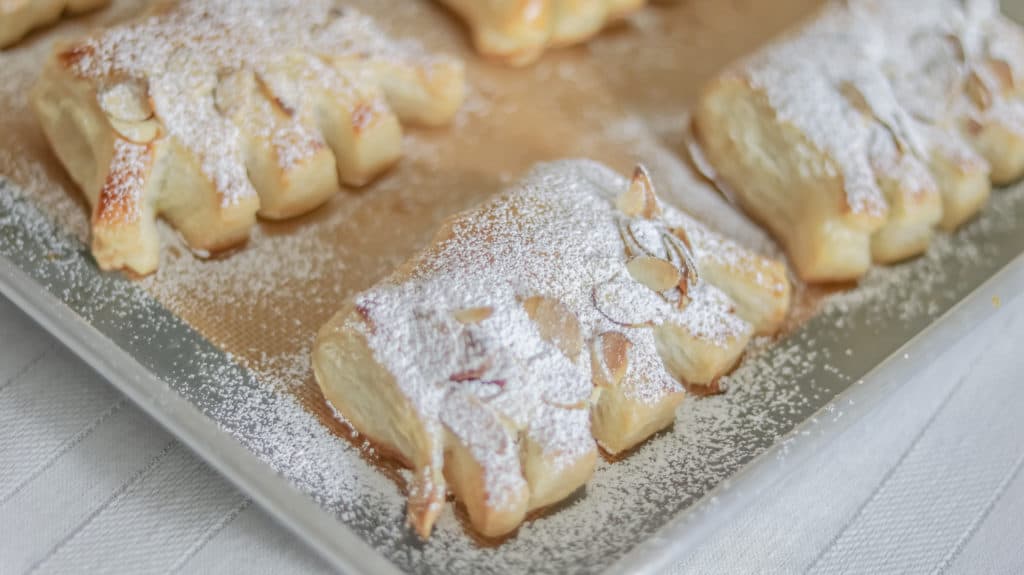 ---
I Just Really Love This Sweet Pastry!
Almost every time I visited Panera, I would order myself an Almond Bear Claw. You know, those flaky delicious pastries filled with magical sweet almond paste. I have always wondered how they were made until I discovered they use almond paste mixed with some other ingredients. In addition, they are very simple and easy to make, topped with sliced almonds and sprinkled with powdered sugar.
So, I thought to myself, "Hey, you could easily make these and enjoy them in the comfort of your own home!" That's exactly what I did and now you get to enjoy this recipe as much as I do.
---
Reasons Why You Should Bake Almond Bear Claws:
Easy to make and beginner-friendly
They are delicate and flaky which makes them a delectable snack
They would be great for weekend brunches
Adults and kids alike will love them
---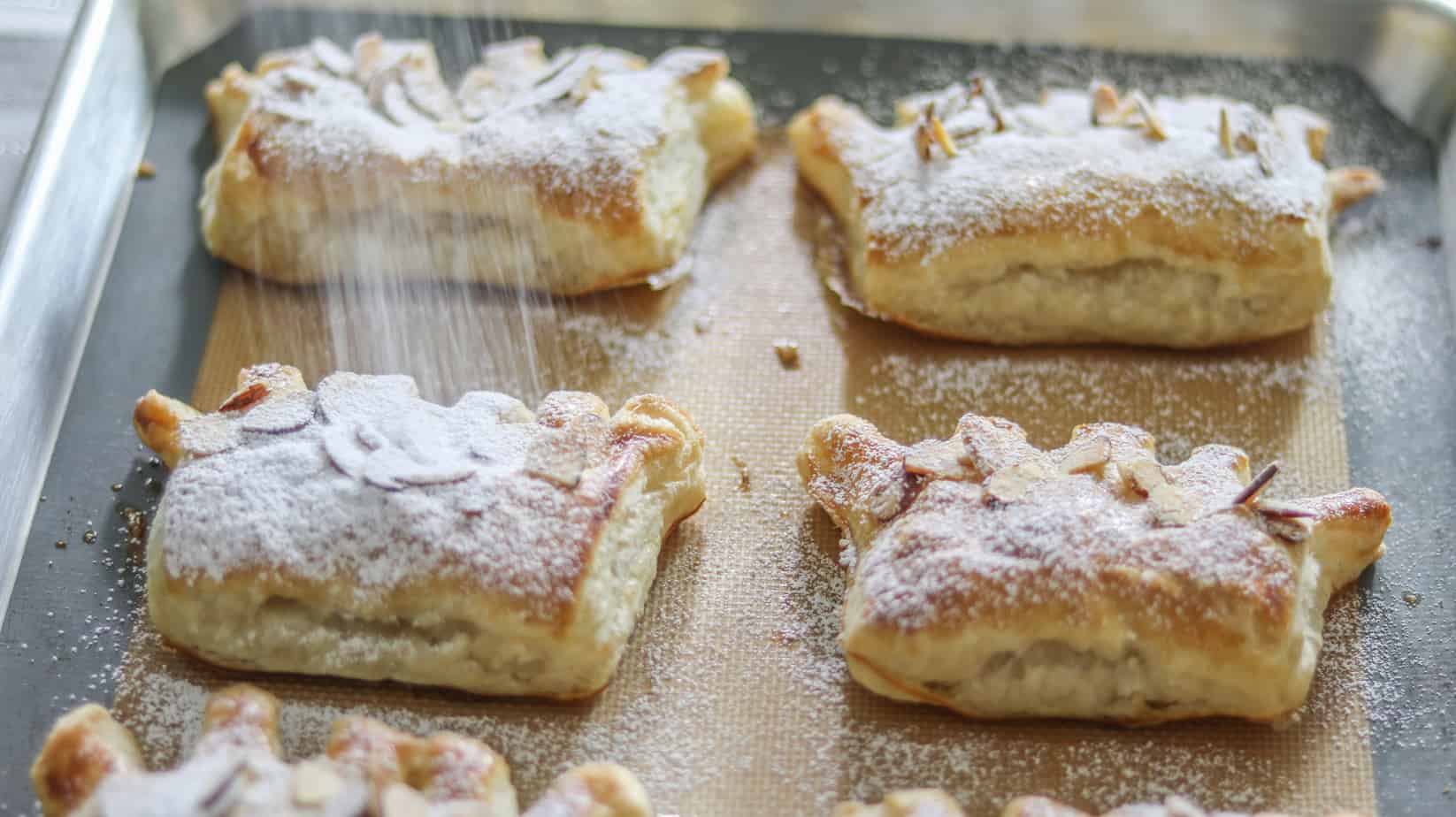 ---
Health Benefits and Facts of Almonds
First, almonds deliver a massive amount of nutrients. They boast an impressive nutrient profile. 28 grams of almonds contain a 3.5 grams of fiber and 6 grams of protein. In addition, they contain a decent amount of Vitamin E, Magnesium, Vitamin B2, and Copper. This is all from a small handful which supplies only 161 calories which is equal to two medium apples.
Second, almonds are loaded with antioxidants. Antioxidants help protect against oxidative stress which can damage molecules in your cells and contribute to inflammation, aging and diseases like cancer.
Third of all, almonds can assist with blood sugar control. Nuts are low in carbs but high in healthy fats, protein, and fiber. This makes them a perfect choice for people with diabetes. Another boon of almonds is their remarkably high amount of magnesium. Moreover, Magnesium is a mineral involved in more than 300 bodily processes, including blood sugar control.
So imagine this magic mix! You can enjoy a sweet taste and benefit from the nutrients and health advantages of almonds included in this recipe.
---
Frequently Asked Questions:
What are bear claws made of?
Bear Claws are made out of puff pastry and filled with sweet almond paste.
Where can I buy puff pastry sheets?
Puff Pastry Sheets can be found in the freezer section in any grocery store.
where can I buy Almond Paste?
Almond paste can be found in the baking aisle in any grocery stores.
How to thaw puff pastry?
To thaw the puff pastry sheets at room temperature, remove them from the box and outer wrapping. Leave it at room temperature for around 40 minutes or until the sheets unfold easily.
To thaw your puff pastry sheet in the microwave: remove it from the box and its wrapping, wrap it in a paper towel, and microwave for 12-15 seconds.

---
Ingredients for Almond Bear Claws:
puff pastry sheets
finely chopped almonds
egg
almond Paste
butter
Brown Sugar
sliced Almond
powdered sugar
---
Simple and Easy-to-find Ingredients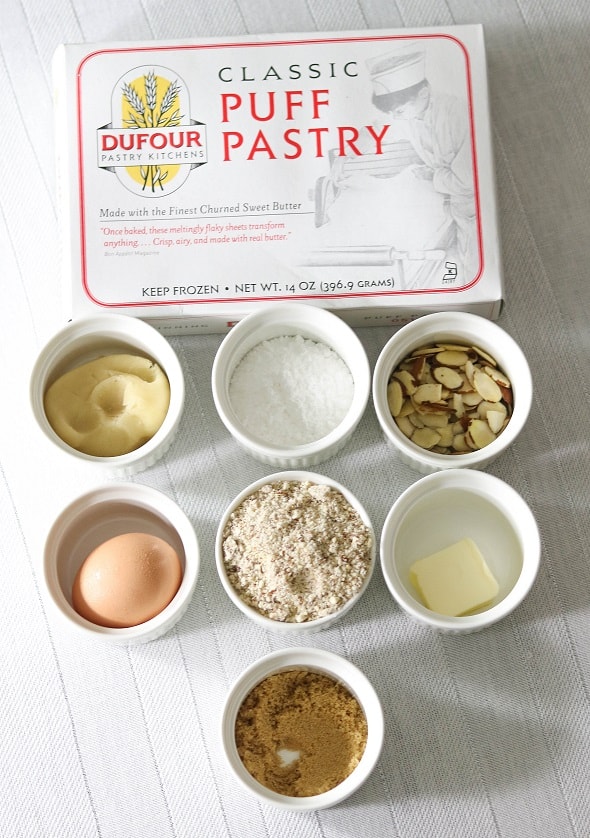 ---
How Do You Make Bear Claws from Scratch?
Step 1
To begin with, separate egg white from egg yolk; egg yolk will be used later to brush the pastries. Next, add egg white, almond paste, sugar, chopped almonds, and butter. Then, mix them very well until a paste is formed. Note: Almond paste might be a little hard. So, you can microwave it for 20 seconds.
---
Step one mix should look like this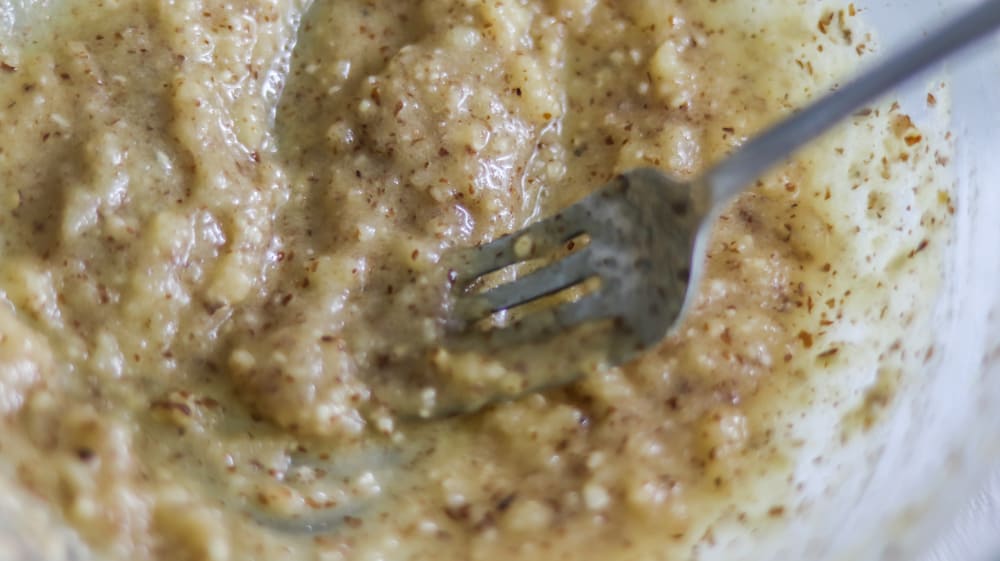 ---
Step 2
In a baking tray, cut a sheet of puff pastry into 4 pieces. Place about 1-2 tablespoons of almond paste mixture to the center of puff pastry squares.
---
This is Super Easy Believe Me!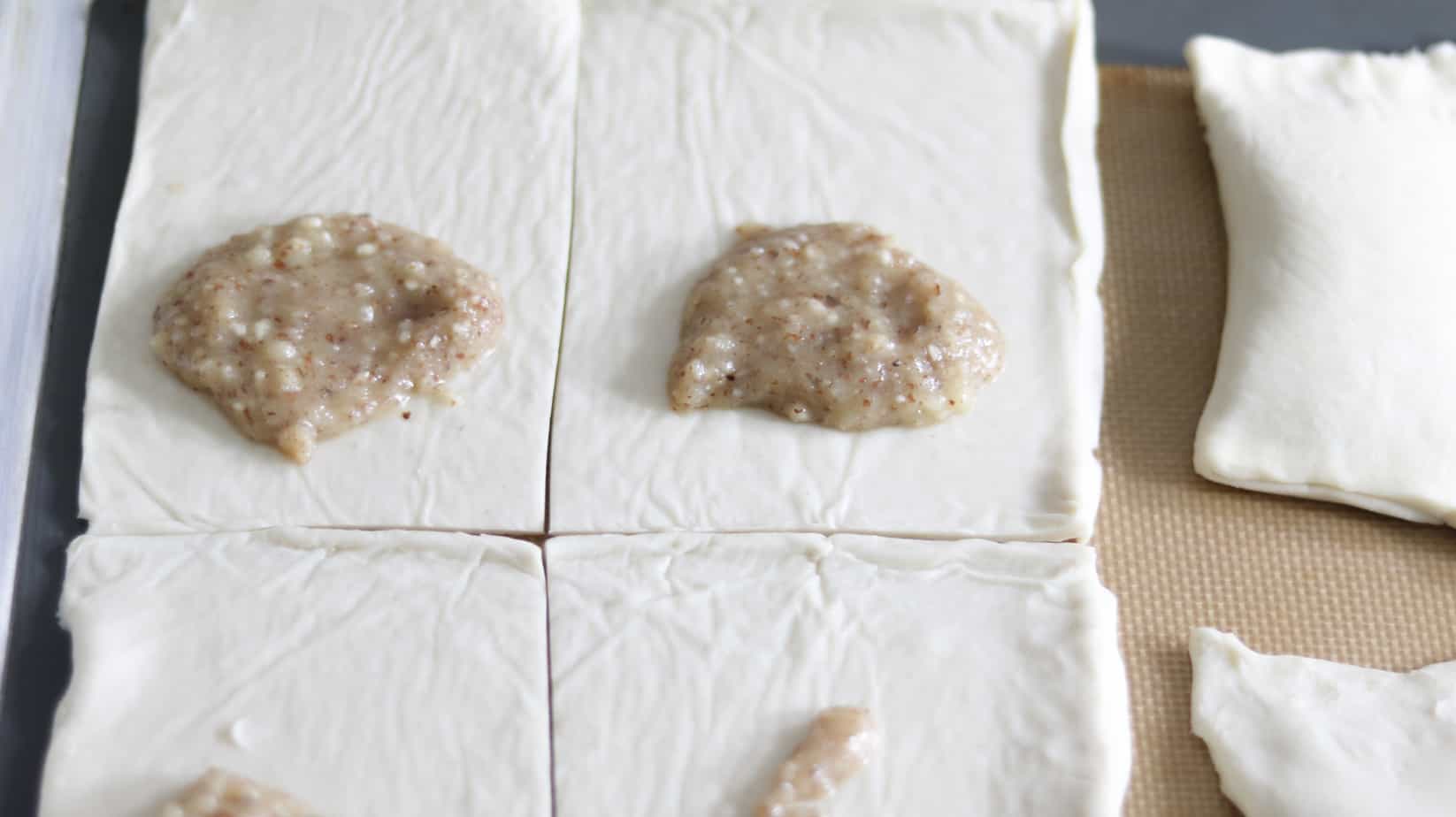 ---
Step 3
Fold each strip over the Almond filling and press down with your fingers to seal it. Then, cut about ½ inch slits into the sealed edge to make the bear claw.
---
Turn These Magically Into Bear Claws!
---
Step 4
In a bowl, mix the egg yolk with one teaspoon of water. Next, brush each piece with egg wash and sprinkle sliced almonds over the top.
Step 5
Bake on preheated oven on (400 degrees F- 200 degrees C) for 22-25 minutes.
Step 6
Cool pastries for 10 minutes on a baking sheet or a wire rack and sprinkle them with powder sugar.
---
Step 7 Is The Best of All: Just Serve It With Love!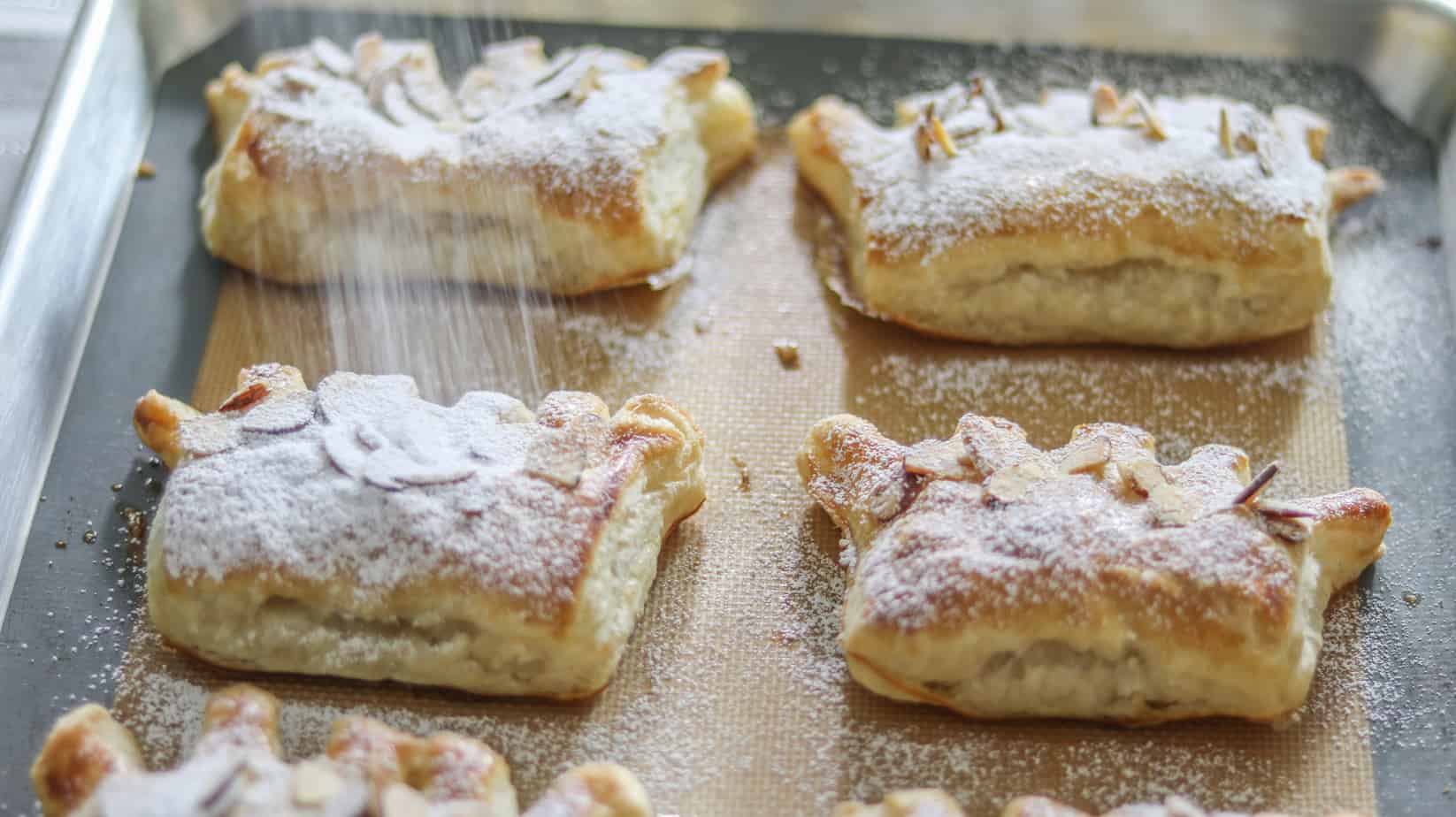 ---
More About Bear Claw Pastry
Created in California in the early 20th century, the bear claw is a flaky, gooey treat that pairs perfectly with your favorite coffee. A puff pastry with various fillings that have changed throughout the years, it has now evolved to become one of America's bakery favorites.
Are bear claws healthy?
A little package of Almond Bear Claws is the exact same amount of calories and sugar as three Oreo cookies. They're essentially cookies with surprisingly health benefits when almonds are included in the filling.
---
GET FREE RECIPES TO YOUR INBOX: SUBSCRIBE TO OUR NEWSLETTER
---
Other Recipes You Might Like:
---
If you've tried this recipe or any other recipe on Sourandsweets,
don't forget to rate the recipe and leave me a comment below!
I would love to hear about your experience with my recipes. Share it with me on Instagram.
---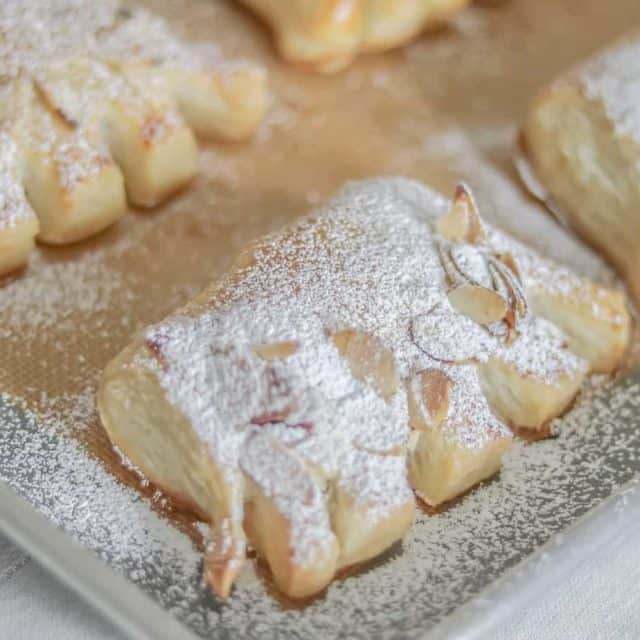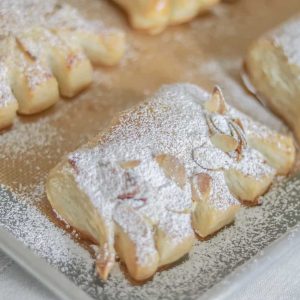 Almond Bear Claw
Skip the lines at Panera Bread and learn how to make your own Almond Bear Claws from scratch. I promise, once you make them you will want to make them over and over again. These almond filled pastries are very easy to make and take very little time.
Ingredients
2

sheets

of puff pastry

1

egg

¼

cup

chopped almonds

¼

cup

almond paste

1

tbsp.

butter

1

tbsp.

brown sugar

sliced almond

powdered sugar
Instructions
Separate egg white from egg yolk.

In a separate bowl, mix together egg white, chopped almonds, almond paste, brown sugar, and butter.

In a baking tray, cut one sheet of puff pastry to 4 equal pieces.

Fill about 1-2 tablespoon of almond filling to the puff pastry square. Then, fold each strip over the almond filling and press down with your fingers to seal it. Cut about ½ inch slits into the sealed edge to make the bear claw.

Mix the egg yolk with one teaspoon of water. Next, brush each piece with egg wash and sprinkle sliced almonds over the top.

Bake on preheated oven on (400 degrees F-200 degrees C) For 22-25 Minutes.

Sprinkle with powdered sugar.