If you're on a Paleo diet or just looking from some new snacks to make, you've come to the right place! Ladies and gentlemen, I present you the amazing Whole30 Energy Balls, a.k.a, the Coconut Date Balls. There's no better way to satisfy your sweet tooth than with delicious energy bites that are made from coconuts, dates, and pecans!
---
I Can't Get Enough of These!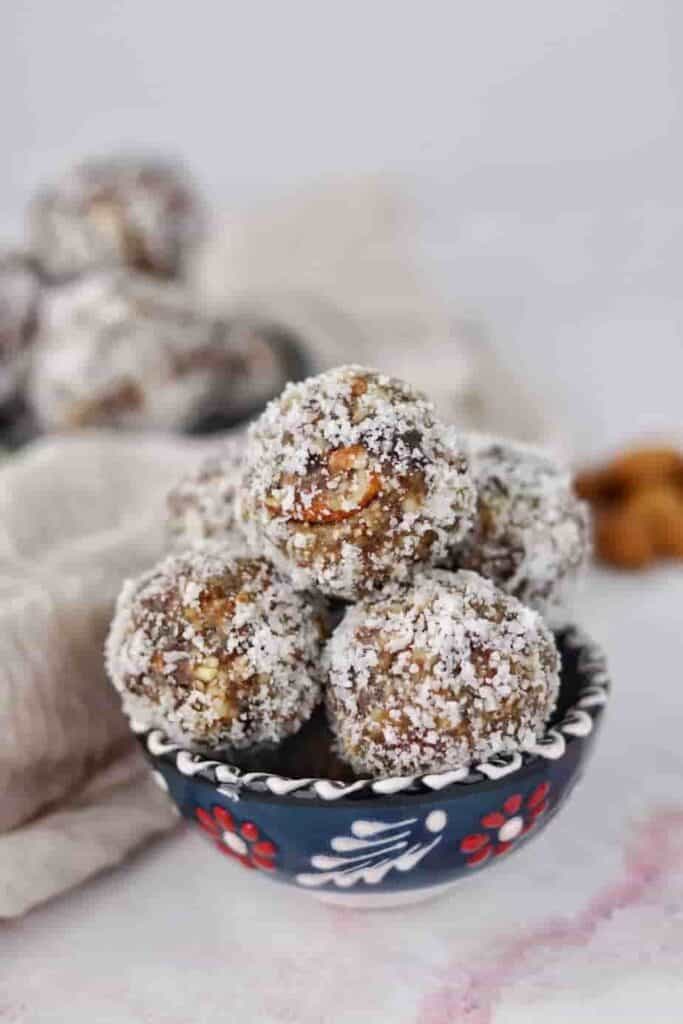 ---
These amazing no-bake balls are rolled to perfection. They are the perfect combination of pecans, dates, and chia seeds. These ingredients, along with many others, are put in a food processor to create the perfect dough. The dough ensures that the energy balls turn out to be very smooth and moist. A dash of cinnamon powder imparts a distinctive flavor that leaves your taste buds craving for more!
As if that isn't enough, the balls are then covered with the finest shredded coconuts to create a beautiful and aesthetically pleasing exterior that also works as a natural sweetener!
---
Best Source of Energy
To get through our hectic weekdays, we need to consume foods that are high on energy. The Coconut Balls are a delicious snack that can be easily prepared, and their size makes them the perfect snack. These round balls of goodness are so yummy and not at all chewy. Every little bite will help boost your energy!
There's a significant reason why Coconut balls are so popular! They don't just taste good, but they're also perfect for you if you're BIG on health benefits. They're packed with quite a lot of nutrients!
---
Healthy Benefits!
These Paleo Energy Balls are a great dessert that you can try out in order to spruce up your diet and include a bit of variety through this mix. Having some sugar free energy balls helps a lot, since you will feel ready to tackle many challenges. These energy balls will also make you more productive!
---
Sugar-Free
Snacks
!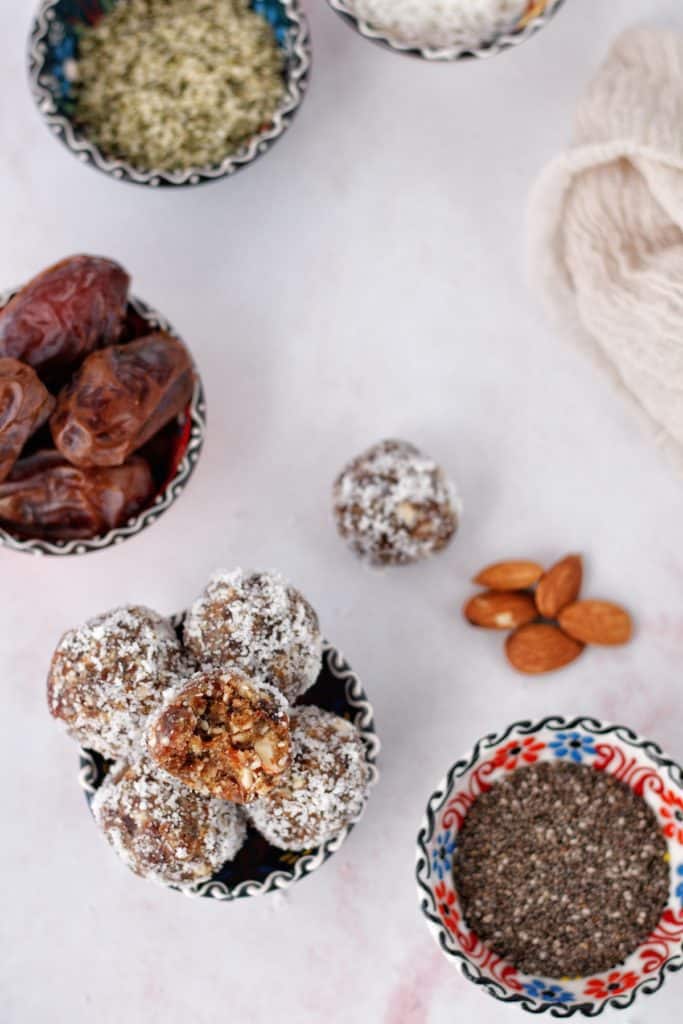 ---
When Should I Eat
Coconut Date Balls
?
It's 3 PM. You're stressed out and tired; however, you've already had your lunch break, and you still feel like you need some food in your system. The sugar-free energy balls are right there for you, and they will provide you with all the energy you need!
You can eat these protein balls at any time during the day. You can have a bite or even a few of them before you work out. This is because they contain proteins and important nutrients that can be used to repair your muscles and imbue your body with high energy levels. That alone can make a huge difference to your overall health!
Some people actually eat Whole30 Energy Balls between meals because they want to feel energized all the time. This is also helps them stay away from unhealthy snacks, which is always great.
Sugar-free doesn't mean tasteless! It's actually quite the opposite! When most people feel sugar cravings, they choose to eat desserts that are full of sugar. The Whole 30energy Coconut Date Balls contain natural sweeteners like dates. Go ahead and indulge yourself!
---
Coconuts and Dates
The coconut balls mix contains dates. Coconuts and dates make an excellent pair that balance each other out! While you can try to prepare some Paleo energy balls without dates, the balls wouldn't be the same without the flavorful dates. The sticky texture of the dates helps keep the balls in place and adds a special kick of flavor to the sweet and oily taste of coconuts!
Dates add creaminess to the mix without the huge load of fat that cream usually has. This simple and sweet dessert is great to serve at parties! It'll keep your guests busy and occupied, they'll find themselves going for more energy balls as the party goes on!
If you want a quick and easy recipe that helps you lose weight, stay in shape and heal your muscles after working out, this is the right one for you. The Whole30 Energy Balls give you a much-needed energy boost for the day, so they are worth the effort.
Moreover, preparing them doesn't take a lot of time, you just have to follow these instructions and they will be good to go within 10-20 minutes at most. The Coconut Date Balls are some of the best recipes you can try out for a quick boost, even, especially if you're on a low-calorie diet like Keto or Paleo.
---
Frequently Asked Questions
How many calories are in the Whole30 Energy Balls?
It all depends on the recipe. Normally, you will expect the Whole30 Energy Balls to have anywhere from 160 to 200 calories per ball or even more than that. Of course, this depends on the ball size and other factors. The calorie amount will differ quite a bit between different recipes.
How many Whole30 Energy Balls should I eat?
As you already know, too much of anything can be a bad thing for your health. That's why you should consume only a few low carb protein balls every day. Some whole30 desserts are high in calories, so that can be a problem.
Can I keep it my Coconut Balls in the freezer?
Absolutely, in fact the Whole30 Energy Balls should always be refrigerated if you're not planning on eating them right away. However, make sure they're always in an airtight container to maintain their nutritional properties and prevent any possible problems that might arise.
---
An important thing to consider is that the sugar free energy balls can be easily refrigerated. They freeze very well, and that's a great thing for those who want a simple, easy and convenient energy ball recipe. You can unfreeze them after a while and eat them right away!
---
They're So Addictive!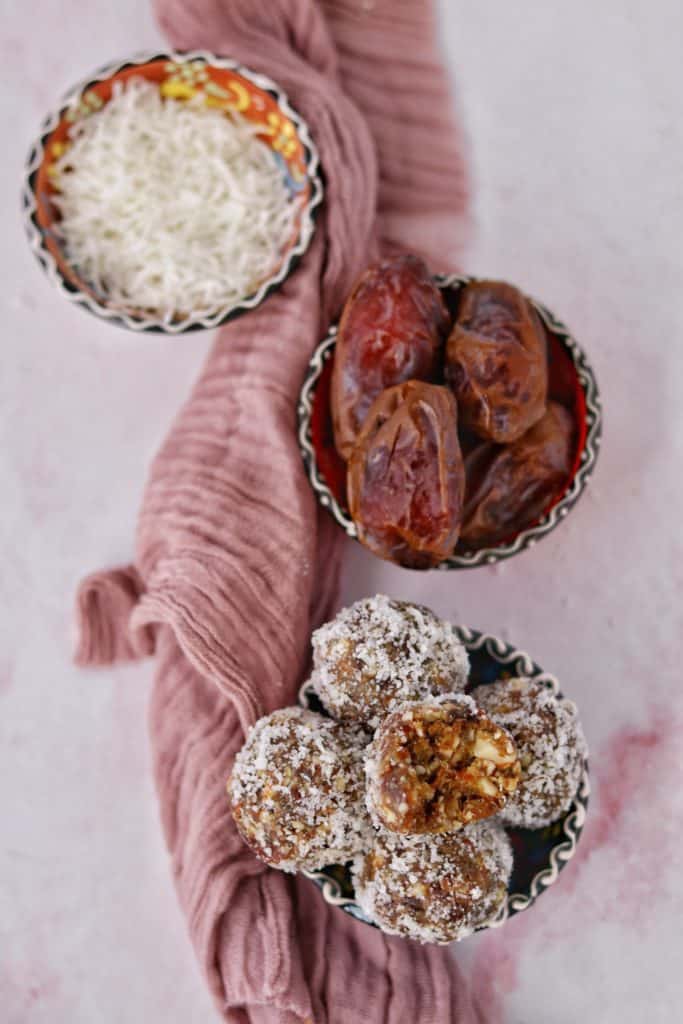 ---
Ingredients
To make the Coconut Balls, you will need the following ingredients:
Medjool dates
hemp seeds
pecans or walnuts
almonds
chia seeds
salt
cinnamon powder
shredded coconut
This delectable dessert was there for me on my hardest days. The minute I start feeling unproductive, I pop 2 Coconut Balls in my mouth. I can't even start to explain how my WHOLE mood instantly changes! It's like my body already knows that the Coconut Date Balls will fix everything. If you're not the greatest multitasker, I can assure you that will change soon.
---
Directions
STEP 1:
The first thing you want to do is to pit the Medjool dates. You will need to soak them in the warm water for around 10 minutes, to ensure that they are not hard at the end.
STEP 2:
Now you must place the pitted dates, cinnamon powder, salt, hemp seeds, chia seeds, almonds and pecans in the food processor. You'll need to blend this mixture until you see a thick dough. When that happens, you can stop the food processor and move on to the next step.
STEP 3:
Scoop roughly 2 tablespoons of that mixture and then use it in your hand to roll a ball.
Now you want to roll the date ball into the shredded coconut. Do that until your Whole30 Energy Ball is covered in coconut.
All you have to do is to repeat the process until you have 12 to 15 Whole30 Energy Balls.
---
Other Recipes You Must Try
---
If you've tried this recipe or any other recipe on Sourandsweets, don't forget to rate the recipe and leave me a comment below! I would love to hear about your experience with my recipes. Please share it with me on Instagram.
---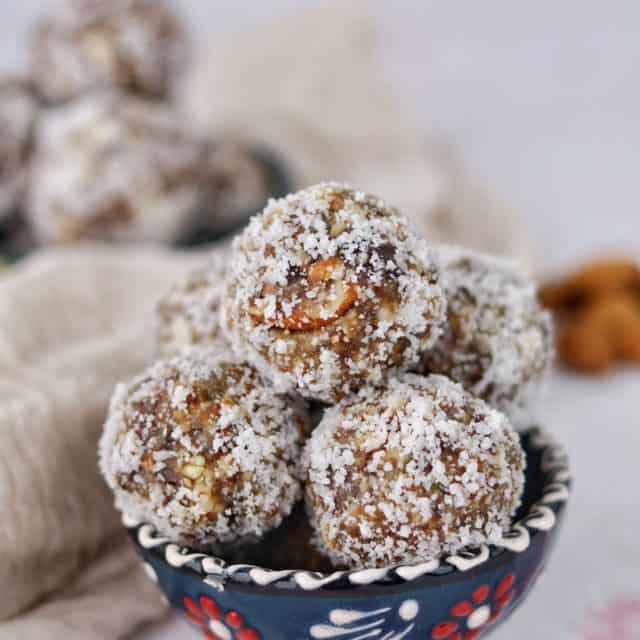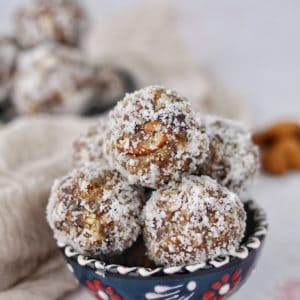 Whole30 Energy Balls (Coconut Balls) Recipe
These amazing Healthy Coconut Energy Balls are very easy to prepare and taste great! There's no better way to satisfy your sweet tooth than with delicious energy bites that are made from coconuts, dates, and pecans!
Ingredients
15

Medjool dates

¼

cup

hemp seeds

1

cup

pecan

or walnuts

½

cup

almonds

1

tablespoon

chia seeds

pinch of salt

½

tablespoon

cinnamon powder

½

cup

shredded coconut
Instructions
Pit the Medjool dates (soak them in warm water if they are hard for 10 minutes)

Place the pitted dates, pecans, almonds, chia seeds, hemp seeds, salt, and cinnamon powder in a food processor. Blend on high until a thick dough is formed.

Scoop 2 tablespoons of the mixture and use your hand to roll into a ball.

Roll the date ball into shredded coconut until it is all covered with coconut.

Keep repeating until you have about 12-15 date balls.
Nutrition: Please note that the nutrition label provided is an estimate only.
Calories:
193
kcal
Carbohydrates:
24
g
Protein:
4
g
Fat:
11
g
Saturated Fat:
2
g
Trans Fat:
1
g
Sodium:
9
mg
Potassium:
261
mg
Fiber:
4
g
Sugar:
19
g
Vitamin A:
63
IU
Vitamin C:
1
mg
Calcium:
52
mg
Iron:
1
mg