---
---
Chewy, Gooey, and Crunchy Brown Butter Chocolate Chip Cookies
---
---
Why You Will
Love

this Recipe
Taste: Incredibly flavorful. Finishing these cookies with a sprinkle of sea salt adds a beautiful depth of flavor.
Texture: Extremely chewy and gooey in the center, crispy around the edges. Absolutely PERFRECT!
Ease: Browning the butter is an extra step, but I enjoy it and think it adds a lot of flavor. Aside from that, this recipe is very simple!
Appearance: Stunning, just like the cookies you buy from the bakery!
---
Sweet, Salty, and Completely Chocolatey!
---
The Best
Brown Butter Salted Chocolate Cookie

Recipe Ingredients

Chocolate Chips: I use milk chocolate chunks and white chocolate chips. It doesn't matter what type of chocolate you use, as long as you use 2 cups.
---
A Little
Sweet

and a Bit

Salty
---
How to
Brown Butter
If you've never baked with brown butter and are curious about it, you're in for a treat. Browned butter has a wonderful nutty aroma that enhances the flavor of any baked good. Here's how it's done!
First, melt the butter in a saucepan over medium-low heat.
---
Frequently Asked Questions
(FAQs)
Why brown the butter?
Browning butter is a simple way to add a real depth of flavor with very little effort. The fat solids in the butter turn a deep amber color, enhancing the butter's richness and nuttiness.
What kind of chocolate do you use in chocolate chip cookies?
I like to use a combination of semi-sweet chocolate chunks and white chocolate chips. You can use whatever kind you like.
How do you make your cookies so pretty?
It's pretty simple. Use a cookie scoop. This ensures that all of your cookies are the same size and bake evenly! Furthermore, using a cookie scoop is a more convenient way to portion out the dough.
Can I make these cookies ahead of time?
Sure! The cookies can be made 5 to 7 days ahead of time. Store them in an airtight container in a cool and dry place until ready to enjoy.

What kind of sea salt do you use for cookies?
The flaky sea salt is the best option. These are large, crunchy flakes that are typically sprinkled on top of baked goods such as brownies or chocolate chip cookies. It should not be mixed into doughs or batters because the large flakes will not dissolve or disperse evenly.
---
These Cookies are
Impossible to Resist
---
Tips for
Perfect Brown Butter Cookies
Make sure to remove your eggs from the refrigerator to allow them to come to room temperature. If your eggs are too cold, they will shock the warm butter, hardening it and making your cookies very puffy.
Go for unsalted butter since you are going to sprinkle some salt flakes on top.
Chilling the dough allows it to develop a deep caramel flavor while also providing crispy edges, chewy insides, and crackly tops.
Don't overmix the ingredients so that your cookies don't become very puffy.
---
Ingredients
Butter
Brown sugar
White sugar
Vanilla extract
Eggs
All-purpose flour
Baking soda
Chocolate chunks
White chocolate chips
Flaky salt, optional
Steps to Prep
---
Pin It!
---
Other
Desserts

You Will

Enjoy

:
---
If you've tried this recipe or any other recipe on Sourandsweets, don't forget to rate the recipe and leave me a comment below! I would love to hear about your experience with my recipes. Please share it with me on Instagram.
---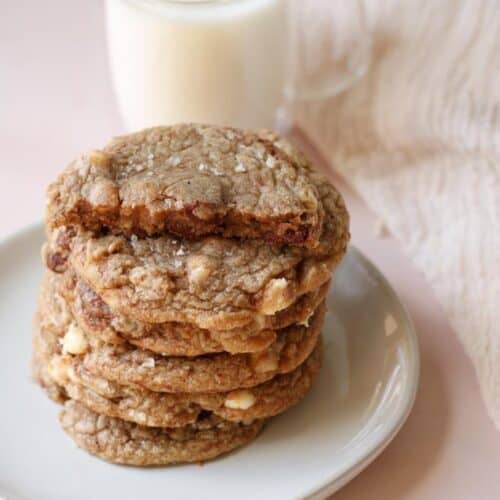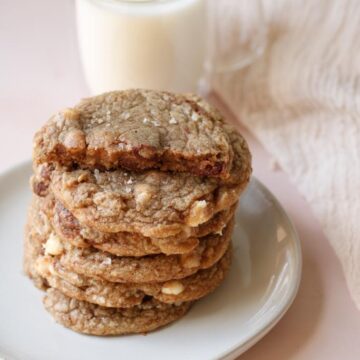 Brown Butter Chocolate Chip Cookies
These brown butter chocolate chip cookies are chewy, gooey, and incredibly delicious, with pools of rich, dark and white chocolate, crisp edges, and the salty, nutty taste of browned butter. No mixer is needed – it's going to be your new favorite cookie recipe!
Ingredients
1

cup

butter

( place the butter in a saucepan on medium heat until it turns brown)

½

cup

white sugar

2

cups

flour

1

cup

brown sugar

1

teaspoon

vanilla extract

2

eggs

½

teaspoon

baking soda

1½

cup

chocolate chunks

1

cup

white chocolate

flaky salt

optional/ to sprinkle on top of the cookies before baking.
Instructions
First, over medium-low heat, melt the butter in a medium saucepan (a light-colored pan works best so you can see the color of the butter changing).

Next, melt the butter and cook, swirling occasionally, until it turns a lemony-yellow color, then golden, and finally amber. Remove it from the heat as soon as it turns amber and you see little flecks of brown on the bottom of the pan. Allow it to cool for 30 minutes.

Once cooled, combine butter, brown sugar, and white sugar in a large bowl using a spatula for about 3 minutes.

Then, add the vanilla and eggs and mix until well combined, about 1 minute. After that, add the flour and baking soda until they're fully incorporated.

Fold in the chocolate chunks and the white chocolate chips.

Chill the cookie dough in the fridge for 30 minutes before baking.

Scoop dough into 1" balls (1.5-2 tablespoons) and space 2 inches apart. Sprinkle some flaky salt on top.

Finally, bake the cookies in a preheated oven at 350 degrees F for 10-12 minutes. Let them cool down in the baking tray for 10 minutes before serving them.

Enjoy with a glass of milk!
---