Mint lentil soup is one of the most popular and healthy Turkish dishes. It's a
mouth-watering savory soup packed with essential vitamins and nutrients. Simple and hearty, full of bold flavors, and is the perfect keeper dish in any household. This soup is ideal for winter season and is also easy to make! So whenever you're running out of time to make lunch or seeking a healthy recipe, this red lentil soup with mint can be your go-to dish.
---
---
How Lentils Cut Across Cultures
It all started 13,000 ago in ancient Greece and Syria when lentils were seen as food for the poor or lower classes. As time went on, many started viewing these legumes as the core for healthy vegetarian soups, considering they're rich in iron, potassium and protein, and can even be turned into vegan and gluten free meals. This marked the birth of lentil soup, which eventually made its way into different cultures and became popular among different cuisines around the world.
Today, lentil soup is considered a staple food throughout the Middle East and Europe in addition to having a variety of Greek, Turkish, and Indian versions.
---
Delicious Ways To Eat Lentils
What I love about lentils is that not only are they healthy, but also very convenient to work with. These legumes come in different types, flavors, and colors! Starting from green, red, yellow, brown to black, lentils can lay the foundation to quite a lot of dishes!
Starting off with salads, where lentils that hold their shape, like green or red lentils, can be used along with different vegetables and greens to create an appetizing side dish. Then moving to dips and spreads made with tender lentils, cloves of garlic, olive oil, and herbs, all into a blender then straight into your heart!
And finally for desserts, yes, desserts! As odd as it might sound, lentils make a great combination with oats, peanut butter, and dried fruits! They can also be used to make chocolate lentil brownie and apple lentil cake. You see, lentils are always here for you!
---
Frequently Asked Questions About Mint Lentil Soup
Can I use brown rice in my Turkish red lentil soup?
While brown rice is not commonly added to mint lentil soup, it is a perfectly acceptable substitute, though it might take more time and water to cook so make sure you adjust cooking times according to the package instructions. Brown rice can make the soup heartier and more nutritious as it contains more fiber compared to white rice.
What can I use instead of a Maggi cube?
You can use chicken broth or chicken stock instead of Maggi cube.
What other spices can I use to get more flavor?
You can use paprika, black pepper, tomato paste, bell pepper, and cayenne pepper for a more spicy and tangy flavor. Adding minimal spices like in this recipe creates a very simple flavor profile for the soup allowing the natural flavor of the lentil and mint to shine through. But tastes differ, so feel free to add more spices according to your preference.
---
Ingredients for Mint Lentil Soup:
½ Cup of red lentils
1 tablespoon of rice
2 tablespoon of oil
2 tablespoon of butter
¼ cup of finely chopped onions
3-4 cloves of garlic
2 tablespoon of dry mint
1-2 teaspoon of curry powder
1 teaspoon of coriander powder
1 Maggi cube or 1 teaspoon of salt
---
---
---
Procedure to Prepare Mint Lentil Soup:
Step 1:
To prepare the red lentil soup with mint, first, take a pot and boil 3 cups of water. Then measure out ½ a cup of red lentil and one tablespoon of rice. Rinse the rice and the red lentil with tap water. Add the washed lentils and rice to a pot and add boiling water then place the pot on the stove. Turn the flame to high and boil for twenty-five minutes.
Make sure the lentil and rice are cooked well. If not, keep the pot on the stove for another five to ten minutes. Flames on stoves vary and some may take only twenty-five minutes. If your stove takes more or less, cook as is required. Note that the goal is to cook the lentil and rice without turning them to mush.
Step 2:
When the lentil and rice finally come to a boil, add another half cup of water into the ingredients and blend until you get a thick and smooth mixture. An immersion blender does the job wonderfully. If you do not own one, you can always use a jar blender or even a juicer, whatever is convenient for you. In case you're using a jar blender, fill half of the jar with the mixture. If your blender is small, divide the soup into batches as required.
Overfilling the blender jug will create a huge mess and leave lumps in the soup. To avoid this, close the jar tightly with the lid then turn the blender on. At medium speed, blend for about a minute, or until you get the desired consistency. A longer blend will give a thicker, smoother texture.
Step 3:
Into a large heated pan, add two tablespoons of oil along with two tablespoons of butter. A neutral oil like soybean oil does a good job in letting the butter shine, but you can use olive oil if you want. Olive oil would make this soup healthier and tasty too. When the butter melts, add the ¼ cup of finely chopped onions and chopped garlic into the pan.
A common mistake that most people make is they often put the stove on high heat initially. This might make the oil and butter extra hot and cause the onion and garlic to burn, leaving you with a bitter taste and preventing the aromatics from flavoring the oil properly. So make sure you turn the flame of the stove to medium after adding the oil.
When the garlic and onion turn transparent, add one teaspoon of coriander powder and one teaspoon of curry powder then stir with a spatula or ladle for about two minutes.
The next task is to add the Maggi cube and two teaspoons of dry mint into the pan while stirring. Finally, turn off the flame when you smell the perfect aroma.
Step 4:
Remember the mixture of red lentil and rice we prepared? Well, combine the cooked onion and garlic with that mixture then use a spoon to incorporate them well. At this point, you can squeeze a little lemon juice for a tangy taste or use black pepper if you prefer some. For final touches, garnish the top of the soup with chili flakes and dried mints. At last, your delicious, flavor-packed, mouth-watering red lentil soup with mint is ready to serve!
---
A Tasteful Vegan Lentil Soup
This flavor-packed, nutritious mint lentil soup can be cooked as a vegan recipe as well. All you have to do is to replace butter with one teaspoon of olive oil, chicken broth with vegetable stock, and avoid using Maggi cube. Now you have it! A delicious, bright, healthy, red lentil soup with mint.
---
Other Recipes You Might Enjoy:
If you've tried this recipe or any other recipe on Sourandsweets, don't forget to rate the recipe and leave me a comment below! I would love to hear about your experience with my recipes. Please share it with me on Instagram.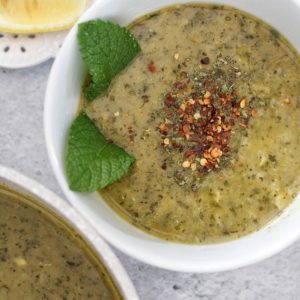 Mint Lentil Soup Recipe|A Step by Step Guide
Mint lentil soup is a delicious Turkish dish perfect for sharing with friends and family. Let's learn how to make it!
Ingredients
½ Cup of lentils

1 tablespoon of rice

2 tablespoon of oil

2 tablespoon of butter

¼ cup of finely chopped onions

3-4 cloves of garlic

2 tablespoon of dry mint

1-2 teaspoon of curry powder

1 teaspoon of coriander powder

1 Maggi cube or 1 teaspoon of salt
Instructions
In a medium pot, add rinsed rice,red lentils, and water then boil on medium heat for 25 mintues.

Once lentils are cooked, use an immersion blender to cream them.

In a pan, add oil and butter on medium heat. Add onions and garlic then cook until soft.

Add coriander powder, curry powder, maggie cube (or salt), and dry mint. Cook for 2 more minutes.

Add the garlic and onion mixture to the creamed lentils and let it come to a boil.

Serve it with a squeeze of lemon juice and enjoy!
Video