Mint lentil soup is one of the most popular and healthy Turkish dishes. This
mouth-watering savory soup is packed with essential vitamins and nutrients. Moreover, the process is a piece of cake. Hence if you are running out of time to cook your lunch or seeking a healthy recipe, this red lentil soup with mint can be your go-to dish. So without further ado, let's get started with the process.
Ingredients for Mint Lentil Soup:
Before making any dish, it is essential to prepare all the ingredients to remain organized. Hence let's have a glance at the ingredients that are required to prepare Turkish red lentil soup.
1/2 Cup of red lentils
1 tablespoon of rice
2 tablespoon of oil
2 tablespoon of butter
1/4 cup of finely chopped onions
3-4 cloves of garlic
2 tablespoon of dry mint
1-2 teaspoon of curry powder
1 teaspoon of coriander powder
1 Maggi cube or 1 teaspoon of salt
---
---
Procedure to Prepare Mint Lentil Soup:
Step 1:
To prepare the red lentil soup with mint, first, take a pot and boil 3 cups of water. Then measure out ½ cup of red lentil and one tablespoon of rice. Rinse the rice and the red lentil with tap water. Add the washed lentils and rice to a pot and add boiling water. Then put the pot on the stove, turn the stove's flame to high and boil for twenty-five minutes. Make sure the lentil and rice are cooked well. If not, then put the pot on the stove for another five to ten minutes. Flames on stoves vary and some may take only twenty-five minutes. If your stove takes more or less, cook as is required. Note that the goal is to cook the lentil and rice without turning them to mush.
Step 2:
When the lentil and rice are finally boiled, put another half cup of water into the boiled lentil and rice. Then blend it until you get a thick and smooth mixture. An immersion blender does the job wonderfully. If you do not own one, you can always use the jar blender or even juicer, whatever is convenient for you. If you are using a jar blender, put the mixture in the jar until it is half full. If the size of your blender is small, divide the soup into batches as required. Overfilling the blender jug would create a huge mess and leave lumps in the soup. Put the lid tightly on the jar, stabilize it with your hand and turn on the blender. Blend it at medium speed for about one minute or until you get your desired consistency. A longer blend will give a thicker, smoother texture, but you can blend it according to your preference.
Step 3:
Put a large pan on the stove. When the pan is hot enough, add two tablespoons of oil along with two tablespoons of butter. A neutral oil like soybean oil works well to let the butter shine, but you can use olive oil if you want. Using olive oil would make this soup healthier and tasty too. When the butter is melted, add the ¼ cup of finely chopped onions and chopped garlic into the pan. 
A common mistake that most people make is they often put the stove on high heat initially. This might make the oil and butter extra hot and result in burned onion and garlic. This causes a bitter taste and prevents the aromatics from flavoring the oil properly. Make sure that after you add oil, you turn the flame of the stove to medium.
When the garlic and onion turn transparent, add one teaspoon coriander powder, one teaspoon curry powder. Stir them with a spatula or ladle for about two minutes.
The next task is to put the Maggi cube in the pan. Add two teaspoons of dry mint to the pan and keep stirring. When you smell the perfect aroma, turn off the flame.
Step 4:
Remember the mixture we prepared with red lentil and rice? Well, put the cooked onion and garlic into that mixture. Mix it well with the help of a spoon. You can squeeze a little lemon juice for a tangy taste. Moreover, you can garnish with chili flakes and dried mints on top of the soup. In fact, you can use a little black pepper also if you would prefer some. Your delicious, flavor-packed, mouth-watering red lentil soup with mint is ready to serve!
Frequently Asked Questions About Mint Lentil Soup
Can I use brown rice in my Turkish red lentil soup?
While brown rice is not commonly added to mint lentil soup, it is a perfectly acceptable substitute. Brown rice might take more time and water to cook so make sure you adjust cooking times according to the package instructions. Brown rice can make the soup heartier and more nutritious as it contains more fiber compared to white rice.
What can I use instead of a Maggi cube?
You can use chicken broth or chicken stock instead of Maggi cube.
What are the other spices I can use to get more flavor?
You can use paprika, black pepper, tomato paste, bell pepper, cayenne pepper for a more spicy and tangy flavor. Adding minimal spices like in this recipe creates a very simple flavor profile for the soup allowing the natural flavor of the lentil and mint to shine through. But taste buds differ from person to person, so feel free to add more spices according to your preference.
This flavor-packed, nutritious mint lentil soup can be cooked as a vegan recipe also. All you have to do is avoid using butter, chicken broth, or Maggi cube. Put one teaspoon extra olive oil if you are not using butter. You can have your vegan, healthy, red lentil soup with mint.
Other Recipes you might enjoy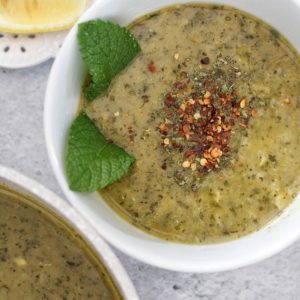 Mint Lentil Soup Recipe|A Step by Step Guide
Mint lentil soup is a delicious Turkish dish perfect for sharing with friends and family. Let's learn how to make it!
Print
Pin
Rate
Ingredients
1/2 Cup of lentils

1 tablespoon of rice

2 tablespoon of oil

2 tablespoon of butter

1/4 cup of finely chopped onions

3-4 cloves of garlic

2 tablespoon of dry mint

1-2 teaspoon of curry powder

1 teaspoon of coriander powder

1 Maggi cube or 1 teaspoon of salt
Instructions
In a medium pot, add rinsed rice,red lentils, and water boil on medium heat for 25 mintues.

Once lentils are cooked, use an immersion blender to cream the lentils.

In a pan, add oil and butter on medium heat. Add onions and garlic, cook until soft.

Add coriander powder, curry powder, maggie cube (or salt), and dry mint. Cook for 2 more minutes.

Add garlic and onion mixture to the creamed lentils and let it come to a boil.

Serve it with squeeze of lemon juice and enjoy.