This Subway Chipotle Southwest Sauce is the perfect spread or dipping sauce for any occasion. It's super creamy with a kick of spice, easy to make, and has a bold and zesty flavor. With just a few simple ingredients, you can make this Subway-style southwest sauce at home in about 5 minutes. Simply combine all of the ingredients in a blender to make your new favorite sauce.
---
Zesty, Orange Subway Chipotle Southwest Sauce
---
I really enjoy recreating some of my favorite restaurant menu items! Copycat Domino's Parmesan Bread Bites, Chipotle Pollo Asado Recipe (Copycat), Zoe's Kitchen Chicken Salad Recipe (Copycat), Cheesecake Factory Four Cheese Pasta (Copycat), Copycat Juan Pollo Potato Salad Recipe, Copycat Jimmy Johns Tuna Salad Recipe, Copycat Starbucks Pumpkin Cream Cheese Muffins with Cake Mix, and Air Fryer Keto Taco Bell Mexican Pizza are some of my successful experiments!
Subway Chipotle Southwest Sauce is my new recreation. You can drizzle it on burgers, tacos, quesadillas, and sandwiches, use it as a salad dressing; or dip potato fries in it. This recipe is for those of you who adore Subway's southwest chipotle sauce.
---
Jump to:
---
What is Subway Chipotle Southwest Sauce?
Subway® is a fast-food restaurant chain known for its sandwiches and salads. They are well-known for their "subs" made with fresh ingredients.
The southwest chipotle sauce, a zesty and flavorful sauce used on their menu items, is one of their signature sauces.
It is one of the most flavorful subway sauces, zesty and flavorful, with a spicy kick from chipotle peppers!
---
Perfect with Your Burgers and Sandwiches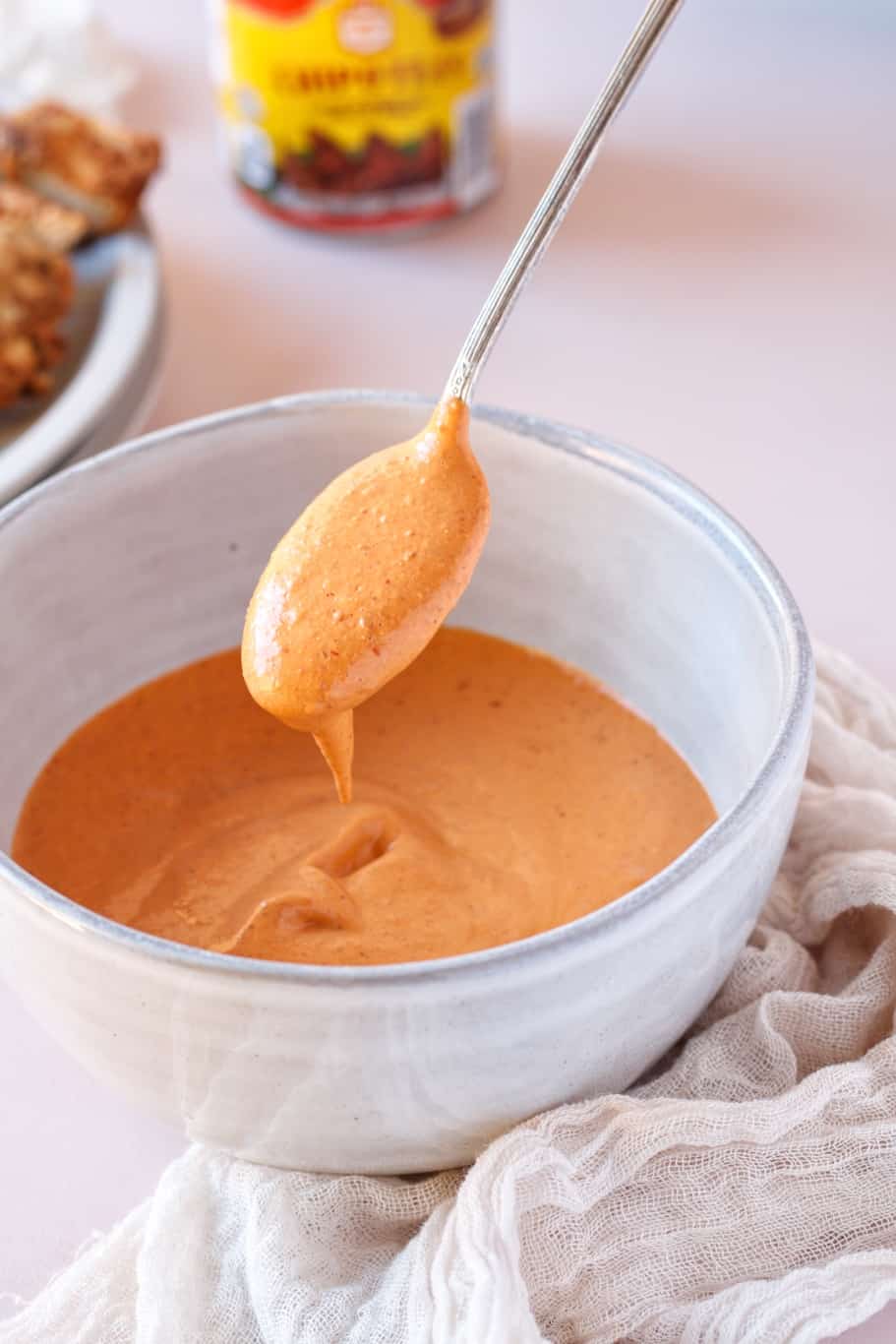 ---
What is Chipotle pepper in adobo sauce?
The key to this homemade sauce is chipotle peppers in adobo. Chipotle chilies are dried and smoked red jalapenos. They are moderately hot and have a fruity, smoky flavor.
The adobo sauce contains onion, tomato, vinegar, and spices.
A flavorful sauce is created when they are combined. This sauce is smooth and tangy with a little sweetness. You can find this sauce at almost every grocery store.
---
Why You Will Love Subway Chipotle Southwest Sauce
There's no need to visit a Subway restaurant to get a taste of the chipotle sauce.
This copycat version comes together in less than 5 minutes.
You can use this delicious sauce as a spread for burgers, wraps, and sandwiches, as well as a dip or salad dressing.
It's creamy with a spicy kick.
It's extremely addictive.
---
Subway Chipotle Southwest Sauce Ingredients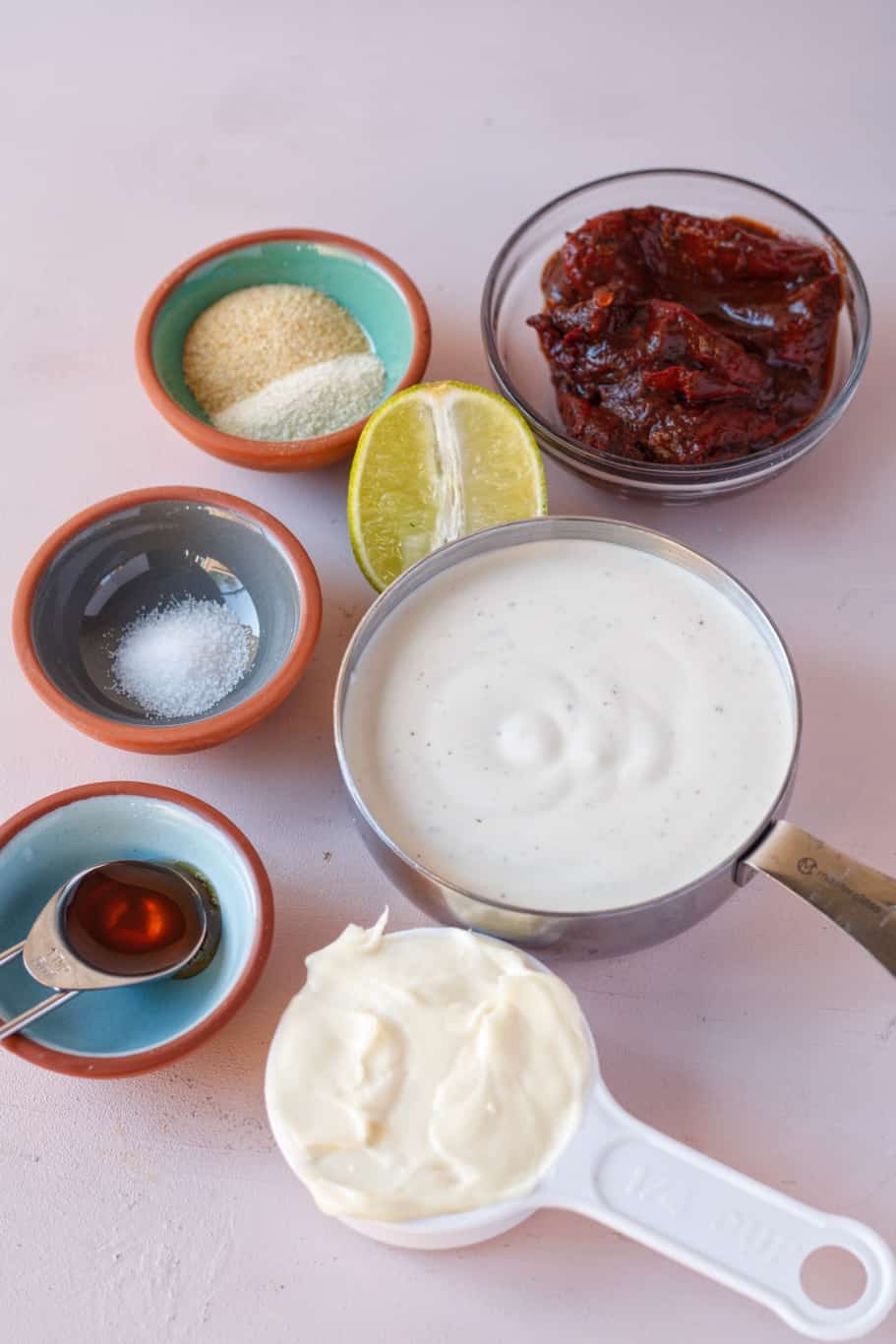 Here's the full ingredient list for the Subway Chipotle Southwest Sauce:
Mayonnaise: It's the base of this sauce and adds creaminess.
Ranch dressing: This adds a lot of flavor to the sauce, as well as some zesty flavor.
Chipotle peppers in adobo sauce: It is the main component of southwest flavors! These are usually available in cans in the international section of most supermarkets.
Honey: I use honey to add a touch of sweetness to the southwest sauce. It can be replaced with maple syrup or sugar.
Garlic powder and onion powder: They are great flavor enhancers!
Lime Juice: Fresh lime juice balances the flavors and helps to brighten them by adding a hint of acidity.
Salt: Add salt or kosher salt to taste.
Check the recipe card for quantities.
---
Follow these Simple Steps
Here are the steps you need to follow to make your favorite subway sauce:
First, add all ingredients to a blender cup. Blend until everything is fully combined and you reach a smooth consistency.
Next, pour the sauce into a squeezable bottle.
Refrigerate for up to 2 weeks.
---
A Fan Favorite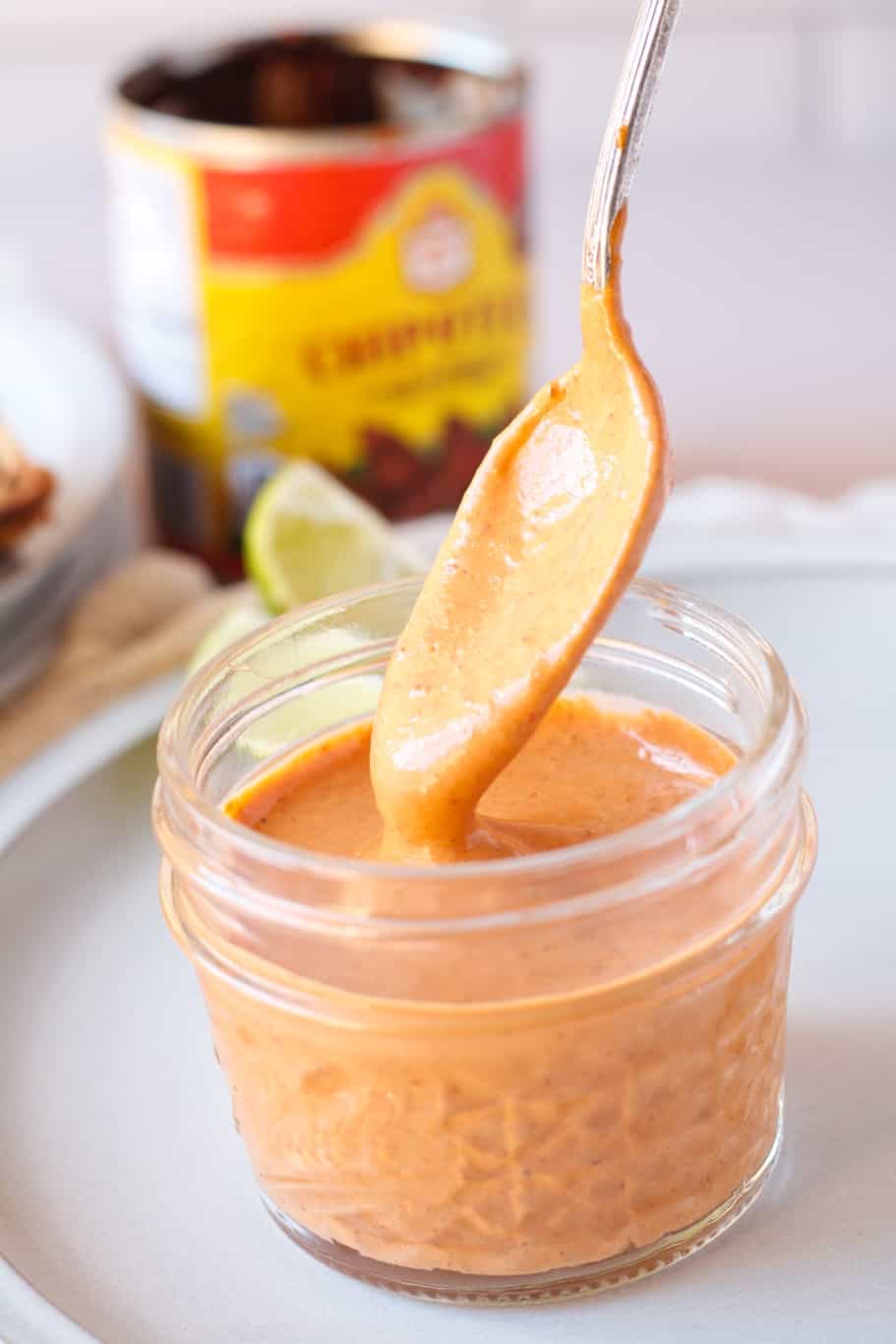 ---
Substitutions
Chipotle peppers in adobo sauce: If you don't have chipotle peppers in adobo sauce, you can substitute chipotle powder.
---
Variations
Spicier: Add more chipotle peppers for a spicier southwest chipotle sauce.
Less Spicy: Reduce the amount of adobo sauce to make it less spicy.
Herbs: For a fresh flavor, add freshly chopped and minced herbs such as cilantro, chives, or parsley.
---
Super Creamy, with a Kick of Spice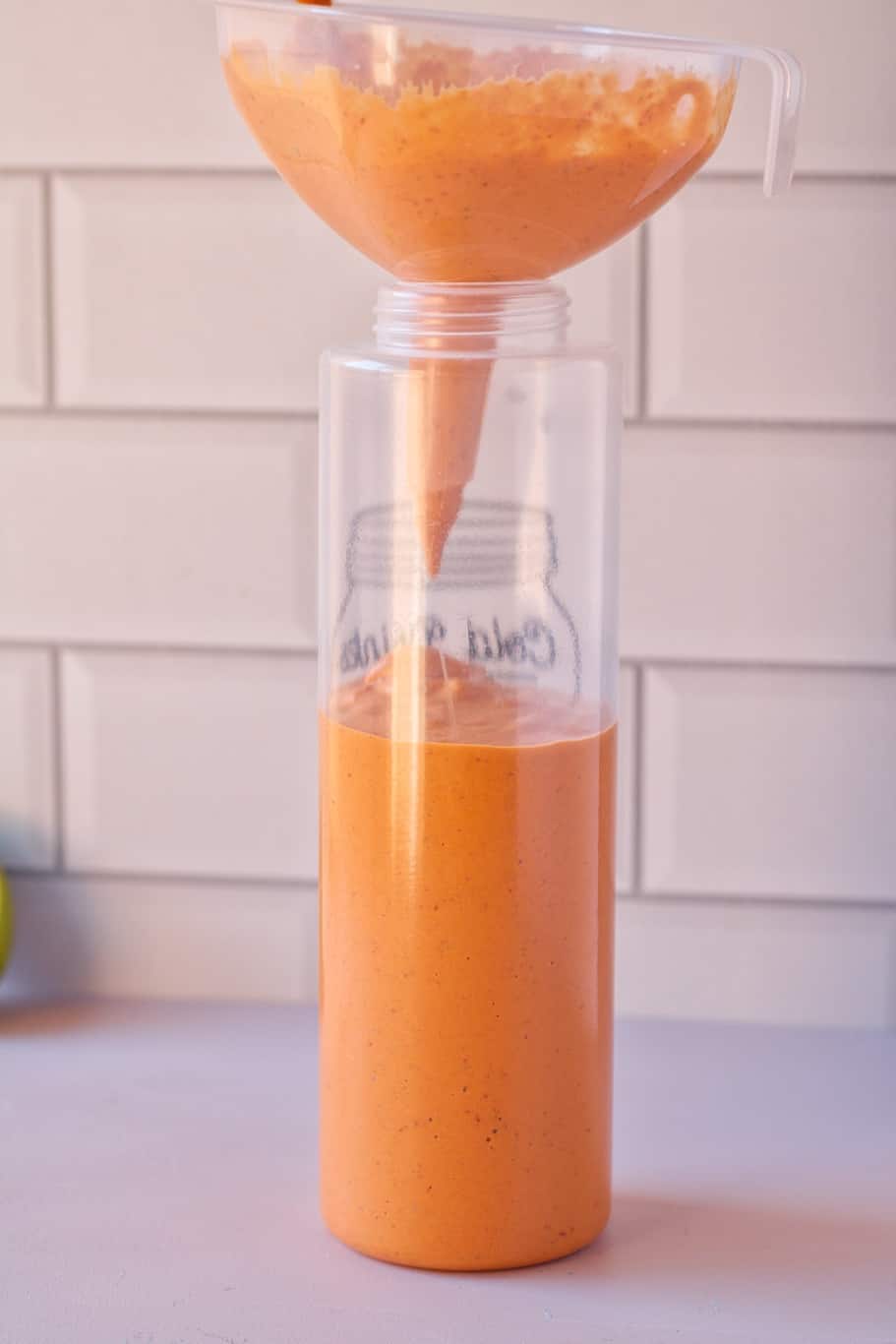 ---
Equipment
You only need a blender or a food processor to blend the ingredients.
---
Storage
Storing: This chipotle southwest sauce keeps for up to two weeks days in an airtight container, a squeeze bottle, or jar. Before using, give it a good stir to redistribute the flavors.
Freezing: I don't recommend freezing this sauce as the mayonnaise can separate when thawed and may not come back together.
---
Tastes Just Like the Real Thing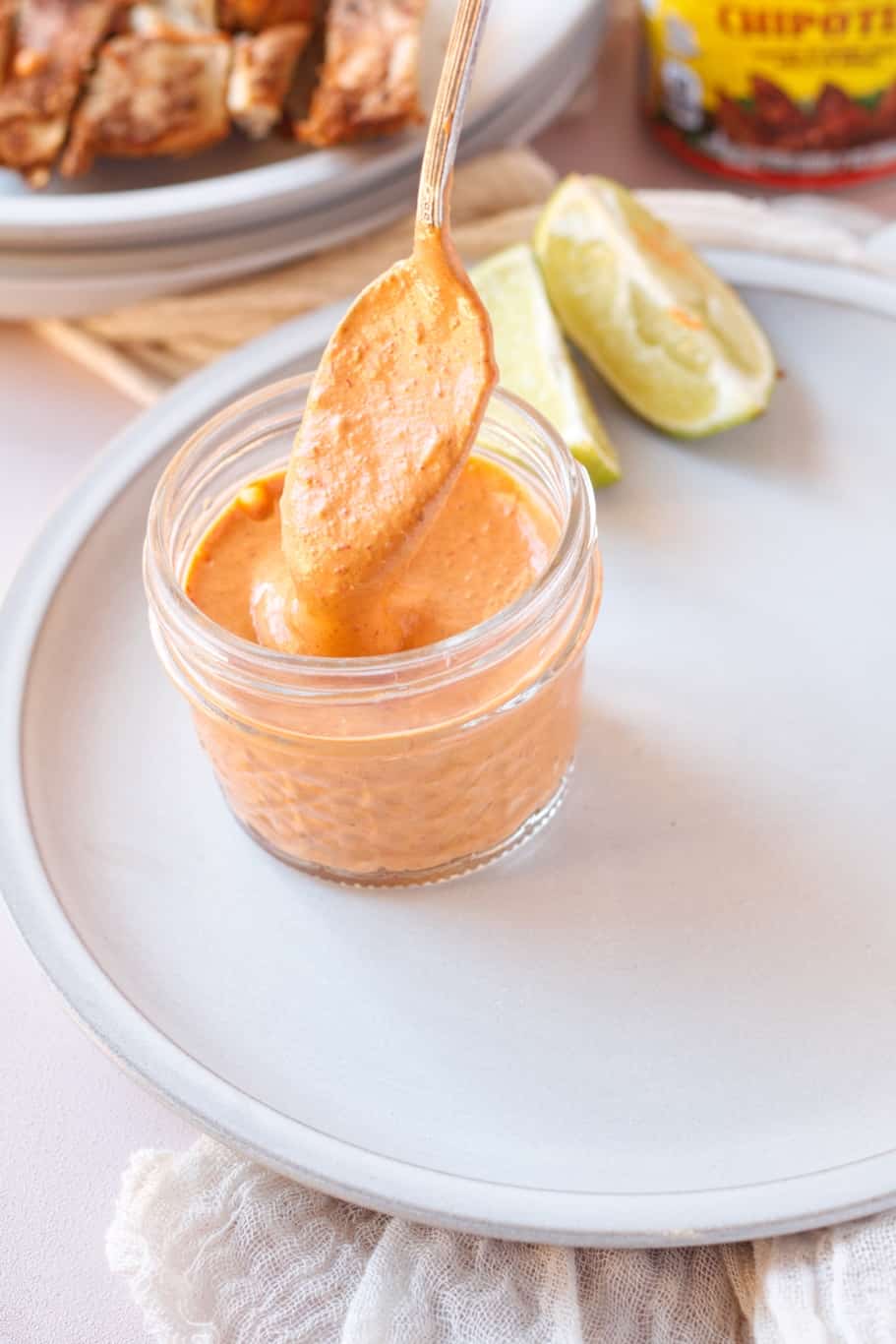 ---
Top Tips
This chipotle sauce thickens as it sits in the fridge. To achieve the desired consistency, add a tablespoon of water or milk.

I don't recommend freezing this sauce because the mayonnaise may separate when thawed.
Allow the sauce to sit in the refrigerator for at least an hour to allow the flavors to come together.
Store the sauce in a squeeze bottle for the full Subway experience.
---
Frequently Asked Questions (FAQs)
Is chipotle sauce spicy?
The amount of chipotle pepper used in the sauce determines the level of spiciness. As written, this recipe is mildly spicy with a smoky flavor. You can always add more chipotle to make it spicier.
What Can I use Subway Chipotle Southwest Sauce for?
This smooth sauce is ideal for burgers, chicken wings, sandwiches, wraps, salad dressing, and dipping. It adds a bright flavor to everything it touches!
What ingredients are in Subway chipotle sauce and Subway Southwest sauce?
Ranch, mayonnaise, chipotle pepper in adobo sauce, vinegar or lime juice, onion powder, and garlic powder are the main ingredients in this southern chipotle sauce at Subway.
What does subway chipotle southwest sauce taste like?
The chipotle southwest sauce is smooth and creamy. It's mildly sweet with a nice balance of spice and tang, as well as a hint of acidity. This zesty spread can add a burst of flavor to almost any dish, whether it's a chicken sandwich or a salad.
---
Food safety
Check the expiration dates on pantry ingredients and spices before making the sauce to ensure everything has the best flavor.
---
Pin It!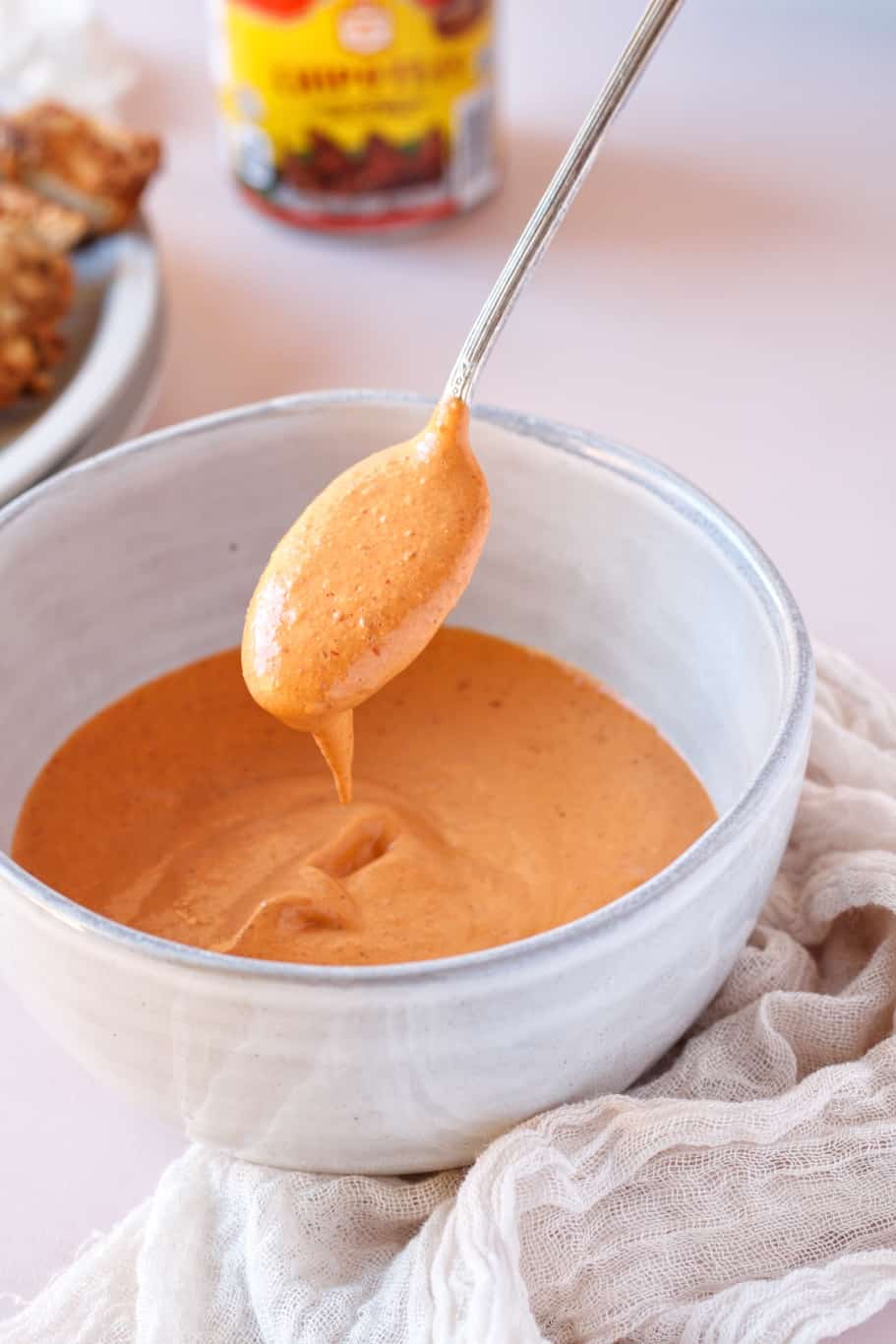 ---
If you've tried this recipe or any other recipe on Sourandsweets, don't forget to rate the recipe and leave me a comment below! I would love to hear about your experience with my recipes. Please share it with me on Instagram.
---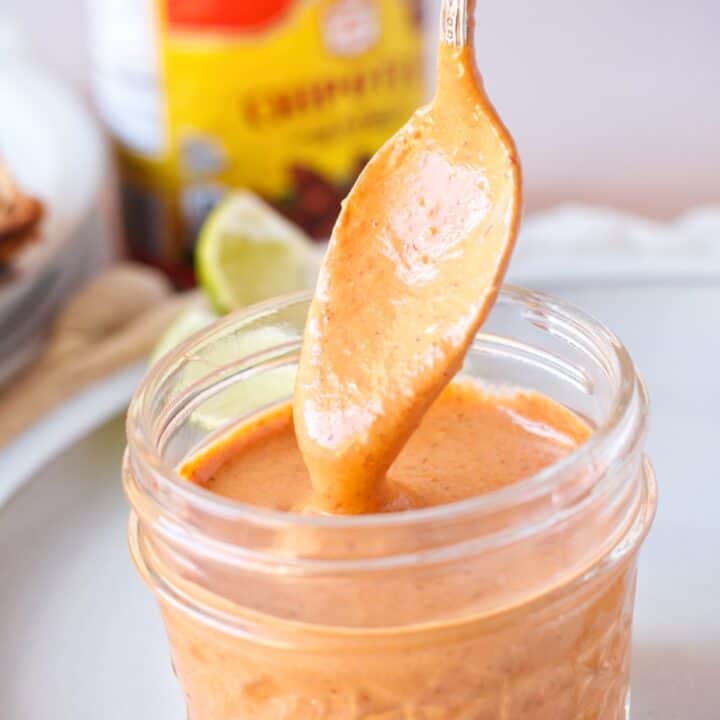 Subway Chipotle Southwest Sauce
Make this Subway Chipotle Southwest Sauce recipe right at home! It has a bold, spicy, zesty flavor that pairs well with burgers, sandwiches, chicken wings, or salad.
Ingredients
¾

cup

ranch dressing

¼

cup

mayonnaise

3

tablespoons

Chipotle peppers

 in adobo sauce

1

tablespoon

lime juice

1

teaspoon

honey

1

teaspoon

onion powder

1

teaspoon

garlic powder

salt

to taste
Instructions
Add all ingredients to a blender cup, Blend until everything is fully combined.

Pour the sauce into a squeezable bottle.

Refrigerate for up to 2 weeks.
Notes
You can store this sauce in the refrigerator for up to two weeks.
Nutrition: Please note that the nutrition label provided is an estimate only.
Serving:
1
serving
Calories:
59
kcal
Carbohydrates:
7
g
Protein:
0.1
g
Fat:
3
g
Saturated Fat:
0.4
g
Polyunsaturated Fat:
2
g
Monounsaturated Fat:
1
g
Trans Fat:
0.01
g
Cholesterol:
1
mg
Sodium:
854
mg
Potassium:
5
mg
Fiber:
0.3
g
Sugar:
1
g
Vitamin A:
3
IU
Vitamin C:
0.3
mg
Calcium:
1
mg
Iron:
0.1
mg