Zoe's Kitchen Chicken Salad is a delicious, light, and crunchy salad recipe. This recipe is always a hit at barbecues, family picnics, and potluck. Just 4 ingredients can be transformed into a delicious cold salad, it's perfect for homemade chicken salad wraps or sandwiches.
---
A Much-Loved Salad Dish!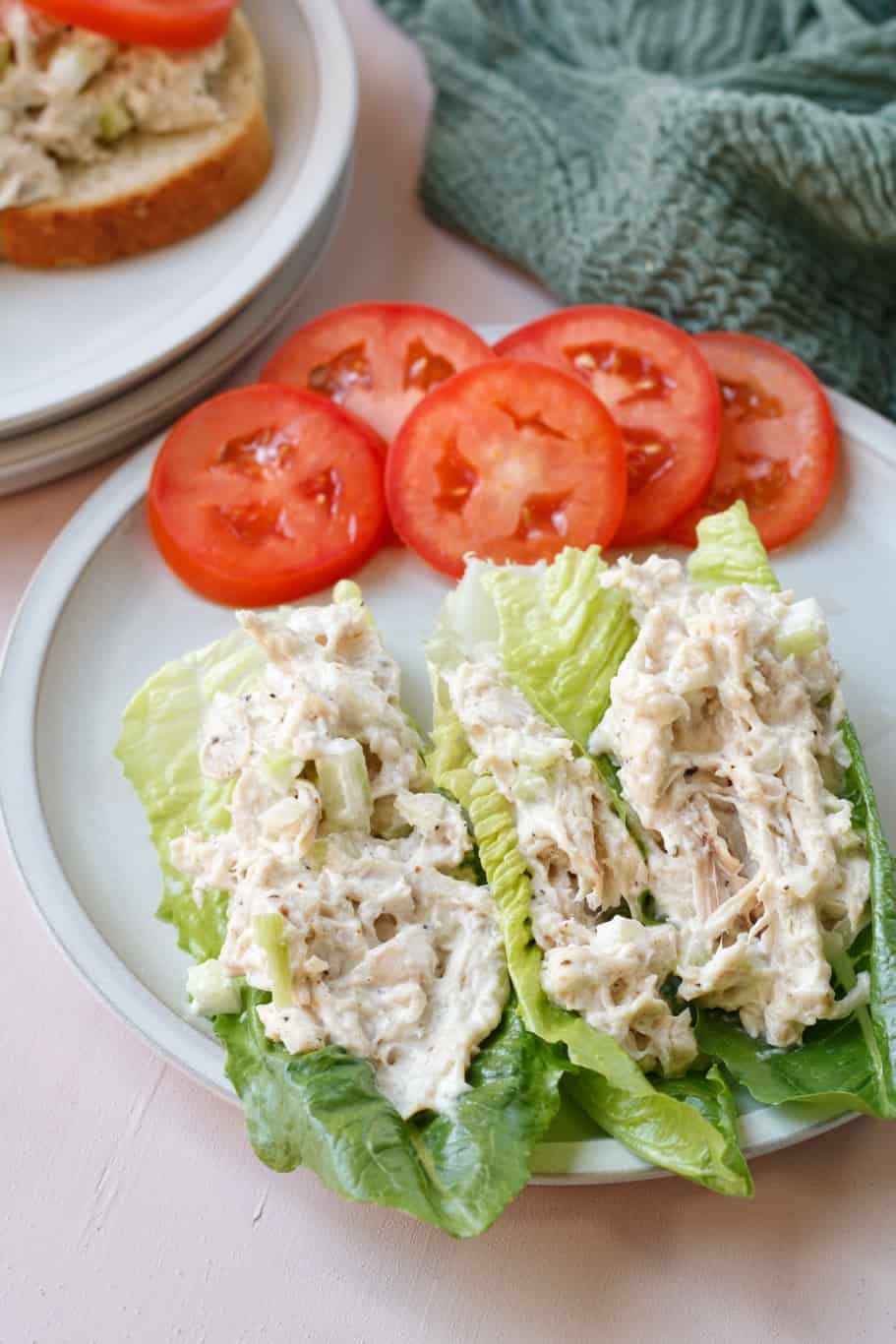 ---
Chicken salads in general are delicious for lunch or dinner. And this Zoe's Kitchen Chicken Salad Recipe is one of the best! It can be served as a meal or a snack and is a great way to use up any leftover chicken you have.
---
Jump to:
---
What is Zoe's Chicken Salad?
Zoe's Chicken Salad is served at Zoës Kitchen Restaurants.
This rotisserie chicken salad sandwich is a unique and tasty salad made up of shredded chicken whisked with celery and mayonnaise. This recipe is also known as "Rotisserie Chicken Salad Sandwich," since it is served as a sandwich on sourdough bread.
Zoe's Kitchen is a fast casual restaurant chain serving a distinct family favorites menu of healthy recipes like various salads, grilled chicken sandwiches, and soups. The unique aspect of this restaurant is that it offers a "Take Home Tubs" service, a very comfortable service for its clients!
This service includes many fast food meals and fresh side dishes like chicken kabobs, steak kabobs, and shrimp kabobs. You can also find other delicious and refreshing salads like potato salad, pasta salad, egg salad, side Greek salad, etc. Its unlimited menu is filled with appetizers, and whole grains like seasonal fruit, white beans, basil pesto hummus, pimento cheese, etc.
---
Every Bite is a Burst of Flavor!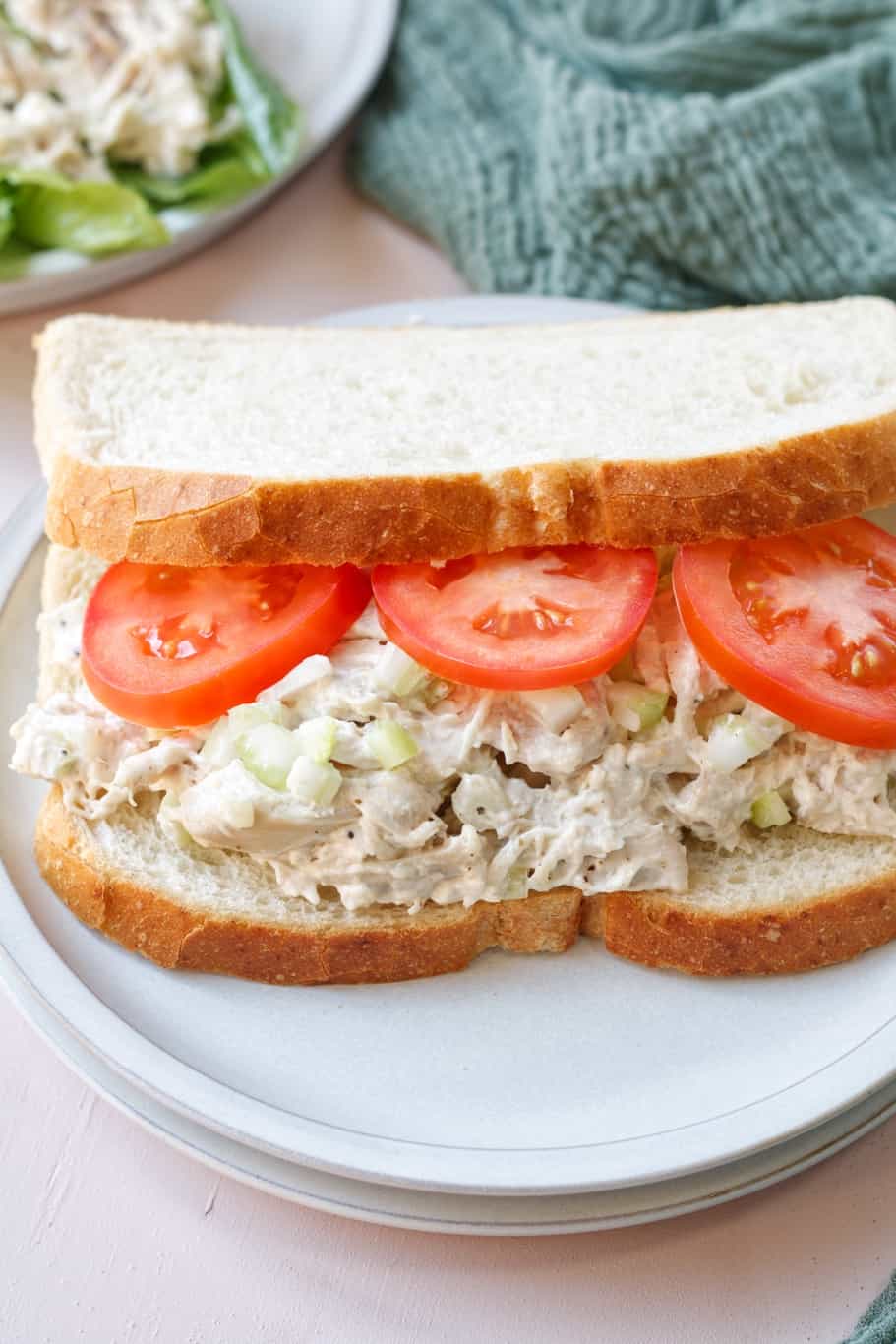 ---
Why You Will Love This Recipe
Believe me, if you try this recipe, you will be addicted to this salad. Let's see why?
Handful of ingredients: Zoe's Kitchen Chicken Salad Recipe requires just a few simple ingredients you probably have in your kitchen.
Hassle-free: With only two simple steps, your bowl of rotisserie chicken salad is ready.
Ready in 6 minutes: Effortlessly easy to make, this recipe needs only about 6 minutes of your time.
So versatile: This perfect Zoe's chicken salad to go crazy with any white meat chicken. You can also add any fresh veggies you like.
Satisfying: This healthy meal will keep you full for hours.
Keto-friendly: Since it's a high-fat protein-packed, Zoe's chicken salad will be a great addition to your keto daily diet.
---
Is Zoe's Kitchen Chicken Salad Recipe Healthy?
You may suppose that this salad is unhealthy. However, this copycat Zoe's chicken salad will surprise you with its many health benefits.
Zoe's Kitchen Chicken Salad contains raw celery, a fresh veggie rich in nutrients. Celery is a good source of fiber which is good for the digestive system. It is also rich in Vitamin A which is needed by the body to achieve strong immunity.
Cooked chicken breasts and celery are low in calories. Hence, this salad will be perfect for weight loss.
The following are also delicious salad recipes you must give a try! Copycat Juan Pollo Potato Salad Recipe, Gluten-free Tabouli Salad | Easy keto Tabbouleh, Easy Refreshing Pomegranate Salad, and Unique Vegan Tahini Chickpea Salad.
---
A Great Recipe to Repurpose any Leftover Chicken You Have!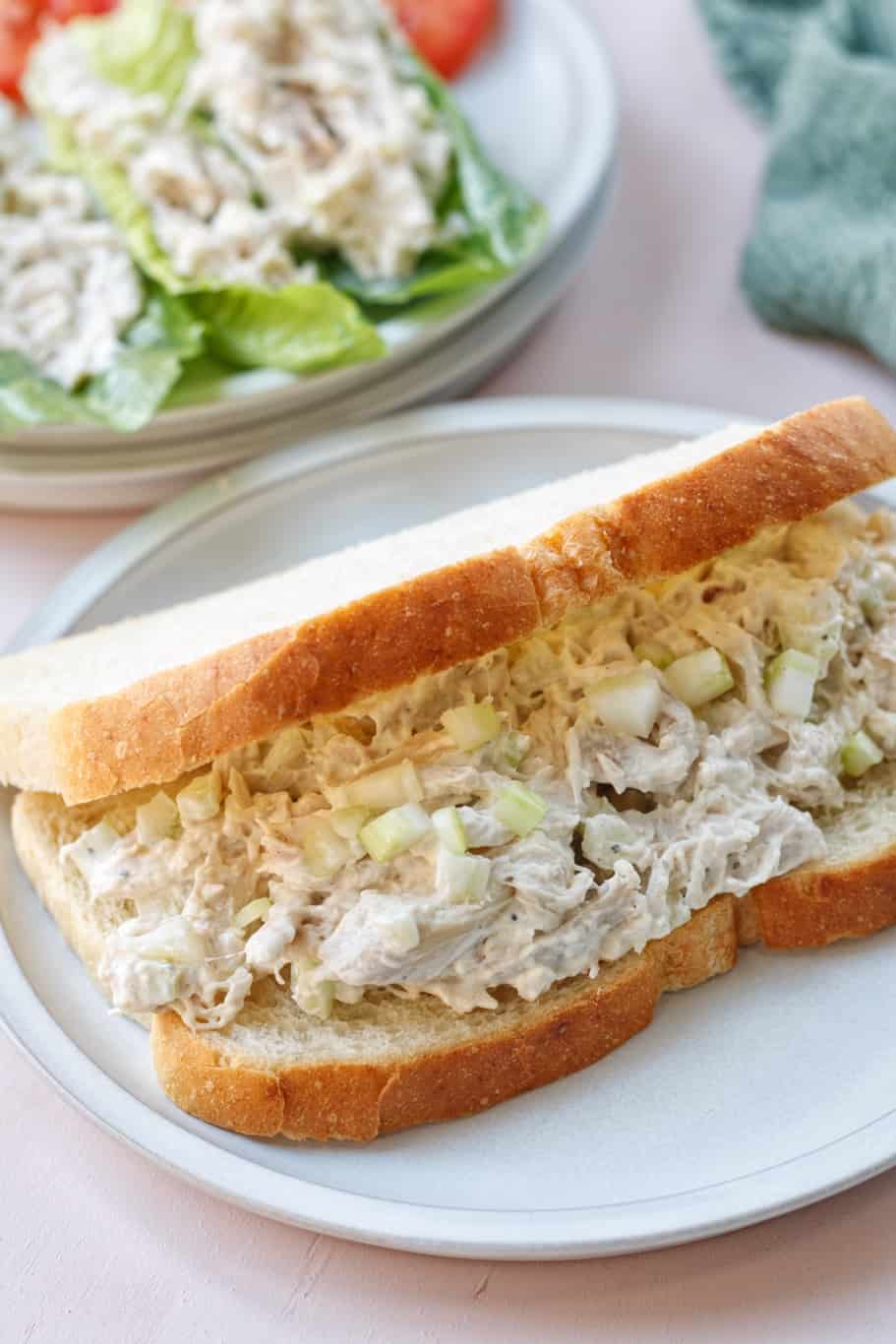 ---
Zoes Chicken Salad Ingredients
To make Zoe's Kitchen Chicken Salad Recipe, you will need is the following simple ingredients:
Chicken: As the recipe name introduces, cooked shredded chicken is the first thing you need to make this salad. You can use shredded rotisserie chicken.
Celery: Another core ingredient is finely diced fresh celery. This fresh crunchy veggie will turn your salad stand out.
Mayonnaise: It takes the chicken salad with leftover rotisserie chicken to another level of creamy and fluff texture.
Spices: Add salt and black pepper to Zoe's Chicken Salad according to taste.
Check the recipe card for quantities.
---
Instructions
First, mix shredded chicken, celery, mayonnaise, salt, and black pepper in a large mixing bowl.
Now, mix until everything is combined. Refrigerate until ready to serve.
That's it! A quick easy recipe to enjoy!
---
A Hearty Combination of Tasty Ingredients!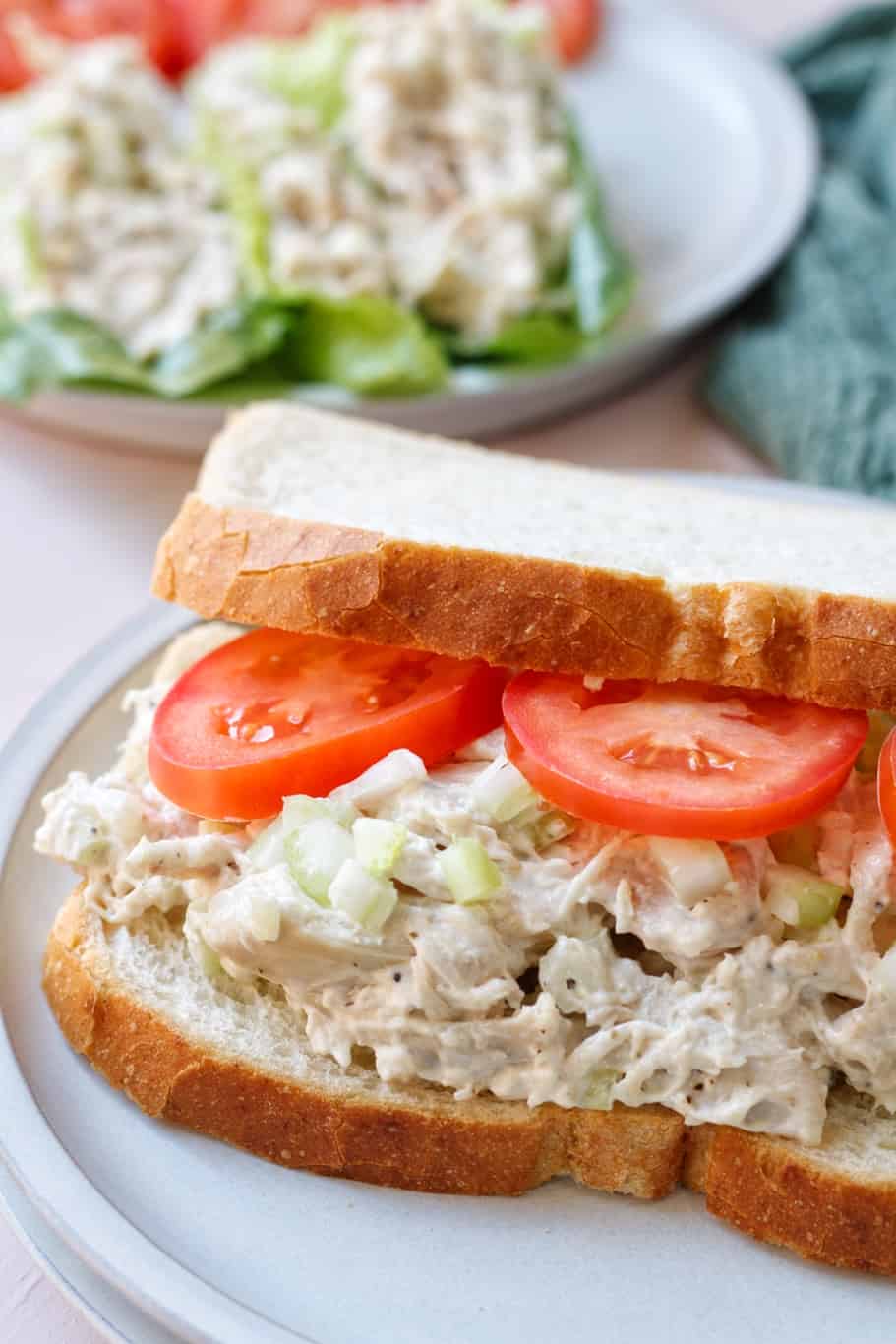 ---
What to Serve with Chicken Salad
If you ask me about the best part of cooking I prefer, my immediate answer will be when you devour your dish within a few minutes enjoying pleasant flavors!
Zoe's Chicken Salad is a tasty and healthy twist on the traditional chicken salad recipe. It will stimulate your taste buds. Hence, you can eat a large bowl without feeling it!
This chicken salad is the perfect crowd-pleaser salad for special events, feasts, and gatherings! An ideal serving idea when you host your cousins or friends for dinner is to pair it with rice pilaf. Try it with my Vermicelli Rice in Instant Pot.
This rotisserie chicken salad is great when served as a sandwich with pita bread, 7-grain bread, or sourdough bread. You can add to your sandwich a spicy mustard sauce or pimento cheese spread. Yummy!
The best healthy option is to serve Zoe's Chicken Salad on a bed of greens according to your personal preferences. I love to serve it in a bed of lettuce with tomatoes.
This go-to salad is also a perfect snack alongside Seasoned Air Fryer Pita Chips, dill pickles, sun-dried tomatoes, and bell pepper slices.
---
Indulge Yourself!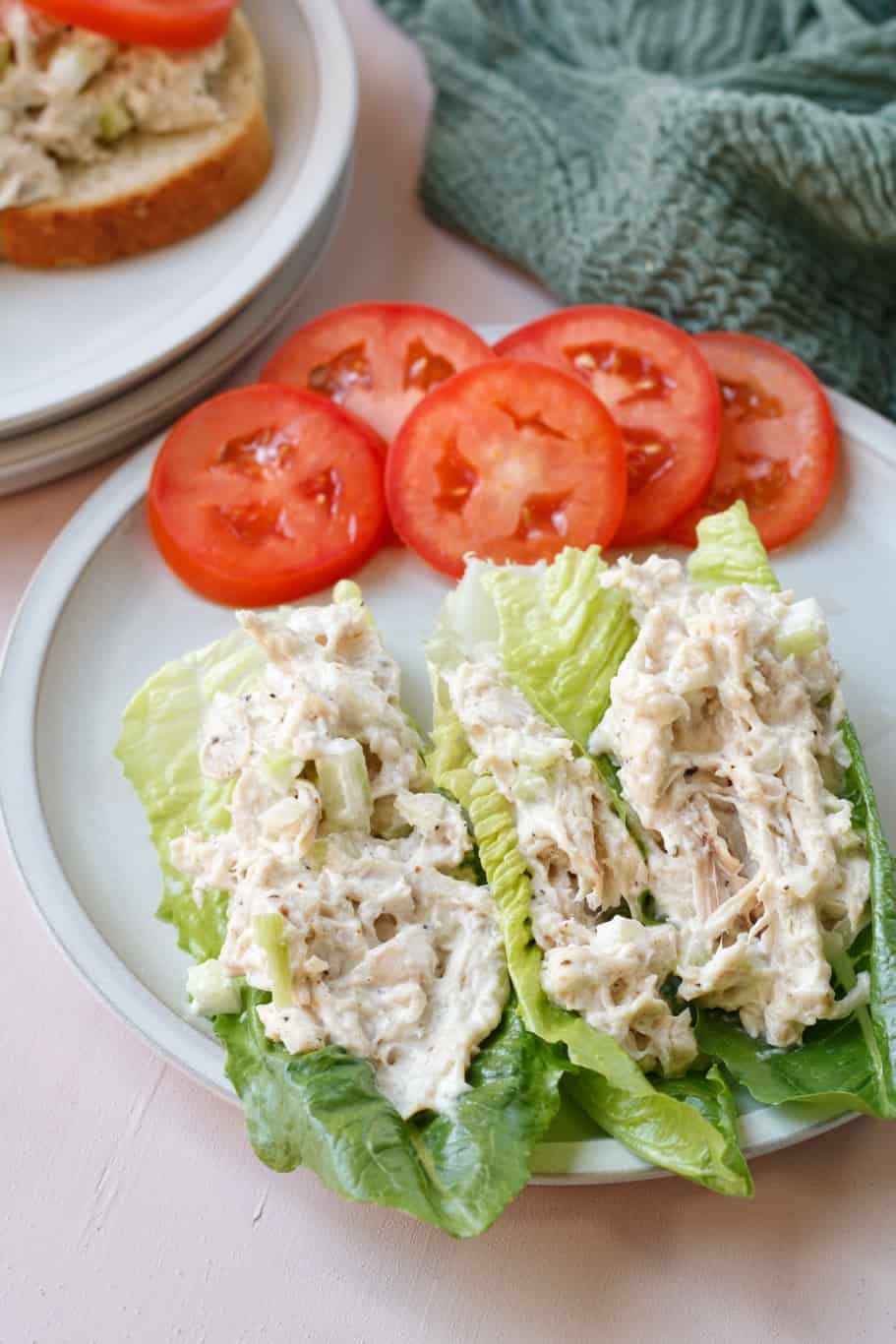 ---
Substitutions
Chicken: In making this white meat chicken salad, you can use any cooked white chicken. You can either use chicken breasts, whole turkey breasts, canned chicken, cooked chicken leftovers, etc.
Celery: If you don't like celery, you can substitute it with cucumbers, carrots, radishes, or any other fresh personal favorite veggie.
Mayonnaise: Instead of using commercial mayonnaise, you can make homemade mayonnaise with an amazing taste by whisking egg yolks together with olive oil or vegetable oil and an acid, such as vinegar or lemon juice.
---
Variations
You can use to create this yummy and nutritious dish by simply adding other ingredients.
Veggies: You can add chopped green onions, red onions, fresh basil, etc.
Salad dressing: If you love the sour flavor, you can vary mayo dressing. Lemon herb tahini, lemon vinaigrette, etc. work good with Zoe's Rotisserie Chicken Salad.
---
Enjoy Your Snack!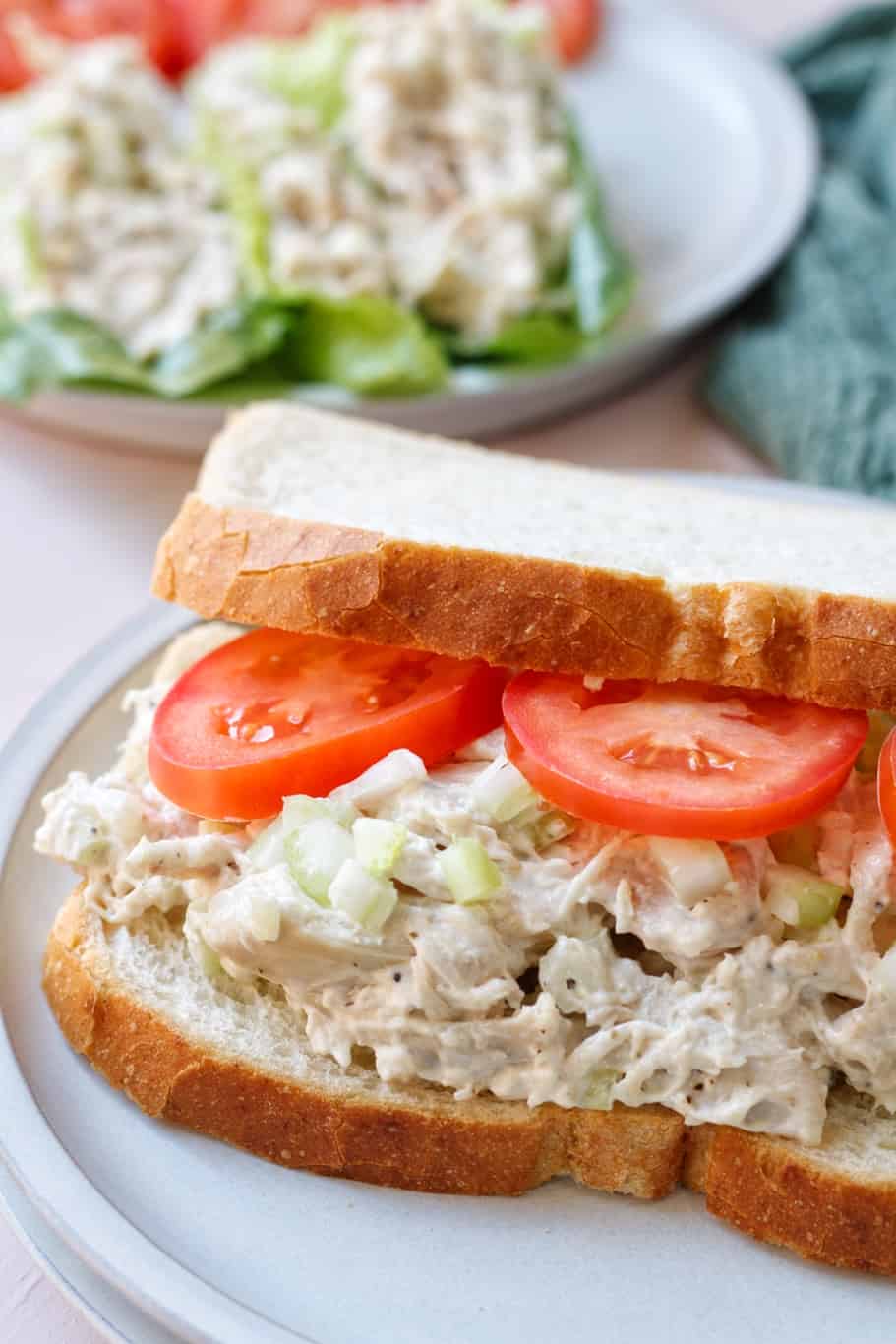 ---
Top Tips for Best Results
Dry celery sticks well before chopping them because any leftover water will make the salad runny and less thick.
Make sure that the chicken is cooked well so that you will ensure that you will not get an unhealthy salad dish.
---
Frequently Asked Questions (FAQs)
Can I make Chicken Salad without Celery?
Yes, for sure. You can opt to make this side Greek salad without adding celery.
Can I make keto chicken salad recipe with canned chicken instead of cooked chicken?
Absolutely, you can! But for a healthy safe option, I love to use homemade cooked chicken in this Zoe's Kitchen Chicken Salad Recipe.
Can you make this chicken salad in advance?
Yes! You can prepare this salad recipe ahead of time and serve it at room temperature when you are ready.
How can I prevent getting a soggy result for the chicken salad recipe with canned chicken?
If there is high moisture content on the fresh celery you have then combine the mayonnaise and shredded chicken prior to adding the celery. Mix chopped celery in softly, and be sure to not overmix. The more you mix the celery, the more water is liberated from the celery.
---
Pin It!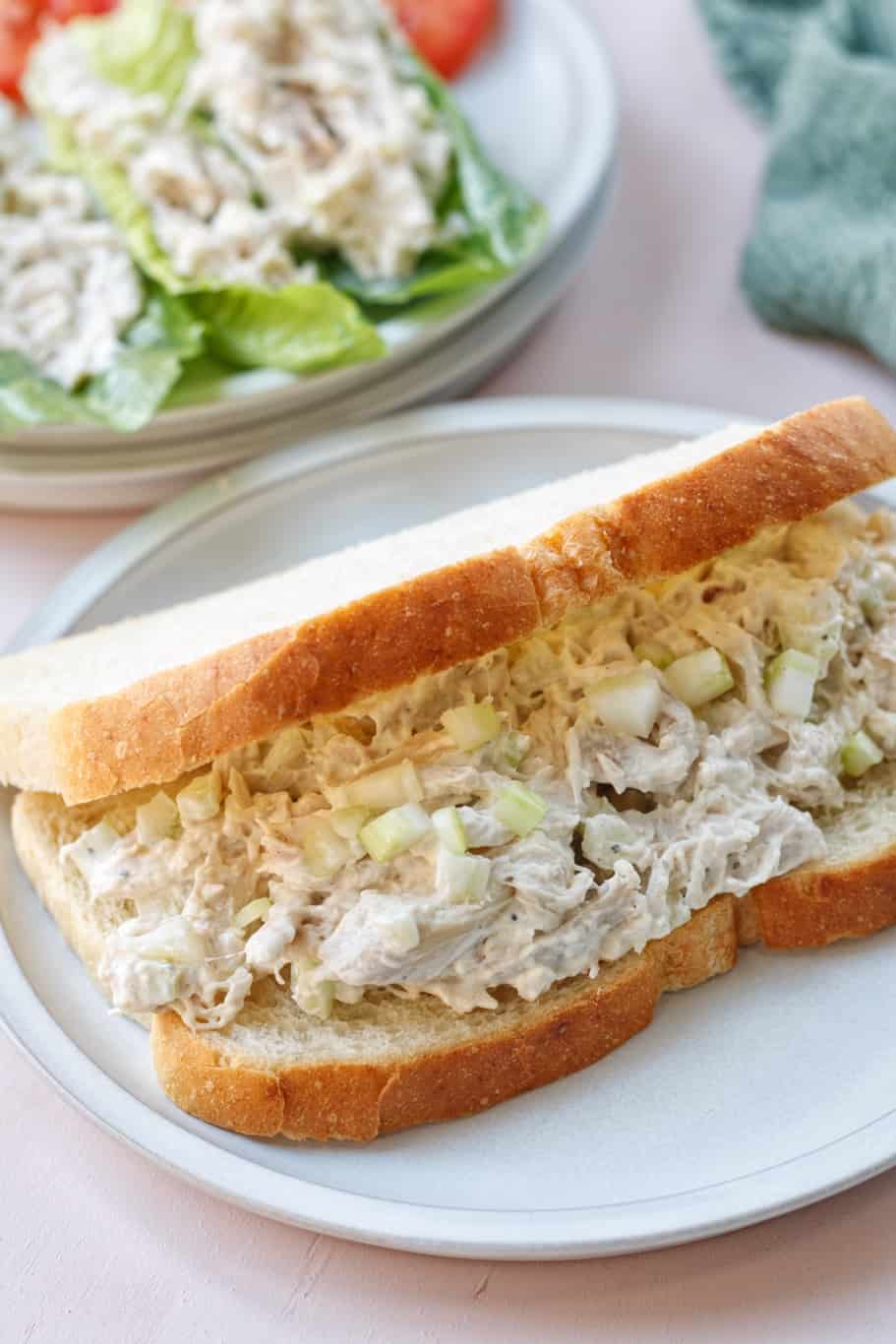 ---
Storage
Refrigerator: Store leftover chicken Zoe's salad in the fridge for 3 to 4 days, in an airtight container.
Freezer: You can freeze chicken salad for about three months. However, it is best to consume it the next few days after making it since freezing mayo will make it watery.
When you are ready to serve it, thaw the salad overnight. If it's too watery, add some mayo to the mixture to give it a thick consistency.
---
If you've tried this recipe or any other recipe on Sourandsweets, don't forget to rate the recipe and leave me a comment below! I would love to hear about your experience with my recipes. Please share it with me on Instagram.
---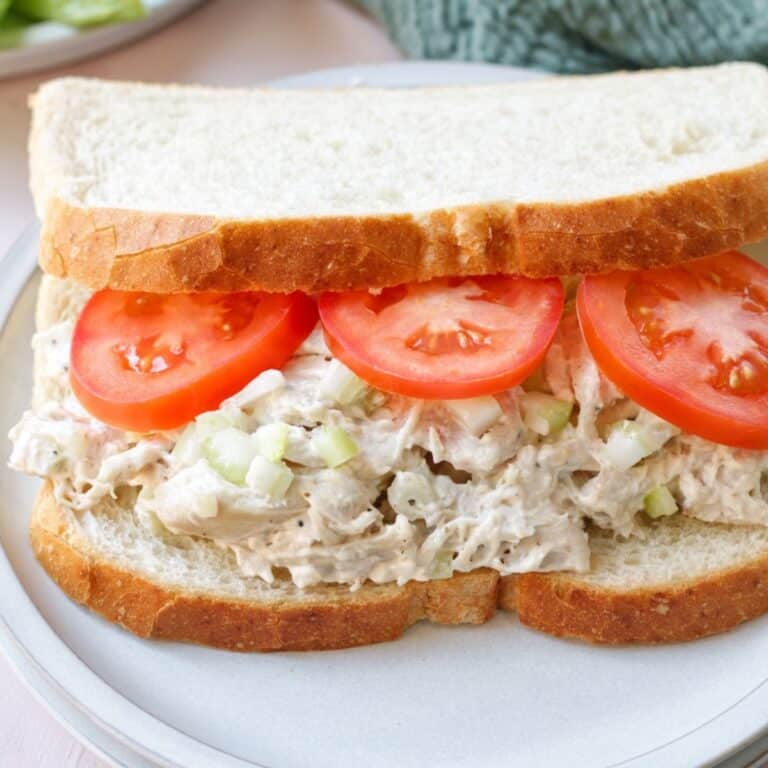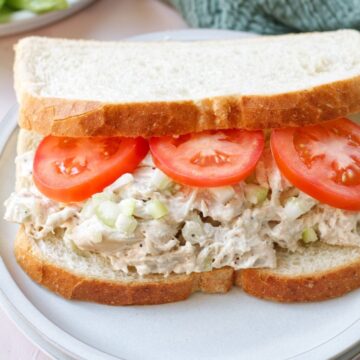 Copycat Zoe's Chicken Salad Recipe
Zoe's Chicken Salad Recipe is a delicious twist on the traditional chicken salad. An easy-to-make salad you must give a try!
Ingredients
2

cups

shredded cooked chicken

you can use shredded rotisserie chicken

½

cup

celery

finely diced

½

cup

mayonnaise

salt and black pepper

to taste
Instructions
In a large bowl, Mix shredded chicken, celery, mayonnaise, salt, and black pepper.

Mix until everything is combined. Refrigerate until ready to serve.
Nutrition: Please note that the nutrition label provided is an estimate only.
Serving:
1
serving
Calories:
307
kcal
Carbohydrates:
0.2
g
Protein:
18
g
Fat:
26
g
Saturated Fat:
5
g
Polyunsaturated Fat:
14
g
Monounsaturated Fat:
6
g
Trans Fat:
0.1
g
Cholesterol:
64
mg
Sodium:
14377
mg
Potassium:
169
mg
Sugar:
0.2
g
Vitamin A:
47
IU
Calcium:
19
mg
Iron:
1
mg