It's time to introduce the Vegan Tahini Chickpea Salad. This vegan salad is simple and easy to make. It is filling, uplifting, and one of my favorite protein-packed meals. You can add all your favorite vegetables to this salad. I like adding fresh spinach, juicy tomatoes, Persian cucumbers, and homemade vegan Tahini dressing. It is the perfect choice for a full-of-protein salad with no meat. You will definitely love it!
---
Beautiful
Green

,

Yellow

and

Red

Mix!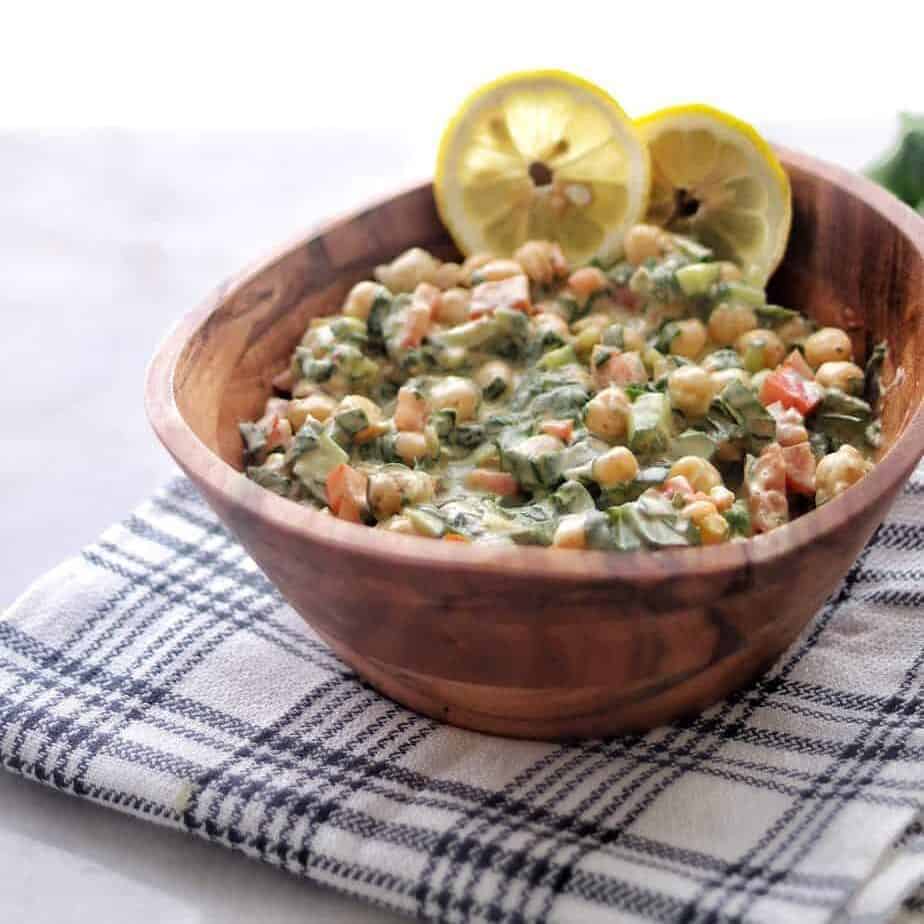 ---
Canned Chickpeas are a Lifesaver
To begin with, canned chickpeas are my family's favorite pantry staples. Each can is packed with protein and fiber. Moreover, my kids love eating chickpeas straight from the can. It is a very high protein snack. If you aren't a fan of chickpeas, you can totally switch it up with your favorite canned beans. Another great way you can use chickpeas in this recipe is to season and toast them. Simply sprinkle the chickpeas with paprika, salt, and some of your favorite seasonings. Drizzle some olive oil and toast them in the oven on 450 F for 15 or 20 minutes or until golden and crunchy. You will give the dish added crunch and texture!
---
Where to Buy Chickpeas?
Canned chickpeas or Garbanzo Beans can be found in any grocery store. You can buy dry chickpeas and soak them overnight. The canned chickpeas I use is by the Ziyad Brand.
---
About Tahini Dressing
Tahini is made from toasted ground hulled sesame. It was originally a byproduct of sesame oil production during medieval times, but became later an essential product for many usages. It's not just a Middle Eastern ingredient, Tahini appears in recipes from China, Vietnam, and India.
History of Tahini
Tahini can be found rolling as far back as the 13th century where it is referred to as sesame paste. Also, you can find Tahini in Middle Eastern, African, Chinese, Japanese, Iranian, Turkish and Korean cuisines. In the 1940's, it began to appear in the United States in health food stores. In the Middle East, people use it to treat things like coughs or inflammation!
Best Way to Use Tahini
Middle Eastern restaurants use Tahini by its own as a dip, a sauce, or mix it with other ingredients to make other sauces. Moreover, the most popular dish made from Tahini is "Hummus" which is mainly a Tahini and chickpeas blend with lemon and garlic. Also, it is used in the top main dishes in the Middle Eastern cuisines and as mentioned before in other international ones.
---
Are Chickpeas with Tahini Spread (Hummus) Healthy?
On another note, I wanted to include some information about "Hummus" which is made of some ingredients of this salad. Hummus is a Middle Eastern dip or spread dish made from cooked, mashed chickpeas (Garbanzo Beans) blended with Tahini, lemon juice, and garlic in a food processor. It is not only delicious, but packed with nutrients and has been attached to many amazing health benefits.
To begin with, Hummus is super nutritious and packed with plant-based protein. It provides 7.9 grams of protein per serving.
Also, Hummus includes iron, Folate, phosphorus and B vitamins, all of which are important for vegetarians and vegans, as they may not get enough from their diet.
Moreover, it is rich in ingredients proven to help fight inflammation. Also, Hummus contains chickpeas, olive oil and sesame seeds (Tahini), which are proven to have anti-inflammatory properties.
In addition, it is high in fiber that promotes digestive health and feeds your good gut bacteria. Also, it contains ingredients that are good for your heart and may reduce heart disease risk.
---
Frequently Asked Questions:
How can I make a salad full of protein but without meat?
One of the best ways to include protein is to add chickpeas! This Tahini chickpea salad is vegan and is packed with protein and delicious vegetables.
What is Tahini?
Tahini is a paste made from toasted sesame seeds and is an essential ingredient in Middle Eastern cuisines. It's a great vegan and gluten-free option. Tahini is used when making hummus, Fatteh, salad dressing, and Tahini dipping sauce.
Is it better to peel chickpeas for hummus?
You don't want to peel your chickpeas. But, our Garbanzo Beans are different than Middle Eastern ones. You need to peel your chickpeas if you want smooth hummus. The Baking Soda hack makes it pretty easy – most of the skins should just slide right off, but if not, just gently pinch each bean between your fingers.
Why is it called Tahini?
In most Middle Eastern cultures, the spread is called Tahina, from the Arabic verb "tahn", meaning "ground."
---
Fast and Unique Salad!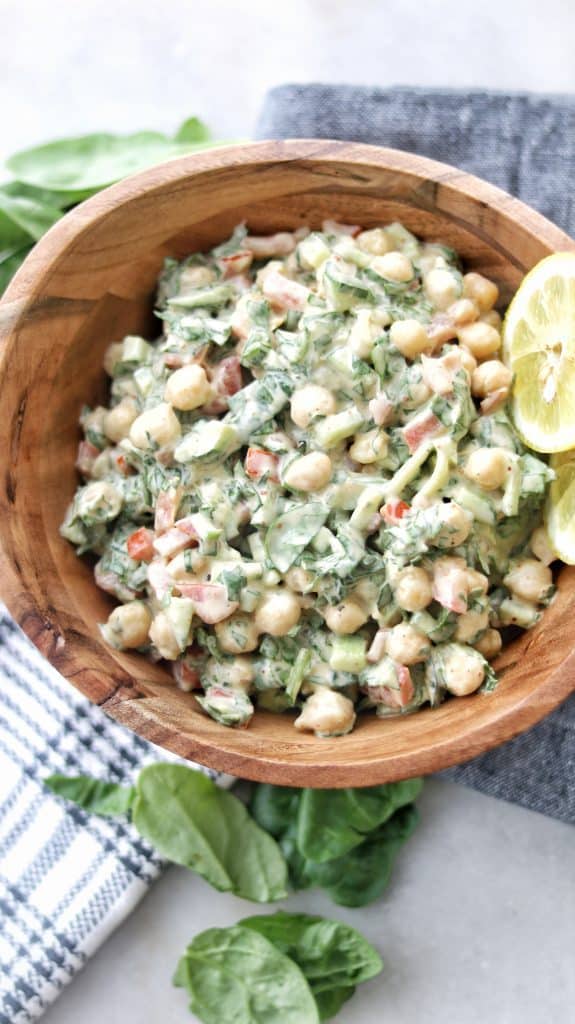 ---
Tips and More For You
You can reduce the amount of Tahini to you liking.
If you prefer, replace lemon juice by lime juice.
Replace Aleppo peppers with any other spicy peppers if you like.
You can add any vegetable of your choice. Some great other vegetable options will be: fresh mint, fresh basil, Italian parsley, cilantro, finely chopped onions, avocados, colorful bell peppers, and lettuce.
Replace the Persian cucumbers by English cucumbers if you prefer.
You can use any mixed greens. Arugula is another great option. Use canned chickpeas or any canned beans you.
---
Ingredients
Tahini
lemon
salt
Aleppo peppers
black peppers
tomato or other vegetable of your choice
cucumber
baby spinach
chickpeas
---
How to Make the Vegan Tahini Chickpea Salad:
First, to make the dressing, in a bowl, add Tahini, lemon juice, salt, red pepper, and Aleppo pepper and mix until all combined.
Second, chop your preferred vegetables and add a drained can of chickpeas.
Third, add the dressing to your salad and mix until all vegetables are coated with the dressing.
---
Other Amazing Recipes For You:
---
If you've tried this recipe or any other recipe on Sourandsweets,
don't forget to rate the recipe and leave me a comment below!
I would love to hear about your experience with my recipes. Share it with me on Instagram.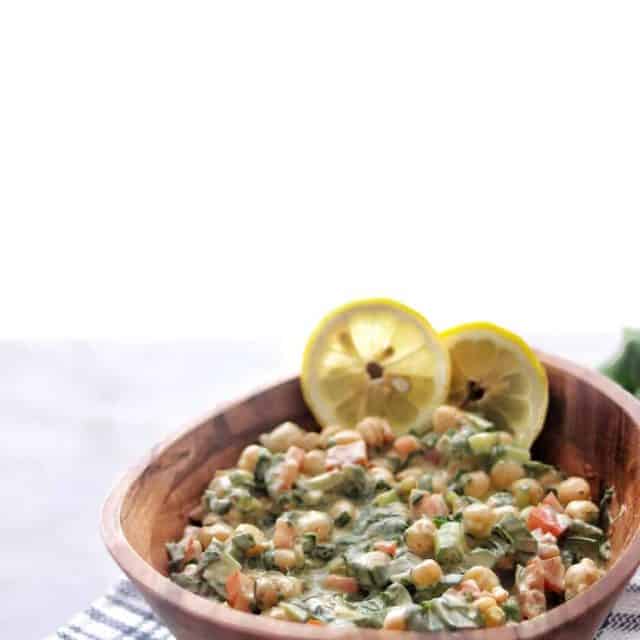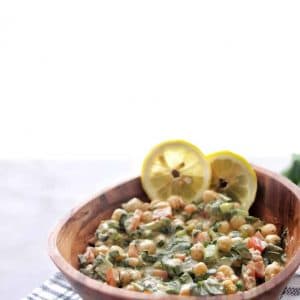 Unique Vegan Tahini Chickpea Salad
It's time for the Unique Vegan Tahini Chickpea Salad. This vegan salad is simple and easy to make. It is one of the most delicious protein-packed meals.
Ingredients
vegtables
1

large

finely chopped tomato

1

large

Persian cucumber

2

cups

baby spinach chopped

1

can

chickpeas
dressing:
½

cup

Tahini

1

teaspoon

salt

½

teaspoon

black peppers

½

teaspoon

Aleppo pepper

or any hot peppers

1

juice of a lemon
Instructions
To make the dressing: In a bowl, add Tahini, lemon juice, salt, red pepper, and Aleppo pepper. Then, mix until all combined.

Chop your preferred vegetables and add a drained can of chickpeas.

Add the dressing to your salad and mix until all vegetables are coated with the dressing.