Today I'm going to share the Quick and Easy Copycat Jimmy Johns Tuna Salad recipe with you. It's light, fresh, and made with a few simple ingredients such as canned tuna, mayonnaise, onion, and celery. It's the perfect combination of creamy and crispy. Serve this in a sandwich, wrap it in lettuce, or stuff it in avocado halves for a healthy, low-carb quick lunch.
Whenever I need an easy lunch, I turn to a tuna salad recipe. Besides being delicious, it's packed with protein and keeps me satisfied for hours.
---
One of the Best Jimmy Johns Copycat Recipes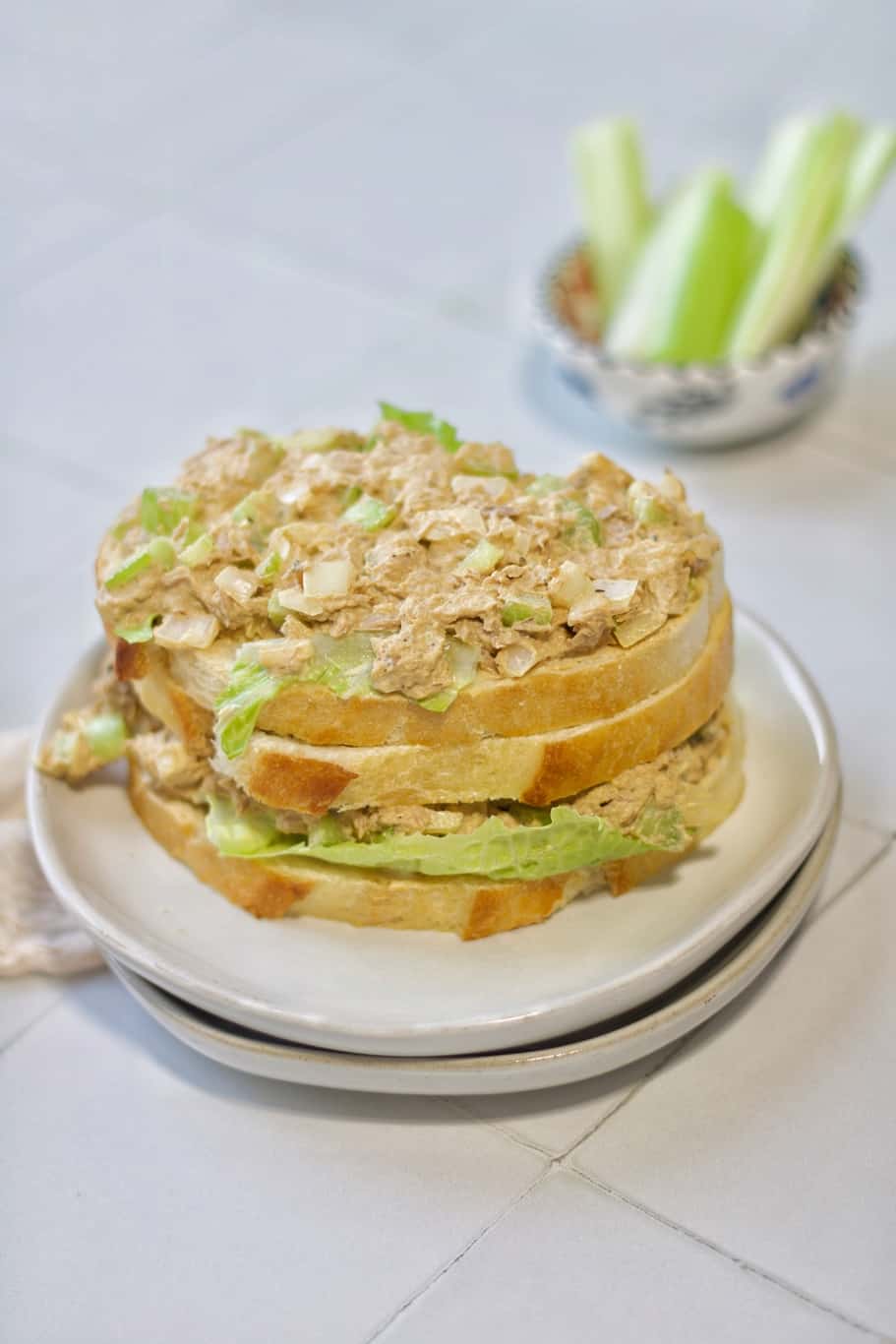 ---
Jump to:
---
What is Jimmy Johns Tuna Salad?
Jimmy Johns Tuna Salad is a recipe developed by the popular sandwich chain. It's made up of tuna, mayonnaise, celery, and onions and is usually served with a slice of bread, or over lettuce.
This dish is a good option for those looking for a healthier alternative to fast food. Jimmy Johns Tuna Salad is also low in calories and fat, making it a healthier option than some of the other options on Jimmy johns menu at fraction of the cost.
The secret ingredient in this healthy salad is soy sauce. The second secret is to let the salad sit for at least 3 hours, or overnight if possible, to get the best taste!
---
Why Make Jimmy John's Tuna Salad Copycat Recipe?
Jimmy Johns Tuna Salad Copycat Recipe is ideal for anyone looking to eat healthier because it provides a good source of protein without a lot of fat. Furthermore, it is simple enough that anyone can make it. And the best part? Whether you're a novice or an experienced cook, this recipe is sure to please.
You can serve this salad in different ways. A great way to serve it is to spread it on slices of whole wheat bread or white bread (for a classic tuna salad sandwich), try it in tortillas (make a wrap!) ,French bread, or scoop it with some pita chips.
Other delicious way to enjoy this tuna salad is to serve it with Air Fryer Hasselback Potatoes, Air Fried Taco Bell Cheesy Fiesta Potatoes, and Jalapeno peppers.
Want a low carb meal? Are you on a low calorie diet? Serve it on a bed of lettuce, or simply eat from the bowl with some vegetables on the side. Yummy!
---
What Is Tuna?
If you're not familiar with tuna, it's In fact, tuna is the culinary king of the sea. It's meaty and versatile, and because it's high in (good) fat and protein, it's an important part of many people's diets around the world.
Tuna comes in a variety of species, can be prepared in a variety of ways, and plays an important role in the cuisines of many different countries. Once you try it, you'll always try it in your own culinary adventures.
---
You Just Need a Few Ingredients for the Tastiest Salad!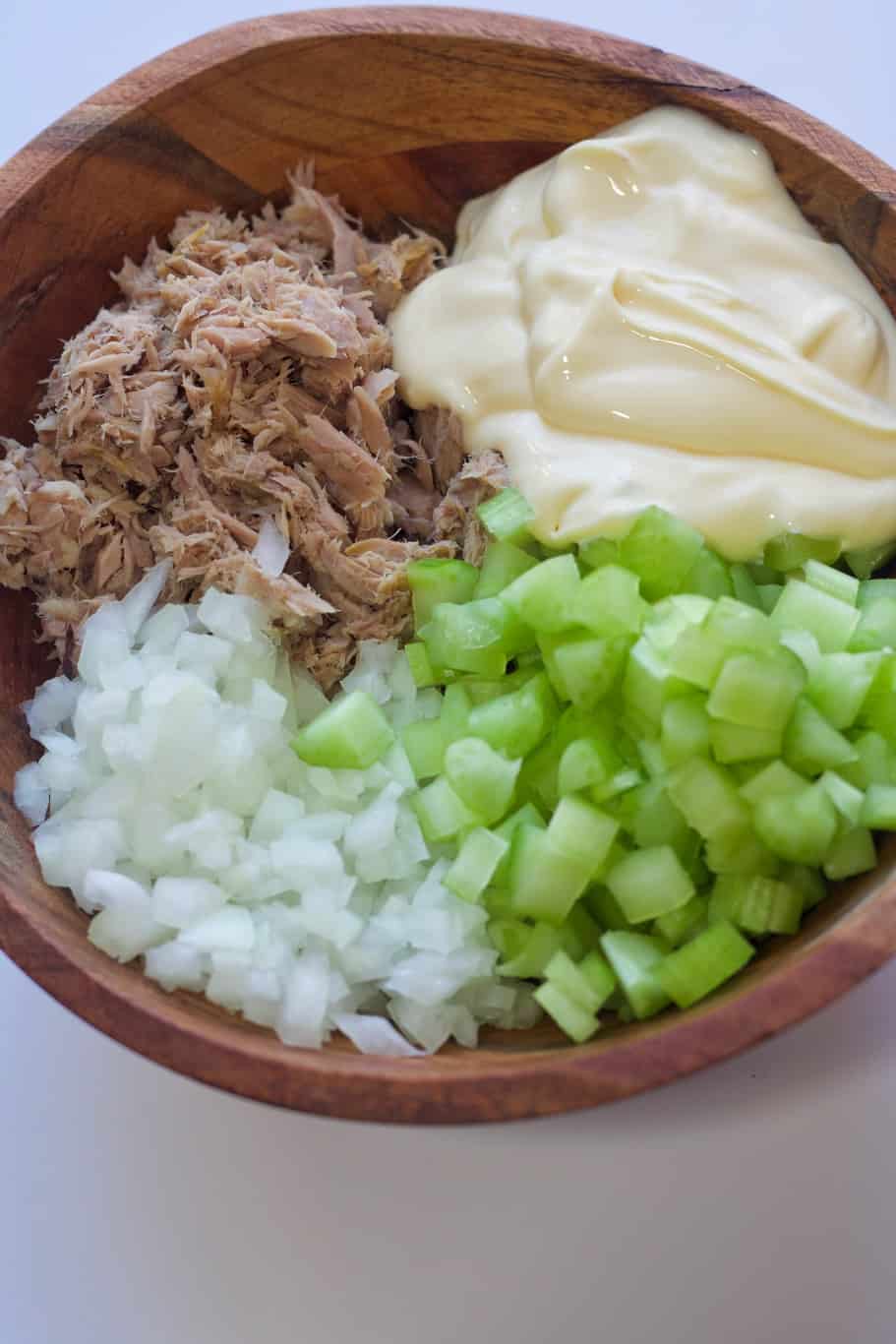 ---
Copycat Jimmy Johns Tuna Salad Ingredients
You only need the following ingredients to make this easy recipe. I guarantee it will be the best tuna salad you've ever tasted!
Tuna: You will need canned tuna. Any variety of tuna works. A great option is Wild Planet albacore tuna. You can use yellowfin tuna, chunk light tuna, or solid light tuna.
Mayo: This is what binds everything together and makes the salad super creamy. I used duke's mayo.
Celery: Adds a fresh crunch!
Onions: Onions add a nice bite to the salad! You can use red onion or white onion.
Soy sauce or liquid amino: Something about soy sauce makes tuna salad extra delicious. It's the secret ingredient in this salad. If you don't have soy sauce, you can use liquid amino.
Salt and black pepper: Add a pinch of each to bring out all of the flavors in the salad.
See the recipe card for quantities.
---
This Healthy Salad Will Make Your Taste Buds Sing!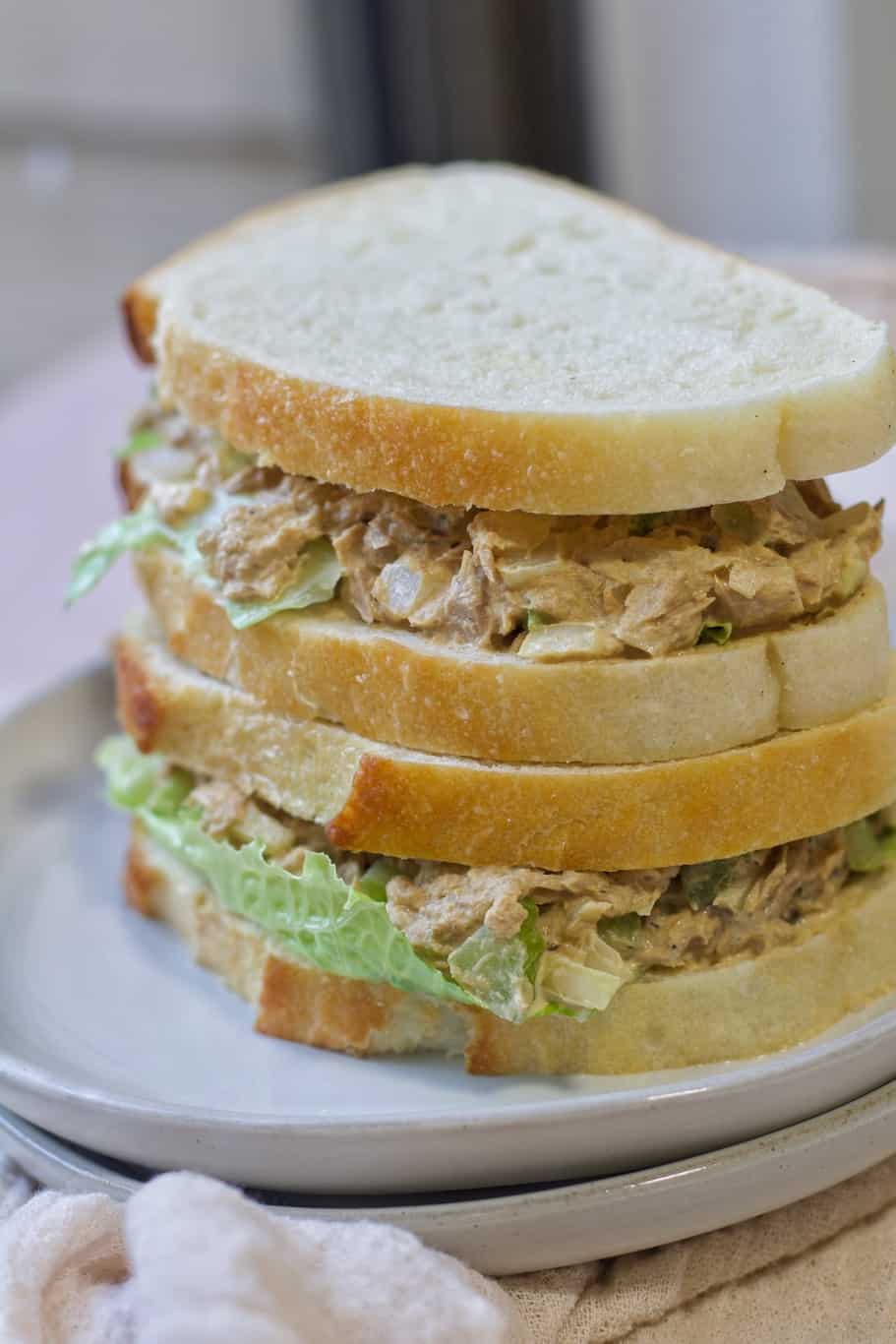 ---
Steps to Prep Jimmy Johns Tuna Salad Recipe
First, take the tuna and squeeze it over the sink handful by the handful until the water is almost completely gone.
The next step of our copycat Jimmy Johns is to combine in a medium bowl tuna, mayonnaise, diced celery, diced white onion, a squeeze of soya sauce, and black pepper.
Then, stir all of the ingredients together until well combined.
Finally, enjoy the tuna salad in a freshly baked French sub roll.
---
The perfect combination of Creamy and Crispy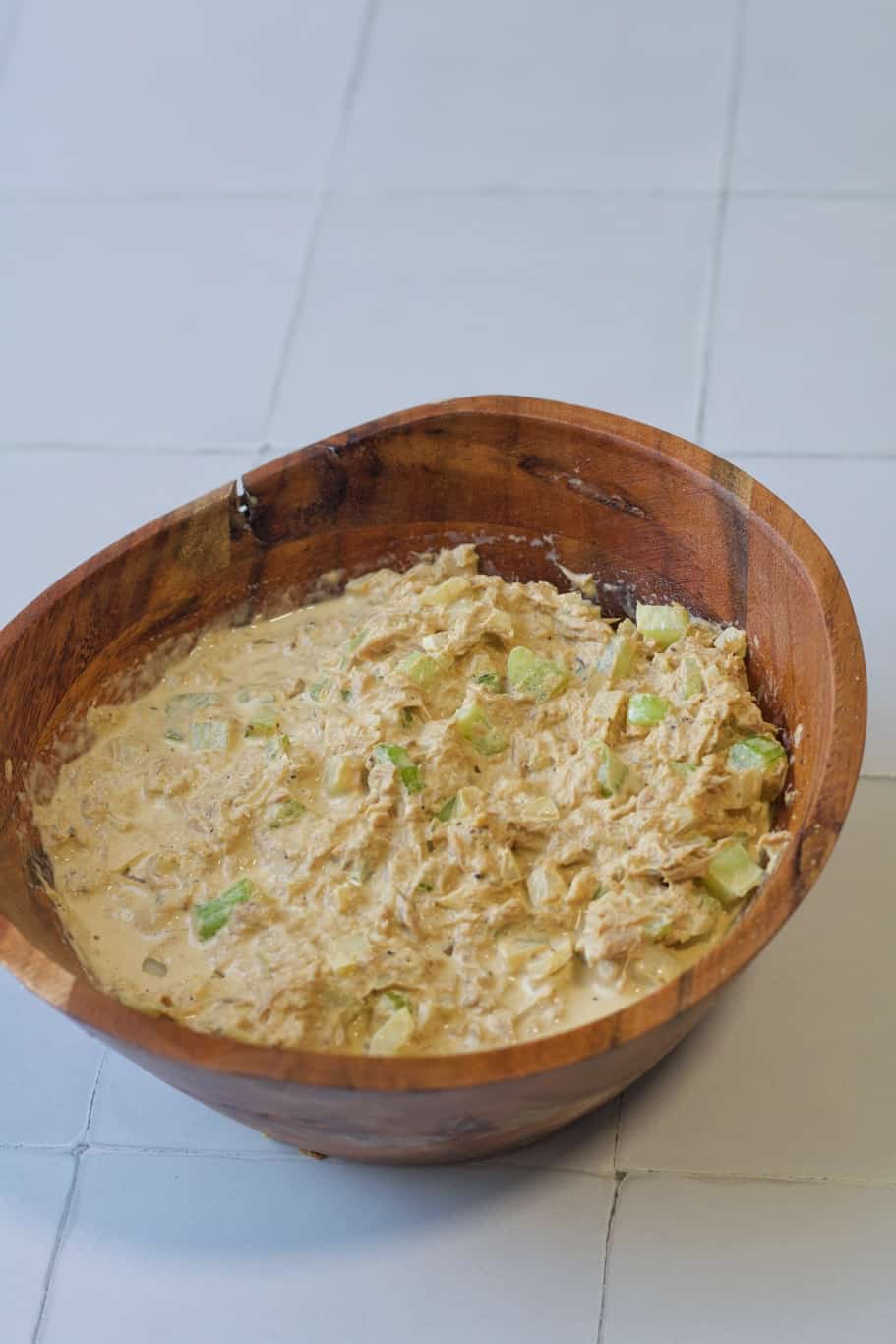 ---
Substitutions
Low carb: Instead of enjoying your tuna salad in a sandwich, put some tuna in lettuce wraps and enjoy a low-carb meal.
Gluten-free: Use gluten-free sandwiches instead of white bread sandwiches to make this gluten-free.
Don't like Mayonnaise? Substitute regular or Greek yogurt or mashed avocado for the mayonnaise.
---
Variations
Get creative with your tuna salad and enjoy it! Here are some ideas:
Crunchy: Add some chopped-up green onions for a little crunch.
Deluxe: Top your tuna salad with cheddar cheese, crumbled bacon, or chopped nuts.
Sweet: Mix in some diced grapes or apple chunks for sweetness and extra texture.
Zingy: For an extra kick, add a spoonful of honey mustard or BBQ sauce.
---
Hooray for Easy Recipes!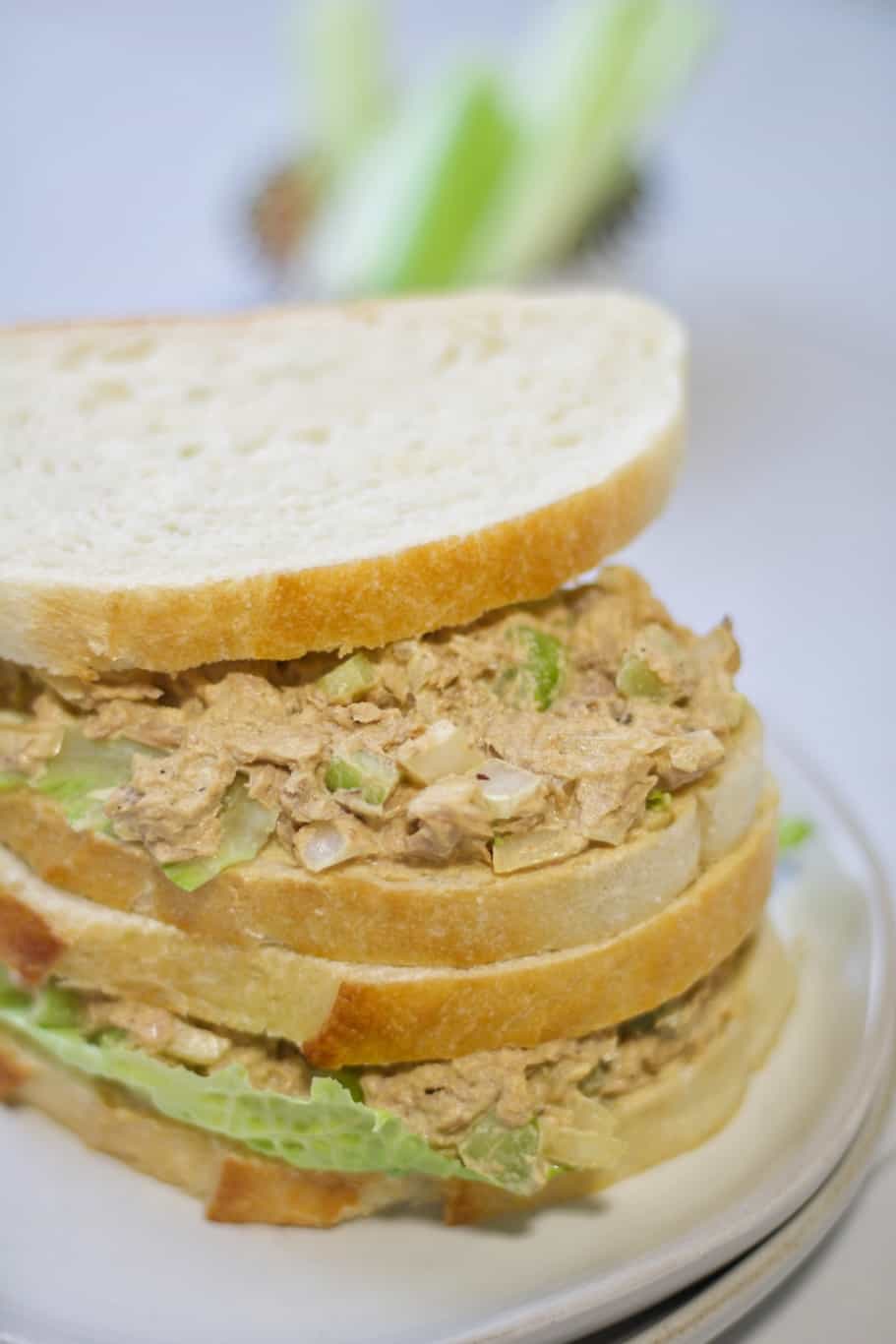 ---
Equipment
Knife: You will need a good paring knife to chop up the celery and dice the onions.
---
Storage
Tuna salad is eaten fresh, but it can be stored in the fridge for 3-4 days. Because it contains fish and mayonnaise, don't leave it on the counter for too long at room temperature.
---
The Best Tuna Salad You'll Ever Taste!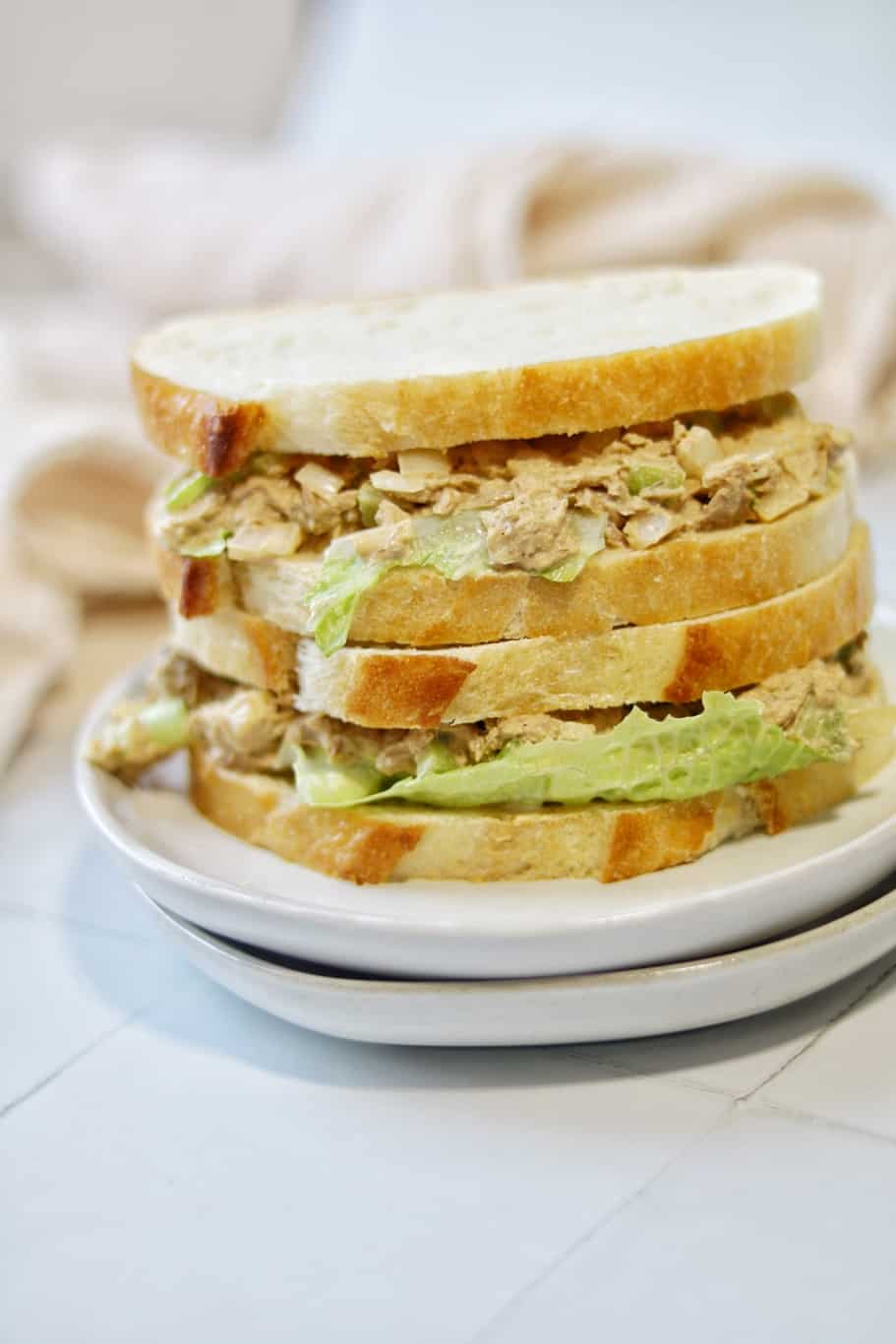 ---
Top Tips
To cut the calories and fat, replace some or all of the mayonnaise with Greek yogurt. It's a healthy alternative.
You can add some pasta like bowtie or penne to Jimmy John's Tuna Salad to add texture and heartiness.
Allowing this tuna salad with celery to sit for 3 hours or overnight gives the flavors and chance to mingle and creates an even tastier sandwich. So, if you have the time, let your salad sit before digging in!
Iceberg lettuce tastes great with this salad. You can simply eat it with lettuce leaves.
You can add dill pickle relish for added flavor.
If you have tuna salad leftovers, it's better to store them in a glass container and not a plastic one.
---
Frequently Asked Questions (FAQs):
What does tuna taste like?
Tuna tastes very different depending on the species, the form it takes, and how it is prepared. However, there are some fundamental characteristics that run through all of its manifestations. When raw, rare, or packed in oil, tuna is meaty and dense, with an almost creamy melt-in-your-mouth texture.
Can I make this tuna salad ahead of time?
Tuna salad can be prepared ahead of time and refrigerated in an airtight container for up to 3 days. It will taste even better the next day after the flavors have had a chance to mingle.
What's the best tuna to use in this recipe?
I enjoy the convenience of canned tuna and always keep a few cans on hand. I like to use albacore tuna because the chunks don't break up and get lost in the other ingredients. It has light flesh with a mild flavor.
Is canned tuna healthy?
Yes, canned tuna is a great source of protein that also contains a variety of vitamins and minerals, including B-complex vitamins, vitamins A and D, iron, selenium, and phosphorus. Tuna also contains good fats.
What kind of mayo does Jimmy John's use?
Jimmy John's uses Hellman's mayo.
---
Crunchy Bits of Yummy Goodness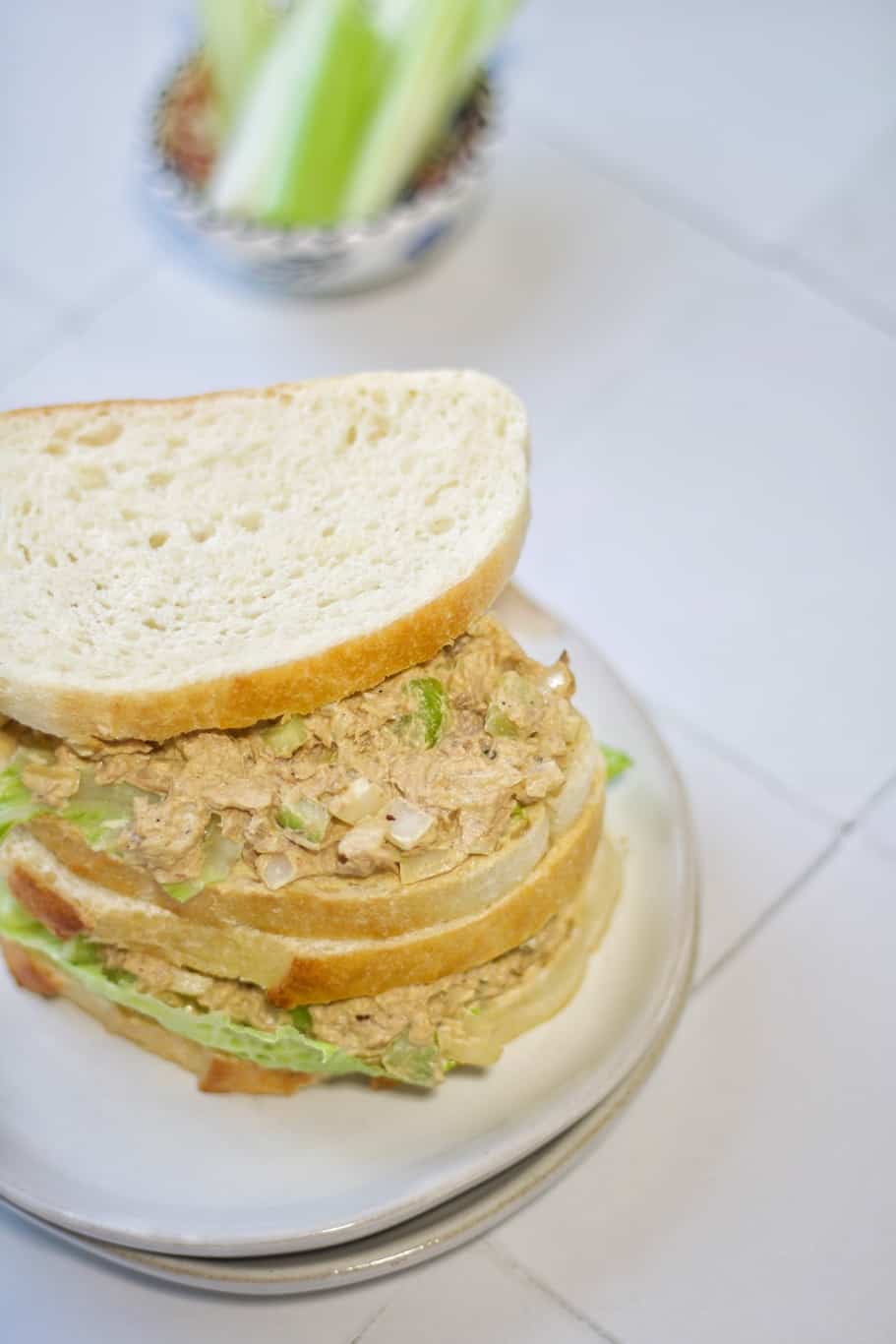 ---
Food safety
Don't leave the tuna salad sitting at room temperature for a long time since it contains tuna and mayonnaise.
---
Irresistible Copycat Jimmy John's Tuna Recipe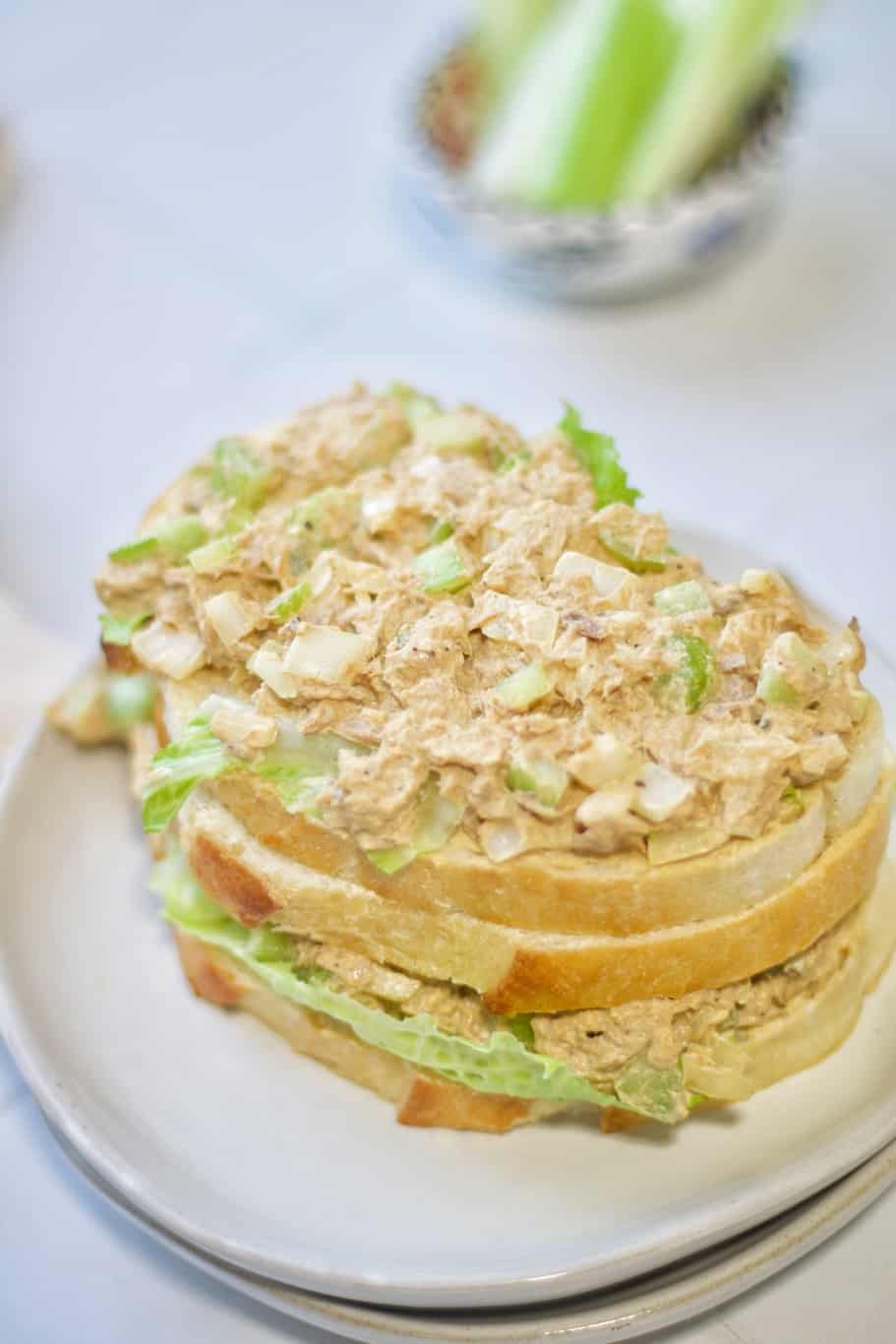 ---
If you've tried this recipe or any other recipe on Sourandsweets, don't forget to rate the recipe and leave me a comment below! I would love to hear about your experience with my recipes. Please share it with me on Instagram.
---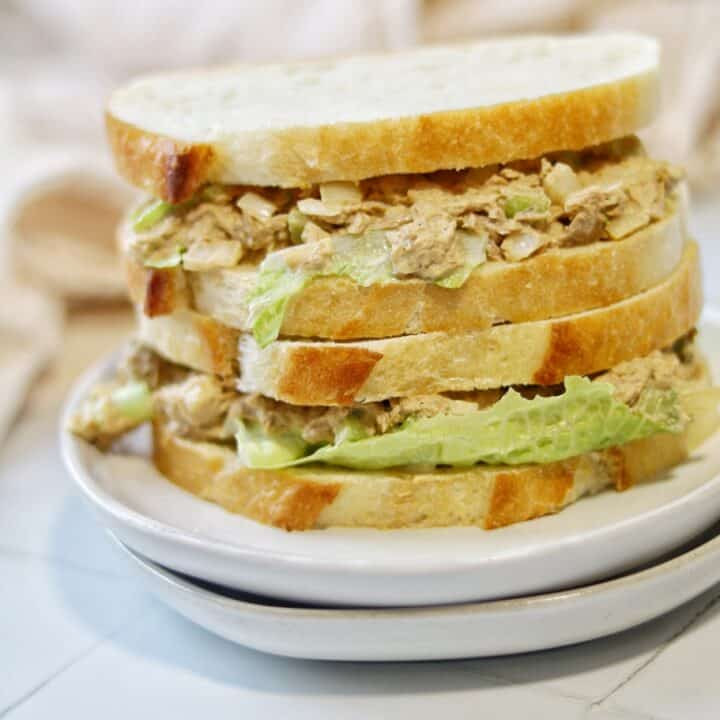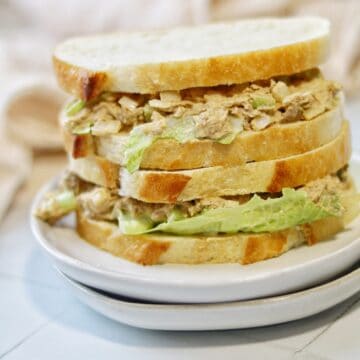 Jimmy John's Tuna Salad
This is Jimmy John's Tuna Salad Copycat Recipe with an incredible crunch in every bite. It is suitable for children's lunches as well as office lunches too. Give it a-go!
Ingredients
2

cans

tuna

2 (5-ounce)

¼

cup

mayo

¼

cup

celery

diced (2 -3 stalks celery)

1

small

onion

diced

¼

cup

soy sauce

or liquid amino

black pepper

to taste
Instructions
Drain the liquid from the tuna cans.

In a large bowl, stir together tuna, mayonnaise, diced celery, diced white onion, soy sauce, and black pepper.

Stir all of the ingredients together until well combined.

Enjoy the tuna salad in a sandwich.
Nutrition: Please note that the nutrition label provided is an estimate only.
Serving:
1
serving
Calories:
187
kcal
Carbohydrates:
3
g
Protein:
18
g
Fat:
11
g
Saturated Fat:
2
g
Polyunsaturated Fat:
6
g
Monounsaturated Fat:
2
g
Trans Fat:
0.03
g
Cholesterol:
36
mg
Sodium:
8159
mg
Potassium:
210
mg
Fiber:
0.4
g
Sugar:
1
g
Vitamin A:
58
IU
Vitamin C:
1
mg
Calcium:
28
mg
Iron:
2
mg