Turkish Kisir Salad, also known as Turkish Bulgur Salad, is one of my favorite and simplest salad recipes. The combination of pomegranate molasses, couscous, spring onions, lettuce, fresh parsley, and mint creates an incredible flavor. It's Tabouli's Turkish cousin that is great as a mezze, a side dish at a BBQ, an appetizer salad, or even as a main dish.
---
Meet Tabouli's Turkish Cousin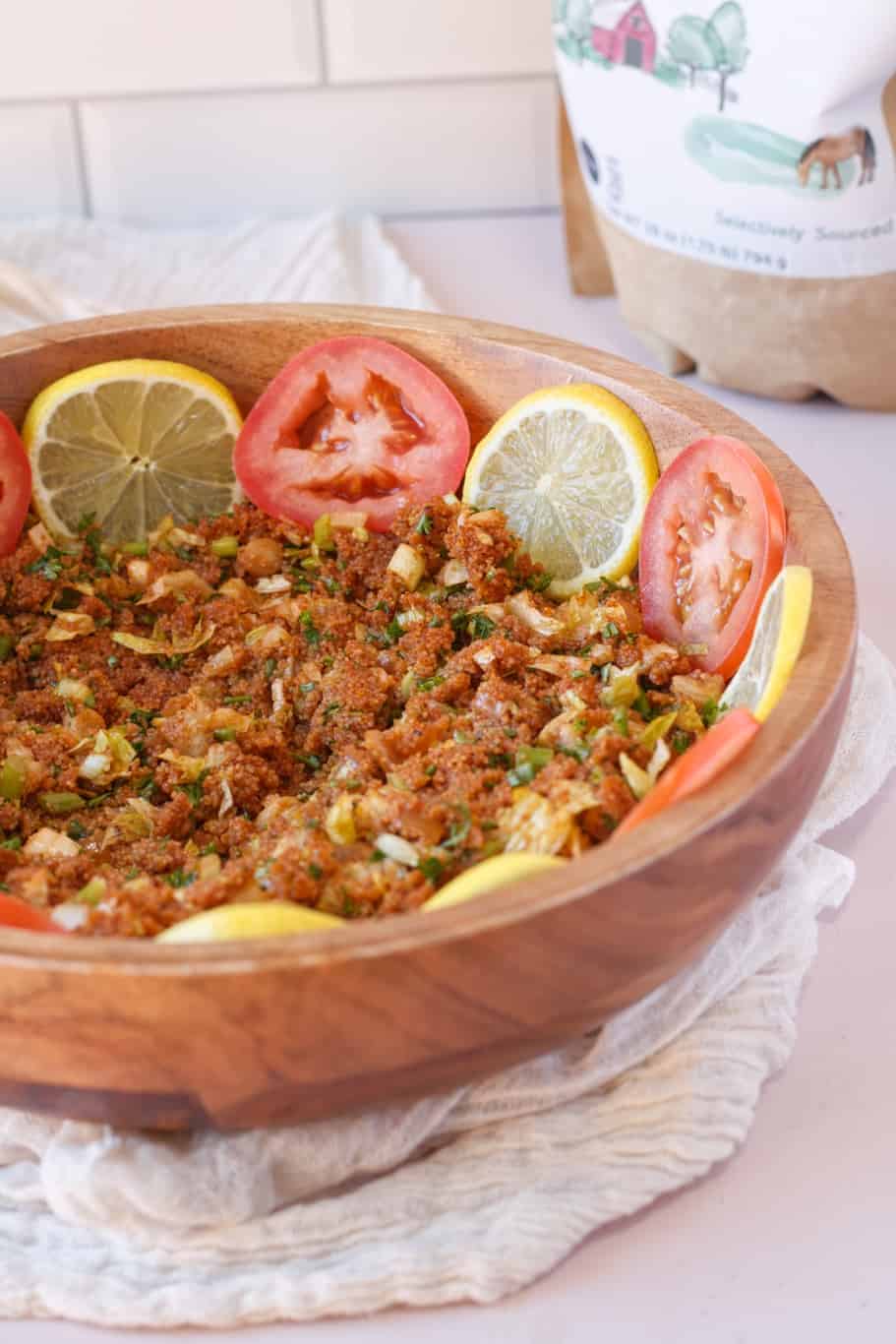 ---
Many Mediterranean and Middle Eastern countries enjoy meals made with healthy whole grains and fresh, vibrant herbs. Of course, the fact that dishes like kisir and tabbouleh are healthy isn't the only reason they're so popular.
Whole grains are healthy and filling, and they add great flavor and texture to any dish. This popular Turkish bulgur salad is described as healthy, hearty, and flavorful.
---
What Is Kisir?
Kisir is one of the traditional recipes in Turkish cuisine. Turkish people frequently serve it to greet guests. It's said to have originated in the southeast of Turkey.
Because Turkey is located just north of the Middle Eastern country of Syria and west of the Balkan Peninsula, Turkish cuisine is influenced by Middle Eastern, Asian, and Mediterranean flavors. This results in incredibly flavorful food with lots of fresh herbs and whole grains.
You can eat Kisir as a salad, but you can also roll it in lettuce leaves or serve it with grape leaves as a snack.
The best thing about this bulgur salad is that you can make it ahead of time, and it's a great recipe to make in a big batch (for your next potluck BBQ). It keeps well in the fridge for up to 3 days (and tastes even better!).
Do you like fresh salads? Then you must try my Gluten-free Tabouli Salad | Easy keto Tabbouleh, Zoe's Kitchen Chicken Salad Recipe (Copycat), Copycat Juan Pollo Potato Salad Recipe, Copycat Jimmy Johns Tuna Salad Recipe, and Easy Refreshing Pomegranate Salad.
---
Jump to:
---
What's the Difference Between Tabouli and Kisir?
Kisir is likely to have descended from tabbouleh, a Lebanese herb and bulgur salad.
Tabbouleh began as a bulgur salad in the Lebanese mountains. The dish evolved into its current form only over time. It's primarily a herb salad these days, at least in the Middle East. Bulgur plays a minor role.
The authentic Kisir recipe is thought to have evolved from an early form of tabbouleh. However, in Turkey, bulgur has remained the main ingredient. Kisir is primarily a bulgur salad, with herbs playing only a supporting role.
---
Healthy, and Filling!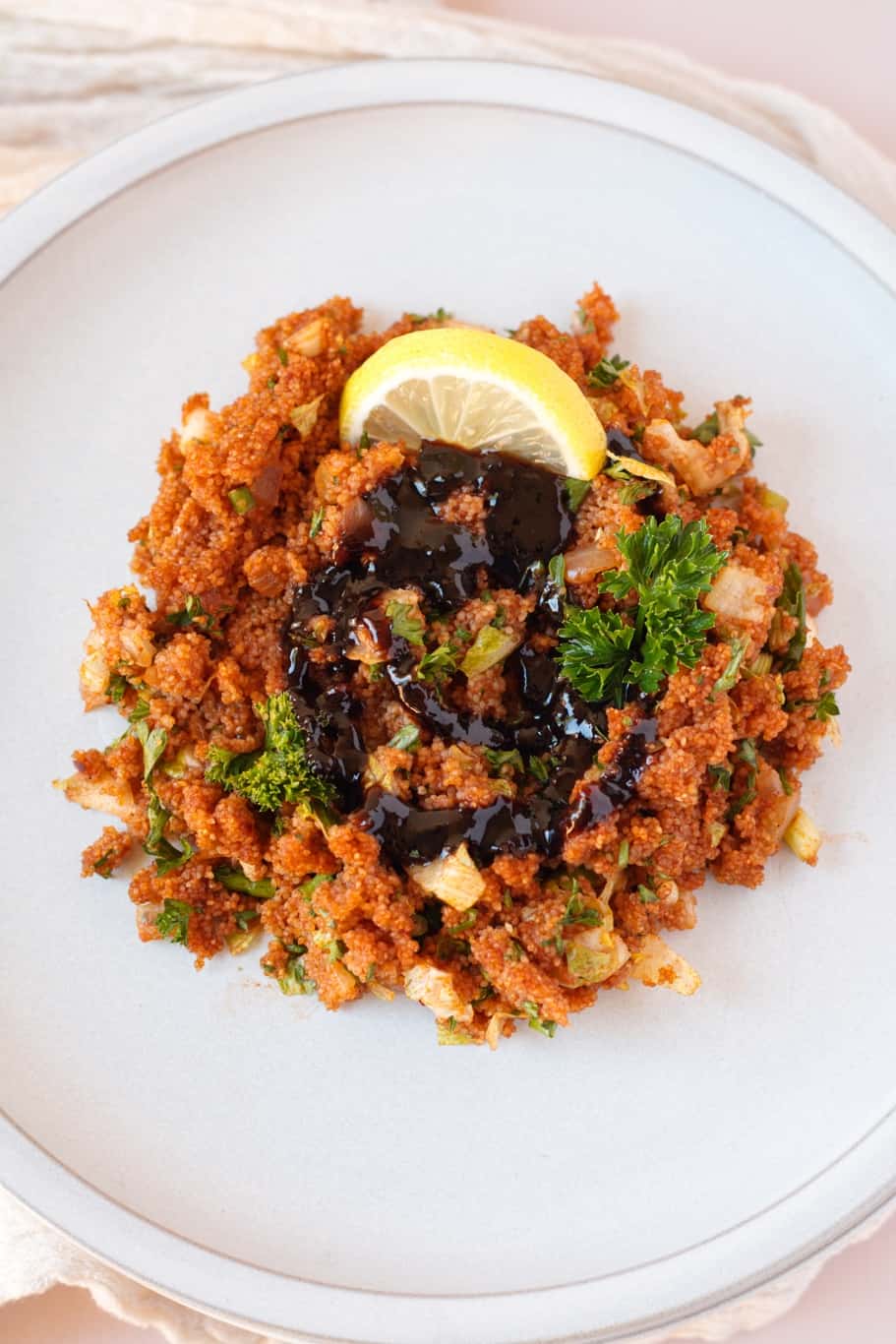 ---
Turkish Kisir Salad Ingredients
Here are the main ingredients to make this delicious Turkish salad recipe:
Couscous: I used Fonio for Couscous, but feel free to use fine bulgur wheat instead. You can find bulgur wheat at the local grocery store, but keep in mind that there are different types of bulgur. Choose thin bulgur grains.
Pomegranate Molasses: Sour pomegranate molasses is an essential ingredient in this recipe. It adds a bit of tanginess and a lot of flavors.
Fresh herbs, green onions, white onions, lettuce, parsley, and mint are finely chopped to add flavor to the salad. Make sure to use fresh herbs so that your salad has a fresh taste.
Pepper paste and pul biber (turkish hot pepper paste): These two ingredients will spice up your salad and add a nice red color to it.
Lemon juice: Squeeze some fresh lemon juice for added flavor.
Olive oil: You will need some olive oil to saute the onions and cook the couscous. You can use light olive oil or extra virgin olive oil.
Hot water: You will need some hot water to cook Fonio for Couscous.
Cumin: Add some cumin for an earthy flavor.
See the recipe card for quantities.
---
Addictively Delicious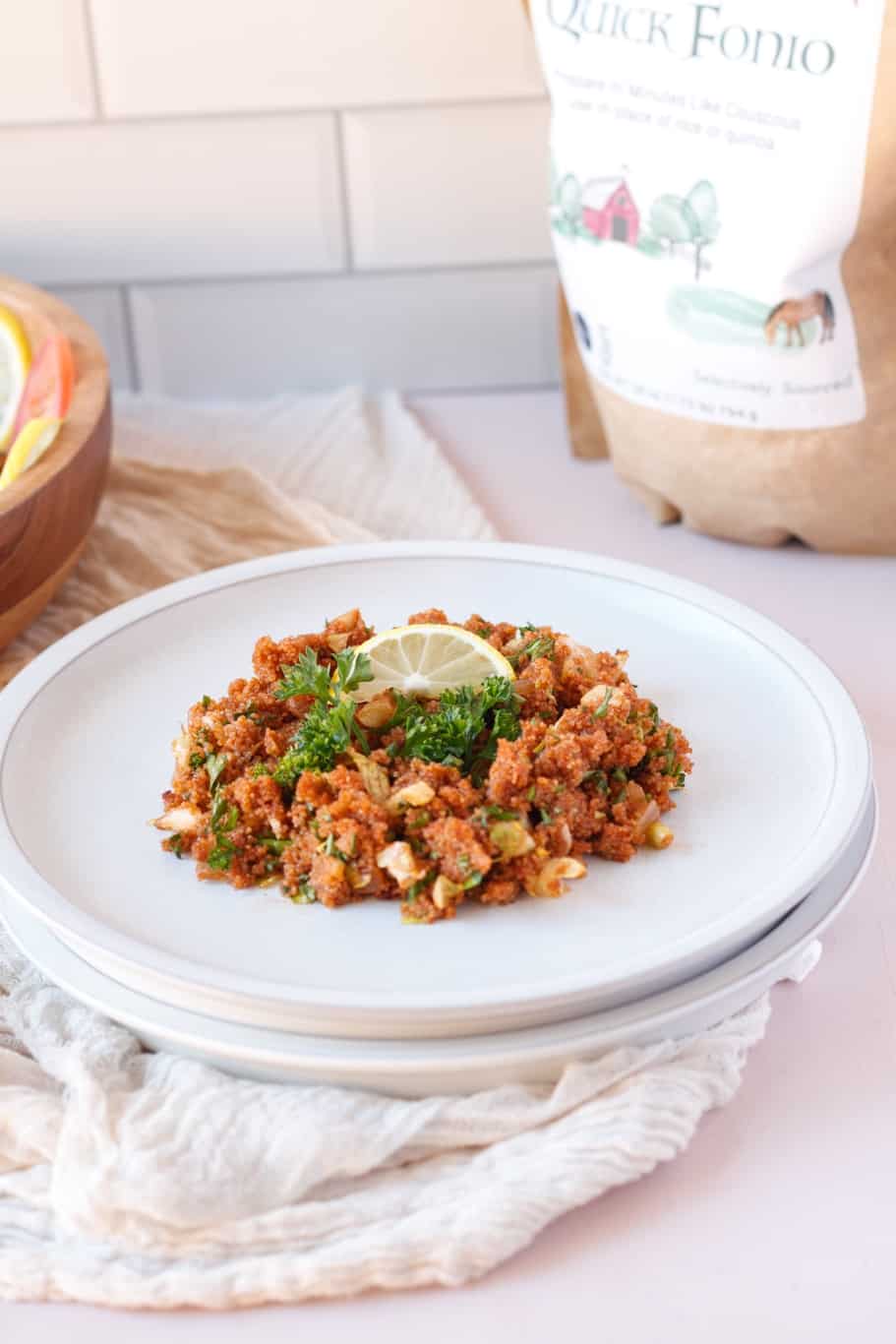 ---
Instructions
First, add olive oil to a skillet on medium-high heat, and add onions and red pepper paste. Saute for 2 minutes.
Next, add Fonio for Couscous, and water. Cook until all the water has dissolved. Add the couscous to a large bowl to cool.
Then, mix salt, cumin, pul biber, and pomegranate molasses together. Use your hands to incorporate it well. Now mix in diced vegetables and chopped herbs.
Serve it cold with freshly squeezed lemon juice. … Olsun afiyet! (bon appetite!)
---
Substitutions
Bulgur wheat: You can substitute bulgur wheat for couscous to make bulgur wheat salad. If you choose to use bulgur, choose fine bulgur wheat.
Lemon juice: You can substitute lemon juice for pomegranate molasses.
Tomato paste: If you don't have pepper paste, you can use tomato paste or tomato puree instead.
---
These Vibrant Colors Will Brighten Up Your Table.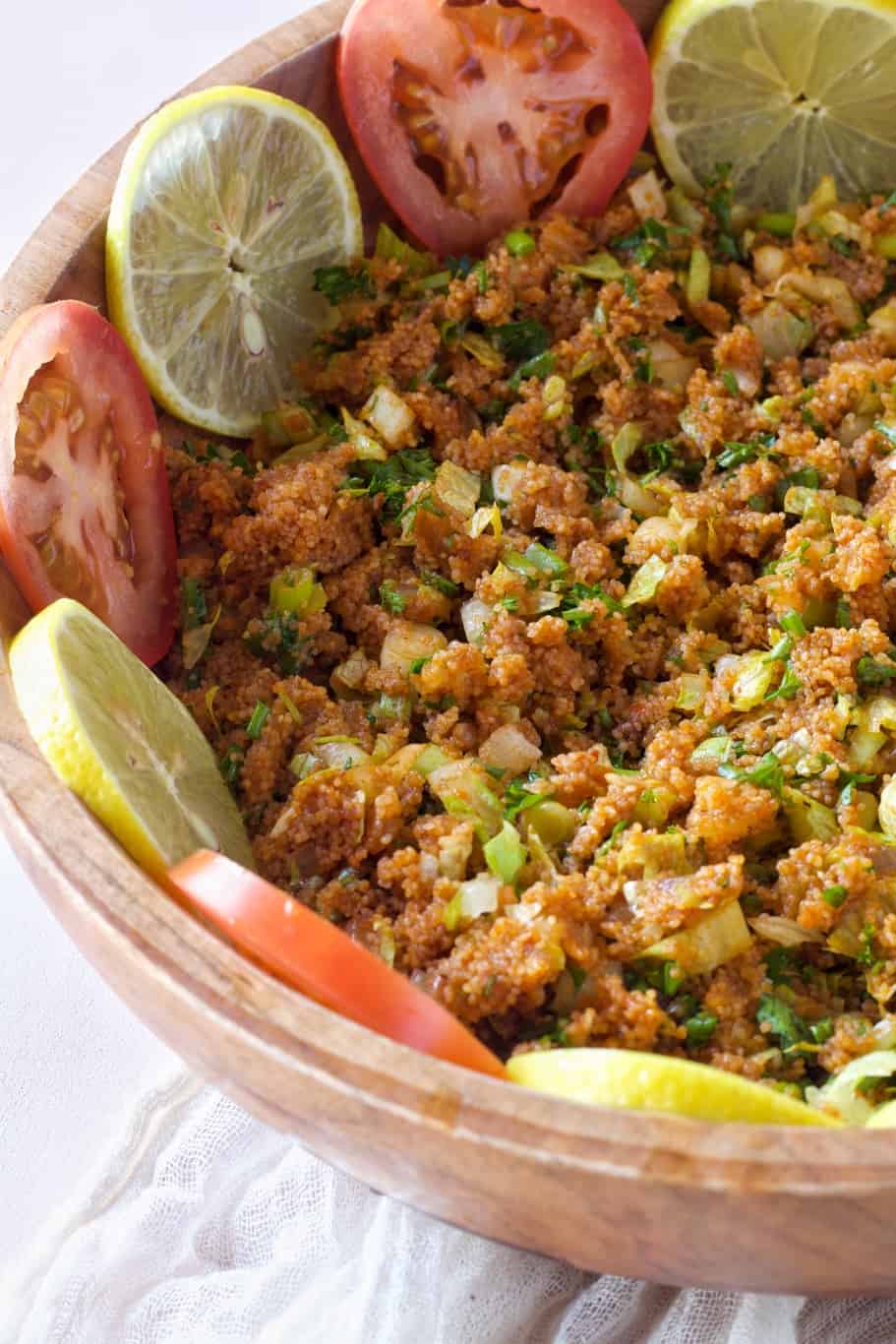 ---
Variations
Deluxe: Add some chopped dill pickles.
Kid-friendly: Skip the pul biber and add some mild pepper flakes to make it less spicy.
Veggies: You can add fresh ingredients such as fresh tomatoes and red bell pepper for added flavor.
---
Equipment
No special equipment is needed here. You only need a knife to chop your veggies, a skillet, and a small bowl to mix the salad.
---
Easy and Versatile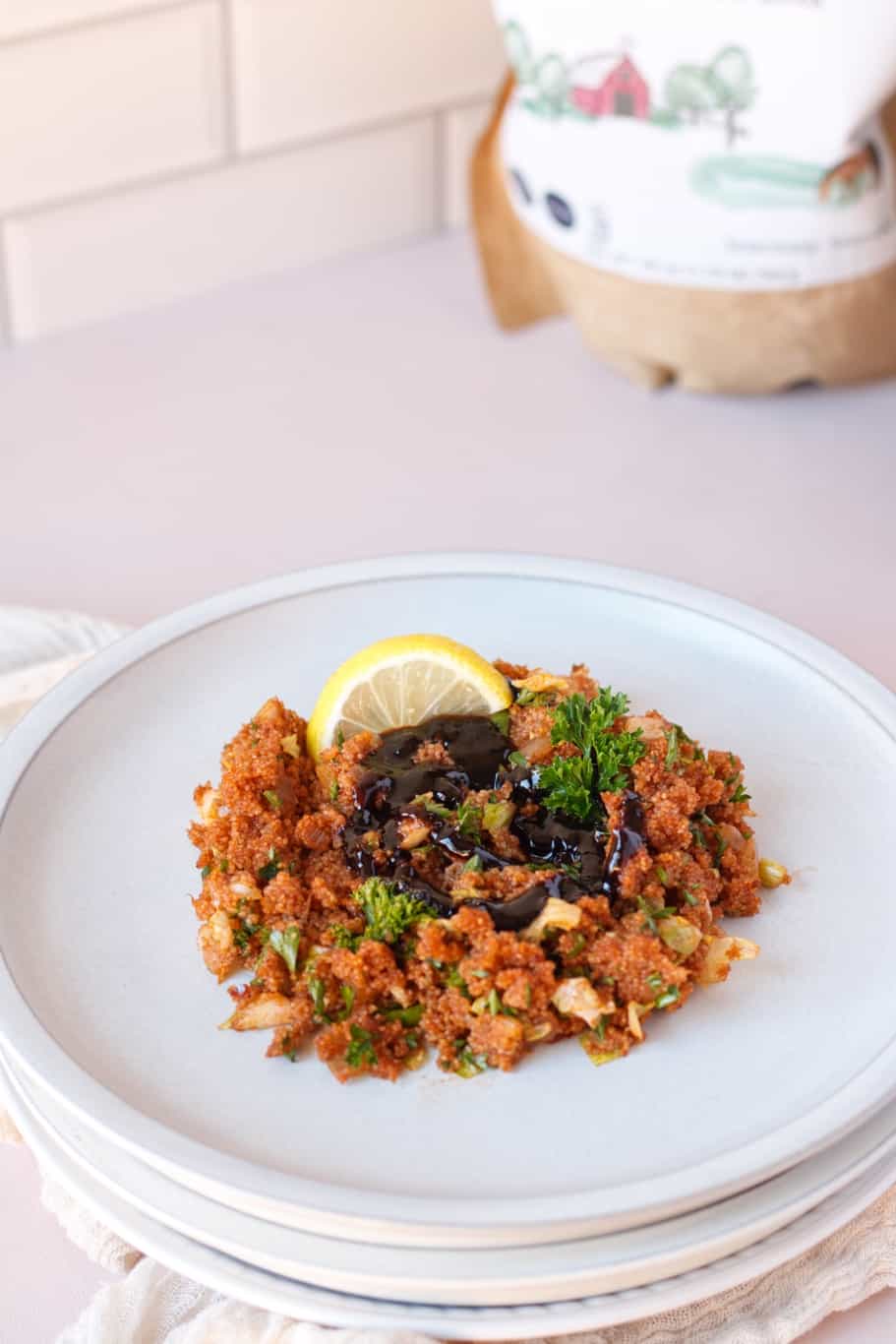 ---
Storage
Make-ahead: You can make this salad ahead and once it has cooled to room temperature, transfer it to an airtight container. It will keep well for a couple of days in the fridge. It tastes even better the next day!
Refrigerator: The salad will keep in the fridge for a few days, so never throw away leftovers. It tastes fantastic cold! Just make sure to store leftovers in an airtight container.
Freezing: I don't recommend freezing this salad since it might lose flavor and texture, especially if it contains fresh vegetables.
---
How to Serve Kisir Salad
Kisir is a great accompaniment to your meals, adding flavor as well as a filling element to your meze spread. You can serve it with small scoops of little lettuce leaves.
In some parts of Turkey, kisir salad is traditionally served with fresh vine leaves when in season. It's commonly served to welcome guests at your home in the south-east, where kisir traditions are strongest.
Most importantly, this Turkish bulgur salad works well as a side salad with almost anything. Kisir is always your friend, whether it's chicken, fish, or grilled meat!
Kisir appears to be popular alongside omelette. If you want to go vegan, simply add some chickpeas and green leaves to make a filling, nutritious, and absolutely delicious bowl of salad!
---
Top Tips
If you want to serve this as a main course, add some cheese, such as feta, which goes well with this salad. If desired, season with salt and black pepper.
It is best to mix with clean hands to ensure that the pastes and spices are evenly distributed throughout the bulgur - you can use latex gloves if desired.
This recipe is best made with fresh herbs. If fresh herbs are not available, use dried herbs instead.
Serve with a cup of plain yogurt, a few radish slices, and a few lettuce leaves.
Garnish your salad with some pomegranate seeds if you like.
Add some chili flakes on top for extra heat.
---
An easy Salad Perfect for Any Day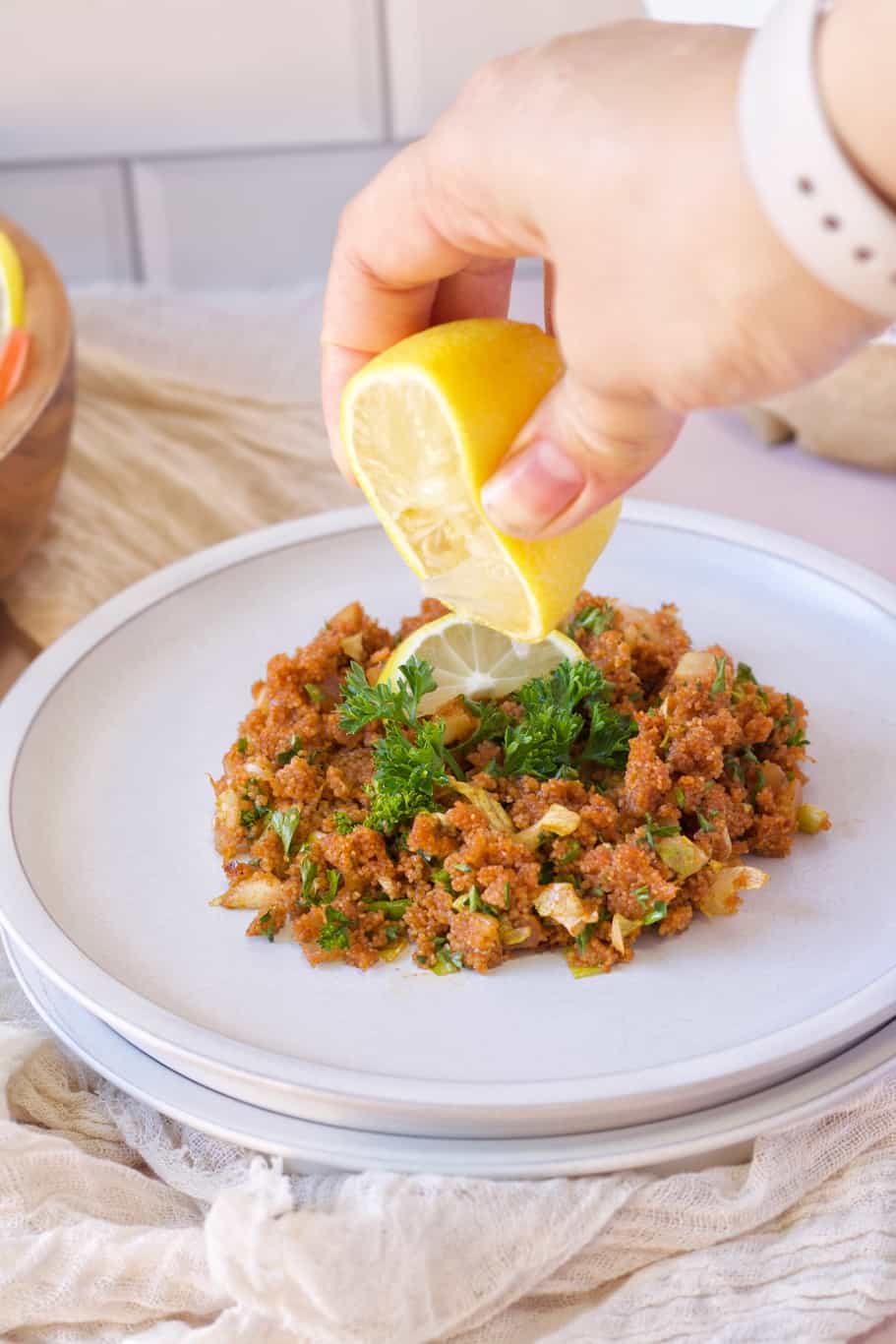 ---
Frequently Asked Questions (FAQs):
What can you use instead of couscous?
If you don't have couscous, you can use fine bulgur instead.
Do you serve this salad hot or cold?
You can serve this salad warm as soon as you finish preparing it. However, most people eat this salad cold and prefer to chill it before serving.
Is kisir salad gluten-free?
This salad contains couscous. Couscous is made from semolina, which is a granule of durum wheat. Therefore, it is not gluten-free.
---
If you've tried this recipe or any other recipe on Sourandsweets, don't forget to rate the recipe and leave me a comment below! I would love to hear about your experience with my recipes. Please share it with me on Instagram.
---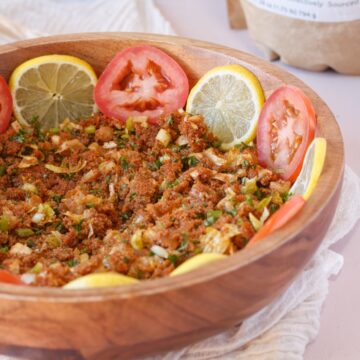 Turkish Kisir Salad
Turkish Kisir is a flavorful grain salad made of bulgur, fresh herbs, veggies and pomegranate. It's delicious, healthy, and can be made in less than 30 minutes.
Ingredients
2

tablespoons

light olive oil

1

small

white onion

finely chopped

2

tablespoons

pepper paste

Or tomato paste

1

cup

Fonio for Couscous

You can use fine bulgur or couscous

1

cup

hot water

2

tablespoons

Pomegranate Molasses

1

teaspoon

salt

¼

teaspoon

cumin

½

teaspoon

pul biber (Turkish chilli)

or Aleppo peppers or other mild chilli

¼

cup

Fresh parsley

finely chopped

2

spring onions

white and green part, finely sliced

1

cup

lettuce

finely chopped

2

tablespoons

fresh mint

finely chopped

½

lemon
Instructions
Add olive oil to a skillet on medium-high heat, and add onions and pepper paste. Saute for 2 minutes. Add Fonio for Couscous, and water. Cook until all the water has dissolved. Add the couscous to a large bowl to cool.

Mix salt, cumin, pul biber, and pomegranate molasses together. Use your hands to incorporate it well. Now mix in diced vegetables and chopped herbs.

Serve it cold with freshly squeezed lemon juice.
Nutrition: Please note that the nutrition label provided is an estimate only.
Serving:
1
serving
Calories:
259
kcal
Carbohydrates:
46
g
Protein:
4
g
Fat:
7
g
Saturated Fat:
1
g
Polyunsaturated Fat:
1
g
Monounsaturated Fat:
5
g
Sodium:
590
mg
Potassium:
153
mg
Fiber:
2
g
Sugar:
4
g
Vitamin A:
593
IU
Vitamin C:
17
mg
Calcium:
30
mg
Iron:
1
mg