Persian Marinated Olives with walnuts, also known as Zeytoon Parvardeh. this appetizer is a famous side dish served in many Persian restaurants. This recipe requires a handful of ingredients. To prepare it, you need to mix green olives, olive oil, chopped walnuts, pomegranate molasses, garlic, and chopped fresh mint. This recipe will elevate your green olives to a whole new level!
---
A Fantastic Combination of Flavors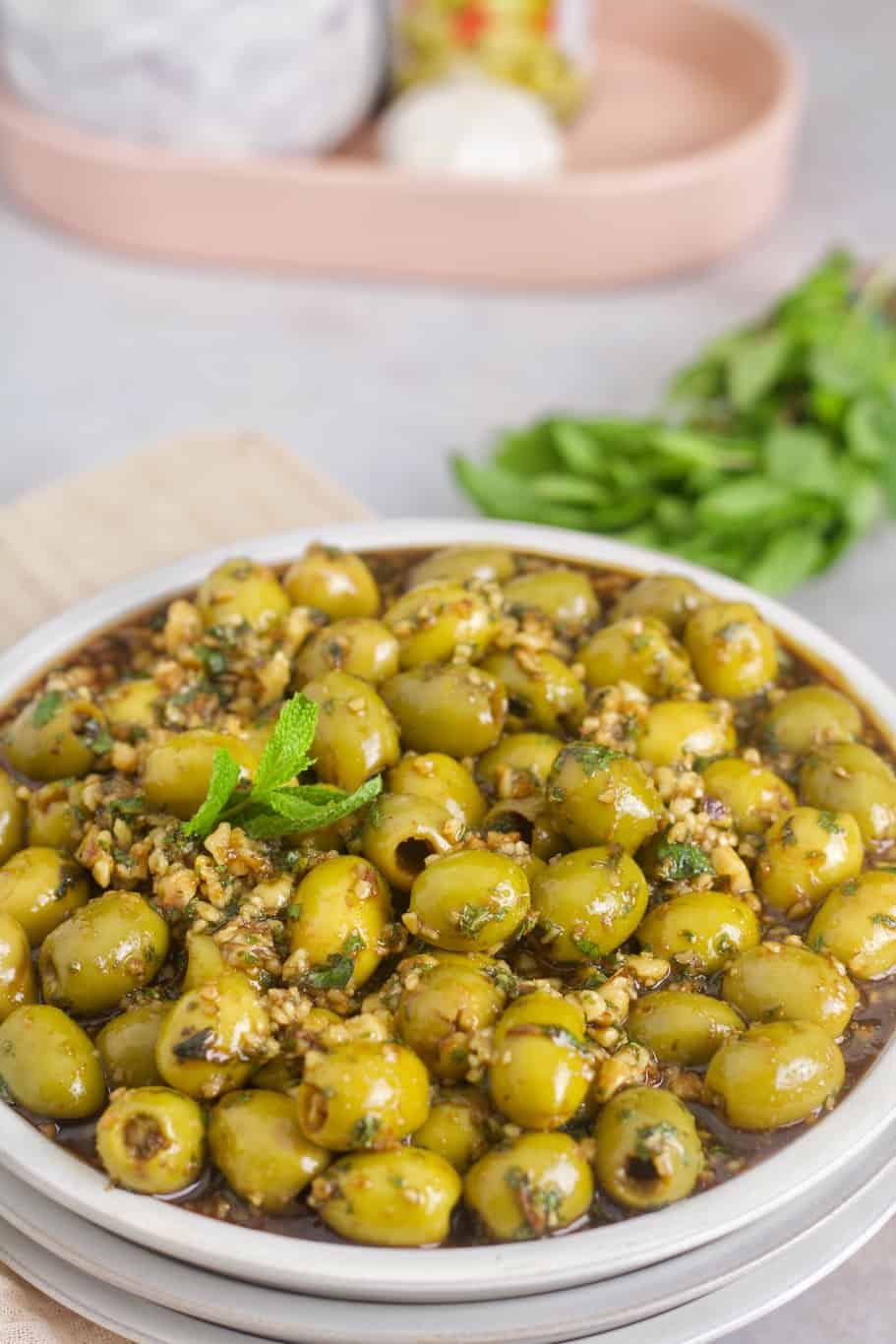 ---
Jump to:
---
What Is Zeytoon Parvardeh?
Zeytoon Parvardeh is a Persian marinated olives recipe well known in Persian cuisine. It is one of the most popular appetizers that heralds from Gilan Province in the North of Iran near the Caspian Sea.
The olives of this recipe are mainly cultivated in the city of Rudbar and are famed for their good quality, small size, and authentic taste. The Rudbar olives are difficult to find anywhere else which makes this recipe unique.
Guilan province is known for its strong culinary traditions and many vegetarian Persian recipes like Mirza Ghasemi - Persian Eggplant Dip.
---
Authentic Zeytoon Parvardeh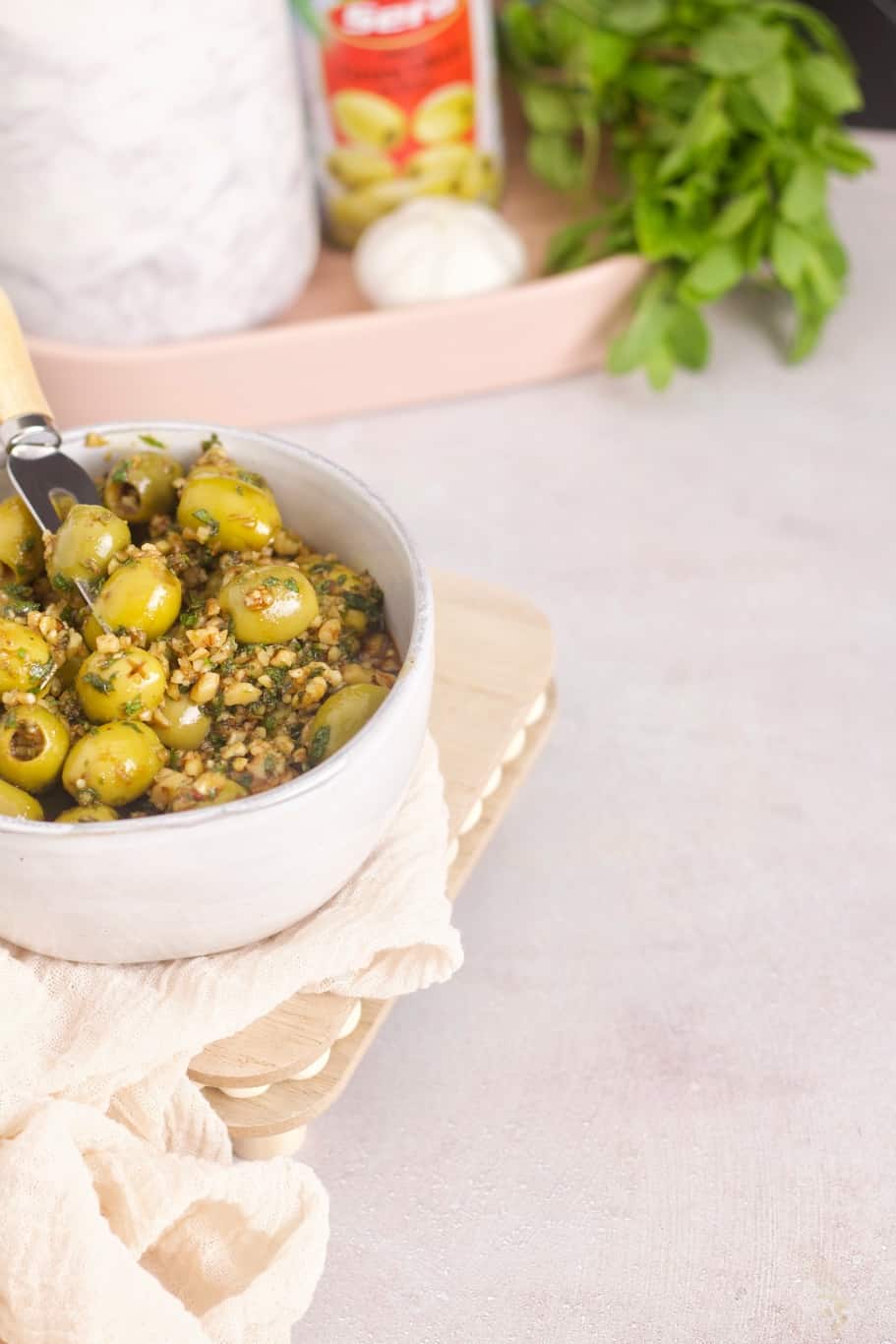 ---
A Healthy Snack to Enjoy
Zeytoon Parvardeh is a healthy snack to enjoy since it is fully packed with healthy ingredients.
Green olives are rich in healthy fats, dietary fiber, vitamin C, and other nutritional sources.
Walnuts are a source of good fats, fiber, vitamins, and minerals. It may support your health and maintain good brain function.
You may wonder about the health benefits of garlic. The good news is that garlic helps reduce blood pressure.
As for pomegranate molasses, it is a rich source of vitamins B1, B5, B3, and B6. It also helps in the functioning of the muscles, cardiovascular system, and nervous system.
---
Ingredients
To make Zeytoon Parvardeh, you will need the following ingredients: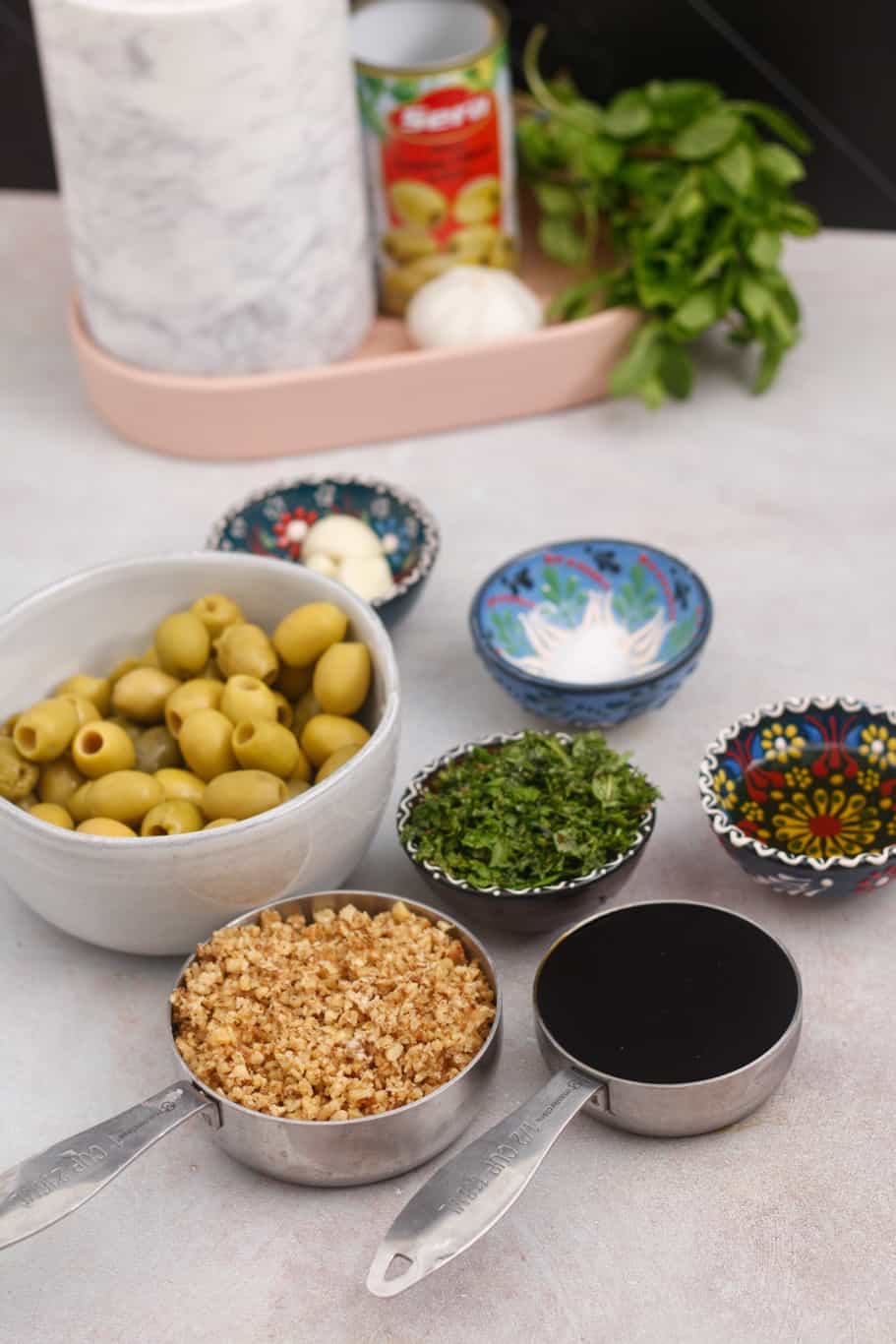 ---
Green olives: Pitted green olives are the core of this Persian appetizer.
Cloves garlic: To get a deeply rich flavor, you need to add minced garlic cloves to the olive mixture.
Olive oil: Use extra virgin olive oil to make for the best result.
Pomegranate Molasses: The pomegranate paste is a staple culinary ingredient in the Middle East that will enrich the olives with a unique tangy flavor.
Fresh Mint: Refresh and light up your Zeytoon Parvardeh recipe by adding finely chopped fresh mint leaves.
Walnuts: Finely chopped walnuts give a crunch and texture to these Persian marinated olives.
Salt: Add salt according to taste.
Check the recipe card for quantities.
---
Instructions
Start by adding minced garlic cloves, olive oil, pomegranate molasses, chopped mint, salt, and walnuts in a large bowl. Mix until all ingredients are very well combined.
After that, pour the mixture on the green olives and mix until everything is very well combined.
Finally, refrigerate for an hour and then serve.
---
Must Try Marinated Olives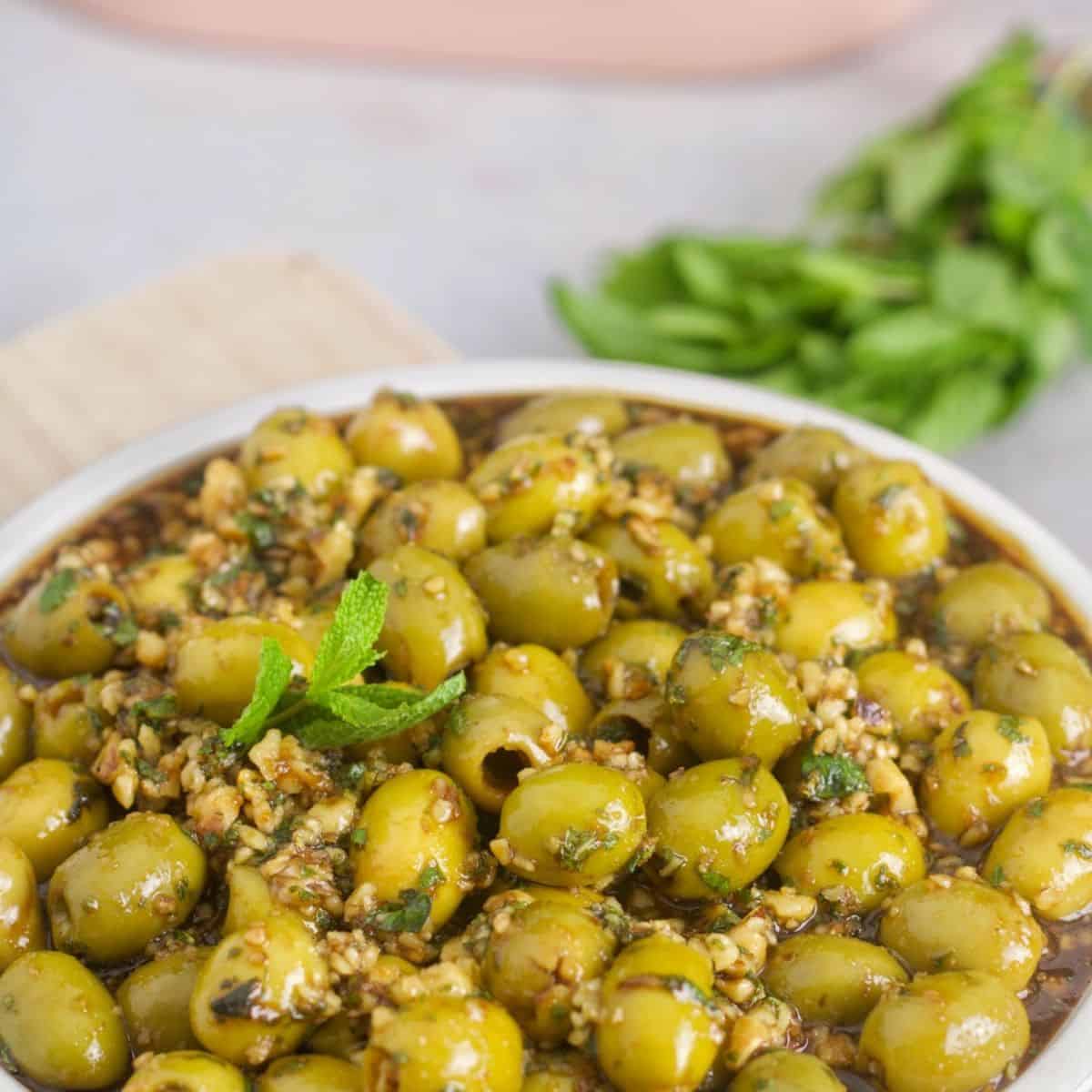 ---
Best Ways to Enjoy Persian Marinated Olives
Marinated olives appetizer sprinkled with pomegranate seeds is the perfect match with barbecue and grilled meat.
Zeytoon Parvardeh is one of the beloved Iranian side dishes that is paired with Persian foods like Kuku Sabzi, a traditional Persian omelet, in addition to many other traditional dishes.
Persian marinated olives appetizer is a healthy snack to enjoy alone or with flatbread or pita chips. Try it with any of the following great recipes: Easy And Simple Seasoned Air Fryer Pita Chips, Samoon Bread | Iraqi flatbread, Cheesy Garlic Crescent Rolls, etc.
Zeytoon Parvardeh is a delicious appetizer you can pair with salads like Best Salad Olivieh Recipe (Persian Chicken Salad), Copycat Juan Pollo Potato Salad Recipe, Zoe's Kitchen Chicken Salad Recipe (Copycat), Chick Fil a Kale Salad Recipe, etc.
Don't forget to make and enjoy this addictive Persian marinated olives recipe at the next dinner party. I'd love to hear from you about the experience.
---
Enjoy the Flavor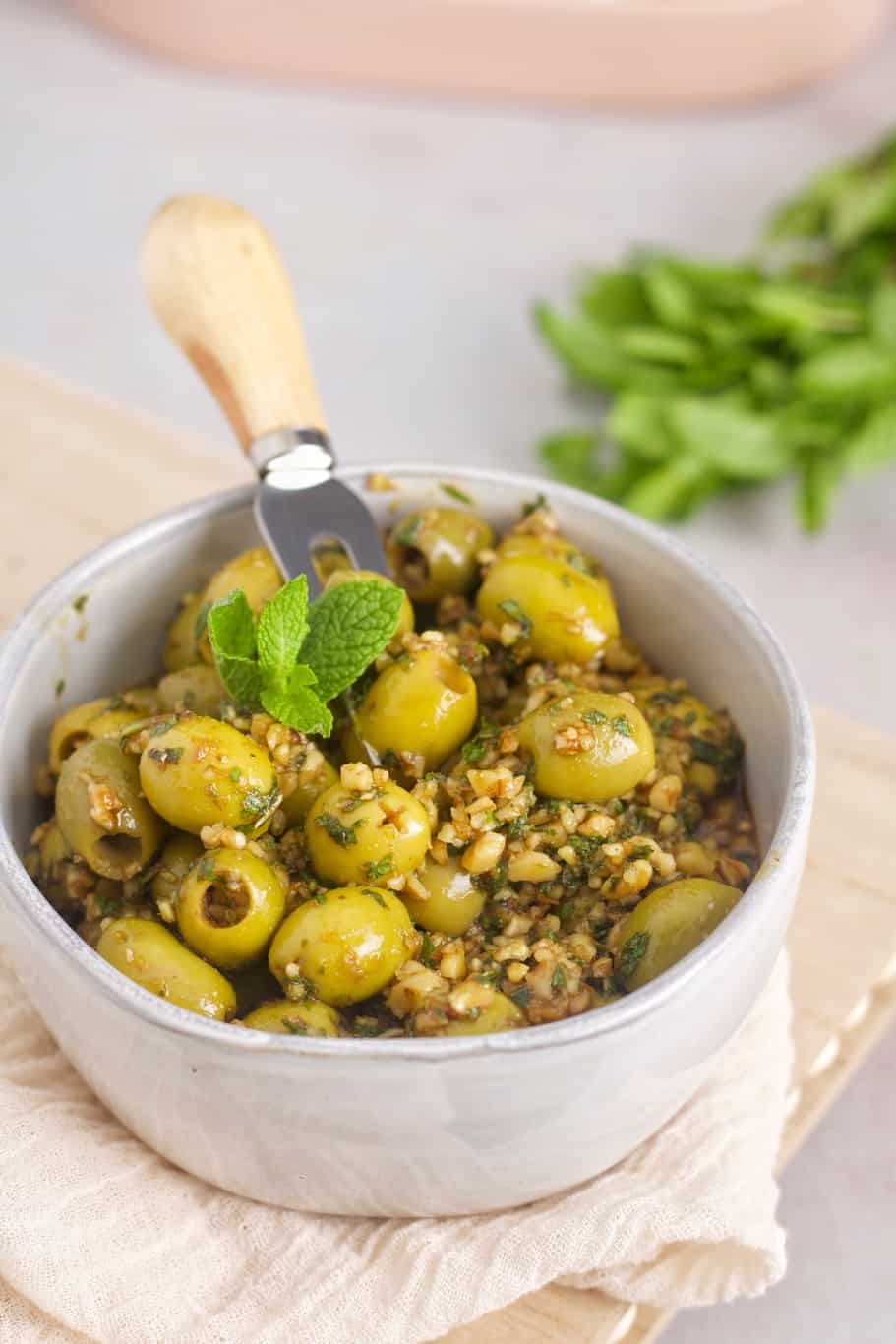 ---
Substitutions and Variations
Walnuts: If you don't have walnuts or don't like this type of nuts, you can use pecans instead.
Mint: You can use dried mint in place of fresh mint.
Spicy: Feel free to add finely chopped Jalapeño pepper for a spicy version if you are a hot flavor fan.
Extra-flavor: Try to add angelica powder or black pepper into the olives mixture for extra flavor.
Fresh herbs: In many Zeytoon Parvardeh recipes, people seek to add chuchagh into the olive mixture which is a popular Persian local herb. The combination of mint, thyme, and coriander has a close taste to this herb.
---
Storage
Refrigerator: Store marinated green olives in an airtight container or a glass jar in the refrigerator. They will stay fresh for about 3-4 months.
Freezer: Persian marinated olives can be frozen for about 6 months, however, the mint and garlic flavors degrade a little bit.
---
Middle Eastern Staple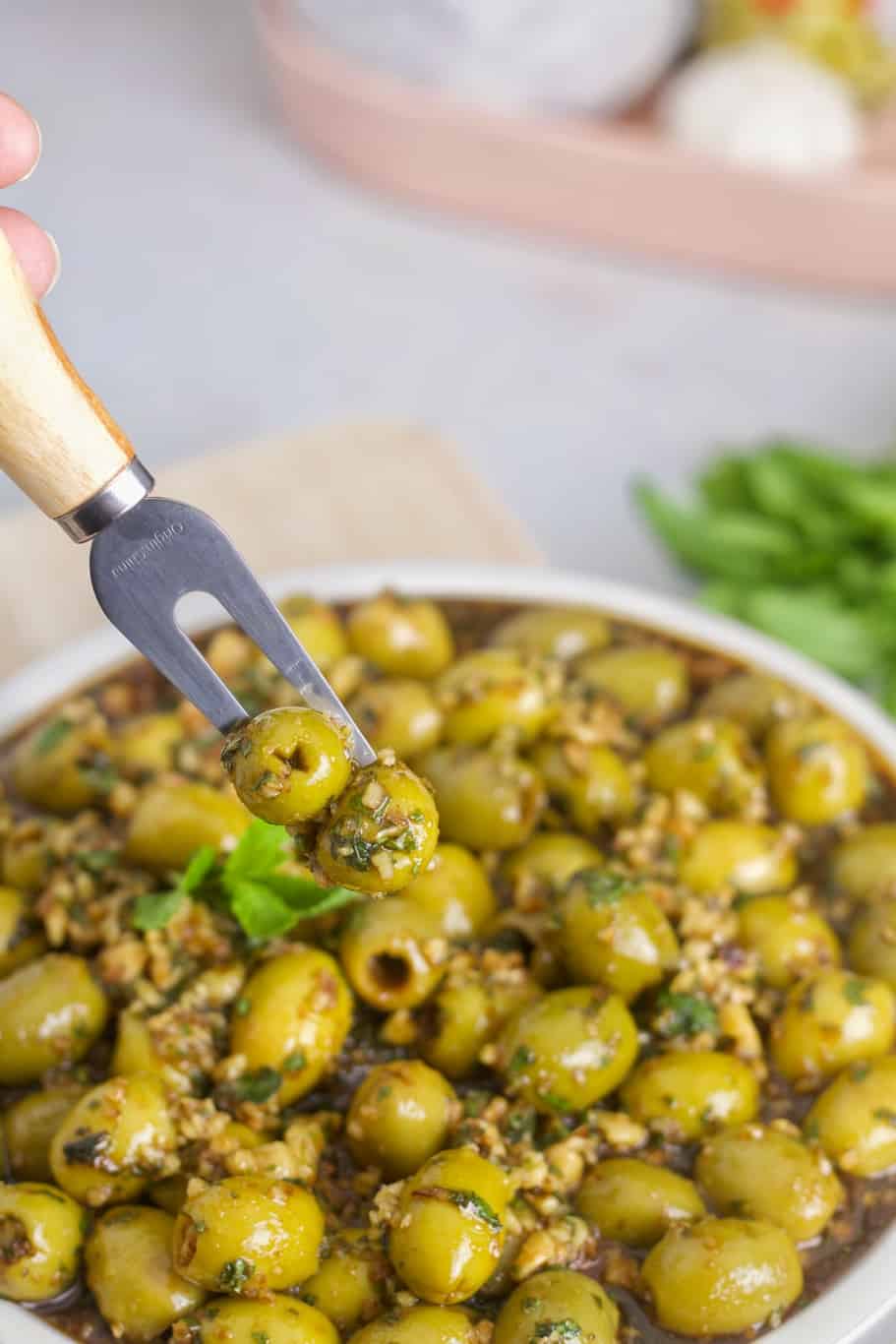 ---
Top Tips
Pulse raw walnut pieces in a mini food processor until finely chopped.
If you use fresh green olives, make sure to boil them before you make the recipe in order to reduce the bitterness of the olives.
It is better to use small olives because they have better flavor and are more suited for use.
Use fresh and good-quality walnuts to avoid moisture and guarantee that the olives will not become bitter quickly.
If you prefer a light olive color, then add more walnuts to the olive mixture, but if you prefer a darker olive color, then add more pomegranate molasses.
Add a few wedges of finely minced lemon for a tangy sour flavor. You can also sprinkle some pomegranate arils on top of the serving bowl.
---
Pin It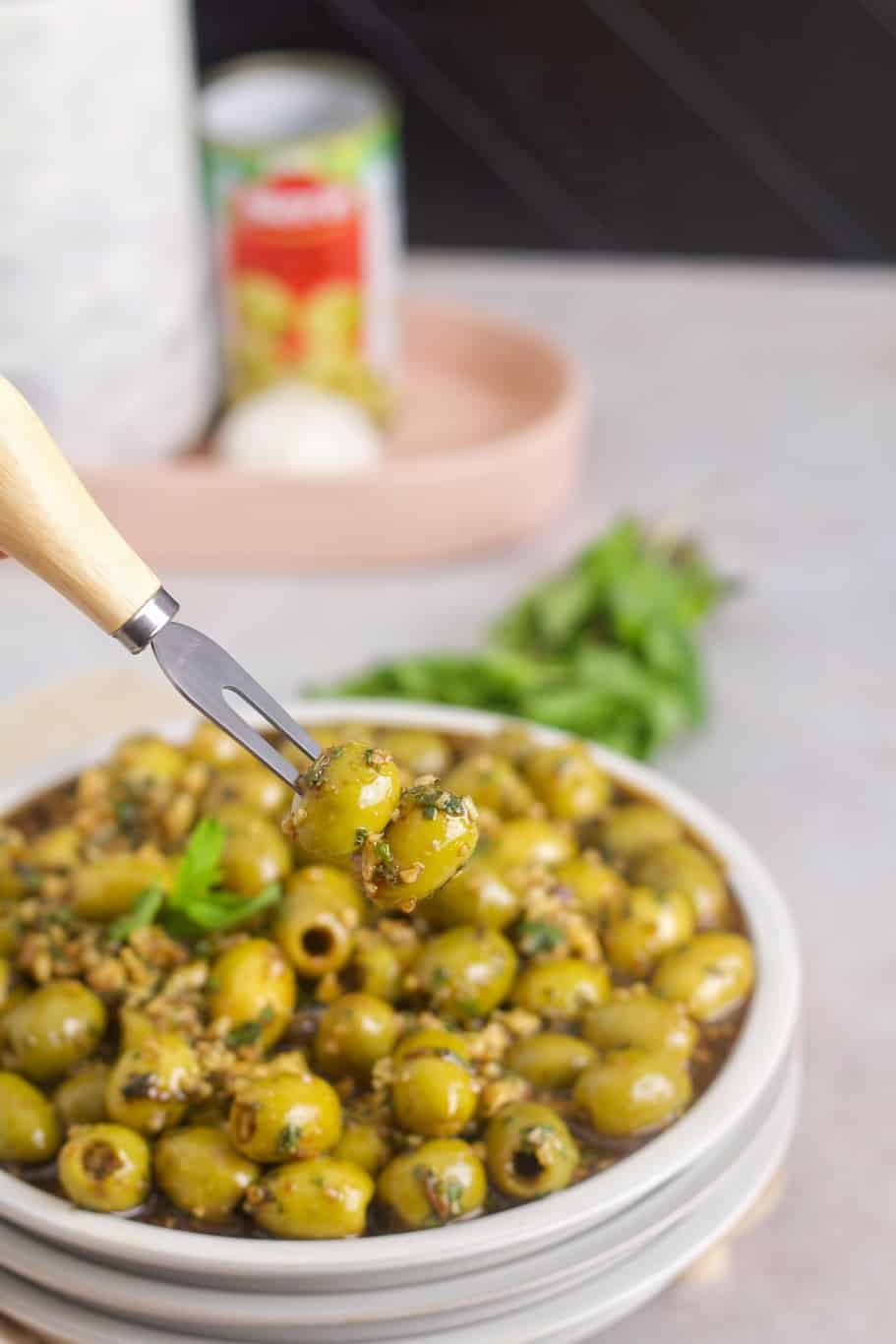 ---
Frequently Asked Questions
Can I make this Zeytoon Parvardeh recipe with black olives?
This recipe is known for green olives as they have a bolder taste and a slightly firmer texture than black olives.
Can I use sour pomegranate juice instead of pomegranate molasses?
You can add sour pomegranate juice to the mixture of Zeytoon Parvardeh but you should take into consideration that its use does not replace the use of pomegranate molasses
---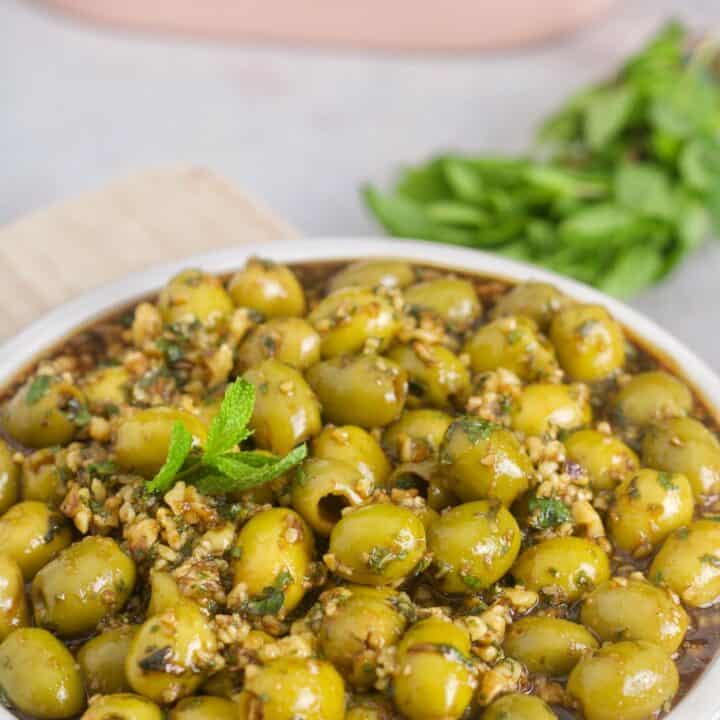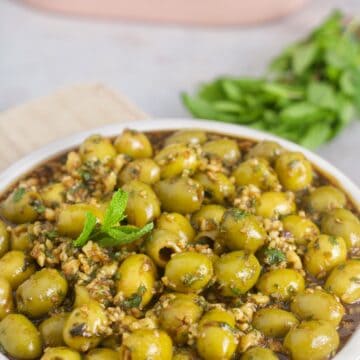 Marinated Olives- Zeytoon Parvardeh
Zeytoon Parvardeh is an easy Persian appetizer to make and a healthy snack to enjoy. Give it a Try!
Ingredients
2

cups

green olives

5

cloves

garlic

minced

2

tablespoons

olive oil

½

cup

pomegranate molasses 

½

cup

fresh mint

finely chopped

1

cup

walnuts 

finely chopped

1

teaspoon

salt
Instructions
In a large bowl, add minced garlic, olive oil, pomegranate molasses, chopped mint, salt, and walnuts. Mix until all ingredients are very well combined.

Pour the mixture on the green olives and mix until everything is very well combined.

Refrigerate for an hour and then serve. 
Nutrition: Please note that the nutrition label provided is an estimate only.
Serving:
1
serving
Calories:
144
kcal
Carbohydrates:
3
g
Protein:
2
g
Fat:
15
g
Saturated Fat:
2
g
Polyunsaturated Fat:
6
g
Monounsaturated Fat:
6
g
Sodium:
655
mg
Potassium:
82
mg
Fiber:
2
g
Sugar:
0.5
g
Vitamin A:
204
IU
Vitamin C:
1
mg
Calcium:
34
mg
Iron:
1
mg