When you need a quick dinner, look no further than fish — and this Pan Fried Lemon Butter Tilapia recipe is the best choice! It is a quick and easy weeknight meal that can be made in 20 minutes.
Simple, natural, and inexpensive ingredients give the pan-fried fish the best flavor and consistency, and the lemon butter takes it to the next level of delicious. It's slightly crispy on the outside, and tender and flaky on the inside.
---
One of the Best Fish Recipes!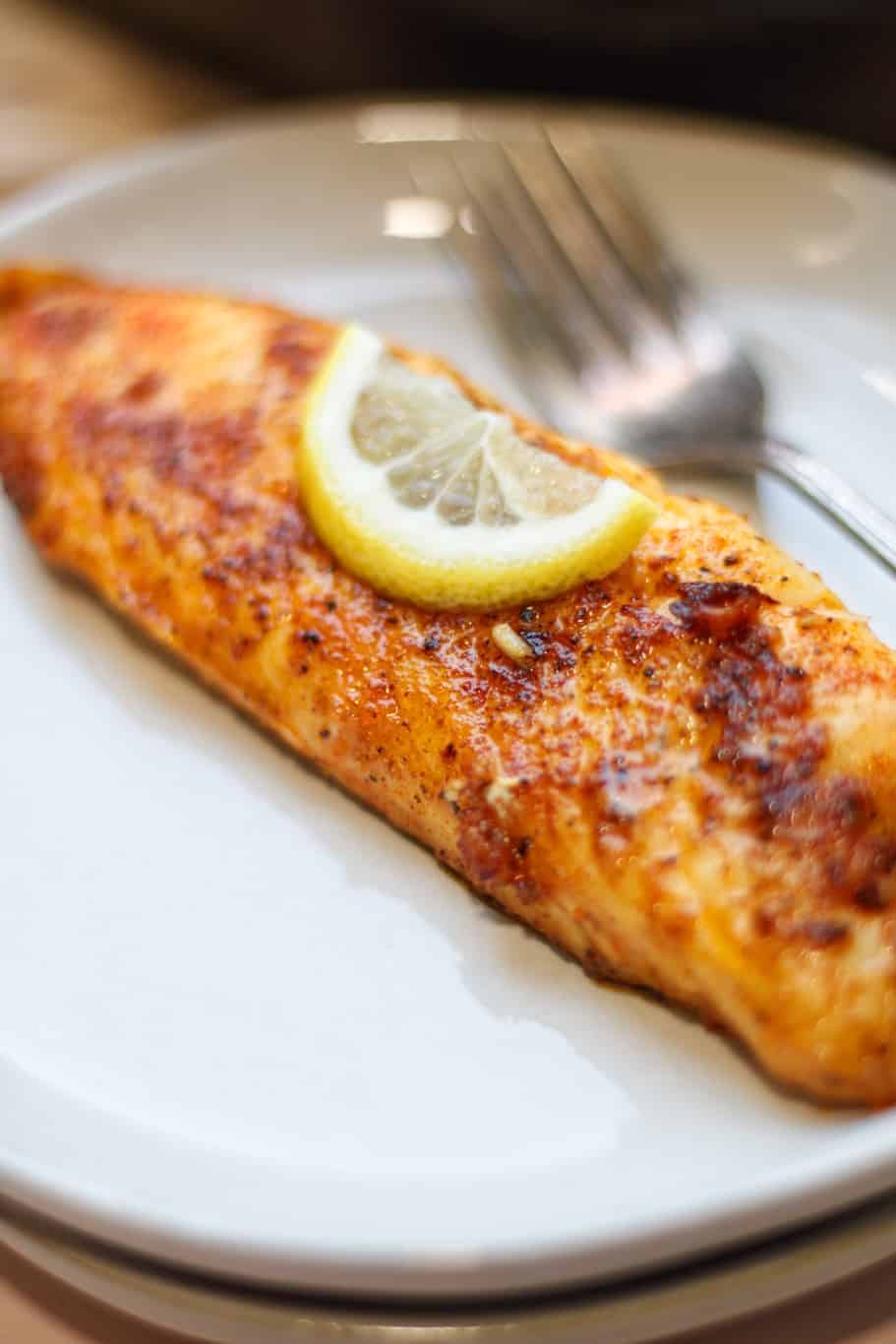 ---
As delicious as the pan-fried tilapia is on its own, the lemon butter elevates it to a whole new level. Butter, lemon zest, and lemon juice combine to make the most delectable combination of fresh flavors. It has all-natural, bright flavors and is ideal for busy weeknights. I guarantee that this will be one of the best tilapia recipes you'll ever make and the whole family will enjoy!
---
Why You'll Love this Cast Iron Skillet Tilapia?
Fresh tilapia is inexpensive and widely available in most supermarkets.
It's keto friendly and gluten free.
Tilapia has a mild flavor and it absorbs the flavors of the ingredients it's cooked with and isn't overly fishy for those who don't like fish.
It has a tender, flaky texture.
You only need basic spices and pantry staples.
It takes only 20 minutes to prepare this pan seared tilapia with lemon butter sauce.
It's a great recipe that tastes like it came straight from a restaurant!
---
Are You a Big Fish Fan?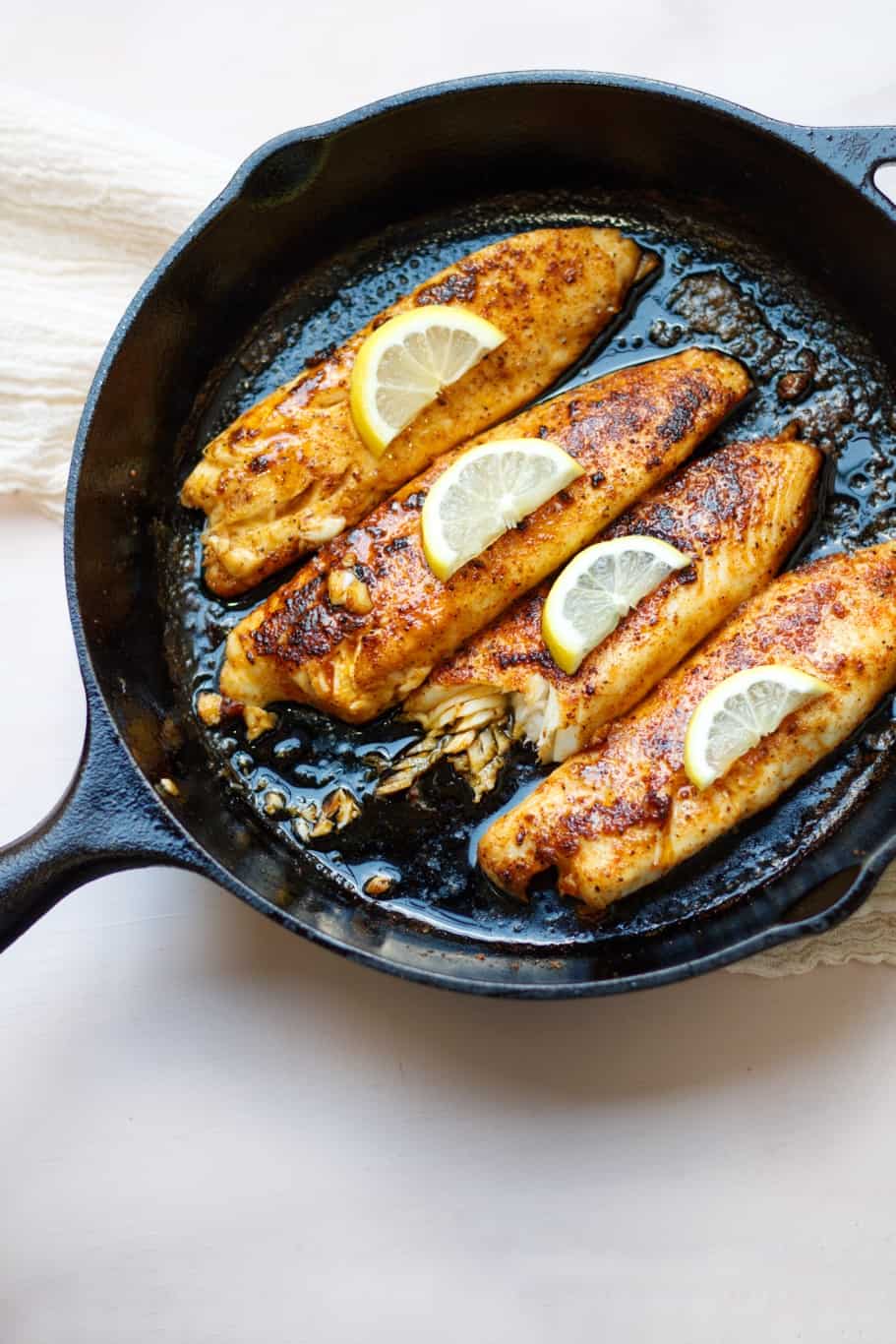 ---
What is Tilapia?
Tilapia is a mild-flavored fresh water fish that is inexpensive and widely available in most supermarkets. Tilapia freezes well, so you can buy fresh or frozen fillets, and it also keeps its texture and flavor even after thawing.
It's a versatile fish that can be prepared in minutes with today's pan fried tilapia recipe. You can also use it to make tacos, fish stew, or fish chowder. It's nice and moist and flaky if you cook it correctly! Trust me, once you've tried this easy crazy fish dish you'll be making it every week.
---
Tender and Flaky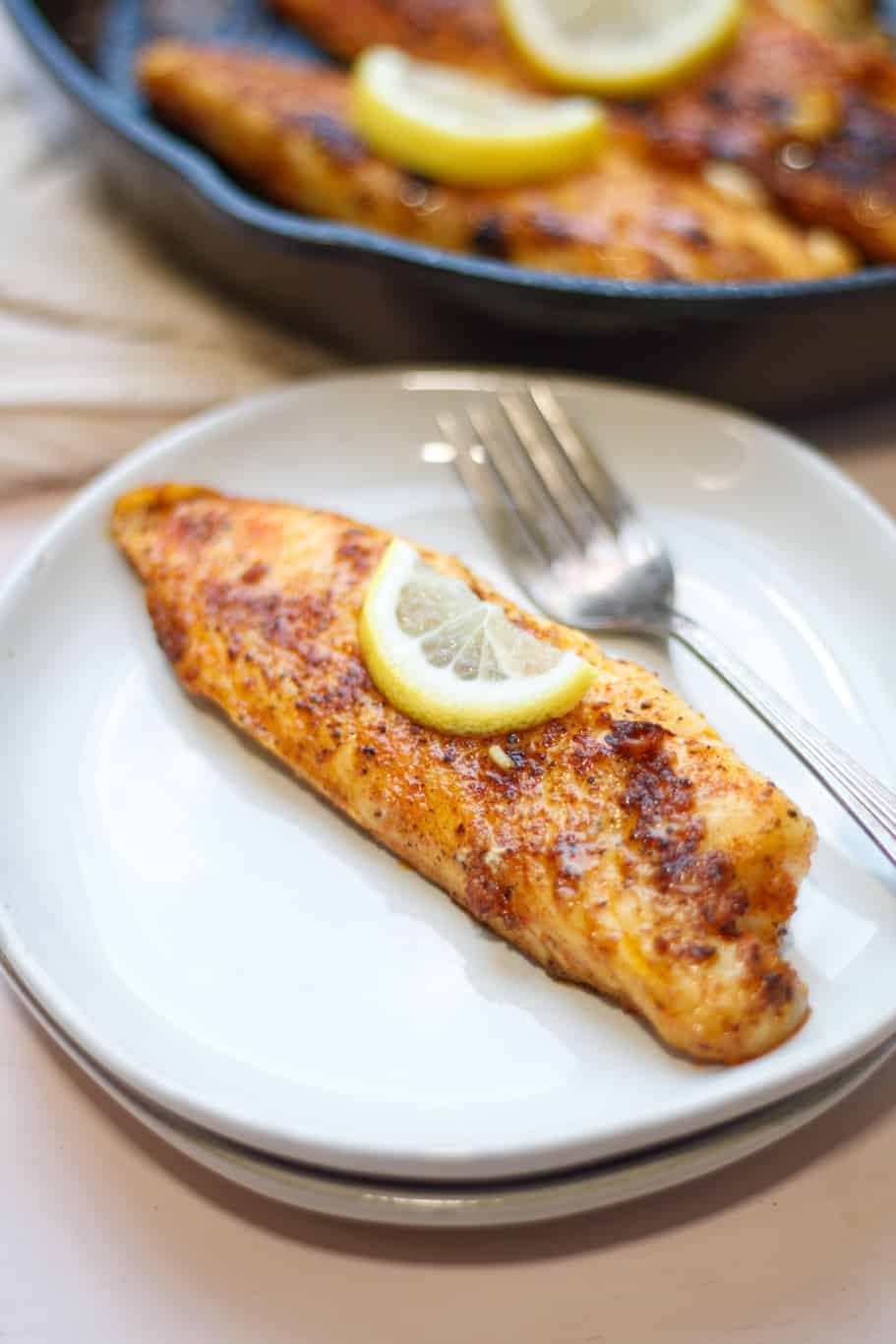 ---
Serve up this pan seared tilapia recipe with your favorite side dishes such as vermicelli rice, quinoa, mashed potatoes, pomengerate salad, tabouli salad, or vegetables such as fresh green beans. I really love it with air fried Brussels sprouts or asparagus parmesan.
---
Jump to:
Lemon Butter Tilapia Ingredients
This pan seared tilapia with lemon butter sauce recipe requires simple ingredients that you may already have on hand or can easily pick up at your local grocery store.
Tilapia fillets: Because this mild-flavored fish holds its shape well when cooked, it is ideal for pan cooking. This fish is typically farm-raised in freshwater all year, making it a convenient and cost-effective addition to your grocery list. It's easy to find in most grocery stores and usually comes in ready-to-cook fillets. I used Costco tilapia loins.
Butter: The salty umami flavor of butter creates a lemon butter sauce that pairs well with mild fish.
Olive oil: You will need a small amount of olive oil when cooking pan-seared tilapia.
Lemon Juice: Use freshly squeezed lemon juice for best results.
Seasonings: You will need some paprika and lemon pepper to season the tilapia.
See recipe card for quantities.
---
Keto Friendly & Gluten Free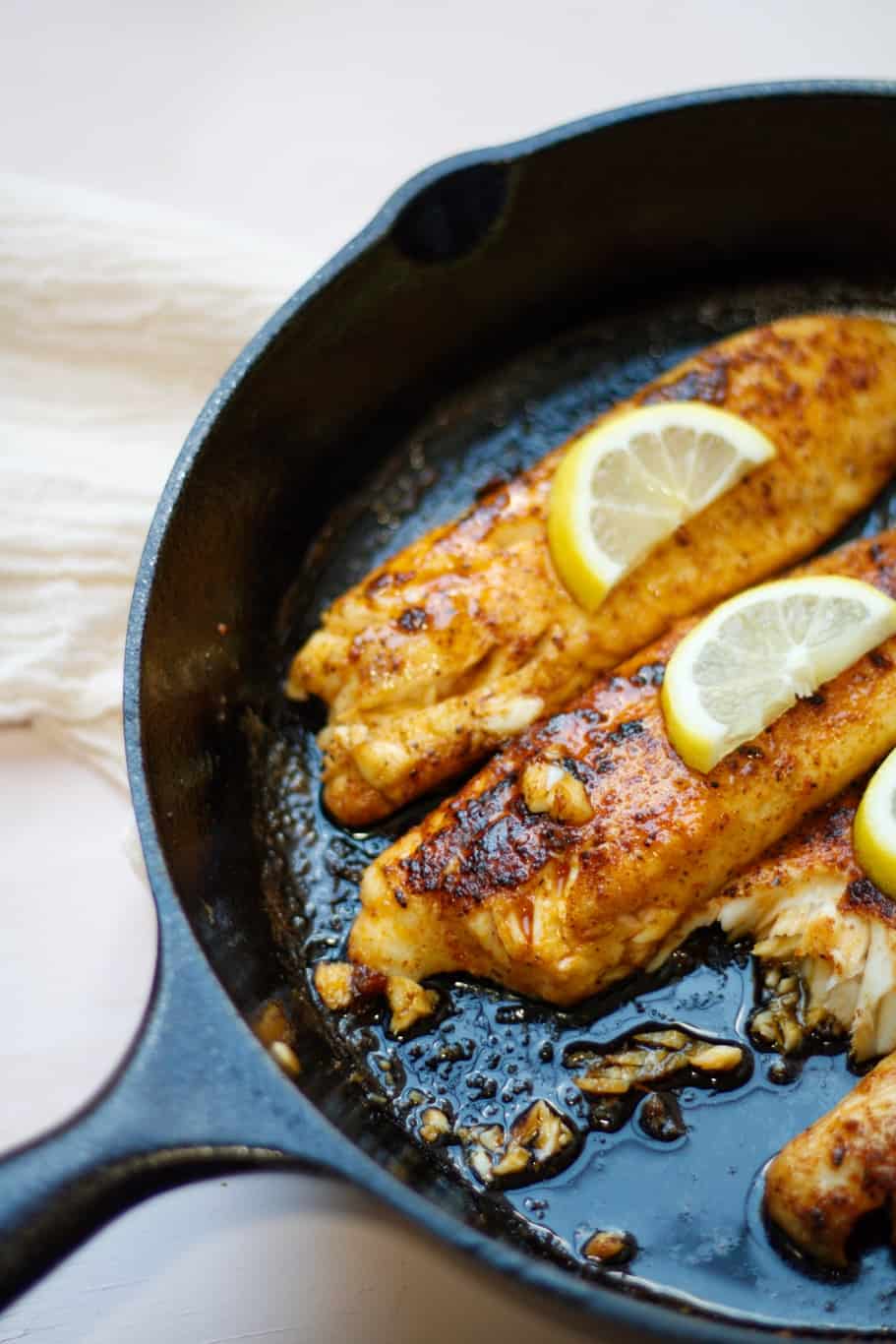 ---
How to Make Lemon Butter Tilapia
First, pat dry the tilapia with paper towels. Season both sides of tilapia with paprika, salt, and lemon pepper.
Next, heat the oil in a large nonstick skillet over medium-high heat for 1-2 minutes.
After that, add the tilapia filets to the skillet in a single layer. Sear for 4-5 minutes on the first side, and another 4-5 minutes on the second side.
Finally, add pieces of butter on top of each tilapia fillet and drizzle with fresh lemon juice. Drizzle the butter sauce on top of the tilapia fillets until all covered with the sauce.
---
Substitutions
Olive oil: Avocado oil, coconut oil, or any other neutral oil will work well for cooking tilapia in a pan.
Tilapia: If you can't find tilapia, branzino, whiting, red snapper and catfish are all mild fish options that work perfectly with this delicious recipe.
---
You Won't Resist the Taste!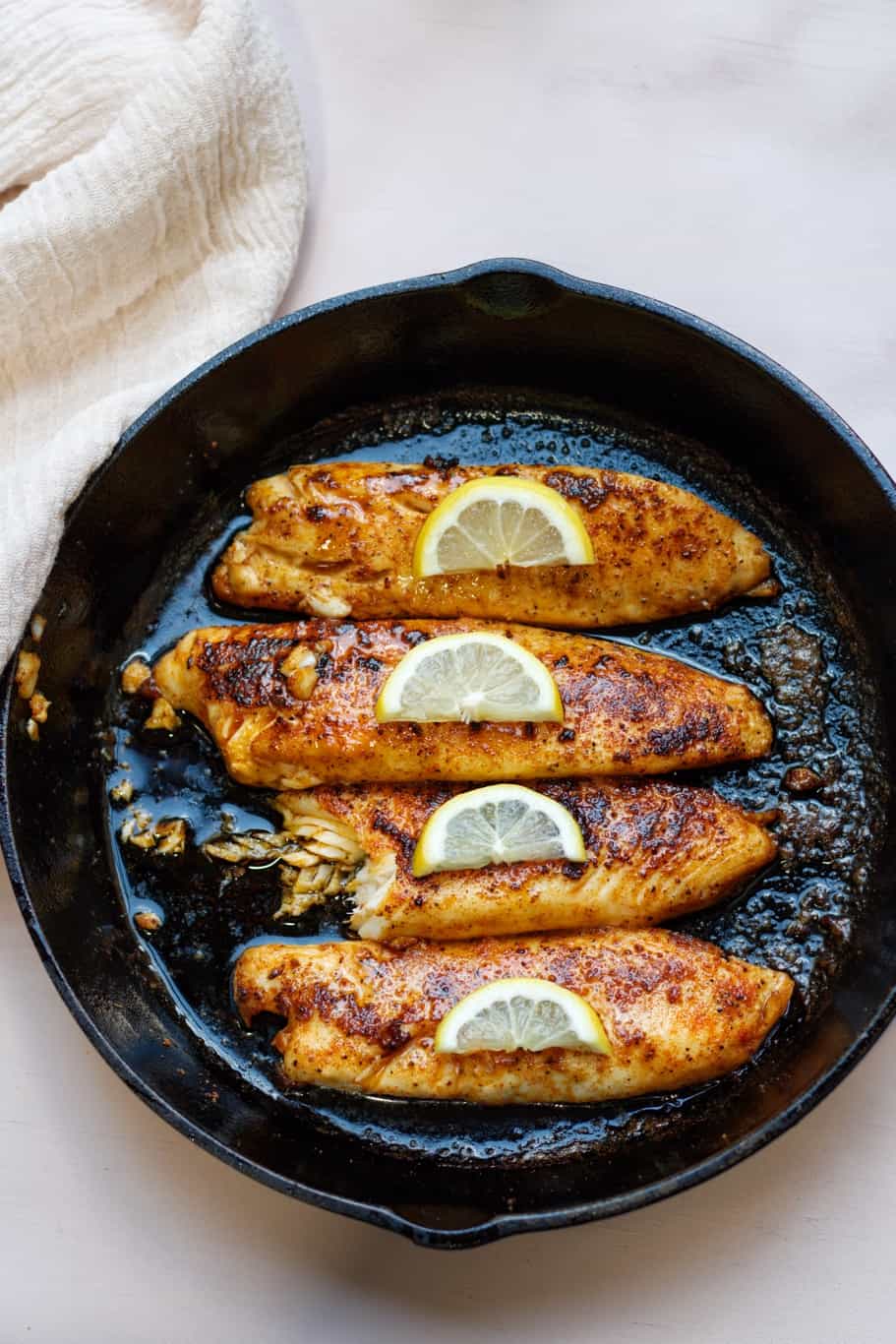 Variations
Want to spice up your lemon butter tilapia? Here are some great ways to flavor this easy meal!
Spicy: Add a pinch or two of chili pepper to the rub for spicier tilapia.
Kid friendly: Skip the lemon pepper.
Herbs: To give the fish different flavors, experiment with fresh herbs such as rosemary, oregano, thyme, basil, and tarragon.
Citrus: When making pan-seared tilapia, replace the lemon with lime wedges for a brighter flavor or even orange slices for a sweeter, less tart flavor.
---
Equipment
You will need a cast iron skillet to cook the tilapia.
---
Storage
You can keep leftovers in an airtight container in the fridge, for 3-4 days.
If you want to freeze leftovers, place pan seared tilapia fillets on a platter or baking sheet and freeze until solid. Once solid, store in a freezer-safe container for up to 3 months.
---
Top Tips
Make sure tilapia filets are completely dry before searing. This will ensure that they brown well. Pat tilapia dry with a paper towel.
Cooking time varies according to pan temperature, the thickness of the fish, and internal temperature of the fish when you begin cooking it.
Avoid overcooking tilapia fillets. The fish fillets are shiny and translucent before cooking. When the fish is done, it flakes easily with a fork and becomes opaque.
Don't overcrowd the pan with fish. This slows down the cooking time and makes turning over more difficult. You may need to cook the fish in batches depending on the size of your pan.
I highly recommend garnishing your final product with lemon slices and fresh parsley for both presentation and flavor. You can put a lemon slice on the top of each filet.
---
Frequently Asked Questions (FAQs):
How long to cook tilapia on cast iron skillet?
Some tilapia is thicker than others, but usually cooking tilapia in a pan should only take 4-5 minutes per side.
Should I use fresh or frozen tilapia?
If you intend to serve whole tilapia fillets, go to your local grocery store's fish counter and purchase fresh tilapia. These fillets are typically larger and of higher quality than those found in the freezer case. Frozen fillets are typically 4 ounces in size. Frozen fillets are useful for recipes that require the fish to be cut into pieces.
Can I bake tilapia instead of cooking?
Sure! Baking tilapia is a good cooking method. Lay out fresh or thawed fillets on a baking sheet and bake uncovered in a 450°F oven for 4 to 6 minutes per 12-inch thickness.
Can you cook frozen tilapia?
I don't recommend cooking frozen tilapia. Frozen fish is high in water content. When cooked frozen, this water evaporates and dilutes the flavors. It is best to thaw frozen fish ahead of time.
---
Food safety.
Cook to a minimum temperature of 165 °F (74 °C)
Do not use the same utensils on cooked food that previously touched raw fish.
Wash hands after touching raw fish.
Don't leave tilapia sitting out at room temperature for a long period of time.
Never leave cooking food unattended.
---
Save, Pin, & Share!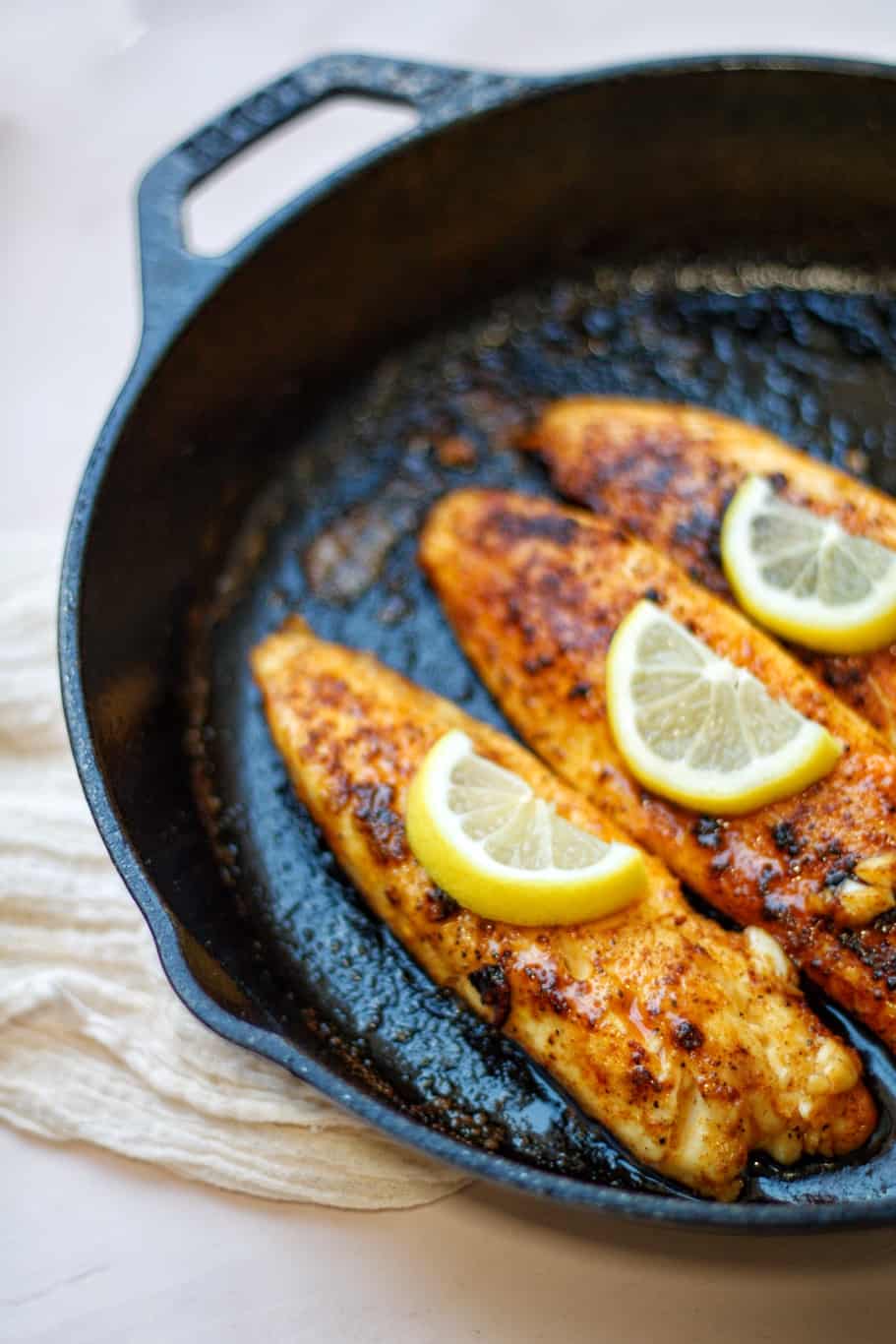 More Delicious Recipes to Try:
---
If you've tried this recipe or any other recipe on Sourandsweets, don't forget to rate the recipe and leave me a comment below! I would love to hear about your experience with my recipes. Please share it with me on Instagram.
---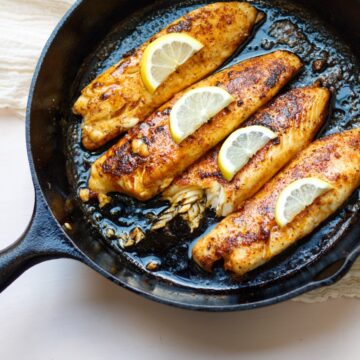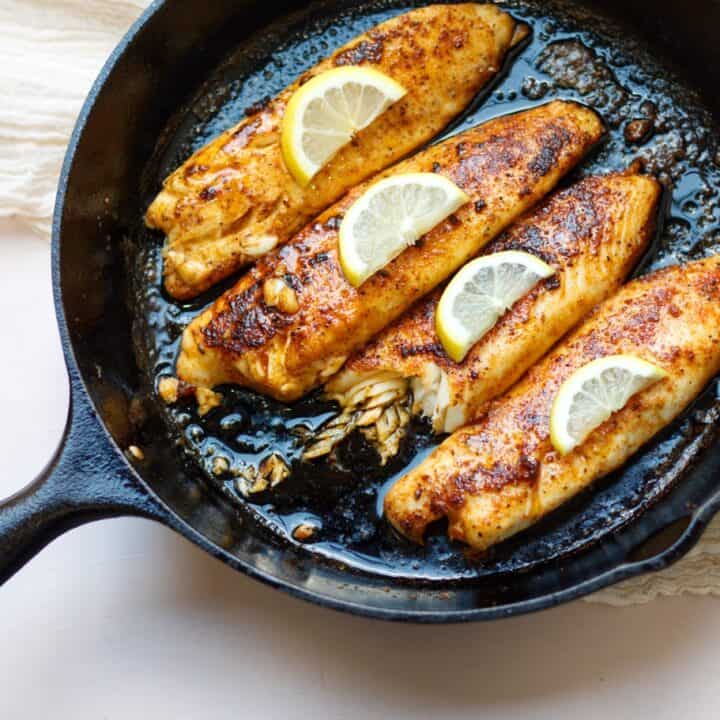 Lemon Butter Tilapia
This Lemon Butter Tilapia recipe takes tilapia to a new level. The fish is pan seared to golden perfection before being drenched in an insanely good lemony buttery sauce. It's an ideal meal to pair with a variety of side dishes.
Ingredients
4

Tilapia fillets

1

teaspoon

paprika

1

teaspoon

salt

1

teaspoon

lemon pepper seasonings

2

tablespoon

oil
Lemon Butter Sauce
2

tablespoon

butter

¼

cup

lemon juice
Instructions
Pat dry the tilapia with paper towels. Season the tilapia fillets on both sides with paprika, salt, and lemon pepper.

Heat the oil in a large skillet over medium-high heat for 1-2 minutes.

Add the tilapia fillets to the skillet in a single layer. Sear for 4-5 minutes on each side.

Lastly, add pieces of butter on top of each tilapia fillet and drizzle with fresh lemon juice. Drizzle the butter sauce on top of the tilapia fillets until all covered with the sauce.
Nutrition: Please note that the nutrition label provided is an estimate only.
Serving:
1
serving
Calories:
235
kcal
Carbohydrates:
2
g
Protein:
34
g
Fat:
10
g
Saturated Fat:
2
g
Polyunsaturated Fat:
3
g
Monounsaturated Fat:
5
g
Trans Fat:
0.03
g
Cholesterol:
86
mg
Sodium:
678
mg
Potassium:
549
mg
Fiber:
0.2
g
Sugar:
1
g
Vitamin A:
55
IU
Vitamin C:
7
mg
Calcium:
29
mg
Iron:
1
mg