Are you a fan of Iranian cuisine? Then you will love to try this Salad Olivieh Recipe, one of the most beloved Persian street foods. This healthy salad olivieh is very satisfying and can be served as an appetizer or a snack, so let's give it a go!
---
Creamy,Tangy Salad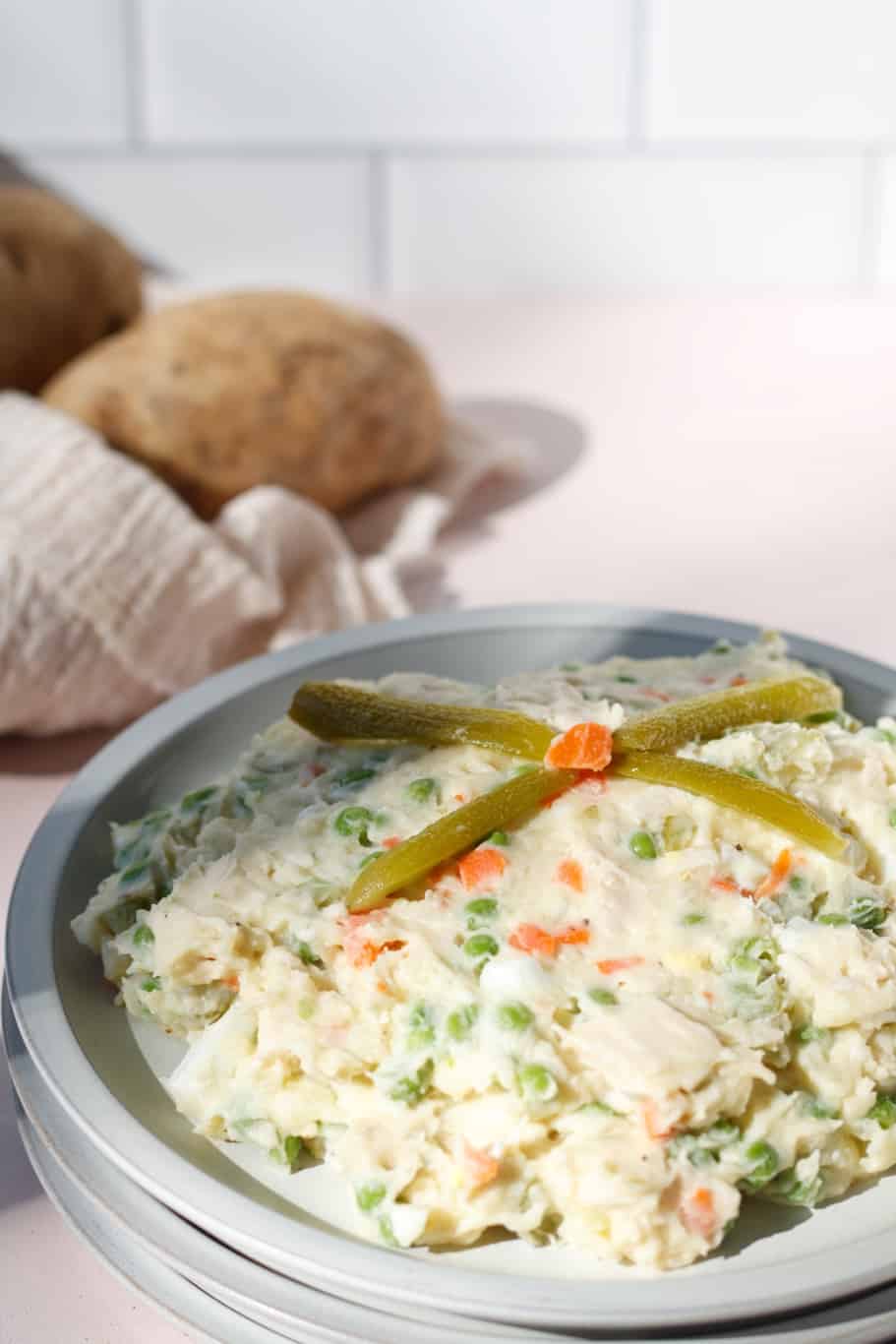 ---
Jump to:
---
What Is Salad Olivieh Recipe?
Salad Olivieh Recipe is a creamy, tangy twist on the traditional Russian Olivier salad recipe. The original recipe was created by renowned Russian chef Lucien Olivier in the 18th century.
Similar to many popular recipes that are widely spread across the world, this salad kept the main ingredients, then each country made its own version.
Salad Olivieh Recipe known as Persian chicken salad recipe has an incredible combination between cooked chicken, potatoes, eggs, and other veggies.
While the Russian version of this Russian salad olivieh recipe is full of texture with its chunky veggies, the Persian version tends to be creamier.
Chick Fil a Kale Salad Recipe, Zoe's Kitchen Chicken Salad Recipe (Copycat), Copycat Jimmy Johns Tuna Salad Recipe, Copycat Juan Pollo Potato Salad Recipe, and Turkish Kisir Salad are also other tasty healthy options you will love to add to your healthy meal plans.
---
Indulge Yourself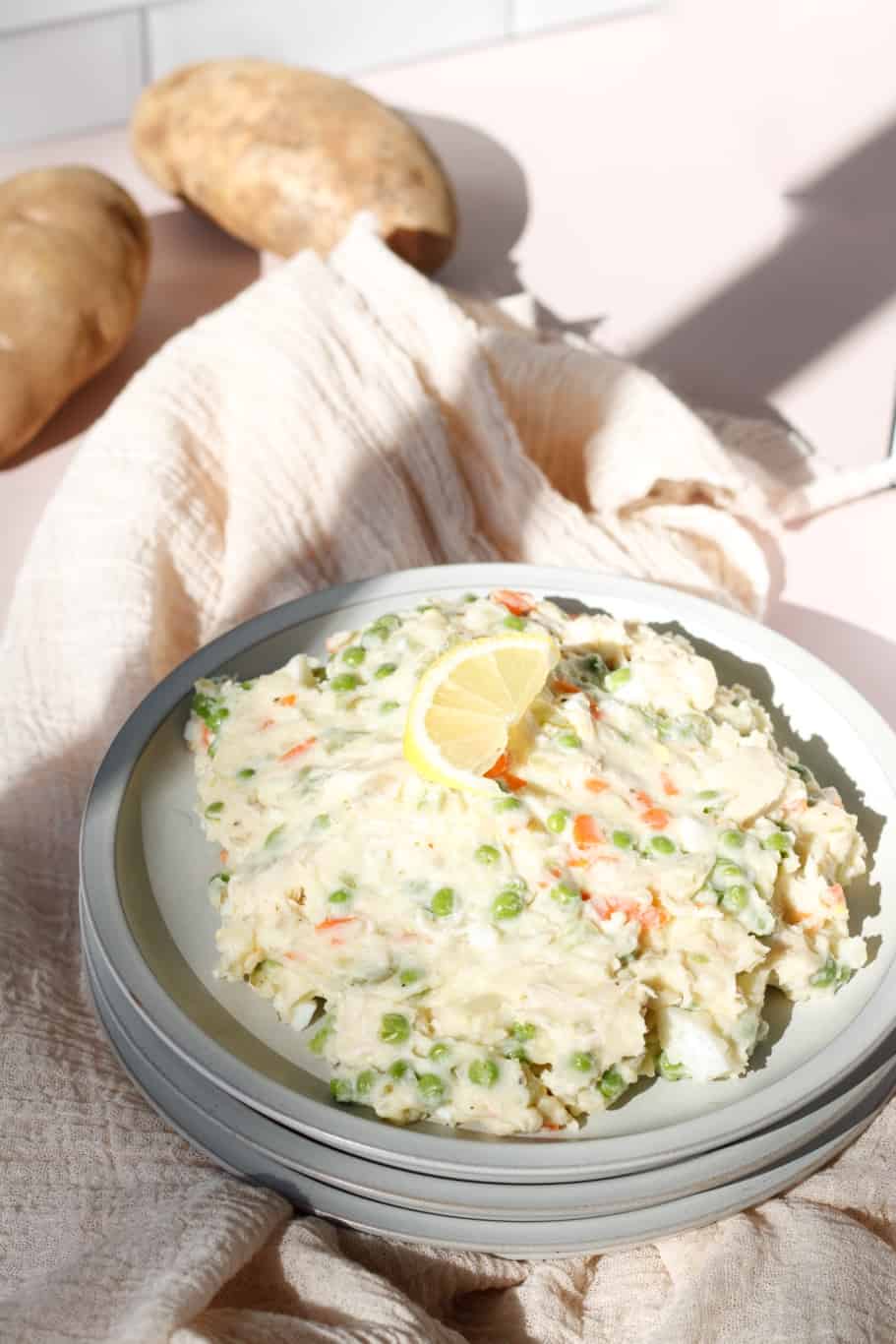 ---
Ingredients
Persian chicken salad olivieh recipe requires the following simple ingredients to make it:
Chicken: Boneless chicken breasts with skin removed is an essential ingredient to make this Persian olivieh salad.
Potatoes: Another core ingredient is medium russet potatoes. You can also use yellow gold potatoes.
Whole eggs: Hard boiled eggs are also added to this Persian chicken olivieh salad.
Other veggies: You will need to add green peas and diced boiled carrots.
Dill pickles: Chopped dill pickles are a must in this salad for additional texture and tangy flavor. You can use diced Persian pickles instead.
Mayonnaise: For the creamy texture, mayonnaise is the base of the dressing for Persian chicken salad.
Olive oil: I use extra virgin olive oil for the dressing. Light olive oil works too.
Lemon juice: Adjust the sourness of the dressing by adding fresh lemon juice.
Spices: Add salt and black pepper to Salad Olivieh Recipe according to taste.
Check the recipe card for quantities.
---
A Refreshing Salad for You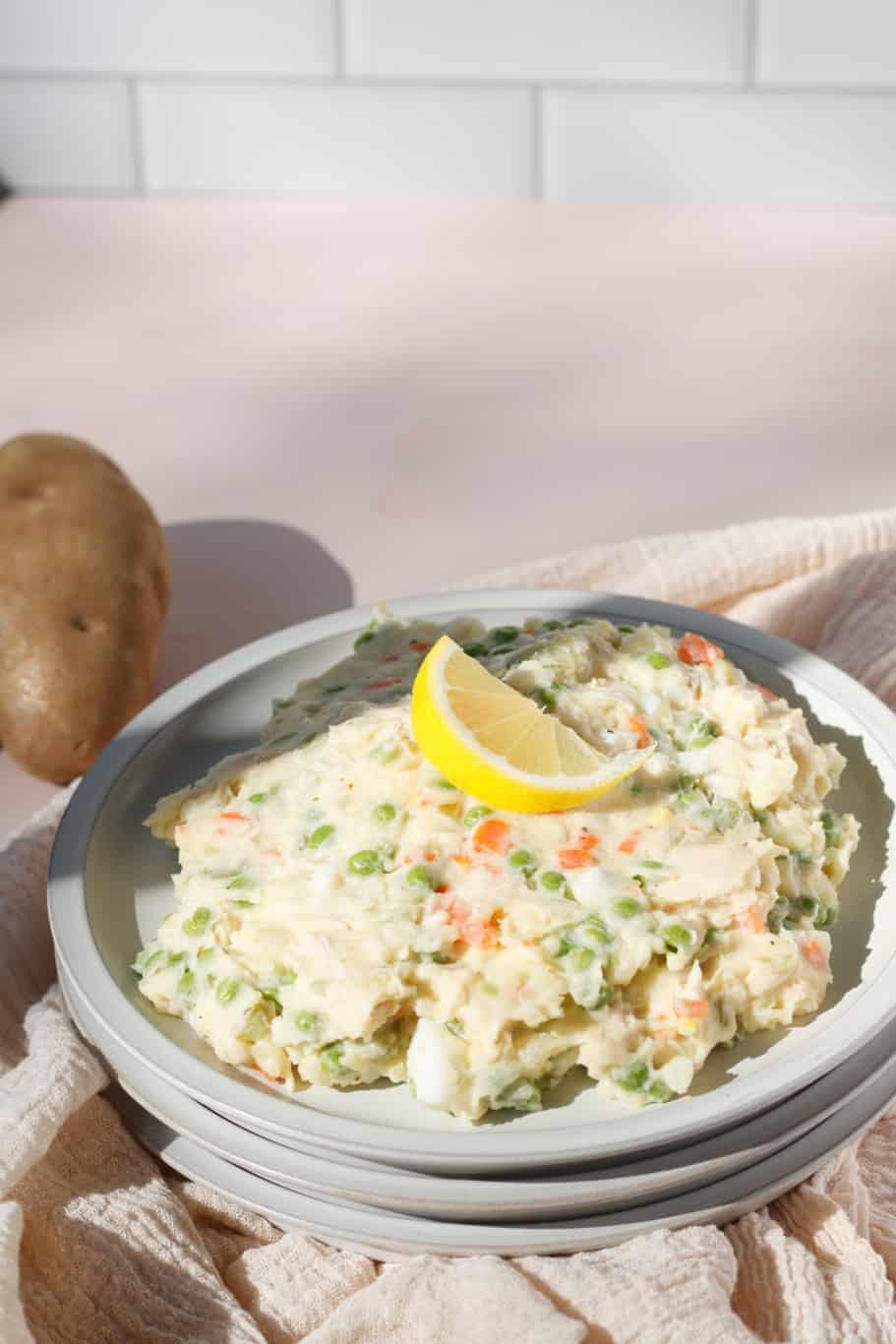 ---
Instructions
First, peel the potatoes and carrots and cut them into quarters. Place them in a large pot over medium heat and cover them with water. Boil until fork tender.
Once the potatoes are cool, mash them. Then, finely chop the carrot. Place the potatoes and chopped carrots in a large mixing bowl.
After that, in a large saucepan on high heat, boil eggs, sweet peas, and the chicken breast.
Now, peel and dice hard-boiled eggs into small pieces and add them to the potatoes.
Then, shred the cooked chicken and add it to the potatoes. Add peas to the potatoes.
Later on, mix mayonnaise, olive oil, lemon juice, salt, and pepper in a small bowl.
Next, stir the mayonnaise mixture into the potato salad until all is mixed and smooth.
Finally, cover and refrigerate the salad until ready to serve.
---
Persian Salad, Anyone?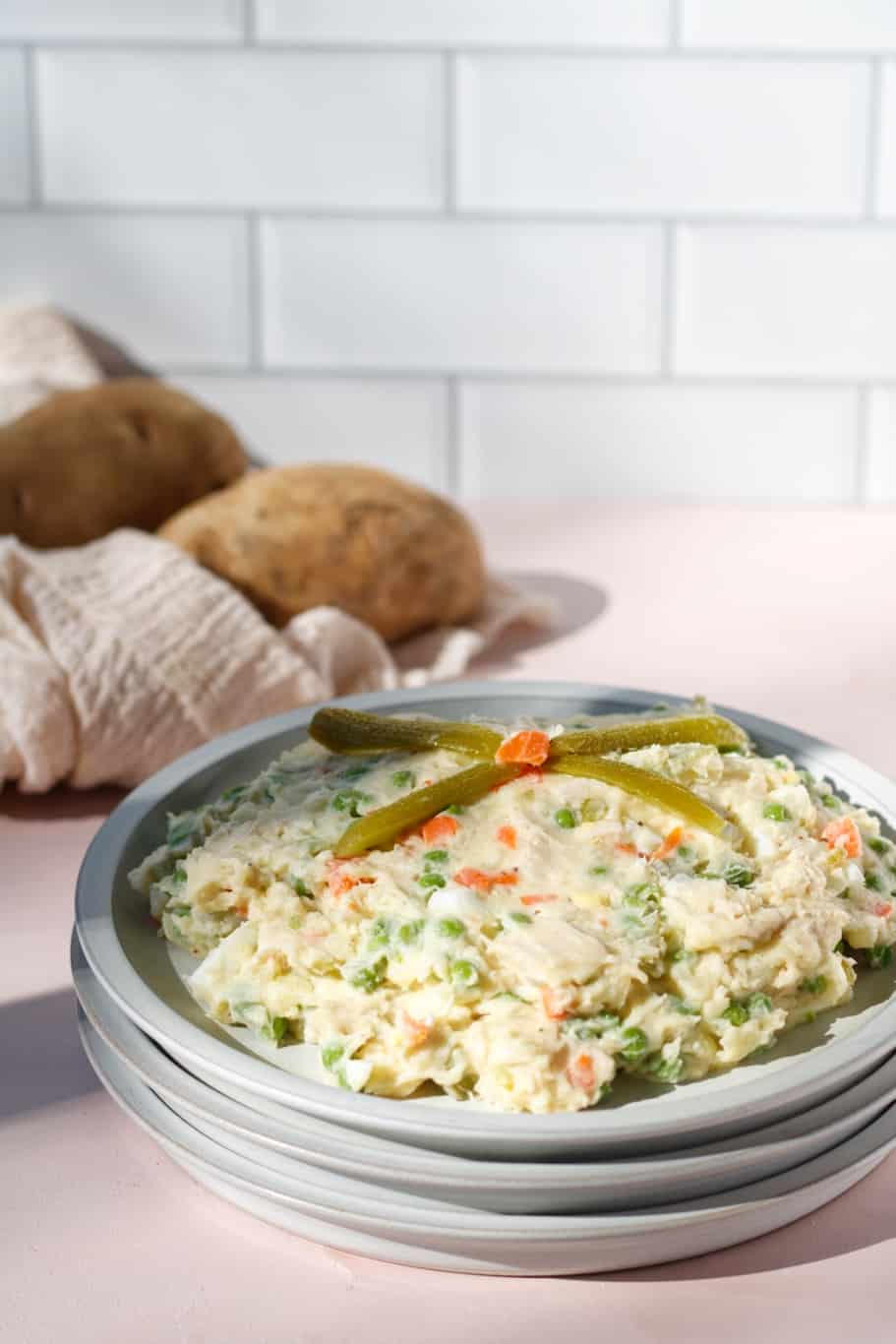 ---
Serving Suggestions
You can serve it as an appetizer or a snack to enjoy a delicious salad!
This refreshing, satisfying salad is the ultimate side dish for chicken recipes. Try to pair it with Crispy Air Fryer Rotisserie Style Chicken, Air Fryer Bone in Chicken Thighs- So Crispy, Crispy keto Air Fryer Garlic Parmesan Chicken Wings, Air fryer Sweet and Sticky Honey Garlic Chicken Drumsticks, etc.
Another great way to enjoy this delicious salad is the way some Persian restaurants serve it. Salad Olivieh sandwiches will be a perfect snack after a long, busy day. The sandwich filling always gets a wonderful compliment.
If you have a sweet gathering with your best friends, then crispy pita bread triangles are the perfect companion to your gathering. Try it with the golden crispy Seasoned Air Fryer Pita Chips and enjoy.
---
Enjoy the Incredible Flavor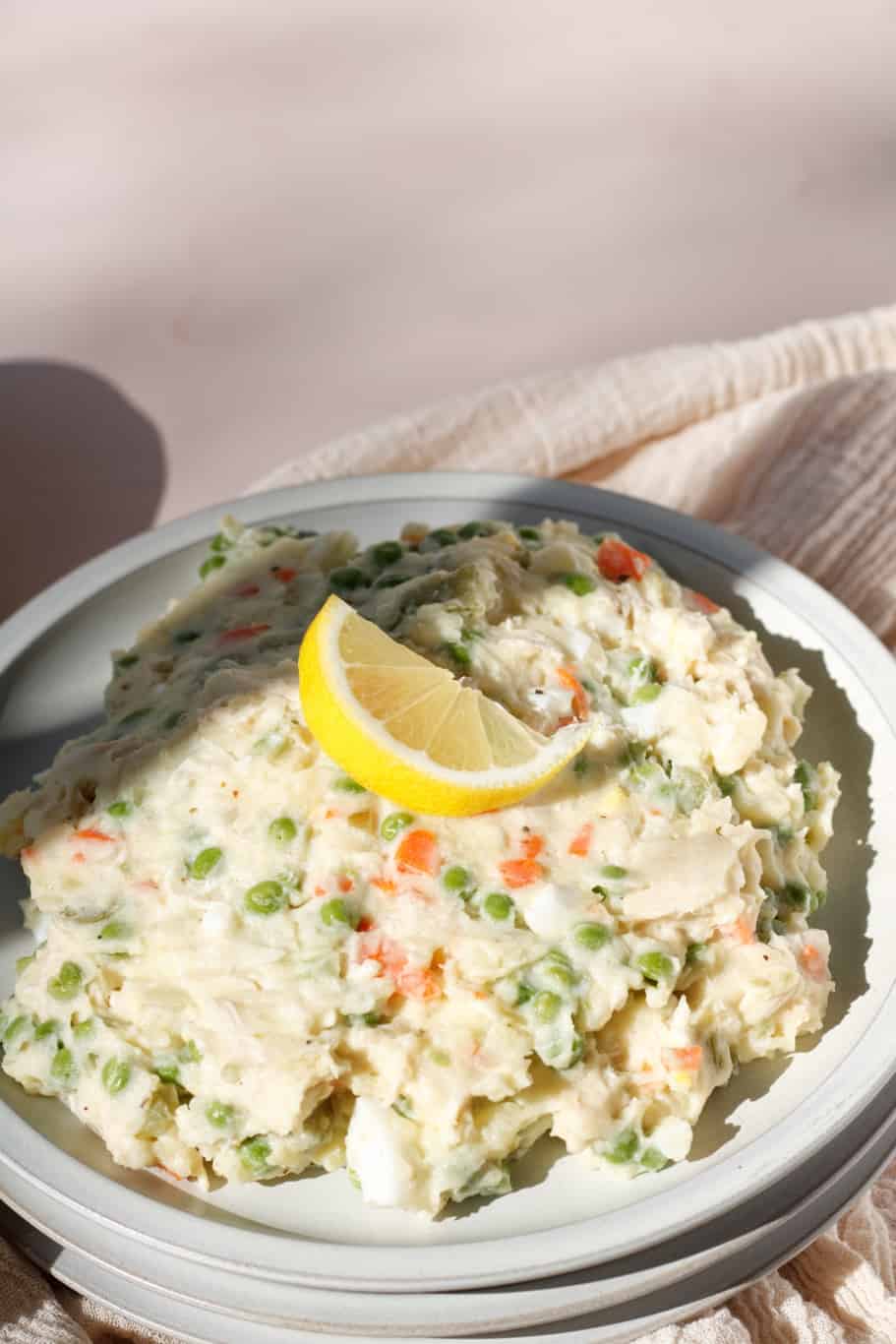 ---
Substitutions
Chicken: You can substitute boiled cooked chicken breast with shredded roasted chicken. Sausage also works well instead of chicken.
Lemon juice: It can be substituted with lime juice. For a sourer flavor, try to use white vinegar or apple cider vinegar in the dressing.
---
Variations
You can create this yummy classic dish by simply changing, omitting, or adding ingredients.
Egg-free Salad: If you don't like boiled eggs, then you can simply omit them. You can add boiled chickpeas if you like to maintain the same texture.
Vegan: You can also enjoy the salad olivieh Iranian recipe if you are vegan. All you have to do is skip the steps of shredded chicken and eggs. It also requires using vegan mayonnaise instead of regular mayo.
Other veggies and fresh herbs: These include green onions, spring onions, celery, and parsley.
Dressing: For additional flavors, add mustard, Greek yogurt, garlic powder, kosher salt, etc. to the salad olivieh dressing.
---
Pin It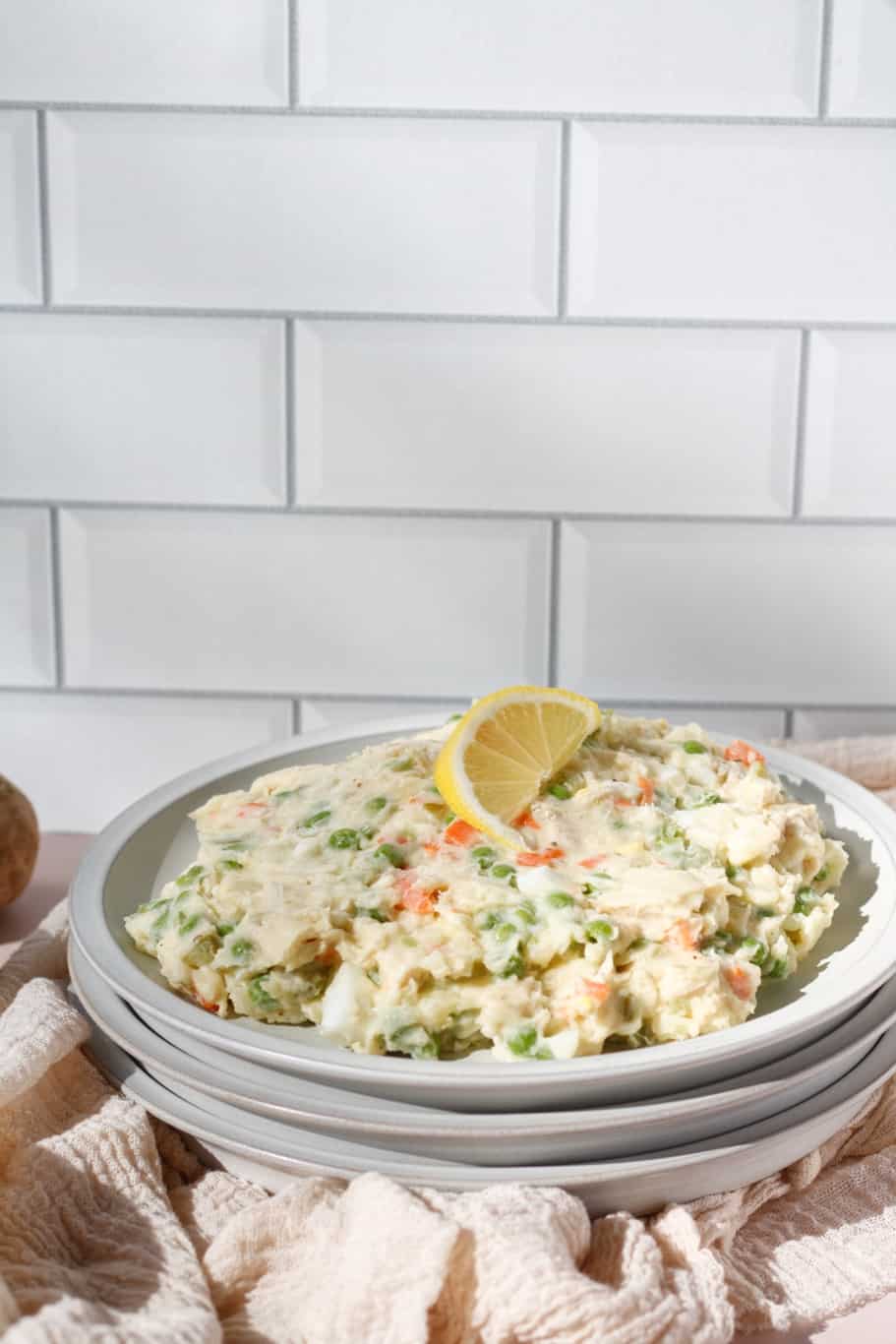 ---
Top Tips
If you have time, you can boil the veggies you need a couple of hours ahead and keep them cool at room temperature.
Instead of mashing potatoes, you can cut them into cubes. However, make sure that size of the potatoes is equal to the carrots size.
For best results, serve the Persian chicken olivieh salad within a few hours of preparing it.
---
Frequently Asked Questions (FAQs)
What can I use instead of mayo?
If you are a fan of mayo, then salad cream is recommended to be used since it could make a significant difference to the flavor. You can also use crème fraiche or sour cream in place of mayo.
I have excess dressing; how do I store it?
All you have to do is to store the salad dressing in a mason jar separately from the chopped veggies of the salad. When you're ready to serve, give the dressing a good shake and drizzle it on the salad ingredients and mix until well combined.
---
Storage
Refrigerator: Be careful not to leave Persian mayo potato salad at room temperature for a long time! Store the salad olivier leftovers in an airtight container in the refrigerator for 2-3 days. You can also store the ingredients of this Persian potato salad without dressing for 5 days.
Freezing: If you have leftover potatoes, carrots, and green peas, then pop the boiled veggies in freezer bags. They freeze well for about 3 months. It's not recommended to freeze the salad oliveh with the dressing since freezing mayo will make it watery.
---
Related
Looking for other recipes like this? Try these:
Pairing
These are my favorite dishes to serve with [this recipe]:
---
If you've tried this recipe or any other recipe on Sourandsweets, don't forget to rate the recipe and leave me a comment below! I would love to hear about your experience with my recipes. Please share it with me on Instagram.
---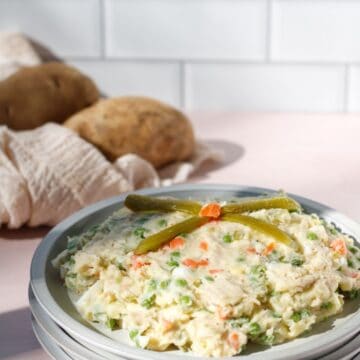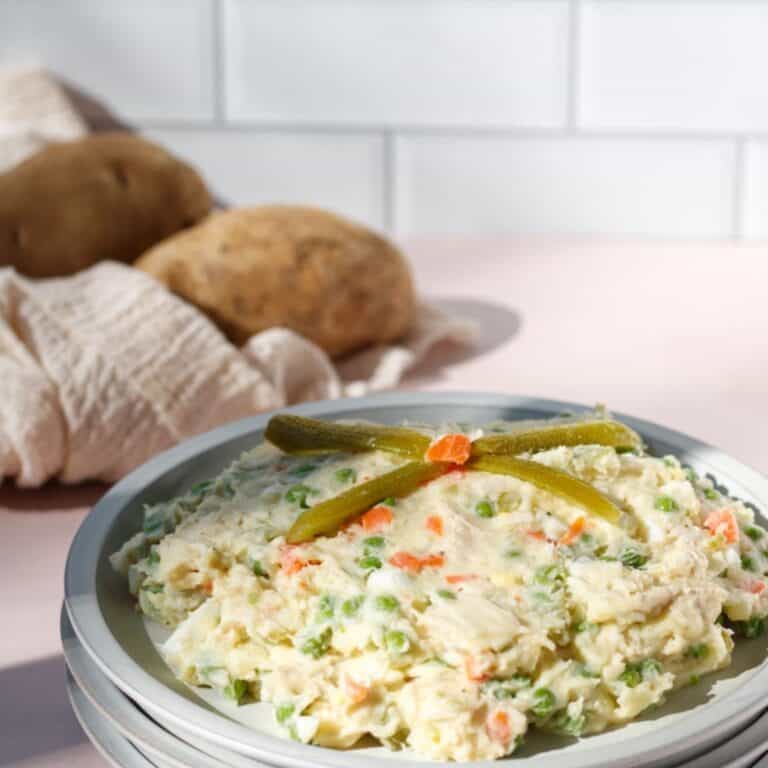 Salad Olivieh Recipe
Try this creamy tangy Salad Olivieh Recipe, one of the most beloved Persian food on the Iranian street. 
Ingredients
1

small

Chicken breast

about 260 grams of cooked chicken

4

medium

russet potatoes

about 460 grams

2

whole

eggs

1

cup

peas

1

large

carrot

4

dill pickles

chopped (about 50 grams)

2

tablespoons

olive oil

2

tablespoons

lemon juice

salt and black pepper

to taste

¾

cup

mayonnaise
Instructions
Peel potatoes and carrot and cut into quarters. Place them in a pot and cover with water. Boil until fork tender. Once potatoes are cool, mash them. Finely chop the carrot.

Boil eggs, peas, and the chicken breast.

Peel and dice eggs and add them to potatoes.

Shred cooked chicken and add it to the potatoes. Add peas to the potatoes.

Mix mayonnaise, olive oil, lemon juice, salt and pepper.

Stir mayonnaise mixture into the potato salad until all mixed and smooth.

Cover and refrigerate salad until ready to serve.
Nutrition: Please note that the nutrition label provided is an estimate only.
Serving:
1
serving
Calories:
251
kcal
Carbohydrates:
19
g
Protein:
8
g
Fat:
16
g
Saturated Fat:
3
g
Polyunsaturated Fat:
8
g
Monounsaturated Fat:
5
g
Trans Fat:
0.03
g
Cholesterol:
22
mg
Sodium:
353
mg
Potassium:
533
mg
Fiber:
2
g
Sugar:
2
g
Vitamin A:
1381
IU
Vitamin C:
13
mg
Calcium:
34
mg
Iron:
1
mg